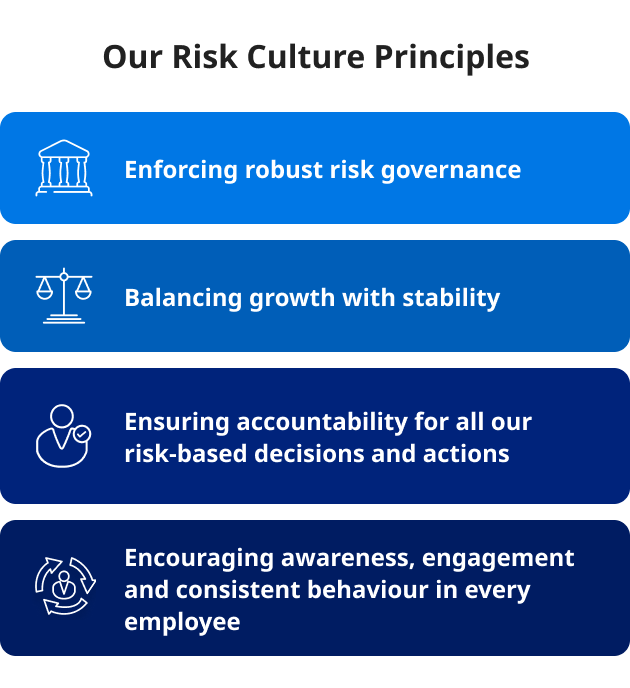 To promote awareness of and instil risk culture across the Group, we:
require all employees to complete, on an annual basis, a mandatory UOB Risk Culture e-learning module, as well as training aimed at reinforcing risk-focused conduct in areas such as the UOB Code of Conduct, anti-money laundering, operational and security risks, financial crime prevention, information security and cyber risk awareness, and the UK Bribery Act;
require key business and support units to conduct a self-assessment annually to evaluate the risk culture within each of their units;
feature senior leaders and their views frequently on risk culture, as well as case studies and lessons learnt on our intranet;
ensure consistent Bank-wide communications through in-person meetings, discussion groups and internal bulletins to foster deeper understanding and practice of risk management across the organisation;
include risk management-related questions in our employee engagement survey to gauge the understanding of the prevailing risk culture across the Group; and
survey senior management committees to assess their openness and robustness to challenges and their considerations of risks in their decision-making process.
Whistle-blowing
Employees, business associates and the public are able to report any concerns of suspected or actual wrongdoing confidentially and securely, without fear of reprisal, through our whistle-blowing channels. They may call our whistle-blowing hotline, email or call the Head of Group Audit, Chief Executive Officer, Chairman of the Board Audit Committee or Chairman of the Board. The UOB Whistle-blowing Policy is reviewed annually and approved by the Board Audit Committee.
Reports may be sent by post to the Head of Group Audit at United Overseas Bank Limited, One Raffles Place, Tower 1 #15-02, Singapore 048616 or by email to whistleblowing@uobgroup.com. All reports received are accorded confidentiality and investigated independently by Group Audit, the administrator of the whistleblowing policy. Group Audit submits regular updates on whistleblowing reports received to the Audit Committee.
Prohibiting insider trading
All employees are required to adhere to the UOB Group Staff Trading Policy, which prohibits insider trading. The policy is reviewed annually and approved by the Operational Risk Management Committee (ORMC).
UOB has in place a pre-trade clearance system that requires employees, who may reasonably be expected to have access to inside information, to make declarations and seek approval before dealing in securities or executing their trades on any stock exchanges. In addition, Group Compliance regularly reviews securities transactions to detect potential violations. Employees may be subject to disciplinary action for non-adherence to the policy.