UOB's risk management structure, as shown in the following diagram, aims to promote a risk aware culture throughout the Group. This requires the various risk and control oversight functions to work together with the business and support units to identify their risks and to facilitate their risk and control self-assessments.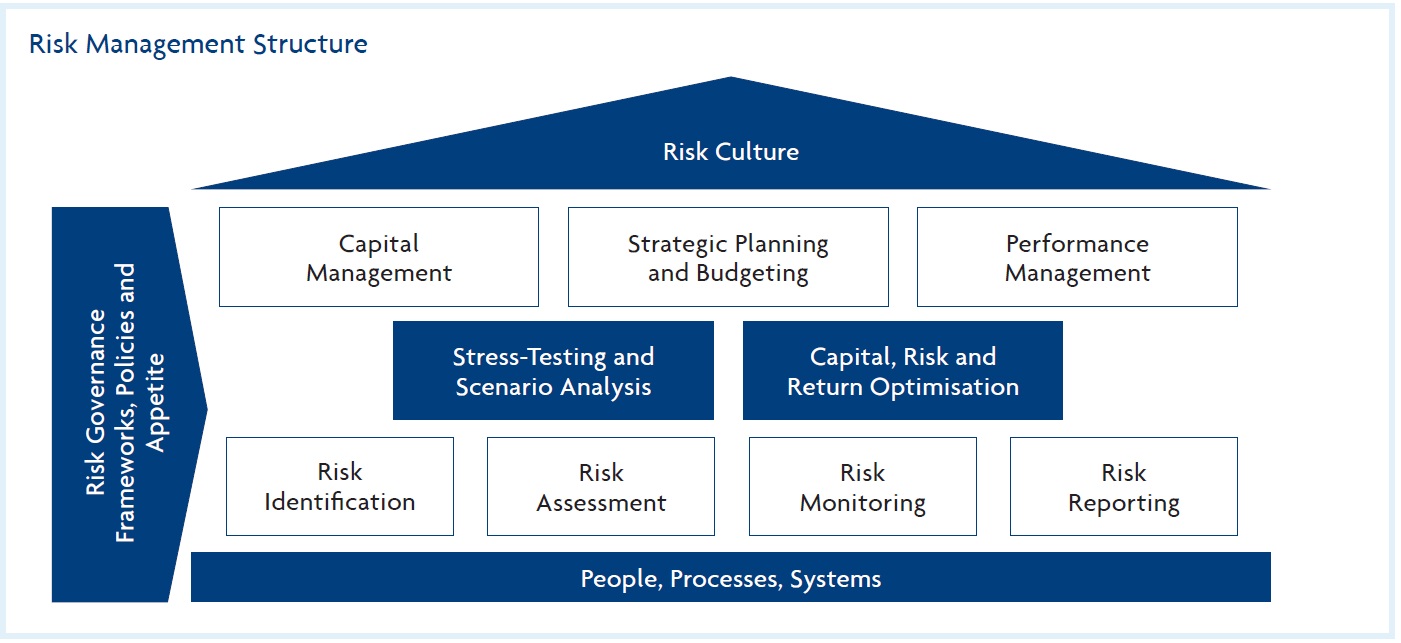 Our risk management strategy is targeted at ensuring proper risk governance so as to facilitate ongoing effective discovery, management and mitigation of risks arising from external factors and our business activities and to set aside adequate capital efficiently to address these risks. Risks are managed within levels established by the senior management committees and approved by the Board and its committees.
We have put in place a framework of policies, methodologies, tools and processes that will help us identify, measure, monitor and manage material risks faced by the Group. This enables us to concentrate our efforts on the fundamentals of banking and to create long-term value for all our stakeholders. The Group's risk governance frameworks, policies and appetite provide the overarching principles and guidance for the Group's risk management activities. They help to shape our key decisions for capital management, strategic planning and budgeting, and performance management to ensure that the risk dimension is appropriately and sufficiently considered.
In particular, the Group Risk Appetite is part of the Group's Internal Capital Adequacy Assessment Process (ICAAP), which incorporates stress-testing to ensure that the Group's capital, risk and return are within acceptable levels under stress scenarios. We also take into consideration the Group's risk appetite in the development of risk-related key performance indicators (KPIs) for performance measurement. This serves to embed a risk management mindset and culture throughout the organisation.
Our risk governance frameworks, policies and appetites are implemented through identification, assessment, monitoring and reporting processes. Risk reports are regularly submitted to Management and the Board to keep them apprised of the Group's risk profile.