"A work of art that did not begin in emotions is not art."

- Paul Cézanne
UOB Art Gallery, Singapore
Amid the hustle and bustle of Singapore's Central Business District, the gallery provides a creative enclave for you to appreciate artworks from the UOB Art Collection.
UOB Plaza 1, Ground Floor, 80 Raffles Place, Singapore 048624
Randomness
A Solo Exhibition by Lester Lee
Three-time award recipient of UOB Painting of the Year (Singapore)
From 12 May 2023 to 30 June 2023
UOB Art Gallery, 80 Raffles Place, UOB Plaza 1, Ground Floor

Randomness: the quality or state of being, as in lacking or seeming to lack a definite plan, purpose, or pattern.

In this exhibition, the artist embarked on an experimental discovery process to find new directions. Instead of having a main theme or concept for the direction of the show, he just let things happen where his thoughts, images and ideas arise that led one painting to another.

The artist invites viewers to feel and sense the process of consciousness coming together through the paintings resulting in a cohesive whole painting.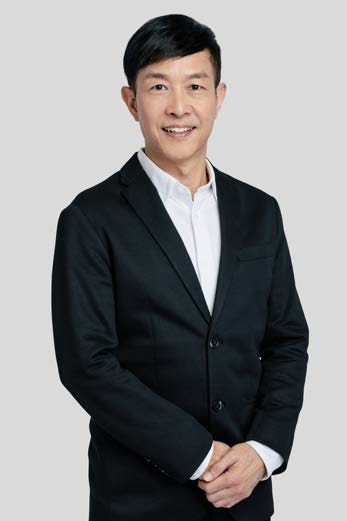 Lester Lee
Lester holds a Master of Arts (Contemporary Practice) from the University of Huddersfield, United Kingdom. As a young artist, Lester had trained under two renowned watercolourists. He then attended the Nanyang Academy of Fine Arts (1989) before living in the United States of America for 10 years where he advanced his interest in multi-disciplinary art forms including sculpture.
He had won several awards for his works and is also a three-time award winner for the UOB Painting of the Year (POY) competition. He is the Top Winner of the 2022 UOB POY (Singapore), Established Artist Category; and received the Gold Award, Established Artist Category in 2021 and 2013 UOB POY (Singapore).
Lester aims to find a balance between representation and abstraction; to express the moment of stillness between the two. He is very much influenced by Eastern philosophy, and he works intuitively and spontaneously, expressing his experiences, thoughts and emotions about what's happening around him.
Lester's work has been shown both in solo and group exhibitions in the US and Singapore. His work is in the collections of UOB, Singtel, the Ministry of Communications and Information and in numerous private collections in US and Singapore.
Email:
lesterlee.art@gmail.com
Instagram :
@lesterlee.art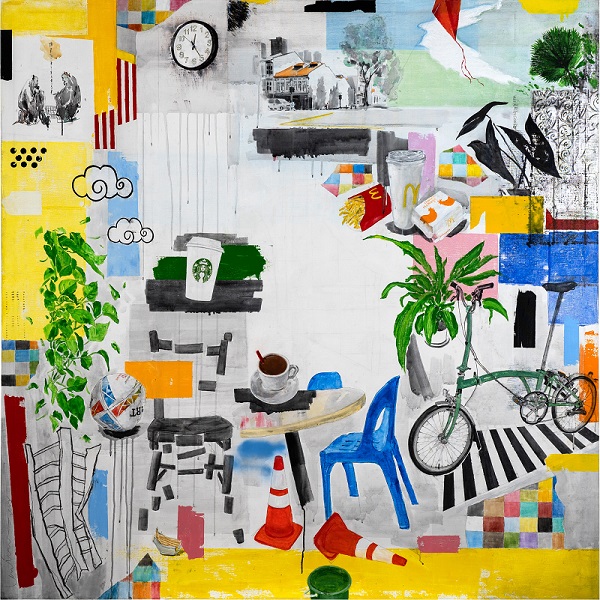 2022 UOB Painting of the Year (Singapore)
UOB Painting of the Year Award,
Established Artist Category
A Painting about Nothing and Everything
Mixed media on linen
180 x 180 cm
A Painting about Nothing and Everything
began with no preconceived idea or concept. The artist spontaneously painted anything that came to his mind with a juxtaposition of images demonstrating the heart of slow living in a fast-paced world, where stillness and rest are hard to come by.
Through this work, the artist hopes to extend an invitation for viewers to embrace a slower-paced life by living mindfully, being fully present and taking stock of what is truly important.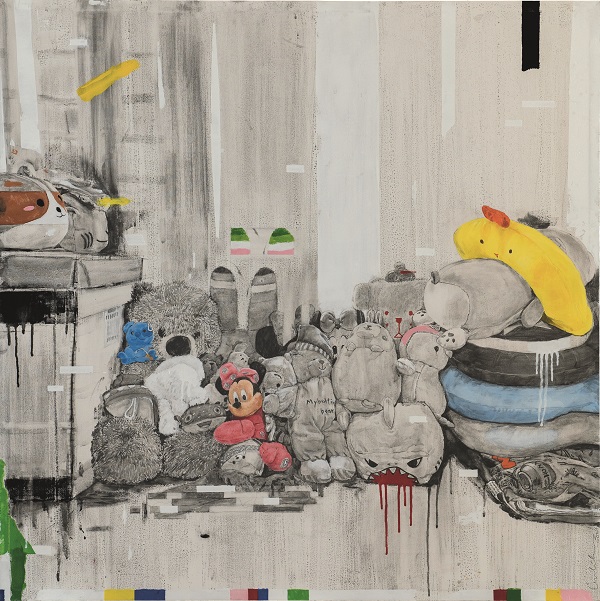 2021 UOB Painting of the Year (Singapore)
Gold Award, Established Artist Category
'Childhood'
Mixed media on canvas
112 x 112 cm
Digital technologies such as tablets, smartphones, video games and social media have changed the childhood of the youngest generation. In the shifting technological landscape, child's play is also evolving.
'Childhood'
is a quiet contemplation of the early childhood of the artist's two children through their soft toy collection which they once adored and played with. Taking a glimpse at the way they used to play raises the question on the nature of childhood in today's digital age. Through the work, the artist hopes to remind viewers of their own experiences and the personal significance found in the childhood play scene.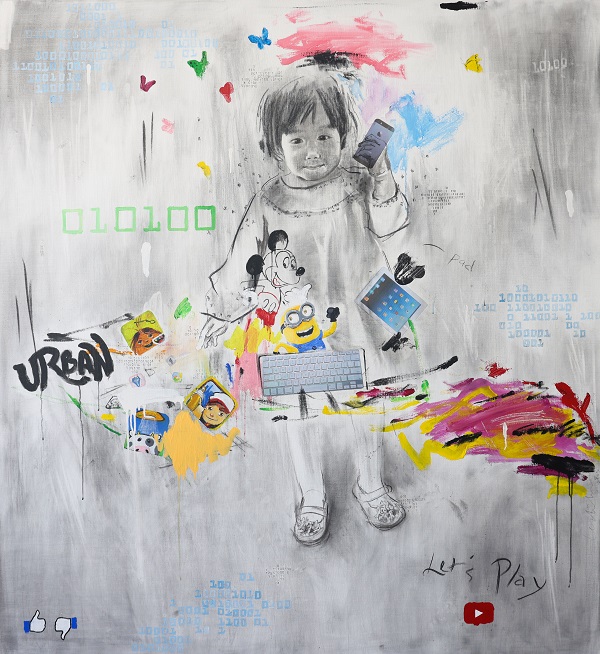 2013 UOB Painting of the Year (Singapore)
Gold Award, Established Artist Category
Digital Vertigo
Mixed media on canvas
180 x 165 cm
The artist finds children today are increasingly reliant on technology. The way they learn, play and communicate is changing and the artist is questioning through this painting if the high exposure to electronic media is a good thing. This work reflects the artist's experience of raising two children and illustrates his concerns with the impact of technology on a developing child.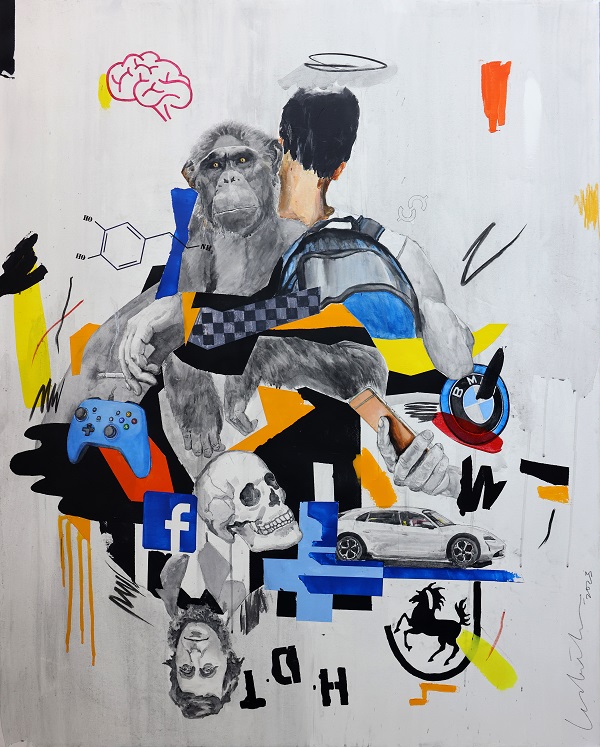 We Don't Own Things; Things Own Us
Acrylic, graphite and crayon on canvas
152 x 122 cm
S$6,800
"Henry Thoreau said that we don't own things; things own us. Every new object –whether it's a home, a car, a television, or a fancy phone like that one –is something more we must carry on our backs."–
Stephen King,
If It Bleeds
Henry David Thoreau (1817-1862) reminds us of the importance of simplicity, authenticity, and downright disobedience.
Humans tend to believe that their self- worth is found in the things they own…food for thought.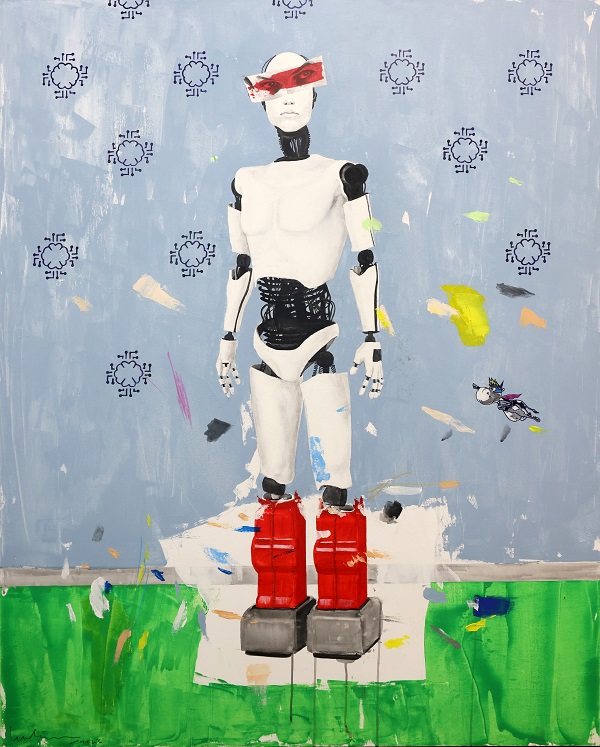 For Good, or For Bad
Acrylic, graphite and crayon on canvas
152 x 122 cm
S$6,800
The artist is asking
Is Artificial Intelligence (AI) the best that has happened to our civilisation, or the worst?
AI isn't inherently moral – it can be used for good just as well as for evil.
Who should be in control of decision- making?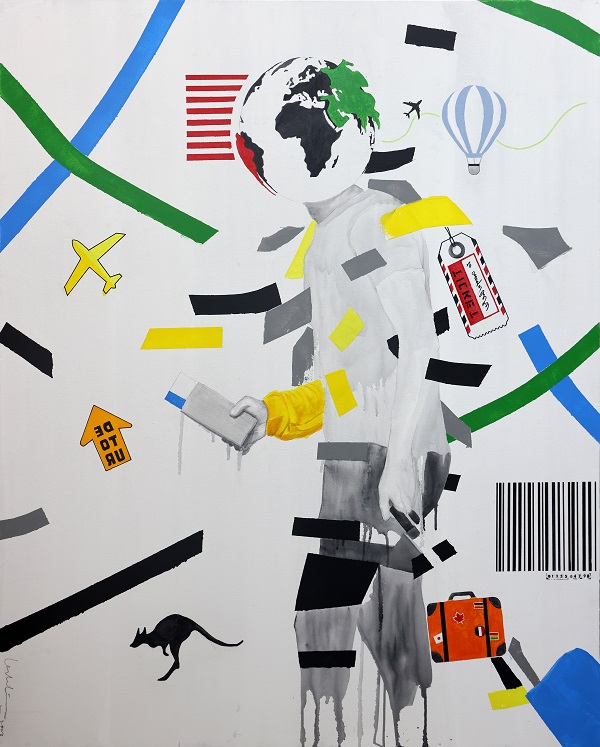 Wanderlust
Acrylic and graphite on canvas
152 x 122 cm
S$6,200
Why do we have a constant need for a vacation? On average, we take up to two vacations a year, and yet we hardly feel it is sufficient.
Could it be linked to our workaholic culture where a holiday may never quite feel like a good rest? Or perhaps most of us are just born with a "wanderlust gene"?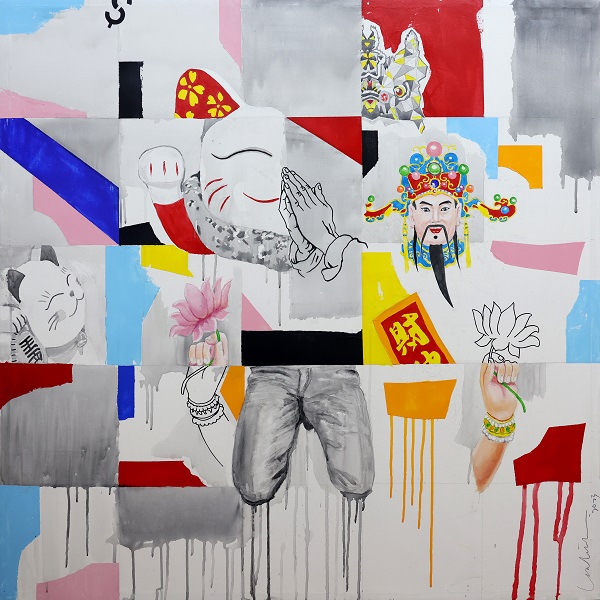 Hope
Acrylic and graphite on canvas
112 x 112 cm
S$5,600
Humanity's quest for wealth can be traced back to the early years of civilisation. Every culture has a god of wealth, or a deity associated with fortune and prosperity.
Many of us have the hope of being wealthy someday. The artist asks through this painting what is the purpose of living and earning money, what is the meaning of life?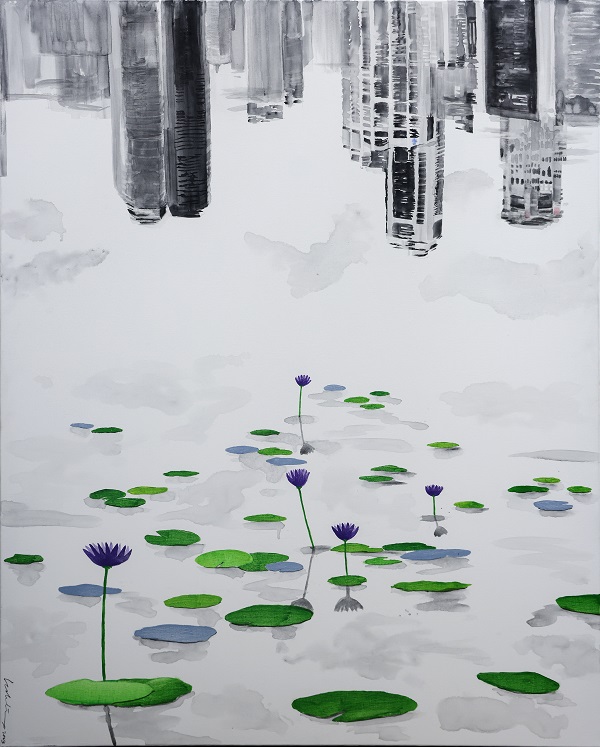 Heaven and Earth
Acrylic and graphite on canvas
152 x 122 cm
S$6,200
Peace and stress are entangled and share the same space in our life. One cannot understand the importance of peace until they have experienced anxiety.
Sometimes, being mindful and changing our focus, may help us notice the 'heaven' on earth…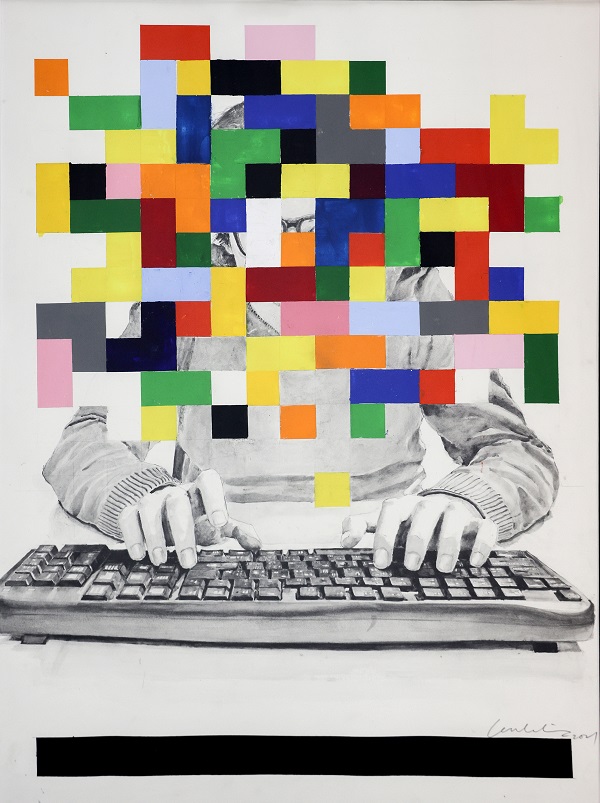 Untitled (Digital Identity)
Mixed media on canvas
112 x 112 cm
S$4,800
In a world where face-to-face interactions are decreasing and online transactions are evolving, the concept of identity has changed fundamentally. Our personal identities and sense of self have become increasingly intertwined with the complexity of privacy, censorship and disinformation. The artist would like to highlight on the issue of real and fake identity through this painting.
Are you really who you claim to be?
As the world becomes more digitalised, this is an increasingly important question for all of us to ponder upon.
How much of your life do you live online? How many hours do you spend connected to the internet? We increasingly spend our lives online and the pandemic solidified that reality but how much control do we really have over our online identity and our risk exposure?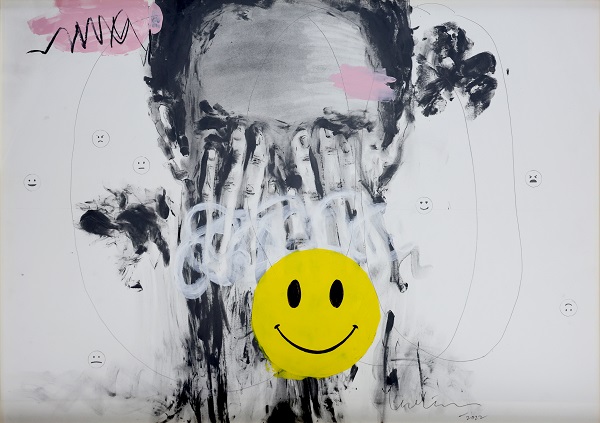 Untitled (Emoji)
Acrylic and graphite on paper
85 x 60 cm
S$4,800
Face-to-face communication is on the decline. People are most comfortable texting and emailing these days, but many of us cringe at the idea of taking one phone call. A whole new set of social skills is developing, and many of them are digital.
Emojis have become our new mode of expression. However, does it get as far as the core of our feelings internally? In face-to-face communication, being flashed a smile by someone is typically perceived as warm and friendly. Unlike in virtual communication, a smiley face is just not perceived in the same way as a real smile.
Is the use of emojis adequate in expressing ourselves and our feelings? Can it mean and feel the same emotionally as spoken words?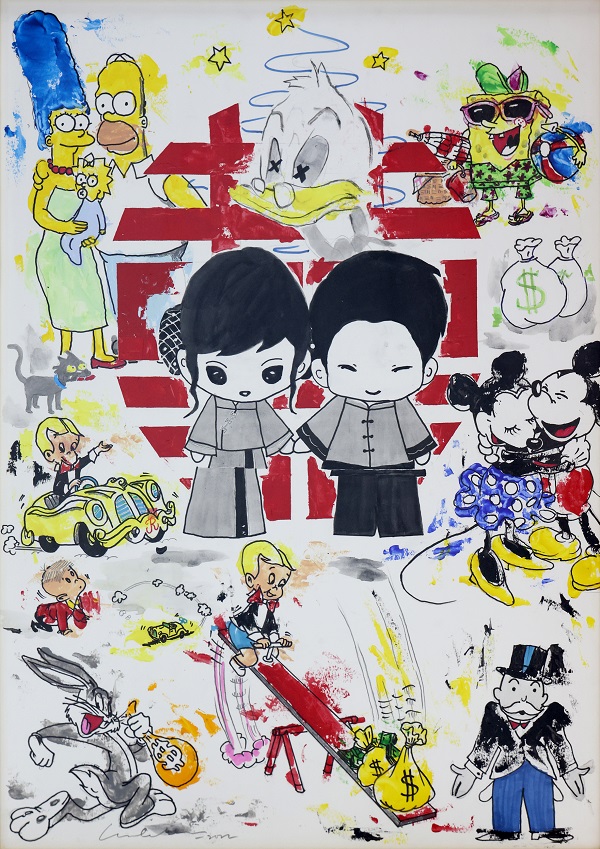 Untitled (Marriage Vow)
Acrylic and graphite on paper
60 x 85 cm
S$4,800
Marriage vow is the promise a couple makes to each other during a wedding ceremony.
Too often, marriage vows are simply lip service. This isn't to say that the couple don't wholeheartedly mean them when they're standing with the person they love and about to marry in front of their family and friends.
The marriage vows may sound easy to commit to but as time goes on, spouses might forget their marriage vows that they promised to love each other "for better or worse," "for richer or poorer", when truly unconditional love could seem hard to give as they are there for each other through the ups and downs that life brings.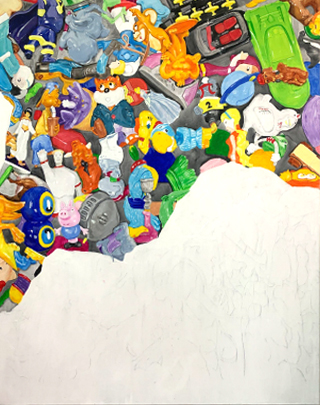 Untitled
Acrylic and graphite on canvas
122 x 152 cm
S$7,600
Feeling nostalgia looking at toys that captured children's attention before the ubiquity of the Internet. The fast disappearance of these old toys makes me think deeper about issues like heritage, belonging, and identity.
As we reminisce about the past, a lot of the past in the present is disappearing… share your thoughts?