Balancing Growth with Stability for the Long Term
/
Investor Highlights
Positive market reaction to acquisition of Citigroup's consumer business in Indonesia, Malaysia, Thailand and Vietnam (ASEAN-4)
We announced the proposed acquisition of Citigroup's ASEAN-4 consumer business in January. This is a transformational deal that scales up our ASEAN franchise by:
doubling our ASEAN-4 retail customer base; and 

accelerating our growth targets by five years.
We organised a briefing for media, analysts and investors on 14 January and conducted a deal roadshow to engage credit rating agencies and our top institutional investors. 
‍
Throughout the year, senior management and the investor relations team gave regular updates on the integration progress through one-on-one meetings, conferences, roadshows and financial results briefings.
 
We completed the acquisitions in Malaysia and Thailand on 1 November and are on track to complete the acquisitions in Indonesia and Vietnam in 2023.
‍
Investors and other market participants reacted positively to the deal while analysts viewed it as a strategic fit for UOB. On the back of the news, our share price surged past the $30-mark for the first time.  As a result, our market capitalisation reached more than $50 billion in the year. In 2022, our share price climbed 19 per cent, outperforming the Straits Times Index which was up eight per cent over the same period.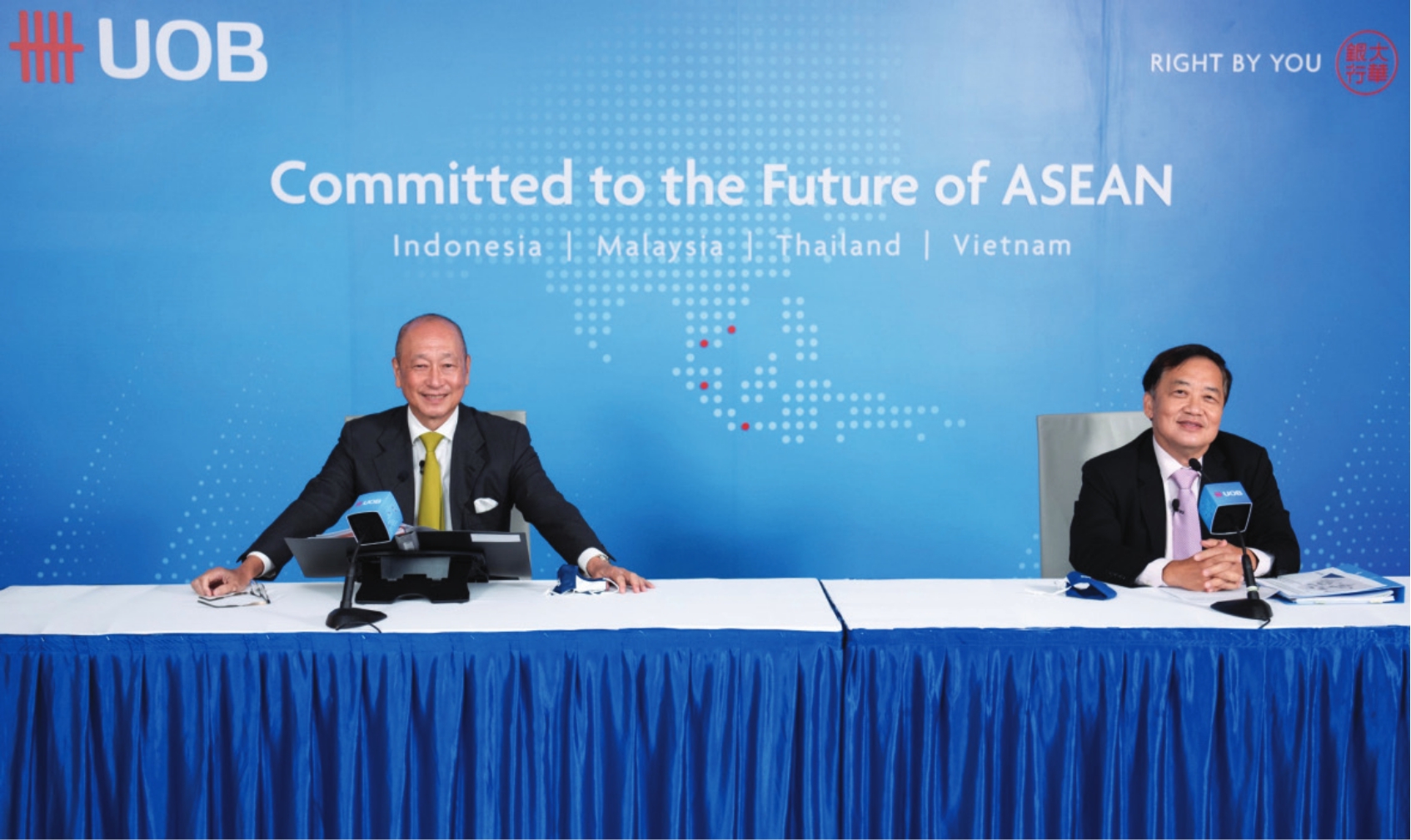 "The likely strengthening of UOB's ASEAN franchise and ROE outlook through the Citi acquisition only reinforces UOB's status as our top pick in the sector."
Daiwa Capital Markets Hong Kong Limited
"This acquisition will greatly enhance UOB's footprint in the ASEAN-4 countries, driving a doubling of retail customers, and propelling them into the top retail banks by asset size in these markets (ex-Vietnam). Citi's portfolio is also complementary given its strength in the unsecured segment and UOB's strength in the secured segment.
We view this acquisition positively…" 
UBS Securities Pte. Ltd.
"… the deal is in one of UOB's core businesses, commercial banking, and in geographies where UOB is already present. This ensures a reasonably clear path to integration, with a relatively flat learning curve. Essentially, the deal deepens the market presence, rather than opening new markets or segments for the bank."
J.P. Morgan Securities Singapore Private Limited
Regular and transparent engagement 
Regular and transparent communications is key to maintaining investors' trust and confidence. 

In 2022, we continued to showcase thought leadership across various themes, such as digitalisation and sustainability. 

As COVID-19 restrictions eased in the second half of the year, we resumed face-to-face investor meetings. We conducted more than 450 meetings during the year, both virtual and in-person, to keep investors updated on our strategy, performance and business outlook. 
‍
These meetings included:

Quarterly financial results briefings and post-results investor calls and luncheons;
Investor roadshows, conferences and meetings with North American, European and Asian institutional investors;
Securities Investors Association (Singapore) Corporate Connect Webinar with retail investors;
Engagement with credit rating agencies; and
UOB's annual general meeting.
For our investor engagement efforts, we were awarded Best Investor Relations – Silver award – at the Singapore Corporate Awards 2022. Our CEO, Mr Wee Ee Cheong, was also honoured as Best CEO.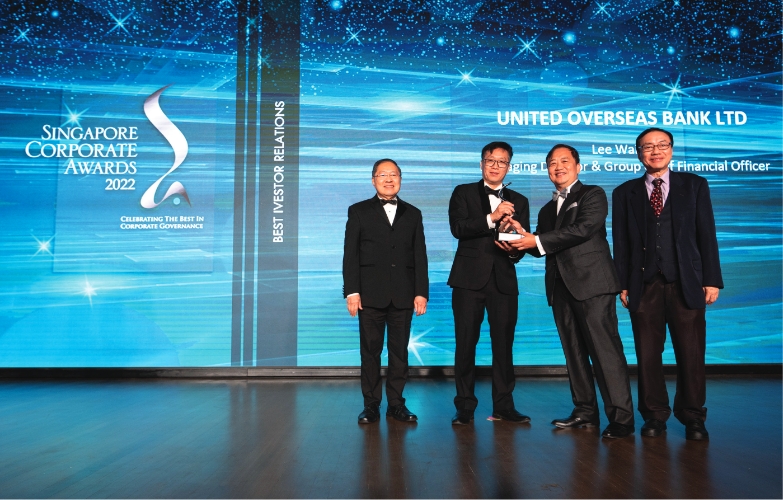 Committed to regional and global capital markets
Despite challenging market conditions in 2022, UOB was active in issuing bonds in our core funding markets.  We conducted a series of well-timed transactions across the Australian dollar, United States dollar, euro and Singapore dollar markets in the first half of 2022. These were well-received by global investors, reflecting their continued confidence in UOB.

$900 million five-year senior bond 
Strong orderbook amid ongoing geopolitical risk and huge competing supply.

The transaction was the most tightly priced five-year foreign bank print.

It was also the largest ever single-tranche AUD print from Asia ex-Japan to date.
"… the largest for a South-East Asian issuer… and bankers said the strategic and flexible approach adopted by UOB allowed the bank to focus on the deepest pool of liquidity and achieve one of their strongest Australian dollar offerings in the face of an increasing volatile market backdrop."
"UOB breaks Australian record", IFR, 18 February 2022
€1.5 billion three-year covered bond 
The first Singapore covered bond issuance in 2022.

Despite challenging geopolitical conditions and volatile interest rates, UOB took advantage of strong demand for front-end covered bonds driven by flight to quality.

It was the largest covered bond to date from Singapore.
"Singapore lender United Overseas Bank (UOB) returned to the euro covered bond market… representing the largest-ever euro-denominated covered bond out of Singapore and bankers said the result reflected the strength of UOB's credit quality and its ability to move swiftly..."
"UOB prints Singapore's largest euro covered bond", The Asset, 10 March 2022
US dollar multi-tranche offering - US$1 billion 10.5NC5.5 Tier 2 and US$1.1 billion three-year Senior comprising US$350 million Floating Rate Note and US$750 million Fixed Rate tranche
Took advantage of constructive market conditions and chose an intraday window to access the Reg S/144A US dollar market.

Reopened the bank capital sector as soon as a month after the start of the Russia-Ukraine conflict in March.

Largest print from Singapore since 2008.

Well-balanced multi-tranche transaction comprising a very diverse high quality global investor base.
"Singaporean lender timed the offerings well even as volatility persists. The transactions scored a number of firsts. The combined trades are not only the largest dollar deal from UOB, but also the largest from a Singaporean bank since 2008. The Secured Overnight Financing Rate tranche is also the largest such trade from Singapore. With its tier two trade, UOB became the first lender from Southeast Asia to tap this market in 2022. The bank capital bonds are also the first after Russia's attacks on Ukraine began over a month ago, thereby reopening the sector."
"UOB bags $2.1 billion from senior/tier two combo",
Global Capital Asia, 1 April 2022
Delivering long-term and sustainable returns 
Diversified shareholder base