Balancing Growth with Stability for the Long Term
/
Deputy Chairman and CEO's Report
Deputy Chairman and CEO's Report
"2022 was a milestone year for UOB. We took a bold move, in the middle of the pandemic, to acquire Citigroup's consumer banking businesses in four ASEAN markets. ...It will help us diversify earnings across products and countries, creating cross-sell opportunities, which will strengthen our regional franchise."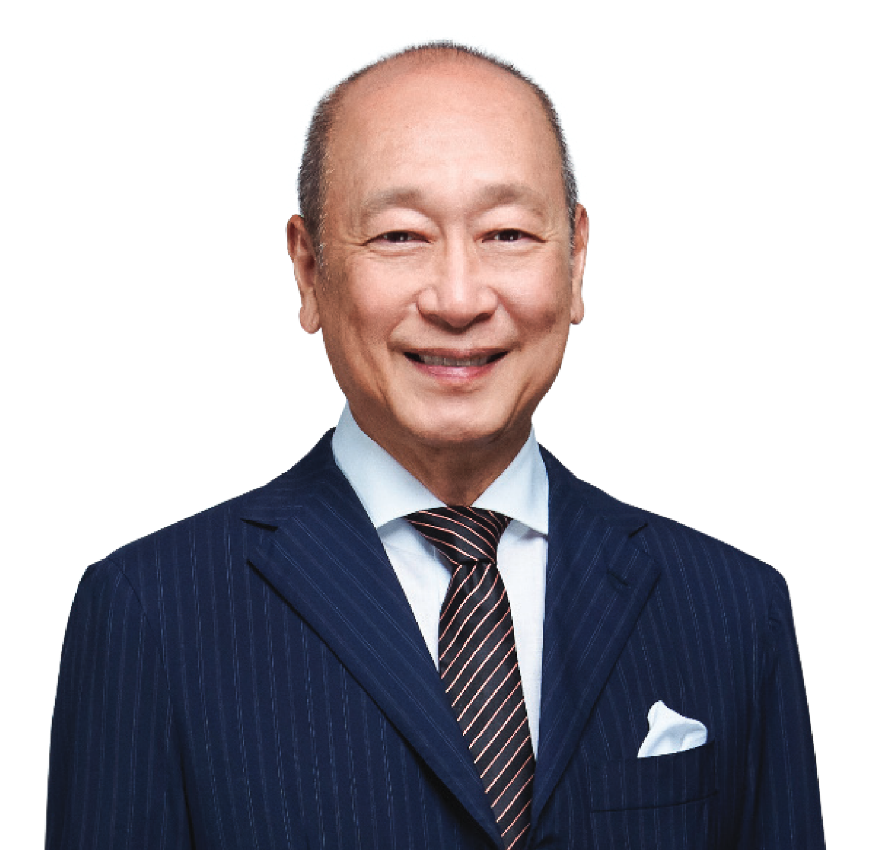 The cover of this year's Annual Report depicts a painting titled "Tree", that is growing strong, full of life and vitality. At UOB, we are constantly looking for ways to grow, not just our business, but also our people and the communities around us. And we want our stakeholders, colleagues and communities to reach their full potential and to fulfil their ambitions as we grow together.
An exciting Southeast Asia
2022 has been an intense year and the changes brought about by the pandemic continue to impact businesses and our personal lives.
‍
It was a year where COVID-19 restrictions have finally been lifted in many parts of the world. However, supply chain disruptions and geopolitical tensions have also driven up food and energy prices. As a result, inflation remains stubbornly high and central banks around the world have raised interest rates at unprecedented speed. 
‍
This year, the global economy is poised to slow down. Nearer to home, however, we are expecting a more vibrant Southeast Asia. The young population, rising middle class and rapid digitalisation in the region will continue to drive demand for goods and services. 
‍
We see a clear regionalisation trend in Southeast Asia, and UOB is in a sweet spot to provide connectivity for customers.  Investors from both the East and the West are attracted to our region as they look to diversify their supply sources in this new multi-polar world. These are exciting times for our region, which will continue to be a magnet for global trade and investment flows in the next decade. 
‍
With regional economies, including China, ending COVID-19 restrictions, our part of the world will be a bright spot in 2023. As evident from our Retail and Wholesale Banking businesses, consumption and investments are restarting and picking up speed. 
A transformational year for UOB
Amid these extraordinary times, UOB seized the moment to transform ourselves in 2022:
We sharpened our Purpose and launched a brand refresh campaign. 

We acquired Citigroup's consumer business in Indonesia, Malaysia, Thailand and Vietnam, which accelerated our growth by five years.

Our new growth engines in both Wholesale and Retail banking are ready to start firing.

We committed to net zero targets to support sustainable growth across the region's diverse economies.

Our Purpose, ambition and key differentiators
We affirmed our commitment to the ASEAN region for the long term with a sharpened Purpose – To build the future of ASEAN, for the people and businesses within, and connecting with, ASEAN.
For our Wholesale Banking business, our ambition is to be the number one trade bank in ASEAN, with our strength in connectivity and sector specialisation as our key differentiators. 

On the Retail front, we want to be the bank of choice for all aspiring individuals in ASEAN. To do that, we offer them personalised services and solutions. 

Cutting across all segments, we embrace sustainability, embedding Environmental, Social and Governance initiatives in everything that we do, focusing on delivering real impact for our customers, stakeholders and colleagues.  

Above all, we will continue to build upon our values-based culture that has helped our people to flourish. We want employee pride to be our most important differentiator. 

In 2022, we launched a brand refresh campaign to communicate our sharpened Purpose, ambition and key differentiators. It has been well-received internally by our colleagues and externally by our customers and stakeholders.
Game-changing acquisition 
2022 was a milestone year for UOB.  We took a bold move, in the middle of the pandemic, to acquire Citigroup's consumer banking businesses in four ASEAN markets – Indonesia, Malaysia, Thailand and Vietnam.  The business has proven to be robust and it will help us diversify earnings across products and countries while creating cross-sell opportunities.
‍
Over the last 40 years, the Group bought and integrated five banks in Singapore and five banks in the region. This has given us the scale, expertise and connectivity to support our customers' aspirations in ASEAN. This latest acquisition further strengthens our position, accelerating our growth ambition by five years. By acquiring businesses in four markets at one go, we have turbocharged our scale in the region and lifted our market position swiftly.
‍
The deal was funded with capital buffers that we set aside over the years, patiently waiting for the right opportunity. The timing was opportune as it allowed UOB to ride on the momentum as markets reopen. Through this transformational deal, we generated higher risk-adjusted returns. We ended the year with a strong balance sheet, and healthy capital and liquidity positions.

Last November, we completed our acquisition in Malaysia and Thailand, adding more than one million customers to our Retail base. Importantly, all 3,700 of our new colleagues are settling well in the UOB family. We aim to complete the acquisition in Indonesia and Vietnam this year. By then, our combined Retail customer base in the region should cross the eight million mark.  
‍
In this fast-changing world, it is important to be nimble and ever-ready to disrupt to move forward. This decisive move was made possible as we had opted to play the long game. We had stayed disciplined in managing our balance sheet and operations through the years. It enabled us to execute the deal when it came - with our capital buffer, integrated regional IT infrastructure and a strong bench of talents.

Supporting customers to seize regional opportunities
As companies reconfigure their supply chains to reshore and to onshore their businesses, UOB, with our extensive regional footprint, is well-placed to help link them to opportunities in Southeast Asia. Our wholesale banking teams have supported many clients and we see an increase in regional business activities. 
‍
Our sector specialisation and ground expertise also enable us to support customers in their green transition in the face of a stronger sustainability push across the supply chain. 
‍
Our investments in capabilities to support clients in doing cross-border business and expanding to new markets are showing results. Our cross-border income rose 12 per cent in 2022, which accounted for about one-third of our Wholesale Banking income. Transaction banking business expanded significantly, contributing 35 per cent to Wholesale Banking income. We have set our sights on becoming the number one cross-border trade bank in ASEAN.
‍
In 2022, we doubled down on building our business for high net-worth wealth management.  We combined our Private Bank and Privilege Reserve businesses to create a Private Wealth Group.  Despite challenging market conditions, we attracted net inflows of more than $8 billion, reflecting customers' confidence and trust in us.  
‍
Within the banking industry, the competitive landscape is also changing. Amid global banks' withdrawal from the region and heightened regulation of FinTech players, we see immense opportunities for UOB to expand our market share in a region with growing affluence.

Providing customers with digital solutions to grow
The long-drawn pandemic has accelerated digital adoption for everyone - from big corporates to individuals. At UOB, we have invested heavily in our digital banking platforms to support our customers on this journey. And we will continue to do so. 
‍
Our approach to digitalisation has always been anchored by our omni-channel strategy. Customers can access banking anytime, anywhere and through any channel – be it via our physical branches, digital platforms or a combination of both.
‍
In August 2022, our award-winning digital platform UOB TMRW hit a milestone of having digitally acquired one million retail customers since launch. 
‍
Meanwhile, more than half of the 800,000 new-to-bank Retail customers acquired organically in 2022, were through digital channels. Now, about 70 per cent of our seven million Retail customers across our entire franchise are digitally-enabled.
‍
For our small business clients, we launched an industry-first banking app – UOB SME, so they can bank on-the-go, wherever they are, whenever they want. They can analyse their cashflow via a comprehensive dashboard in the app and tap data-driven insights.
‍
In 2022, we extended UOB Infinity, a powerful digital banking platform supporting cash management transactions, digital payments and trade tools – to eight markets. In the new year, we aim to complete the roll-out to another two more markets. In the year, we also introduced a comprehensive Financial Supply Chain Management platform in Singapore and will expand it to our key ASEAN markets and Greater China in 2023. Our investments are making an impact. In a regional survey by consultancy firm Coalition Greenwich, large Asian companies said UOB is their most preferred financial institution for cash management services in the region. 

Creating sustainable impact with our customers
Sustainability is another major driver of business change today. Southeast Asian countries, including Singapore, have declared their commitment to net zero carbon emissions in the next few decades. UOB, too, is doing our part.
‍
In October 2022, we laid out a comprehensive roadmap for the Bank to reach net zero carbon emissions by 2050. As a start, our plans cover six sectors: power, automotive, oil and gas, real estate, construction and steel, which make up 60 per cent of our corporate lending portfolio.

We want to be a responsible financial steward to help individuals, companies and communities to build the future of ASEAN. Our net zero commitment forms an important part of our Purpose.
‍
In our pursuit of decarbonisation, we are also mindful that Southeast Asian economies are diverse, each with their different economic and social needs. Our approach is to support our customers and communities to transition in a just and orderly manner so that lives and livelihoods can continue to improve.

Growing our timber, The UOB Way 
A hallmark of our long-term mindset is about striking the right balance - between growth and stability, innovation and risk, preserving our heritage and transforming for the future.
‍
The Bank started almost 90 years ago in Singapore to serve local merchants. Our founders had a strong desire to help businesses grow and expand. Our history and legacy, backed by our core values, have set a solid foundation for us to build a trust-based culture among our people.
‍
At UOB, we believe that people are our greatest asset.  
‍
Growing our own timber, anchored on our values of Honour, Enterprise, Unity and Commitment, ensures that we have the right culture and talent pool to work together as one team for our shared vision. Being honourable and building trust among our people is critical. This ensures that we are constantly doing right by our customers, stakeholders and colleagues, not just for today but also for the future. 
‍
As an organisation, we care for the well-being of our people while empowering them to make a difference. Above all, we want our colleagues to be able to realise their full potential in whatever they do. Some 17,000 colleagues have attended our specially-designed training programmes such as Better U and related pathway courses.
‍
To strengthen our people culture and to build employee pride, we introduced The UOB Way in 2022. It is an embodiment of how we work at UOB, which is built upon our values, and how our employee experience is focused on care, growth and trust. In the new year, we will do more to infuse The UOB Way into our people programmes and policies.
‍
In the year, the Bank rolled out industry-leading programmes such as Flexible Work Arrangements, Gig+U Women and a Technology Academy to develop tech talents. In 2022, we celebrated the 10th anniversary of our Scan Hub, where nearly 40 per cent of the workforce are colleagues with special needs. Through The Unlimited programme, we also encourage our business clients to adopt inclusive hiring. 
‍
Our drive to create a conducive environment of care, growth and trust is beginning to bear fruit, evident by the record-high employee engagement score in our annual survey. 
‍
We will continue to find new ways to nurture our talents through giving our people opportunities within their own specialisation, or across functions and markets. UOB is here for the long-term, including how we build and nurture our team.

Creating long-term value for our community 
Our commitment for the long term extends to our support for local communities, especially in the areas of art, children and education. 
‍
Through the UOB Global Heartbeat Run/Walk, our annual flagship volunteerism and fundraising programme, our people raised a record of almost $2.3 million for 26 charities around the world. Our people also volunteered close to 45,000 hours to community building in 2022. 
‍
To bridge the digital divide for disadvantaged children, we equipped more than 7,300 young people across seven markets with digital learning tools and skills through the award-winning UOB My Digital Space programme.

We believe in the power of art to inspire and to connect people across cultures. Through our 41st UOB Painting of the Year annual competition, we uncovered promising artists from around the region and encouraged an appreciation of Southeast Asian art among a wider audience. We also launched the first immersive art theme park in the metaverse - SkyArtverse by UOB in Decentraland. To strengthen the arts ecosystem in Singapore, we signed a Memorandum of Understanding with the National Arts Council Singapore last year. 

For our community efforts, we received eight industry awards and accolades across the region, including the Community Chest's highest accolade, the Pinnacle Award presented by Singapore President Halimah Yacob. 

Strong financial performance
2022 was a strong year financially for UOB. The Group posted a total income of $11.6 billion and a record net profit of $4.6 billion for the financial year ended 31 December 2022. Without the one-off costs from integrating Citigroup's Malaysia and Thailand consumer business, core net profit was a record high of $4.8 billion, up 18 per cent from a year ago. 

The Group's results were boosted by a 31 per cent surge in net interest income to $8.3 billion. This was driven mainly by loan growth of three per cent and higher net interest margin, which expanded 30 basis points to 1.86 percent. As wealth and fund management fees were impacted by muted investor sentiments amid market volatility, net fee and commission income declined nine per cent to $2.1 billion. Other non-interest income grew four per cent to $1.1 billion, driven by customer-related treasury income. 

Total core operating expenses rose 16 per cent to $5 billion in tandem with income growth. Core cost-to-income ratio improved 0.8 percentage points to 43.3 per cent.

Total allowance declined eight per cent to $0.6 billion with total credit costs on loans flat at 20 basis points.

The Group's asset quality remained resilient, with non-performing loan ratio steady at 1.6 per cent as of 31 December 2022. The non-performing assets coverage remained strong at 98 per cent or 207 per cent after taking collateral into account. The Group continued to take a prudent approach to maintain performing loan coverage at one per cent. 

The Group's capital, liquidity and funding positions strengthened in the fourth quarter and were well above the minimum regulatory requirements. The average all-currency liquidity coverage ratio stood at 140 per cent and net stable funding ratio was stable at 116 per cent, while the loan-to-deposit ratio was at 85.6 per cent. Post Citigroup acquisition, the Group's Common Equity Tier 1 Capital Adequacy Ratio remained strong at 13.3 per cent as at 31 December 2022. 

Acknowledgements 
Our achievements in 2022 were made possible by the dedication of our people across all our offices globally. I am grateful for their commitment to standing by one another, as well as our customers and community in this fast-changing world. I would also like to thank the Board for its support and guidance as we stay on target to becoming the most preferred bank for consumers and businesses in ASEAN. 

Finally, a big thank you to our customers and shareholders, for your support all these years. I look forward to another strong year ahead as we honour our promise of doing right by our customers and stakeholders.

Wee Ee Cheong
Deputy Chairman and Chief Executive Officer
February 2023