According to the UOB Business Outlook Study 2023 (SME & Large Enterprises), Thai businesses are optimistic about the future with three in five firms viewing 2022 as positive. The majority of them (96 per cent) consider sustainability to be important, with more than one in two saying that sustainable practices enable talent retention and attraction.
Challenges like high inflation and surging operational costs may have taken their toll but there is an overall sense of resilience. In line with the positive outlook, nearly nine in 10 firms are ready to expand overseas in their pursuit of growth.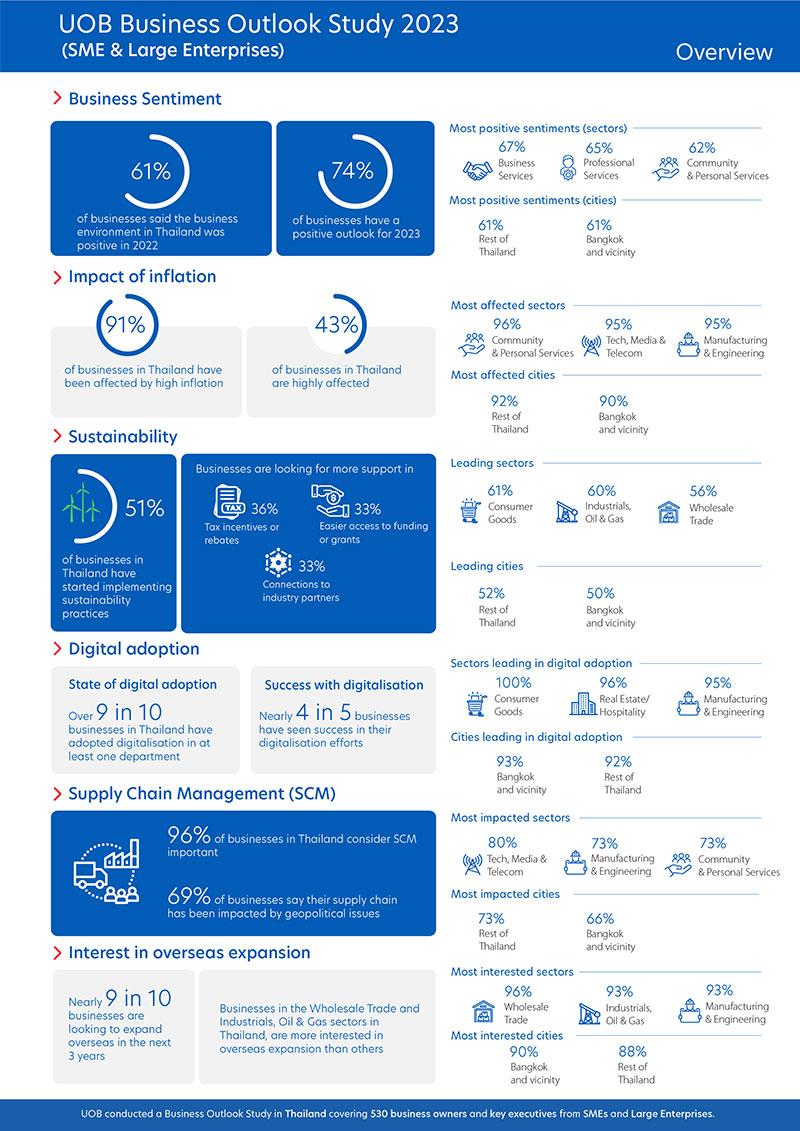 Thai firms bear brunt of high inflation
High inflation has emerged as a significant concern, impacting more than 90 per cent of businesses surveyed, with 43 per cent stating that they have been greatly affected by it – the highest in the region.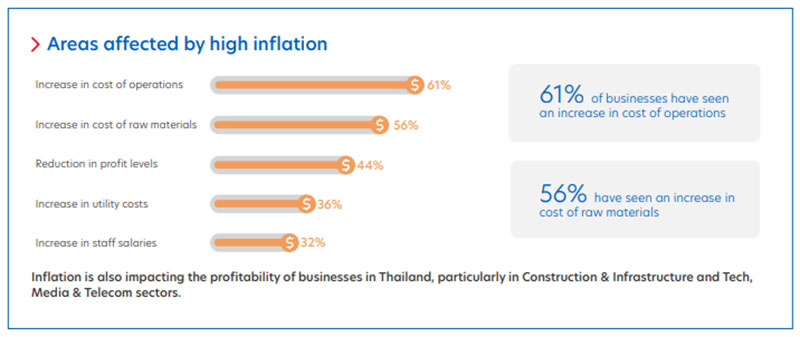 To mitigate the inflation impact, one in two firms are looking to save costs by improving productivity. The Consumer Goods sector plans to increase the selling price of goods and services, while larger businesses are focusing on cutting costs across company activities.
Yet the outlook for 2023 remains positive for 74 per cent of businesses, particularly within the Manufacturing & Engineering sector. In the face of an evolving business landscape, companies are prioritising the expansion of their customer base as a key strategy to drive growth.

Leading the sustainability drive in ASEAN
Businesses in Thailand are making significant strides in their sustainability journey, with 37 Thai companies achieving the 2023 S&P Global Sustainability Index – 12 of which were ranked in the Gold Class category.
The strong commitment to sustainability is evident, with more than half having already implemented sustainable practices. This is higher than the regional average across both ASEAN and Greater China.
Thai businesses recognise the value of adopting sustainability practices, with 56 per cent of firms saying that it bolsters a company's brand and reputation. Unique to Thailand is that 53 per cent of companies believe that sustainability is important as it helps attract and retain talent – significantly higher than the 42 per cent average across ASEAN.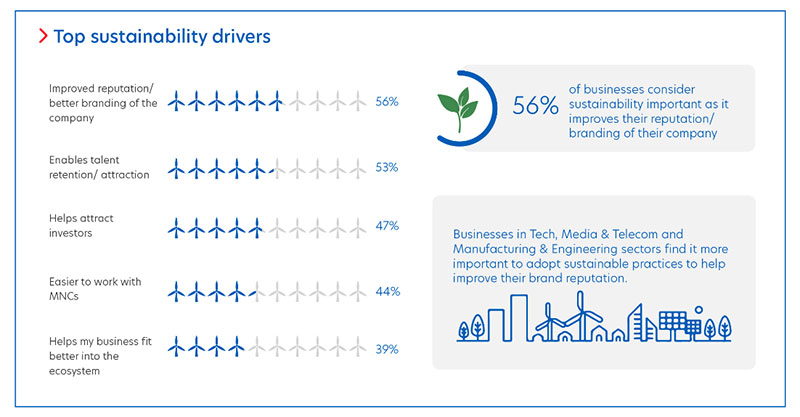 Despite the potential benefits of sustainability, 33 per cent of respondents cite the increased cost of products and services as the main barrier to adoption. Other challenges include inadequate infrastructure for renewable energy and concerns about its potential impact on profits.
To overcome these barriers, businesses require support measures such as tax incentives, improved access to funding, as well as connections to learn from industry peers. These support mechanisms will empower businesses to forge ahead with their sustainability goals and navigate the path towards a greener and more sustainable future.
Enhancing customer experience through digital transformation
Thai businesses are forging ahead with digital adoption, surpassing both regional and ASEAN averages, with 9 in 10 companies implementing digitalisation in at least one department. Their digital transformation has resulted in increased customer outreach, enhanced customer experience, and heightened productivity.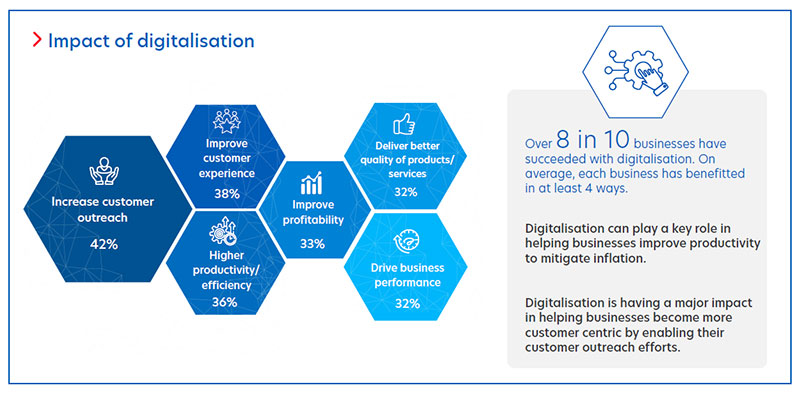 However, businesses still face challenges on their digitalisation journey, including concerns over cybersecurity, high implementation costs, and a lack of digital skillsets. In response, firms are seeking tax incentives, opportunities to collaborate with industry bodies, and connections to the right solution providers.
Harnessing digital solutions for supply chain stability
Supply chain management (SCM) is gaining more attention among businesses in Thailand (96 per cent), especially in larger companies and those in the Manufacturing & Engineering and Wholesale Trade sectors.
However, rising supply costs resulting from high inflation, procurement challenges, and the necessity for just-in-case supply present significant hurdles. For Thai businesses operating outside of Bangkok, the lack of in-house expertise and skill sets are significant challenges as well.
To address them, businesses are turning to data analytics for faster decision-making (36 per cent), diversifying suppliers (35 per cent), and leveraging e-commerce platforms (34 per cent) to source for raw materials and connect with vendors.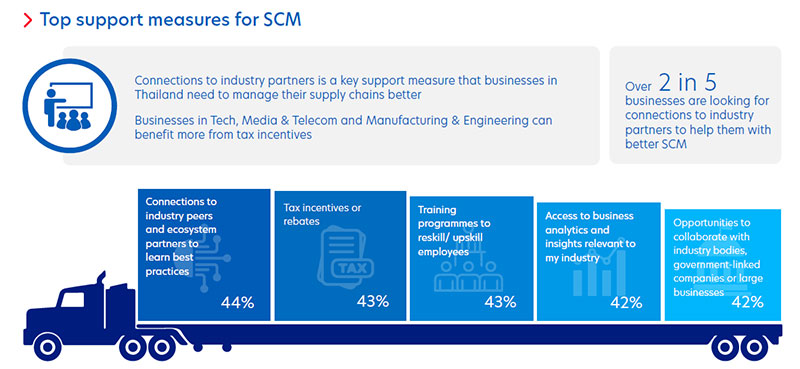 By embracing these initiatives, firms can enhance their resilience in managing their supply chains amidst dynamic market conditions.
Seizing growth opportunities overseas
Venturing into international markets unlocks new customers and talent as well as valuable resources for businesses. The enthusiasm for overseas expansion is evident, with nearly 90 per cent of businesses expressing interest in global expansion.
Thai businesses, particularly those in the Manufacturing & Engineering and Real Estate/Hospitality sectors, are keen to leverage cross-border digital trade platforms as part of their expansion plans. To accomplish this, businesses are actively seeking opportunities to forge connections with international counterparts.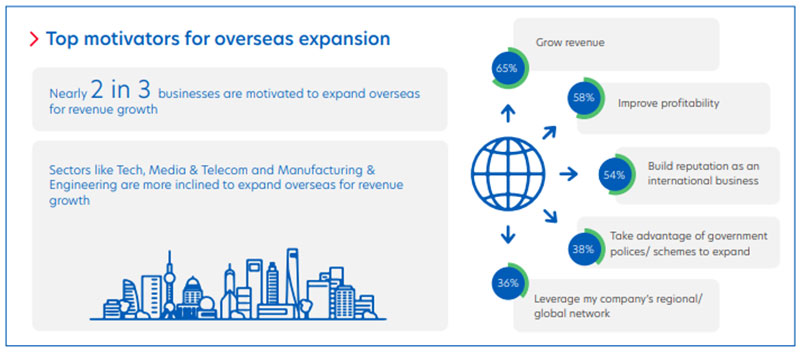 Firms located in Greater Bangkok (72 per cent) are driven to expand internationally to grow revenue whereas those outside Greater Bangkok (48 per cent) intend to harness government policies and leverage their network to expand.
Thai businesses primarily plan to expand to Southeast Asian markets and Mainland China. Within ASEAN, Singapore, Vietnam, and Malaysia emerged as the top three countries of interest.
However, venturing into a new market comes with its fair share of challenges. These include navigating legal and regulatory compliance, identifying suitable partners, and addressing talent gaps within organisations.
To overcome these obstacles, businesses are actively seeking support measures, including tax incentives and connections to established corporate entities.
With more than 80 years of experience, UOB has an extensive regional network with a deep understanding of ASEAN dynamics. At UOB, we are committed to helping businesses navigate the dynamic landscape of the ASEAN region to unlock their full potential. From cross-border trade support to green financing, UOB offers tailored solutions, industry knowledge, and market expertise.
About this study
The UOB Business Outlook Study 2023 (Thailand) surveyed 530 business owners and key executives from SMEs and Large Enterprises across the country, to understand their views around:
Business sentiments and priorities
Rising inflation, its impact and mitigation
Sustainability in business
State of digital adoption
Supply chain management
Overseas expansion
Important notice and disclaimers
This article shall not be copied or relied upon by any person for whatever purpose. This article is given on a general basis without obligation and is strictly for information only. The information contained in this article is based on certain assumptions, information and conditions available as at the date of the article and may be subject to change at any time without notice. You should consult your own professional advisers about the issues discussed in this article. Nothing in this article constitutes accounting, legal, regulatory, tax or other advice. This article is not intended as an offer, recommendation, solicitation, or advice to purchase or sell any investment product, securities or instruments. Although reasonable care has been taken to ensure the accuracy and objectivity of the information contained in this article, UOB and its employees make no representation or warranty, whether express or implied, as to its accuracy, completeness and objectivity and accept no responsibility or liability for any error, inaccuracy, omission or any consequence or any loss or damage howsoever suffered by any person arising from any reliance on the views expressed and the information in this article.