21 December 2021
Dash customers can grow their wealth and make a positive impact through UOBAM Robo-Invest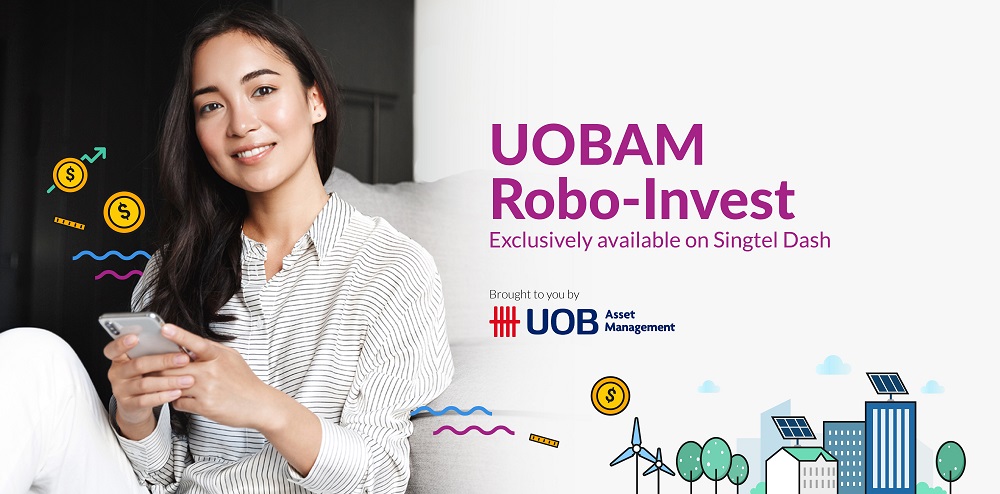 UOBAM Robo-Invest is exclusively available on Singtel Dash (Photo credit: Singtel)
Singtel has launched a new digital adviser by UOB Asset Management (UOBAM) on Dash. UOBAM Robo-Invest is Singapore's first robo-adviser on a mobile wallet and includes sustainable investing solutions among its offerings which are created by UOBAM exclusively for Dash customers. The robo-adviser aims to optimise and generate stable long-term portfolio returns through a hybrid investment strategy. Singtel's collaboration with UOBAM, a leading Asia-based asset manager with more than 30 years of investment experience, gives consumers convenient access to affordable wealth management solutions using technology and furthers Dash's goal to empower them to grow their wealth simply and smartly.
Dash customers can start investing with UOBAM Robo-Invest from as low as S$1 and at competitive annual advisory rates of 0.60% to 0.80%. Through the robo-adviser, they are able to build a personalised, dynamic portfolio based on their risk profile, aggregate financial goals and investment horizon. UOBAM Robo-Invest currently offers two exclusive portfolio options – the Global and Global Impact portfolios that invests in a combination of actively-managed funds and passively-managed exchange-traded funds across diverse industries and geographies.
In particular, UOBAM's Global Impact portfolio is designed for customers seeking to grow their wealth in a smart and sustainable way. It provides them with investment opportunities in companies that integrate environmental, social and governance (ESG) considerations into their strategies and operations. Based on insights from a recent UOB survey1, eight in 10 respondents in Singapore want more ESG-focused investment solutions so that they can help create a positive impact on the environment or society, while achieving financial returns.
Mr Gilbert Chuah, Head of Financial and Lifestyle Services at Consumer Singapore, Singtel said, "We hope to democratise finance by harnessing technology to offer an inclusive suite of high quality services. This new investment service delivers on our commitment to make it simple, affordable and convenient for Dash customers to manage their finances and build their wealth. Customers can also tap on the investment expertise of an asset manager with a strong track record of optimising returns. We look forward to working with UOBAM as well as other established ecosystem partners to introduce more relevant and related financial and lifestyle products on Dash in the coming months."
Mr Faizal Gaffoor, Group Chief Marketing Officer, UOBAM, said, "Our collaboration with Singtel represents a step forward in the way we offer robo-advisory solutions to consumers. By embedding UOBAM Robo-Invest in the mobile wallet, we are providing Dash customers with easy access to professional investment expertise and experience that we have built over more than three decades. They can create their portfolios with just a few clicks and start their journey to achieve their personal financial goals. In forging a sustainable future, we are also glad to work with our like-minded partner, Singtel, to help their customers invest for both profit and purpose. We will continue to expand our range of services and solutions and to work with more partners to make investing more accessible and sustainable."
To register for UOBAM Robo-Invest, Dash customers have to first set up a UOBAM investment account within Dash which will be used to hold the investment capital. Customers can top up the account through eNETS or PayNow. The top-up mode will also be extended to include auto deduction via the Dash wallet by the first quarter of 2022.
The launch enhances Dash's suite of financial services offerings, which range from payments, mobile remittance, insurance and savings to investments. Dash presently has some 1.2 million users and is available to everyone regardless of telco or banking relationship. More information on Dash is available at www.dash.com.sg.
---
1Source: UOB ASEAN Consumer Sentiment Study, December 2021. The study aims to provide a better understanding of ASEAN consumers at a time when the region is undergoing deep social and economic transformation. This is the second edition of the study that was completed in July 2021. Approximately 3,500 respondents from five ASEAN countries were interviewed, including 1,000 from Singapore and more than 600 each from Indonesia, Malaysia, Thailand and Vietnam.