Despite inflation and rising costs, 71 per cent of businesses in Malaysia remain positive about their prospects. According to the UOB Business Outlook Study 2023 (SME & Large Enterprises), these perceptions cut across all industry sectors within the country. In terms of business priorities, more than 80 per cent of firms are prepared to adopt new strategies, which include reducing costs and digitalisation.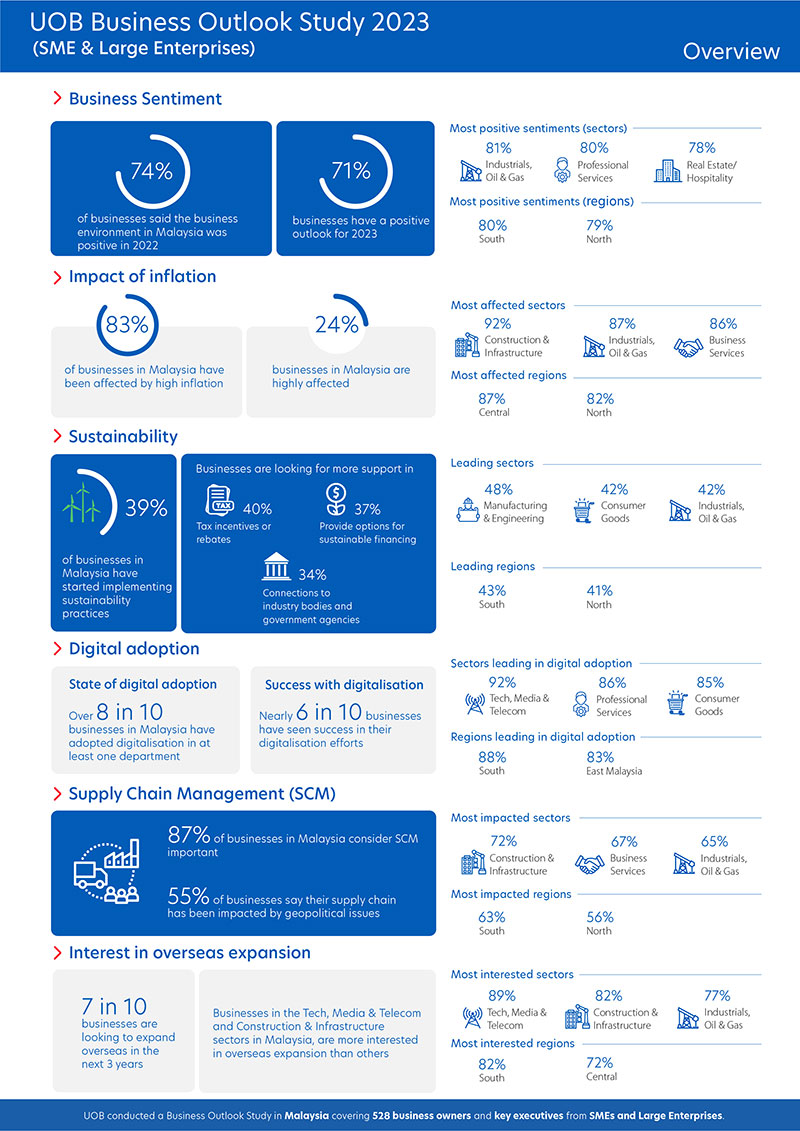 Reducing cost through digitalisation
Seven in 10 businesses share a positive outlook for 2023, a finding that is consistent across all industries. For firms that are less positive, they expect the business environment to pick up by 2024 or beyond.
Although pandemic concerns have taken a backseat in 2022, challenges remain – including the likes of inflation, rising operational costs and an overall economic slowdown.
Consequently, operating costs have increased for six in 10 businesses, and half of them have experienced a surge in raw material costs. Nearly one in two firms are prioritising productivity improvement as a cost-saving measure to mitigate the impact of inflation.

Along with the positive outlook for 2023, businesses in East Malaysia saw the most revenue growth (88 per cent).
Additionally, most businesses expect to see revenue growth each year over the next three years (2023 to 2025), with a higher quantum of growth expected in 2024 and 2025. To achieve this, businesses are prioritising cost reduction exercises, customer acquisition strategies, and undergoing digitalisation in the next three years.
To that end, companies are seeking tax rebates and accessible funding or grants to meet their business transformation goals.
Bridging the digital gap
Digital solutions such as e-commerce platforms, cloud computing, and automation are enabling companies to streamline processes, improve productivity, and gain a competitive edge.
Digitalisation has become a prominent focus in Malaysia, with more than four in five businesses adopting digital practices in at least one department. The Tech, Media and Telecom sector is faring better than most industries in this aspect, clocking the highest digital adoption rate at 92 per cent.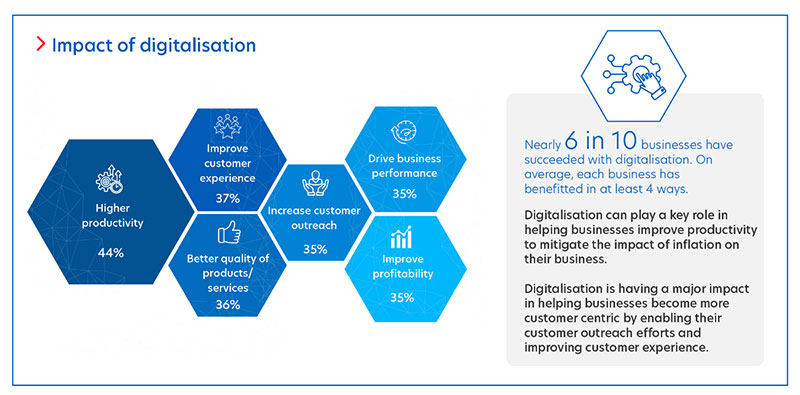 Marketing, sales, and customer service are the most digitalised processes. The impact of digitalisation on productivity has been significant, with seven in 10 firms reporting increased profits of at least 20 per cent.
However, respondents cited a lack of digital skillset among employees as the biggest barrier in a firm's digital adoption journey, followed by high implementation costs and cybersecurity concerns.
Insufficient funding for ongoing digital adoption poses a barrier for 34 per cent of small businesses. This is where incentives like the MYR100 million SME Digitalisation Grant, allocated under Budget 2023, can come in useful for SMEs. Larger firms face obstacles related to cybersecurity and data breaches, as well as implementation delays caused by the COVID-19 pandemic.
As a result, businesses are seeking tax incentives, easier access to funding, and upskilling programmes for employees to facilitate their digitalisation efforts. Larger businesses also seek connections with industry peers and to learn digital best practices that can be implemented effectively.
Opportunities to drive sustainability
Eight in 10 businesses in Malaysia recognise the importance of adopting environmentally and socially responsible practices. Improved reputation and the ability to attract investors are the primary drivers behind sustainability adoption.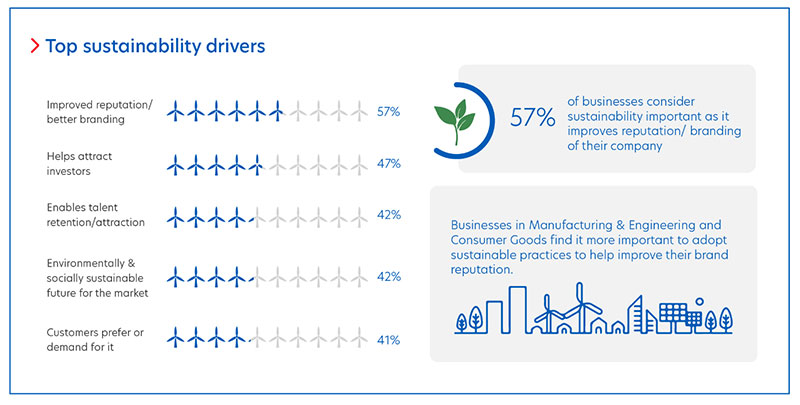 Approximately four in 10 businesses have already implemented sustainability practices, with a focus on efficient use of resources to minimise waste (55 per cent) as well as initiatives related to employee welfare (48 per cent).
However, the increased cost of products and services, as well as manpower constraints are perceived to hinder sustainability efforts for one in three companies. These challenges present an opportunity for banks and the Government to step in and provide support to drive sustainability within businesses.
Firms are also seeking support in the form of tax incentives and sustainable financing options, while larger businesses are looking for connections to training or solution providers, along with business analytics access to guide them on their green journey.
Strengthening supply chain management
The disruptions caused by the COVID-19 pandemic have also underscored the importance of supply chain management (SCM), with 87 per cent of firms concurring. Nearly six in 10 businesses felt the impact of global tensions on their supply chain, especially construction and infrastructure companies.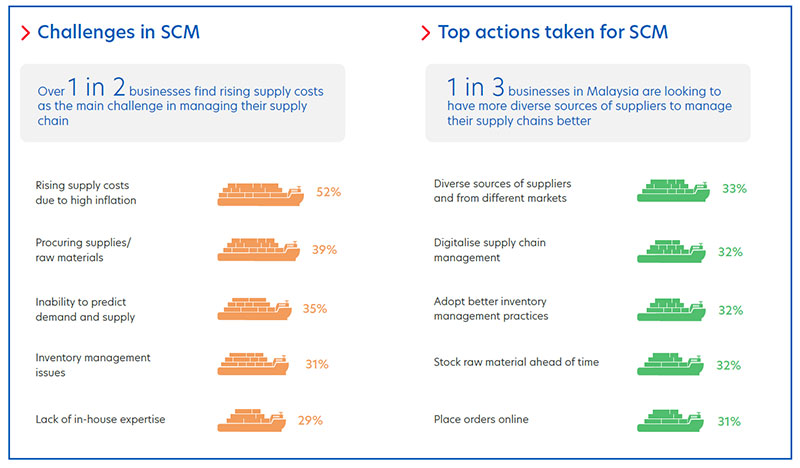 Rising supply costs due to inflation and challenges in procuring supplies – particularly for manufacturing and engineering firms – are key challenges in supply chain management.
To ensure a resilient supply chain, businesses are diversifying their supplier base, digitalising processes, and implementing more effective inventory practices. Larger enterprises are taking more proactive steps in digitalising their supply chain management (39 per cent) and seeking import financing facilities (31 per cent).
Overall, businesses are seeking support in the form of tax incentives, training programmes, and easier access to funding to enhance their supply chain management capabilities.
Unlocking opportunities abroad
In terms of overseas expansion, three in four businesses are interested in using cross-border digital trade platforms, specifically those from the Tech, Media and Telecom sector.
Seven in ten businesses are looking to unlock opportunities outside Malaysia in the next three years. The Tech, Media and Telecom sector show the most interest in expanding overseas (89 per cent).
Firms are also motivated to venture overseas due to revenue growth, improved profitability, and enhanced international reputation.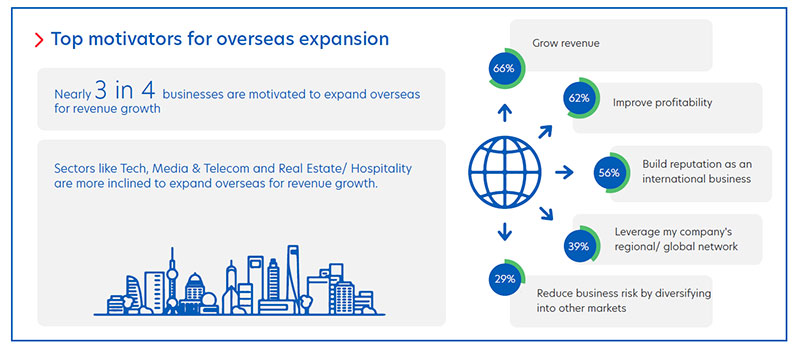 Four in 10 Malaysian businesses, however, face challenges when it comes to finding suitable partners and navigating the complexities of legal, regulatory, and tax requirements. Concerted efforts needed to facilitate expansion goals include available funding/grants, tax incentives, and advisory and consultation services.
In a diverse region like Southeast Asia, there is a need to find the right partners to work with when it comes to exploring new markets, so as to address the lack of local knowledge or information. At UOB, we are committed to helping businesses navigate the dynamic landscape of the ASEAN region to unlock their full potential. From cross-border trade support to green financing, UOB offers tailored solutions, industry knowledge, and market expertise.
About this study
The UOB Business Outlook Study 2023 (Malaysia) surveyed 528 business owners and key executives from SMEs and Large Enterprises across the country, to understand their views around:
Business sentiments and priorities
Rising inflation, its impact and mitigation
Sustainability in business
State of digital adoption
Supply chain management
Overseas expansion
Important notice and disclaimers
This article shall not be copied or relied upon by any person for whatever purpose. This article is given on a general basis without obligation and is strictly for information only. The information contained in this article is based on certain assumptions, information and conditions available as at the date of the article and may be subject to change at any time without notice. You should consult your own professional advisers about the issues discussed in this article. Nothing in this article constitutes accounting, legal, regulatory, tax or other advice. This article is not intended as an offer, recommendation, solicitation, or advice to purchase or sell any investment product, securities or instruments. Although reasonable care has been taken to ensure the accuracy and objectivity of the information contained in this article, UOB and its employees make no representation or warranty, whether express or implied, as to its accuracy, completeness and objectivity and accept no responsibility or liability for any error, inaccuracy, omission or any consequence or any loss or damage howsoever suffered by any person arising from any reliance on the views expressed and the information in this article.