Despite macroeconomic uncertainties, Indonesia's businesses are brimming with optimism. According to the UOB Business Outlook Study 2023 (SME & Large Enterprises), nine in 10 companies share a positive outlook for 2023 – surpassing the ASEAN average – with revenue expected to grow over the next three years.
The upbeat outlook is supported by companies ready to adopt initiatives for growth, including the digitalisation of businesses to increase efficiency and diversifying revenue streams.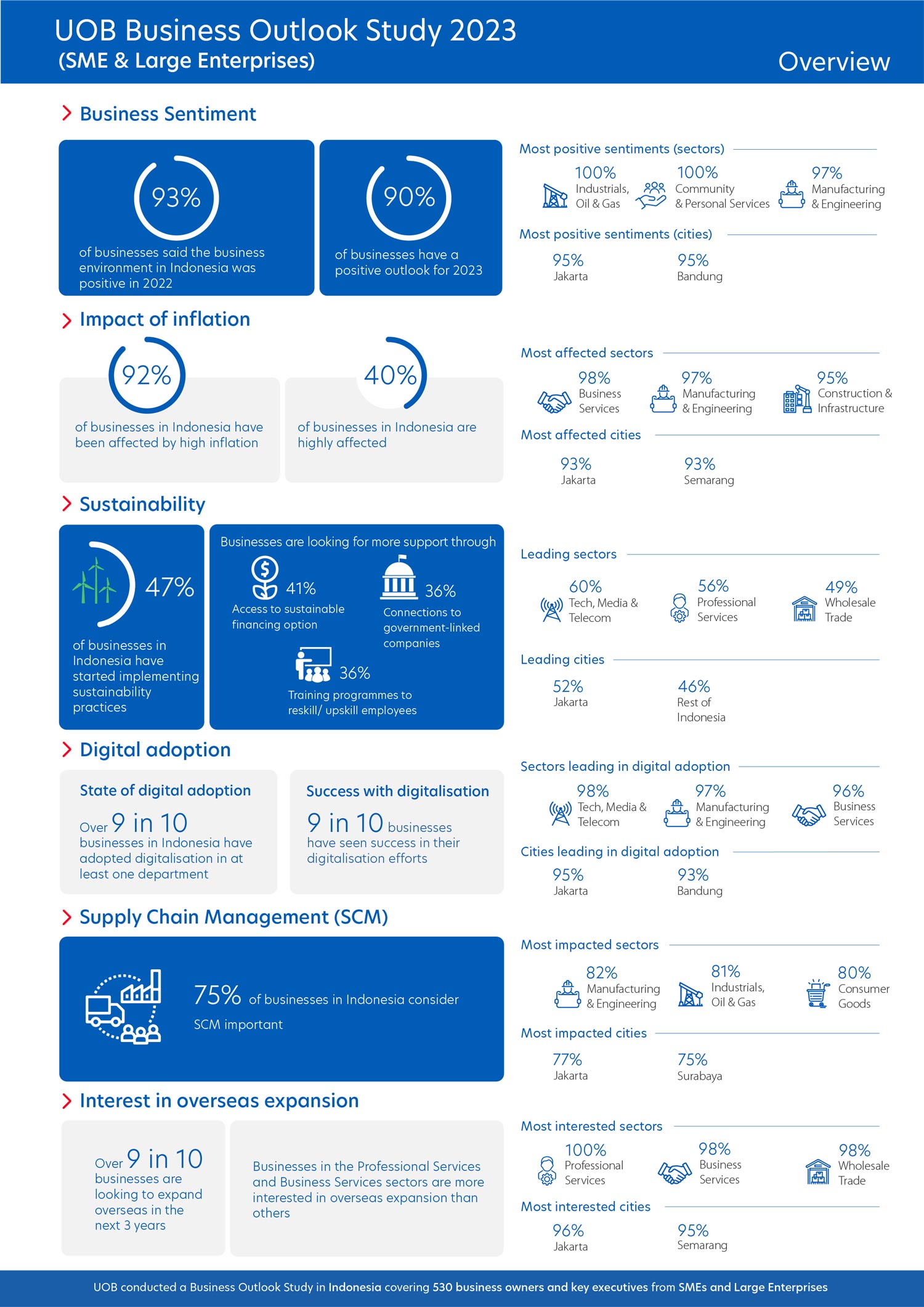 Remaining positive amidst inflationary pressures
In 2022, over nine in 10 businesses were impacted by high inflation, with two in five feeling a severe impact. Many saw an increase in the cost of operations, raw materials and utilities.
To mitigate the effects of inflation, nearly half the businesses (46 per cent) have focused on productivity improvements to cut costs. Other measures include retrenchment and hiring freezes (32 per cent) as well as increasing the selling price of goods and services (40 per cent).
Despite being more affected by inflation compared with their ASEAN peers, Indonesian companies remain optimistic about the business environment. When it comes to driving future growth, digitalisation, developing new sources of revenue and reskilling talent are the top three business priorities that were cited.

Embracing sustainable practices
Indonesia has taken a resolute step by aiming to achieve net-zero emissions by 2060, or sooner. With vast reserves of renewable energy resources, Indonesia is committed to implementing sustainable initiatives while tackling global carbon dependency.
Four in 10 Indonesian businesses have embraced sustainability practices, for various reasons. These include attracting investors, bolstering their reputation, and forging partnerships with multinational corporations.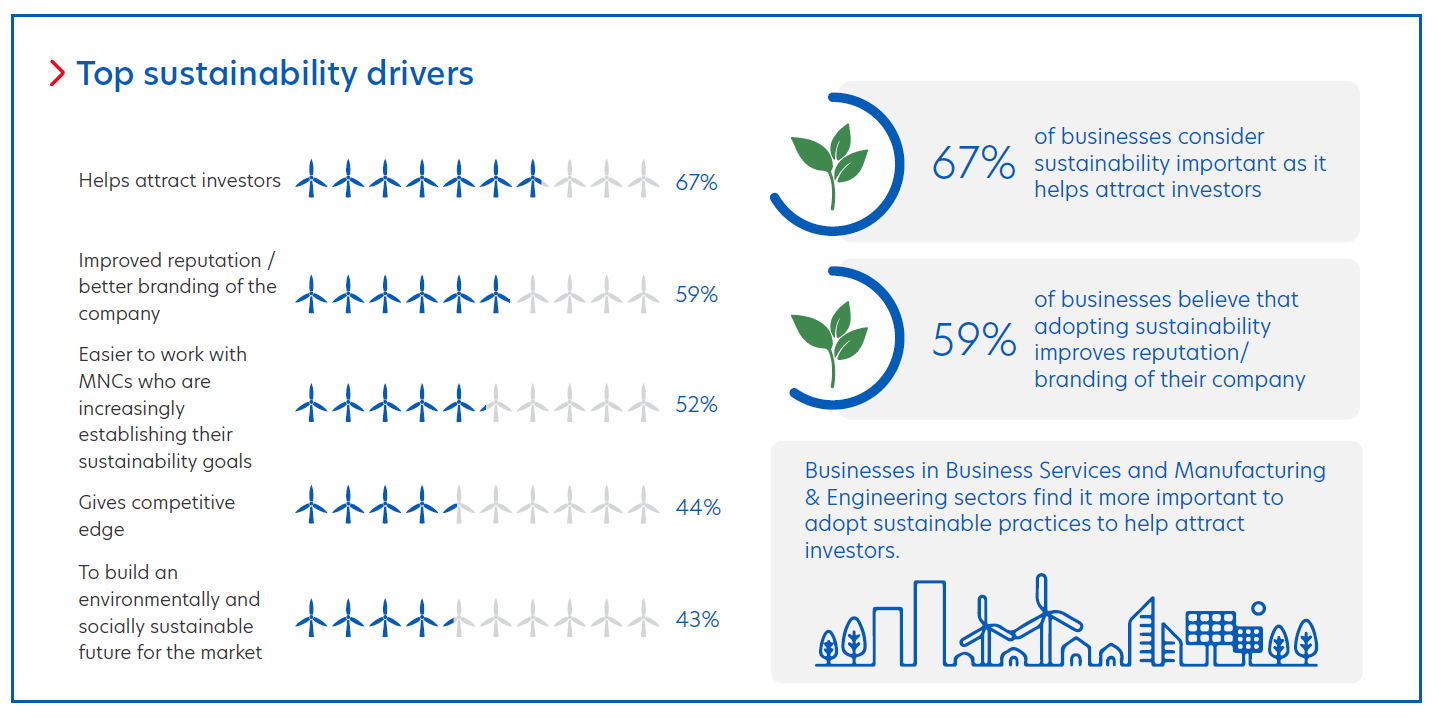 Among the practices adopted, those offering financial benefits, such as energy-efficient equipment and resource optimisation, gained the most traction. However, a notable challenge for one in three businesses lies in reconciling their sustainability aspirations with its impact on their bottom line.
Balancing profitability and sustainable practices remains a critical consideration in their journey towards greater eco-consciousness. Across businesses, sustainability financing emerged as the topmost support required.
Embracing a digital revolution for enhanced performance
In 2022, Indonesia accounted for 40 per cent of digital transactions in ASEAN, making it a prominent player in the region's digital economy.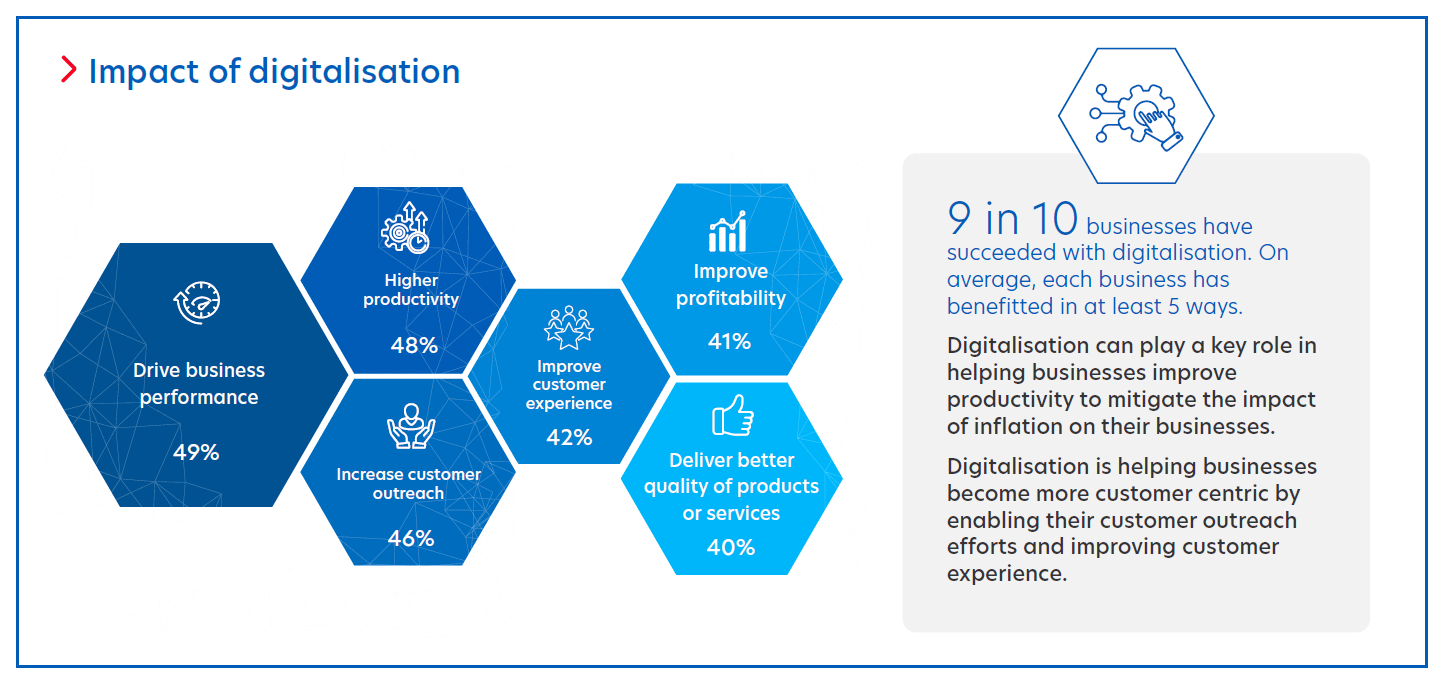 Nine in 10 Indonesian companies embraced digitalisation in at least one department, namely marketing, customer service, and sales. This has notably improved overall business performance and productivity for 90 per cent of businesses, with those in the industrials/oil & gas sector are reaping the most benefits.
However, cybersecurity concerns and the risk of data breaches are the most anticipated challenges in a firm's digital transformation journey. Being the largest archipelago globally, Indonesia faces a more pronounced digital divide. For instance, firms based in Surabaya are particularly challenged with the lack of digital skill sets among their employees.
Tailored support measures are needed for varying business sizes. In order to foster knowledge sharing and facilitate a smoother digital adoption process, larger businesses are seeking opportunities to collaborate with industry bodies and peers.
Building a resilient supply chain for uncertain times
The significance of robust supply chain management (SCM) is apparent to 98 per cent of Indonesian businesses. In the face of global tensions, SCM has encountered challenges such as soaring supply costs, procurement complexities, and the need to retain just-in-case supply.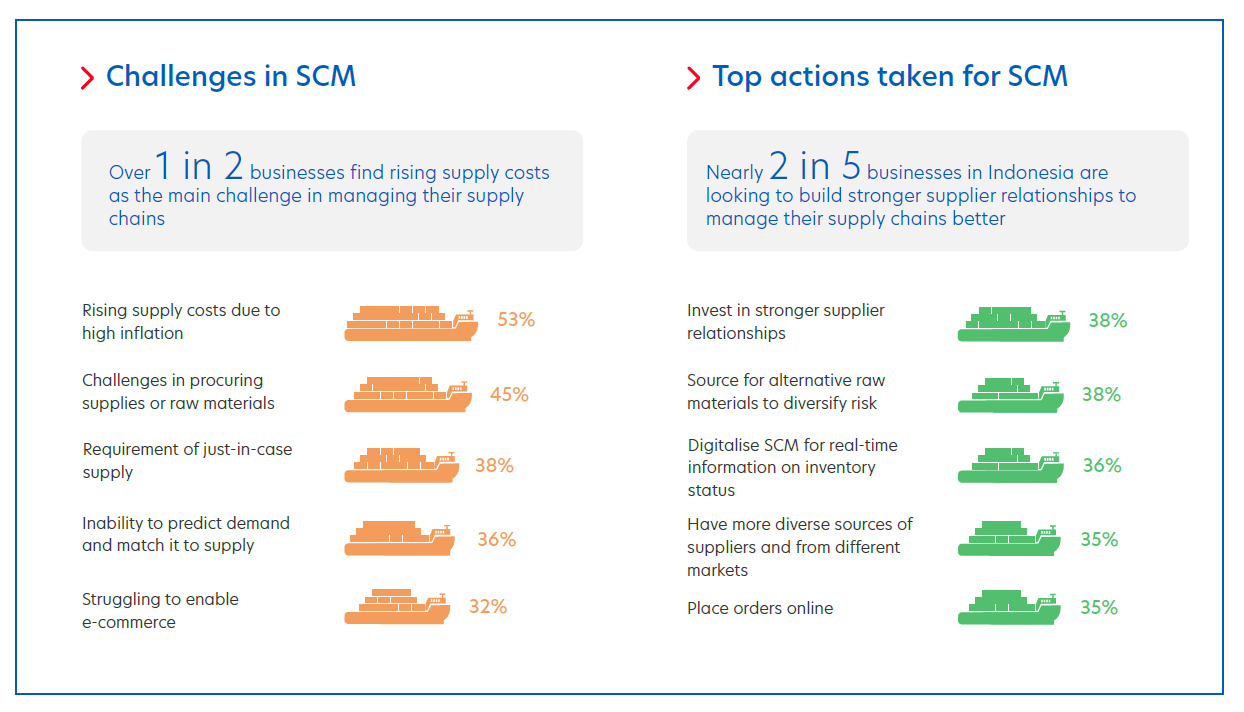 In response, businesses have taken proactive steps such as fostering stronger supplier relationships, seeking alternative raw material sources, and digitalising their supply chains for real-time information.
Larger businesses are leveraging e-commerce platforms and data analytics to procure raw materials from neighbouring countries, effectively shortening their supply chain.
However, support from the right technology providers, ecosystem connections, and employee upskilling programs are essential to successfully navigate these challenges.
Exploring new horizons with cross-border trade
Indonesia is set to become one of the world's fastest-growing e-commerce markets. Local e-commerce powerhouses, Tokopedia and Bukalapak, have been instrumental in dramatically reshaping Indonesia's digital economy.
The appeal of overseas expansion is strong for nine out of 10 Indonesian businesses. Cross-border digital trade platforms have particularly captured the interest of companies, especially in the business services sector.
According to the study, businesses are eyeing expansion to both ASEAN as well as South Korea and Japan. Within ASEAN, Singapore, Malaysia, and Thailand take the lead as the top three destinations for business expansion. A third of firms aspire to venture beyond Asia altogether.
At UOB, we are committed to helping businesses navigate the dynamic landscape of the ASEAN region to unlock their full potential. From cross-border trade support to green financing, UOB offers tailored solutions, industry knowledge, and market expertise.
About this study
The UOB Business Outlook Study 2023 (Indonesia) surveyed 530 business owners and key executives from SMEs and Large Enterprises across the country, to understand their views around:
Business sentiments and priorities
Rising inflation, its impact and mitigation
Sustainability in business
State of digital adoption
Supply chain management
Overseas expansion
Important notice and disclaimers
This article shall not be copied or relied upon by any person for whatever purpose. This article is given on a general basis without obligation and is strictly for information only. The information contained in this article is based on certain assumptions, information and conditions available as at the date of the article and may be subject to change at any time without notice. You should consult your own professional advisers about the issues discussed in this article. Nothing in this article constitutes accounting, legal, regulatory, tax or other advice. This article is not intended as an offer, recommendation, solicitation, or advice to purchase or sell any investment product, securities or instruments. Although reasonable care has been taken to ensure the accuracy and objectivity of the information contained in this article, UOB and its employees make no representation or warranty, whether express or implied, as to its accuracy, completeness and objectivity and accept no responsibility or liability for any error, inaccuracy, omission or any consequence or any loss or damage howsoever suffered by any person arising from any reliance on the views expressed and the information in this article.