In 2022, despite high inflation affecting more than eight in 10 Hong Kong businesses, companies were moderately positive (62 per cent) about the business environment. Some of the optimism was attributed to increased revenue reported by some firms, amidst a supposedly bleak climate caused by various macroeconomic factors.
According to the UOB Business Outlook Study 2023 (SME & Large Enterprises), over three in five Hong Kong firms expect a positive year in 2023. Top priorities for firms include searching for new revenue sources (35 per cent), reducing costs (33 per cent) and adopting digital solutions (29 per cent).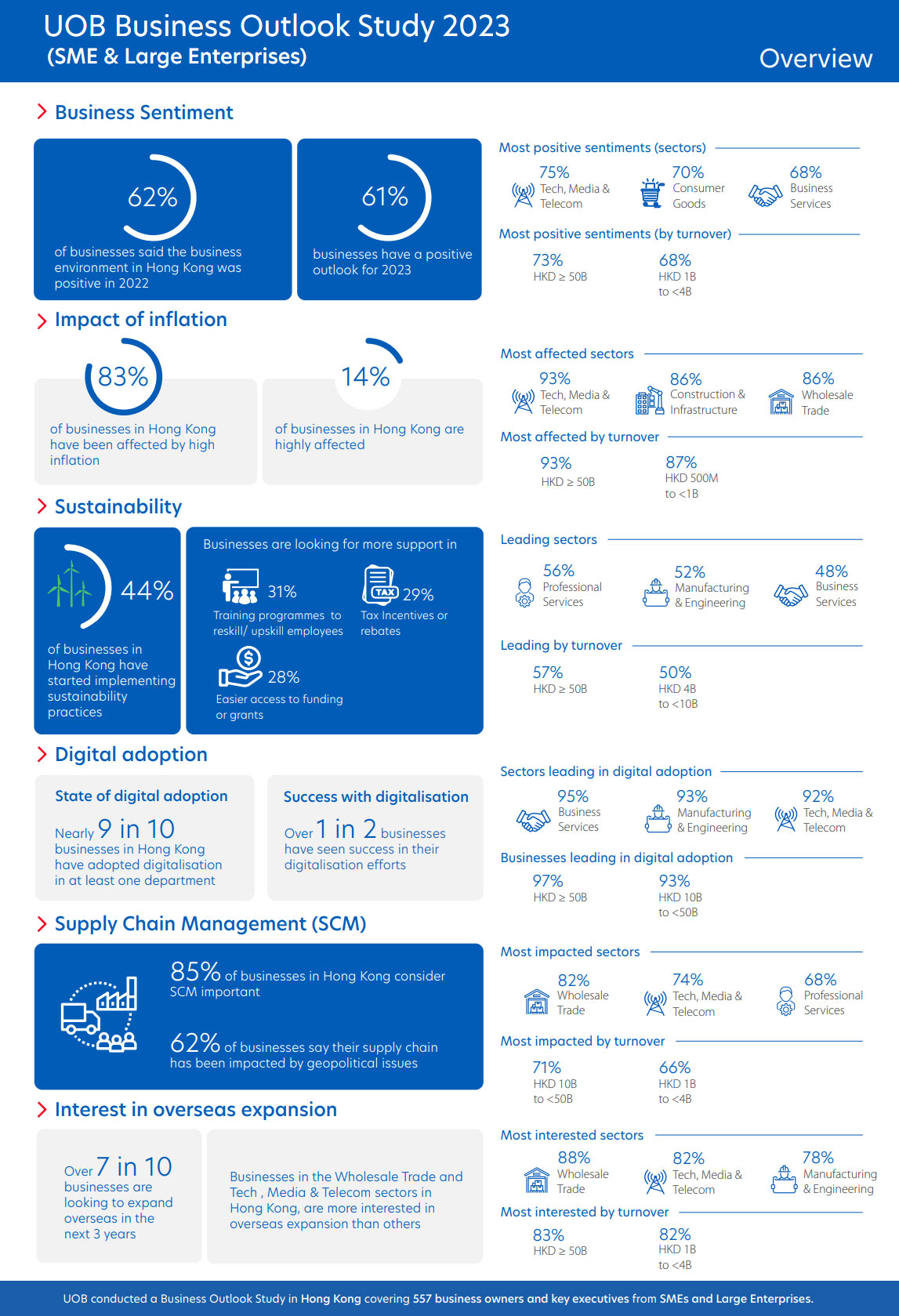 Displaying resilience amidst macroeconomic challenges
High inflation has impacted businesses from the Tech, Media & Telecom, as well as Construction & Infrastructure sectors the most (93 per cent and 86 per cent respectively).
Apart from inflation, firms have been affected by rising operational costs (32 per cent), an inability to operate at full business capacity due to COVID-19 restrictions (30 per cent), and rising interest rates (24 per cent).

To mitigate the impact of rising inflation, Hong Kong businesses are adopting several measures, including tapping government grants and schemes, as well as scaling back on new investments. Larger businesses, in particular, are focusing more on productivity (51 per cent) and digitalisation (43 per cent) to fight inflation.
Rising costs impact supply chains
Hong Kong is deemed to be a key player when it comes to global supply chains. Apart from its strategic location and close proximity to Mainland China, the country's airport is also one of the world's busiest air cargo handlers, paired with a sea port that ranks in the top 10 globally.
Many businesses (62 per cent) in Hong Kong say that geopolitical issues have impacted their supply chains. Sectors like Wholesale Trade and Tech, Media & Telecom have been more affected than others. High inflation has increased supply costs for more than two in five businesses, while other issues faced include the reduced ability to procure supplies, as well as matching the right demand to the correct supply.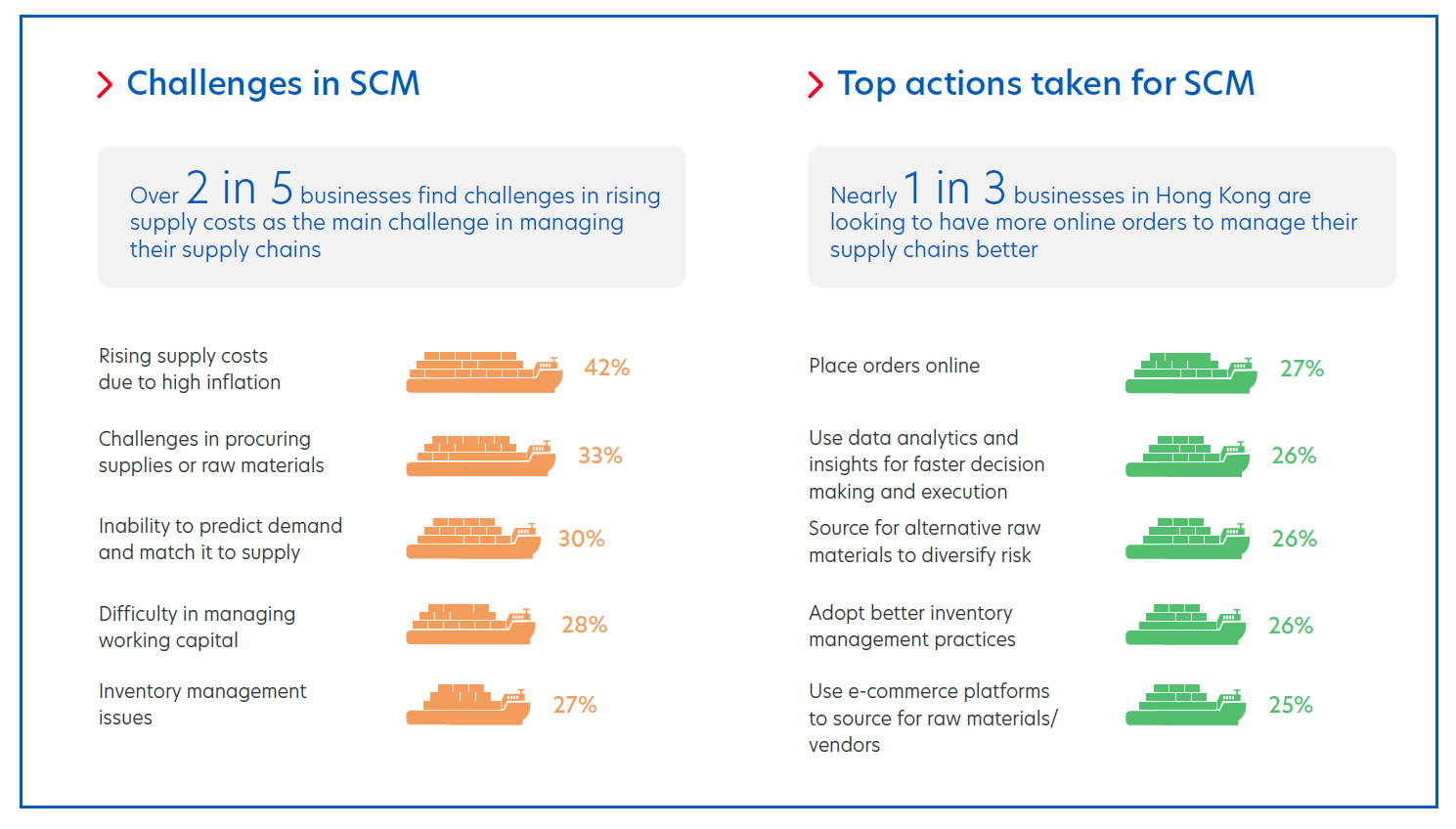 As a result, nearly one in three businesses are looking for digital alternatives to improve their supply chain management (SCM). Businesses are also looking to place orders online, use data analytics for faster decision-making and execution, and tap e-commerce platforms to diversify their sourcing of raw materials and vendors.
Nearly two in five respondents are looking for easier access to fundings and grants, in addition to partnering with the right technology providers to help them manage their supply chains better.
Unearthing benefits through digital adoption
Digitalisation has helped in other areas for Hong Kong businesses too. Most companies have adopted digitalisation in at least one department, with Business Services (95 per cent), Manufacturing & Engineering (93 per cent), as well as the Tech, Media & Telecom (92 per cent) sectors leading the digital charge.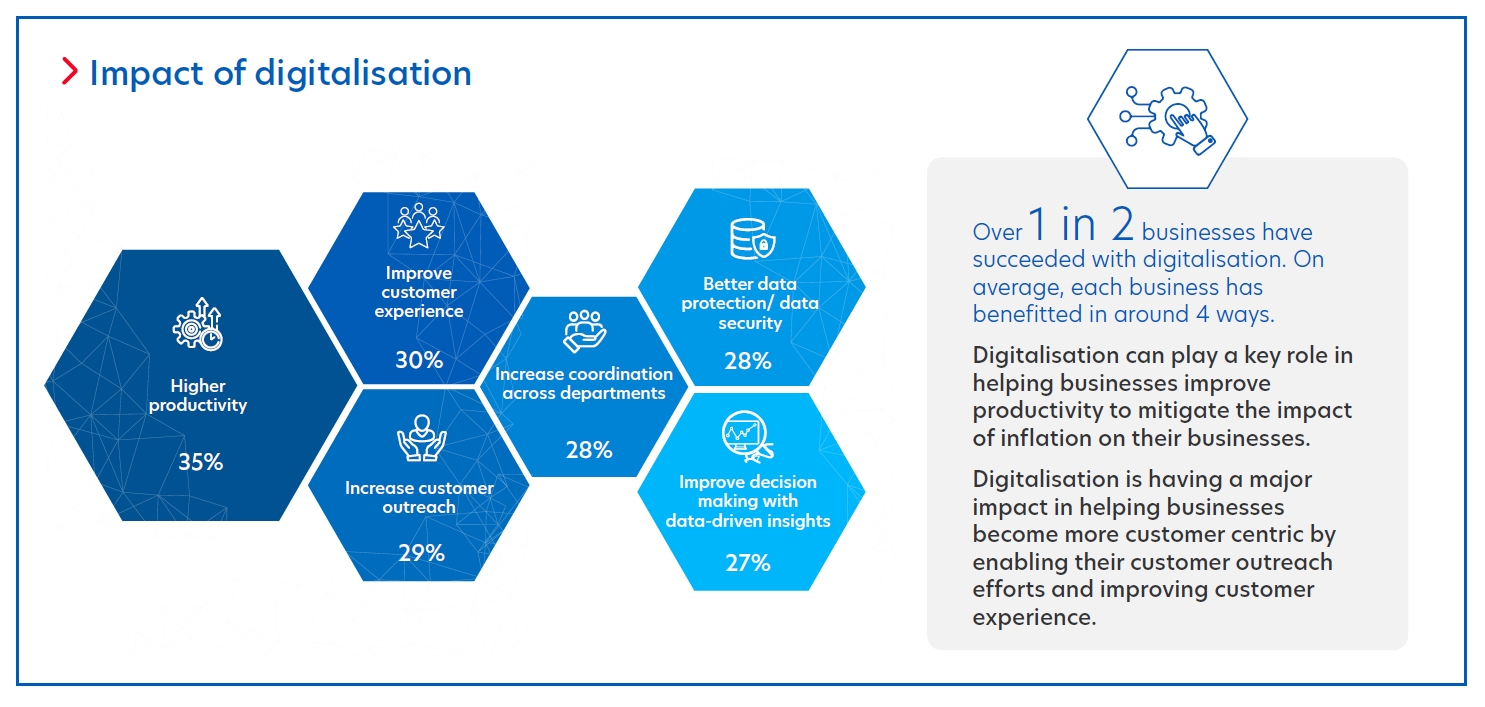 More than one in two businesses recorded some form of success after going through digitalisation. These include higher productivity (35 per cent), improved customer experience and outreach (30 per cent), as well as enhanced coordination across departments (28 per cent).
However, firms are citing a number of challenges when it comes to implementing digitalisation, including the costs required as well as potential data breaches. To help smoothen the digitalisation journey, firms would like obtain support through easier access to funding, and collaboration opportunities with industry, government-linked companies or large businesses.
Sustainability top of mind
Four in five Hong Kong businesses consider sustainability important, with two in five already implementing sustainability practices. By size, larger companies lead sustainability adoption at 51 per cent, versus 40 per cent for smaller companies.
Barriers faced by businesses in going green include inadequate government support (29 per cent), increased cost of products/services (28 per cent), as well as a lack of manpower/resources (26 per cent).
To overcome these challenges, firms seek support in the areas of training programmes to reskill/upskill employees, obtaining tax incentives or rebates as well as having easier access to funding grants.
On the lookout for opportunities abroad
Faced with rising costs at home, Hong Kong businesses are looking abroad for new revenue opportunities. Over seven in 10 are looking to expand overseas in the next three years.
Businesses from the Wholesale Trade (88 per cent), Tech, Media & Telecom (82 per cent), as well as Manufacturing & Engineering (78 per cent) sectors expressed the most interest in expanding overseas. Profitability, revenue growth and being able to build an international reputation were key drivers.
Other than Mainland China (50 per cent), Southeast Asia (39 per cent) was a top draw for Hong Kong businesses considering international expansion. In particular, Singapore, Thailand and Vietnam were preferred investment destinations.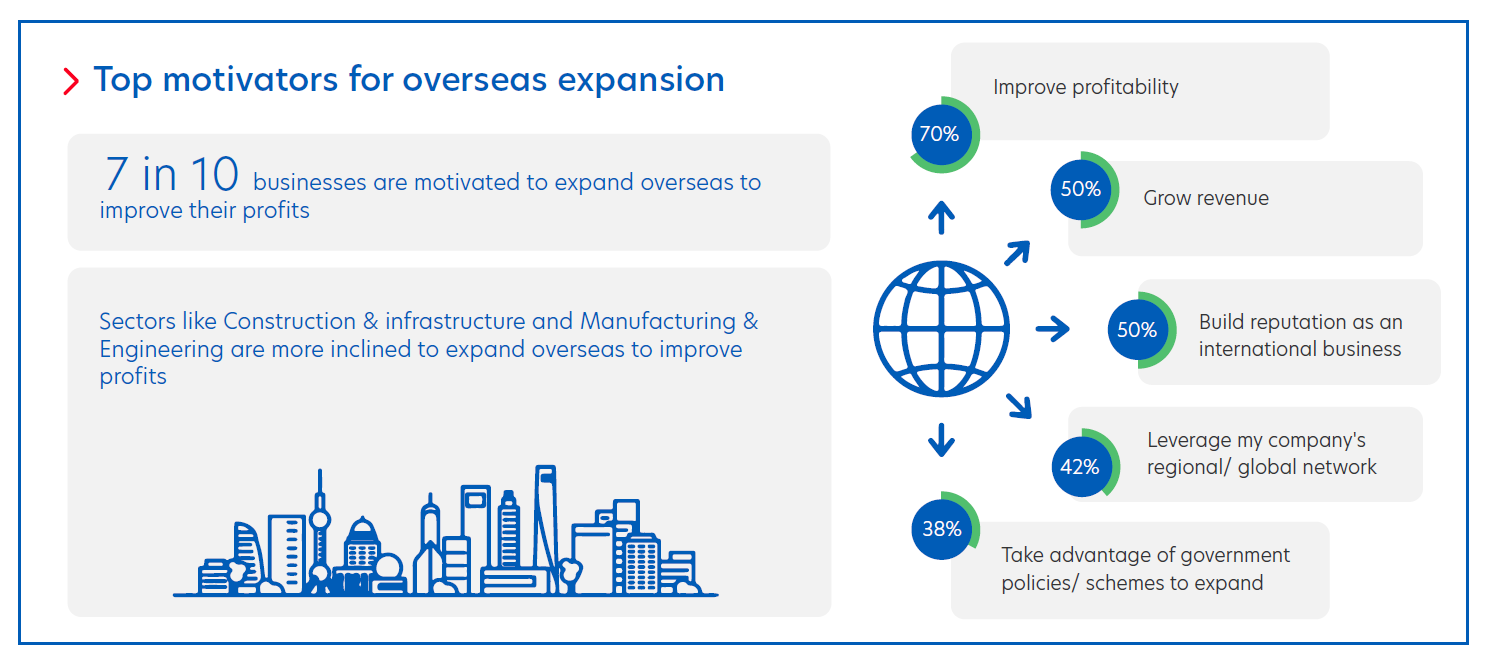 Amidst the growing interest in overseas expansion, demand for cross-border digital trade platforms has also increased – with three in four businesses indicating their interest.
However, the lack of legal, regulatory, compliance and tax support poses a challenge for 40 per cent of Hong Kong businesses. The lack of in-house talent and expertise to drive overseas expansion was also a major barrier for firms, particularly those in the Real Estate/Hospitality and Construction & Infrastructure sectors.
With more than 80 years of experience, UOB has an extensive regional network with a deep understanding of ASEAN dynamics. At UOB, we are committed to helping businesses navigate the dynamic landscape of the ASEAN region to unlock their full potential. From cross-border trade support to green financing, UOB offers tailored solutions, industry knowledge, and market expertise.
About this study
The UOB Business Outlook Study 2023 (Hong Kong SAR) surveyed 557 business owners and key executives from SMEs and Large Enterprises across the country, to understand their views around:
Business sentiments and priorities
Rising inflation, its impact and mitigation
Sustainability in business
State of digital adoption
Supply chain management
Overseas expansion
Important notice and disclaimers
This article shall not be copied or relied upon by any person for whatever purpose. This article is given on a general basis without obligation and is strictly for information only. The information contained in this article is based on certain assumptions, information and conditions available as at the date of the article and may be subject to change at any time without notice. You should consult your own professional advisers about the issues discussed in this article. Nothing in this article constitutes accounting, legal, regulatory, tax or other advice. This article is not intended as an offer, recommendation, solicitation, or advice to purchase or sell any investment product, securities or instruments. Although reasonable care has been taken to ensure the accuracy and objectivity of the information contained in this article, UOB and its employees make no representation or warranty, whether express or implied, as to its accuracy, completeness and objectivity and accept no responsibility or liability for any error, inaccuracy, omission or any consequence or any loss or damage howsoever suffered by any person arising from any reliance on the views expressed and the information in this article.