23 November 2021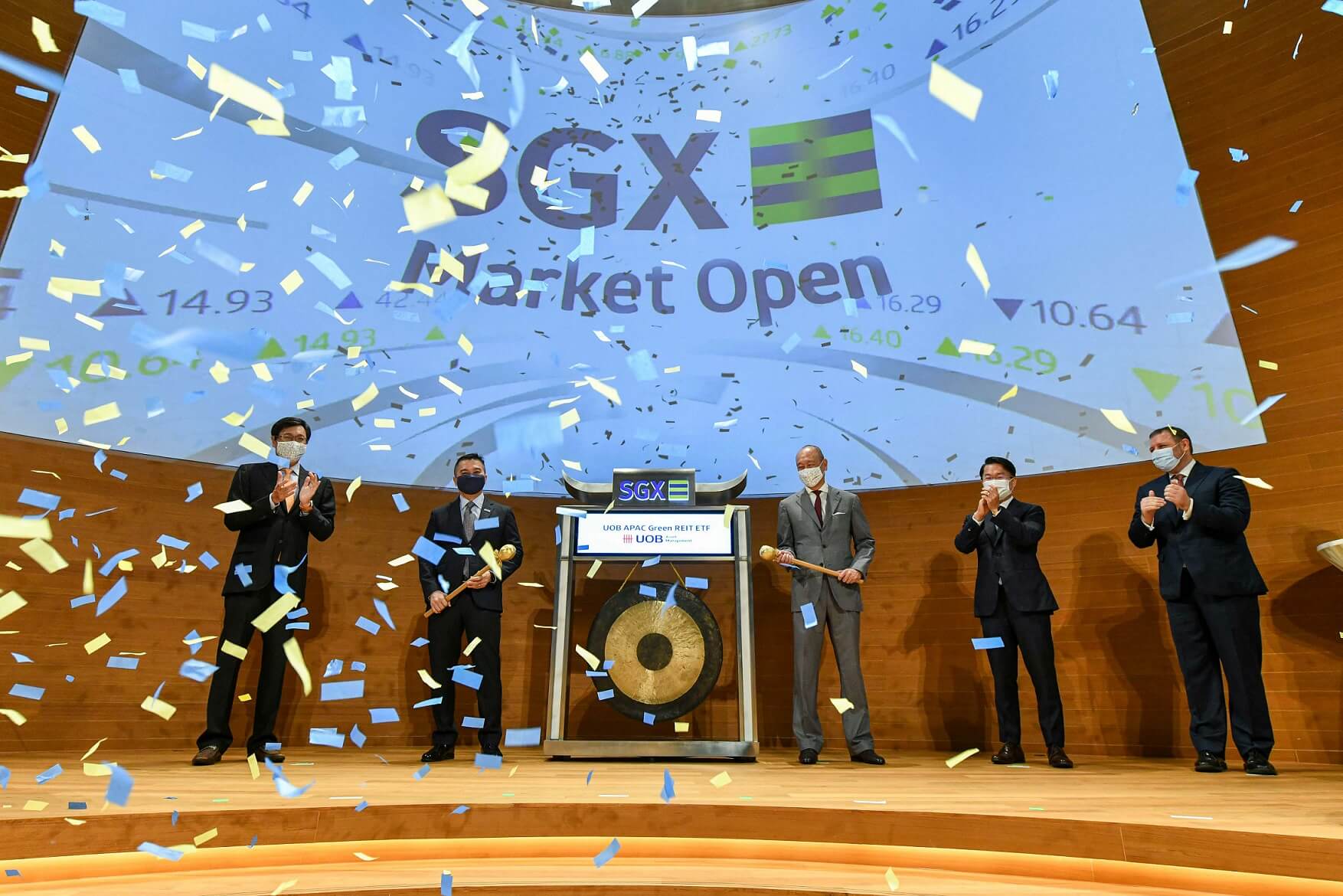 (From left) Mr Thio Boon Kiat, Group CEO, UOB Asset Management; Mr Loh Boon Chye, CEO, Singapore Exchange; Mr Wee Ee Cheong, Deputy Chairman and CEO, UOB; Mr Leong Sing Chiong, Deputy Managing Director, Markets & Development Group, Monetary Authority of Singapore; and Mr Benjamin McCarron, Lead Representative, GRESB Asia, at the listing ceremony of the UOB APAC Green REIT ETF this morning.
UOB Asset Management Ltd (UOBAM) today announced the listing of the UOB Asia Pacific (APAC) Green Real Estate Investment Trust (REIT) Exchange-Traded Fund (ETF). This is the world's first such ETF that aims to enable individuals to invest in quality green REITs across APAC with dividend yields. The ETF attracted more than S$80 million in assets during the initial offering period, which closed on 18 November 2021.
The projected demand for office space across APAC is expected to grow 65 per cent from the occupancy rate in 2020 to 1.35 billion square feet by 20301 due to a growing workforce. More occupiers are indicating that green office design is a top three consideration, with seven in 10 even willing to pay a higher rental for green-certified spaces2. This presents immense growth opportunities for real estate companies focused on sustainable buildings and properties.
The UOB APAC Green REIT ETF aims to replicate as closely as possible, the performance of the recently launched iEdge-UOB APAC Yield Focus Green REIT Index, which UOBAM created in partnership with Singapore Exchange (SGX) and GRESB3. The index tracks 50 higher-yielding REITs across APAC that display relatively better environmental performance while meeting liquidity requirements. The evaluation of these REITs is based mainly on GRESB's data on the firms' environmental performance, including the lowering of greenhouse gas emissions, advancing energy and water conservation and supporting green building certification.
Mr Wee Ee Cheong, Deputy Chairman and Chief Executive Officer, UOB, said, "The impact of the sustainability megatrend is wide-ranging, from economies to businesses and individuals. The call for action continues to accelerate, reinforcing the urgency for collective efforts. Green real estate will be a huge driver in the transition to a lower carbon economy, with tremendous growth potential and investment opportunities. We are honoured to partner SGX and GRESB in the world's first Asia Pacific green REIT ETF and will continue to play our role as a catalyst and enabler in steering wealth to sustainable investments."
Mr Thio Boon Kiat, Chief Executive Officer, UOBAM, said, "The UOB APAC Green REIT ETF gives investors an opportunity to participate in the development of sustainable real estate taking place across Asia Pacific so they can invest for profit and purpose. Backed by our three decades of investment experience in Asia, we believe we are helping investors buy into quality green REITs that will strengthen over time and also receive stable and regular income. We believe that there is no better time to be part of the green wave sweeping across the region's real estate industry."
Mr Leong Sing Chiong, Deputy Managing Director, Markets and Development, Monetary Authority of Singapore (MAS), said, "The launch of the UOB APAC Green REIT ETF is a great example of how private sector participants can come together to develop quality green investment products that cater to the needs of investors. MAS welcomes more of such collaborations to add to the product suite and vibrancy of our capital markets, and contribute to the region's efforts to transition to a low carbon future."
Mr Michael Syn, Head of Equities, SGX, said, "Investors want effective price benchmarks, but more importantly, highly liquid and investable instruments that are increasingly tied to standardised and validated ESG data. Together with UOBAM, we have jointly created an index and investment tool offering stable yield that is aligned with positive environmental outcomes. SGX will continue to work with our partners to expand our product franchise to meet investors' growing appetite for ETFs."
The REITs featured in the UOB APAC Green REIT ETF are spread across Australia, Hong Kong, Japan and Singapore. Sectors include industrial, office, residential and retail.
When compared with an APAC REIT index without a green tilt, the iEdge-UOB APAC Yield Focus Green REIT Index and correspondingly the UOB APAC Green REIT ETF have a better environmental performance. REITs in UOBAM's green-weighted ETF report Scope 1 and 2 greenhouse gas emissions that are on average four per cent lower, consume three per cent less energy in their operations and have seven per cent lower water consumption. Valid operational green certifications for buildings in the ETF portfolio are also 11 per cent higher4.
The UOB APAC Green REIT ETF aims for a dividend yield of up to four per cent5 based on the earnings potential of real estate companies focused on their sustainability performance. It targets to distribute dividends on a quarterly basis.
For more information about the UOB Asia Pacific Green REIT ETF, visit www.uobam.com.sg/apacgreenreit.
---
1Source: "Asia Pacific on the rise", https://www.cushmanwakefield.com/en/insights/the-edge/why-asia-pacific-will-grow-and-dominate-the-next-decade, 16 December 2020.
2Source: "Sustainable Real Estate: Translating ambitions into actions", https://www.jll.com.sg/en/trends-and-insights/research/responsible-real-estate-survey-translating-ambitions-into-actions, 21 June 2021.
3GRESB is the global leader for ESG research of real assets, covering over 1,500 property companies, REITS, funds and developers with US$5.7 trillion in assets under management.
4Data shown here is based on analysis done by UOBAM using GRESB data as at 31 August 2021. The APAC REIT index without a green tilt is based on the same components as the iEdge-UOB APAC Yield Focus Green REIT Index.
5Distributions are not guaranteed. Distributions may be made out of income, capital gains and/or capital. For further details on the Fund's distribution policy, please refer to the fund prospectus.