With its gross domestic product (GDP) rising to 8 per cent in 2022—albeit off a relatively low base due to COVID-19 lockdowns in 2021—Vietnamese businesses have reason to feel optimistic about their economy's growth momentum. According to the UOB Business Outlook Study 2023 (SME & Large Enterprises), almost nine in 10 Vietnamese firms have a positive business outlook for 2023, with firms in Hanoi showing the most optimism (93 per cent).
And these firms are not resting on their laurels. Even as high inflation and monetary policy tightening continue to cloud the global economic outlook, businesses are shifting priorities and adapting accordingly. In the case of Vietnam, some of these new measures include developing new revenue sources and supply chain diversification.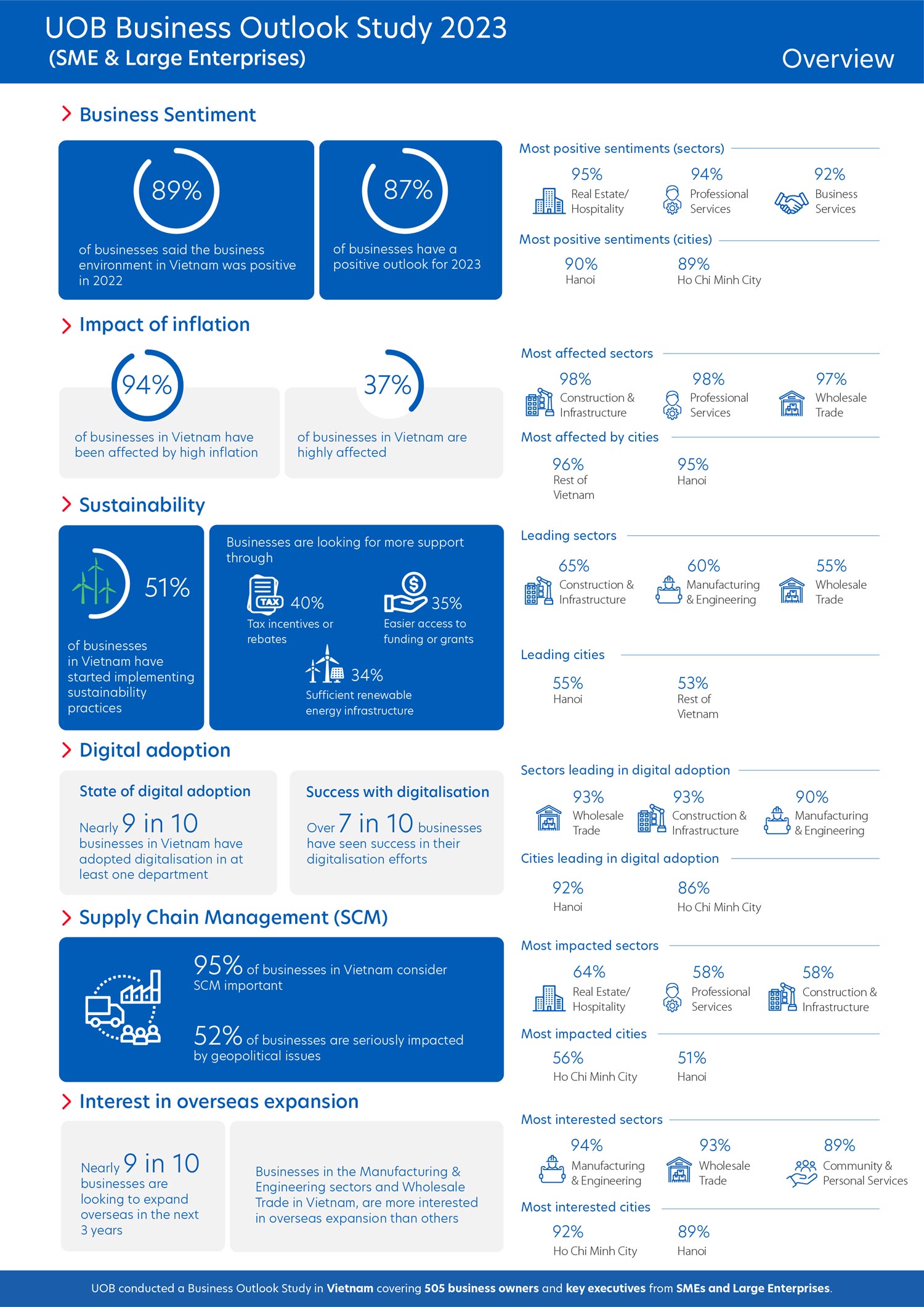 Redefining business priorities in the face of inflationary challenges
Despite high inflation affecting businesses in Vietnam, nine in 10 businesses find the current business environment to be positive.
According to the survey, those less positive about their current business environment expect it to improve by 2024 or beyond.

Inflation, rising interest rates and recovery from overall economic slowdown, impacted Vietnamese businesses in 2022. As a result, businesses experienced an increase in operating expenses (38 per cent) and a drop in customer demand/revenue (28 per cent).
Nine in 10 survey respondents in Vietnam experienced the adverse effects of high inflation, with nearly two in five businesses stating they were highly affected by it. Manufacturing and Engineering (78 per cent) and Consumer Goods (73 per cent) were more impacted by the increase in raw material costs.
Respondents expect inflation to reduce within the next three to 12 months. In an effort to mitigate high inflation, businesses in Vietnam are emphasising their focus on productivity improvement, cost cutting on company activities, and stronger price negotiations with vendors.
Embracing a sustainable tomorrow
Nine in 10 firms say sustainability is important for their businesses, especially companies from the Business Services segment.
In terms of adoption, more than one in two firms have started implementing sustainable practices. There are a number of perceived benefits when it comes to adopting sustainability, including enhanced reputation (56 per cent), being more attractive to potential investors (53 per cent), and gaining a competitive edge (45 per cent).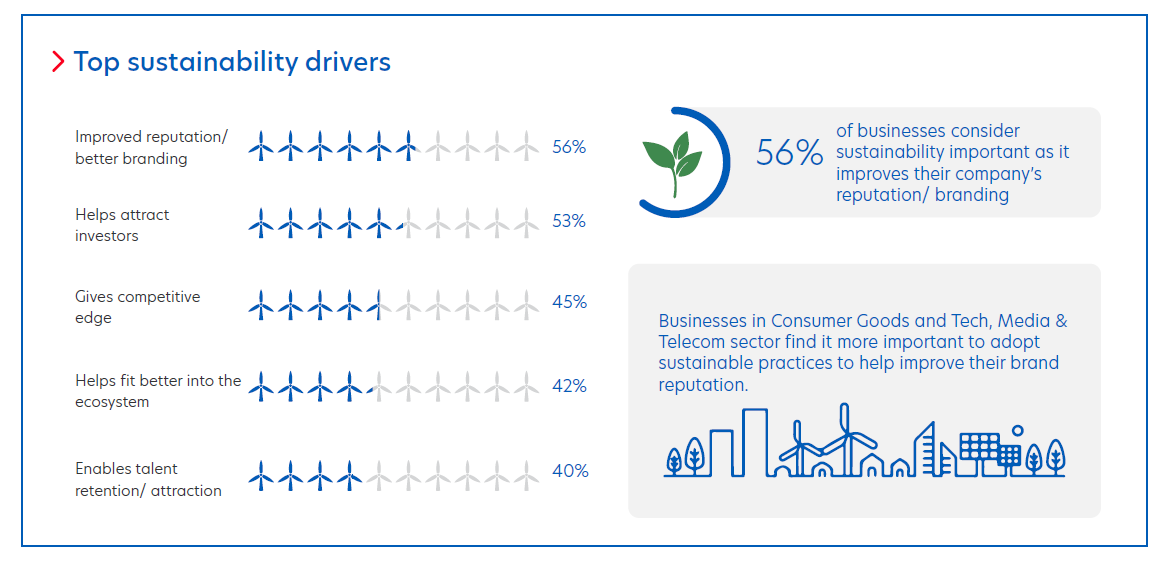 Most companies have improved efficiency of resources to minimise waste and are equipped with energy efficient technologies. Despite the increased awareness of sustainability, many firms face hurdles when it comes to adoption. Firms cite the higher costs for end customers as an issue, along with an adverse impact on profits plus a lack of viable options for sustainable financing.
Moving forward through digitalisation
Vietnam's digital adoption is encouraging with close to nine in 10 firms adopting digitalisation in at least one department in 2022. Almost three in four firms have found their digitalisation efforts to be fruitful, especially those from the Real Estate/Hospitality and Tech, Media and Telecom sectors.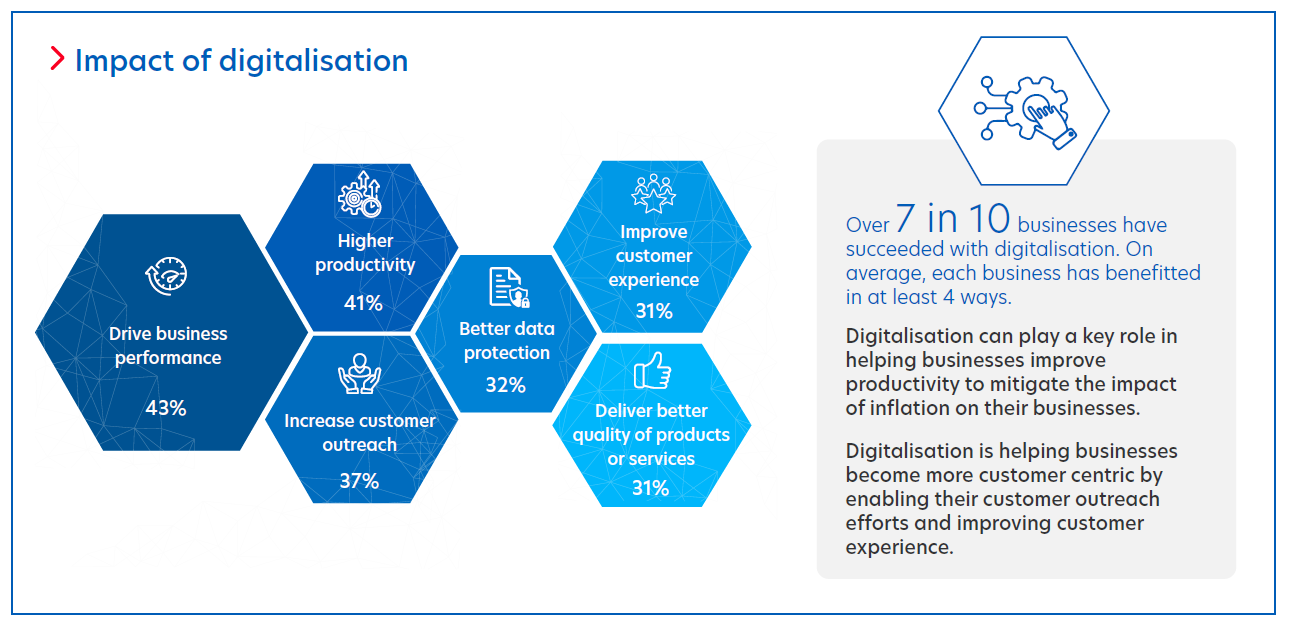 Among the positive impacts of digitalisation cited by respondents are improved business performance, higher productivity, and increased customer outreach.
According to the study, the most significant challenges encountered by businesses in their digital adoption journey include cybersecurity issues, insufficient digital skillsets as well as heightened risks of a data breach.
The support needed by businesses to overcome these hurdles vary according to their scale. Smaller businesses seek easier access to funding, while larger businesses look for opportunities to collaborate with industry bodies and to establish connections with industry peers.
Banks, specifically, play a vital role to drive these digitalisation efforts. Businesses located in Hanoi (65 per cent) expressed a higher expectation of benefiting from the insights provided by banks in their digital journey.
Expanding supply chain networks
A stable supply chain is vital for economies and businesses around the world. According to the study, more than nine in 10 Vietnamese companies see supply chain management (SCM) as vital to their business.
Half of the firms have felt the dire impact of geopolitical tensions on respective supply chains, with the Industrials/Oil and Gas sector being the most affected (73 per cent).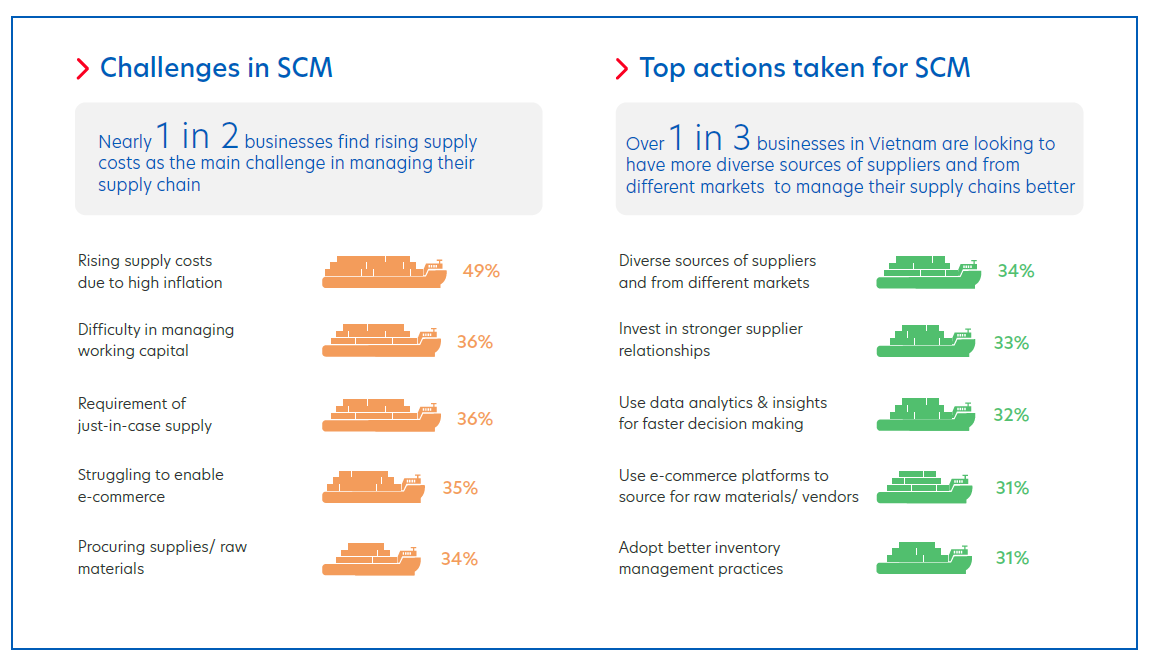 To ensure a stable and effective supply chain, businesses are diversifying supplier sources, cultivating stronger supplier relationships, and optimising the use of data analytics.
Unlocking global potential
Nearly 9 in 10 businesses in Vietnam are keen to expand overseas. Specifically, 92 per cent of firms are highly interested in using cross-border digital trade platforms to venture overseas.
Primary drivers for overseas expansion are revenue growth, improved profit, and an enhanced reputation in the international market. Larger businesses are particularly keen on capturing opportunities in other markets, with 29 per cent expressing a greater interest compared with other businesses.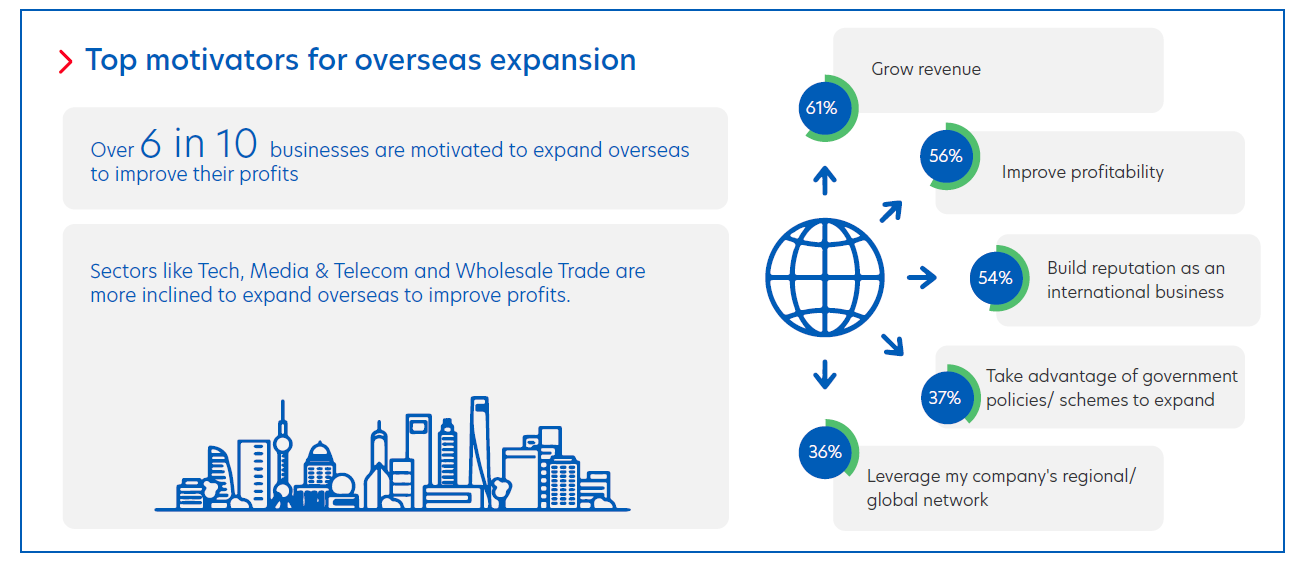 A significant majority of respondents have set their eyes on Southeast Asia for their future expansion plans, in particular Thailand (70 per cent) and Singapore (66 per cent).
However, the path to global expansion comes with its set of challenges. Besides the lack of customers in new markets, many are concerned about the lack of in-house expertise, especially in the wholesale trade and real estate/hospitality sectors.
To address them, firms seek support in the form of tax incentives, connections to large corporate entities, and access to industry bodies and ecosystems. These measures aim to facilitate their overseas expansion plans and overcome barriers to entry.
Southeast Asia's vast potential in the near future does not go unnoticed. As a market rich in culture and diversity, tailored and local insights are vital to understand business practices in specific regions. At UOB, we are committed to helping businesses navigate the dynamic landscape of the ASEAN region to unlock their full potential. From cross-border trade support to green financing, UOB offers tailored solutions, industry knowledge, and market expertise.
About this study
The UOB Business Outlook Study 2023 (Vietnam) surveyed 505 business owners and key executives from SMEs and Large Enterprises across the country, to understand their views around:
Business sentiments and priorities
Rising inflation, its impact and mitigation
Sustainability in business
State of digital adoption
Supply chain management
Overseas expansion
Important notice and disclaimers
This article shall not be copied or relied upon by any person for whatever purpose. This article is given on a general basis without obligation and is strictly for information only. The information contained in this article is based on certain assumptions, information and conditions available as at the date of the article and may be subject to change at any time without notice. You should consult your own professional advisers about the issues discussed in this article. Nothing in this article constitutes accounting, legal, regulatory, tax or other advice. This article is not intended as an offer, recommendation, solicitation, or advice to purchase or sell any investment product, securities or instruments. Although reasonable care has been taken to ensure the accuracy and objectivity of the information contained in this article, UOB and its employees make no representation or warranty, whether express or implied, as to its accuracy, completeness and objectivity and accept no responsibility or liability for any error, inaccuracy, omission or any consequence or any loss or damage howsoever suffered by any person arising from any reliance on the views expressed and the information in this article.