Our Approach – UOB Employee Commitments
We uphold four employee commitments based on the UOB values as part of our people management strategy. These commitments and the programmes which are designed around them are overseen by Group Human Resources.
Do what is right
We work in partnership with each other focusing on what is right and proper in achieving shared successes for the organisation. Our courage to make the right decisions is founded on experience and sound judgement. We conduct ourselves in a manner that ensures our decisions are always carried out in the interests of our organisation, teams and people.
Build meaningful careers
Individual success is important to us. We believe in bringing out the best in everyone through professional development and empowering people to take ownership of their career paths. By understanding the aspirations of individuals, we are able to develop valuable and meaningful careers. We encourage enterprise and ambition at all levels, helping each other to realise our full potential.
Make a real difference
We are united and motivated to make a positive impact to both our business and the communities we serve. Through our actions, we will shape our future and add value to the lives we touch. We are always there to support one another.
Lead by positive example
Our leaders are guided by our values, acting as role models, inspiring each of us to support our teams better. We are committed to challenging ourselves and taking ownership for our actions. Together, we focus on enabling the success and advancement of individuals and teams.
Doing what is right
Living our values
Our values – Honourable, Enterprising, United and Committed – guide how we behave as employees of UOB – towards each other as colleagues and to our customers. These values give us a shared sense of identity and belonging and encourage us to keep raising the standards on our performance and behaviour in service of our customers. They guide our business approach, training and talent development programmes and performance management process. In living our values, we draw out what we believe makes UOB relevant to our customers and distinct in the banking industry.
In 2015, we helped our people to appreciate more deeply the importance of living the UOB values in daily interactions with each other and with customers. We ran training programmes and workshops structured on this theme across the organisation. These were complemented with additional programme content which was made available through employee communication channels such as our intranet, a microsite and mobile app.
To reinforce the importance of living our values, a significant values component was added to the performance assessment structure for senior executives in 2015. This model will be applied across all levels in 2016.
More information on performance and compensation can be found in the
Remuneration
section of this report

Upholding the highest professional and moral standards
Our values are at the core of the UOB Code of Conduct which sets out the principles of personal and professional conduct expected of our people. As stewards of our customers' wealth, our people are expected to live up to the highest standards of integrity and accountability.
The Code of Conduct also reflects the Bank's commitment to ensuring equality of opportunity to all our colleagues on the basis of merit and a safe working environment that is free from discrimination, bullying and harassment. All new colleagues are informed of their obligations and rights under the Code of Conduct during our orientation programme. Others have to complete an e-learning module annually to refresh their Code of Conduct knowledge.
As part of our commitment to upholding the highest professional and moral standards, we maintain a zero-tolerance policy for bribery and corruption. All are expected to conduct business activities in full compliance with applicable laws and regulations in the jurisdictions in which we operate. As part of our culture of encouraging openness and accountability, we provide an avenue under UOB's Whistleblowing Policy for our people to raise concerns on any actual or suspected wrongdoing through a confidential and anonymous hotline. Our people have our assurance that they will be protected from any repercussions for whistleblowing in good faith.
More information on our compliance practices can be found in the
Regulators
section of this report.

Maintaining strong labour relations
Through fair and open communication, UOB enjoys a productive and collaborative relationship with various employee unions in the key markets in which we operate. Under prevailing labour laws, eligible employees are able to join labour unions relevant to the banking industry.
Building meaningful careers
Investing in training and career development
At UOB, it is important that our people not only have the right skills, but also the right mindset and uphold the values that will build and maintain the trust we have earned from our customers.
Recognising that digitalisation is one of the key trends that will continue to shape the industry, we held two employee development programmes. These focused on encouraging enterprising thinking and developing digital skills within the Bank. In November, we held UOB's first innovation workshop and employee hackathon at The FinLab, an innovation centre focused on creating solutions for financial services. The FinLab is a partnership between UOB and Infocomm Investments Pte Ltd. More than 150 employees from across the Bank participated in the sessions to design commercially viable solutions for real-life banking challenges. Technology experts guided the participants on app design and pitching, while UOB mentors provided advice and perspectives on customer experience, business realities and feedback to challenge the teams.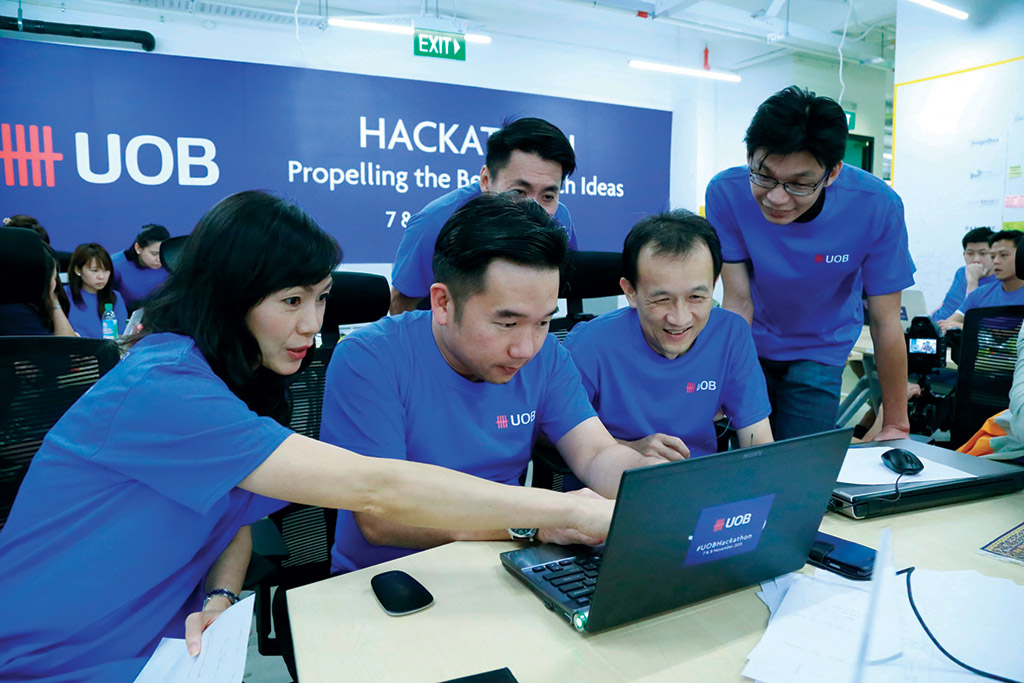 ---
UOB's FinTech hackathon is a great move by the Bank to encourage innovative thinking among employees. I enjoyed learning new things about the idea design and pitch process, as well as meeting colleagues with a similar passion to improve our products and services through new technology.
Mr John David Yap
Risk and Decision Management, Group Retail
---
Innovation was also the theme of the 2015 UOB Summit programme for more than 3,000 colleagues. Under this initiative, UOB reinvested into career and personal development courses with grants that the Bank received under the Singapore government's Wage Credit Scheme1. In 2015, more than 5,000 training places were offered on a range of courses on innovation, productivity, service excellence and IT skills. UOB is the first bank in Singapore to launch such a Wage Credit employee development initiative to help people cultivate the habit of lifelong learning.
We encourage our people to be proactive in their own professional training and development. Through the Strategise, Engage, Execute and Develop (SEED) Foundation Programme, managers identify the training they require to improve their effectiveness, interpersonal and managerial skills.

Grooming future leaders
We take a holistic approach to identifying and developing prospective leaders through the UOB talent management programme. This includes recruitment drives at top educational institutions, a 16-month Management Associate Programme for high-potential undergraduates and graduates, in-house training at the UOB Leadership Academy and a succession planning framework.
In 2015, we held the first U Unlimited event for undergraduates from Singapore universities. At the event, UOB senior executives and management associates hosted student forums on overcoming challenges during the transition from school to the workplace. They also shared the opportunities available at UOB and advised the students on preparing for a career in banking. Insight was also shared over tea networking sessions.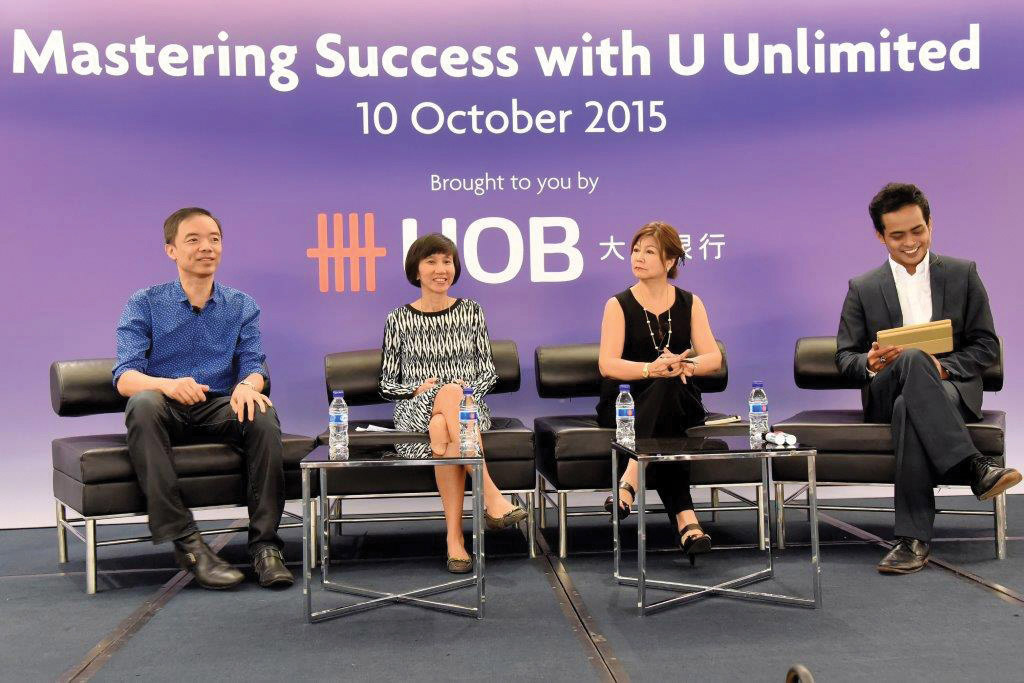 Fresh graduates keen to take on leadership and regional roles within the Bank are encouraged to apply for UOB's Management Associate Programme. It provides an accelerated induction in different aspects of the business and training in a wide range of core competencies and technical skills. This year we emphasised the importance of cross-team and cross-country collaboration with a joint induction and work attachment programme in Singapore involving all Management Associates from across our network. Following a comprehensive and rigorous selection and assessment process, 36 graduates from top universities were admitted to the 2015 cohort.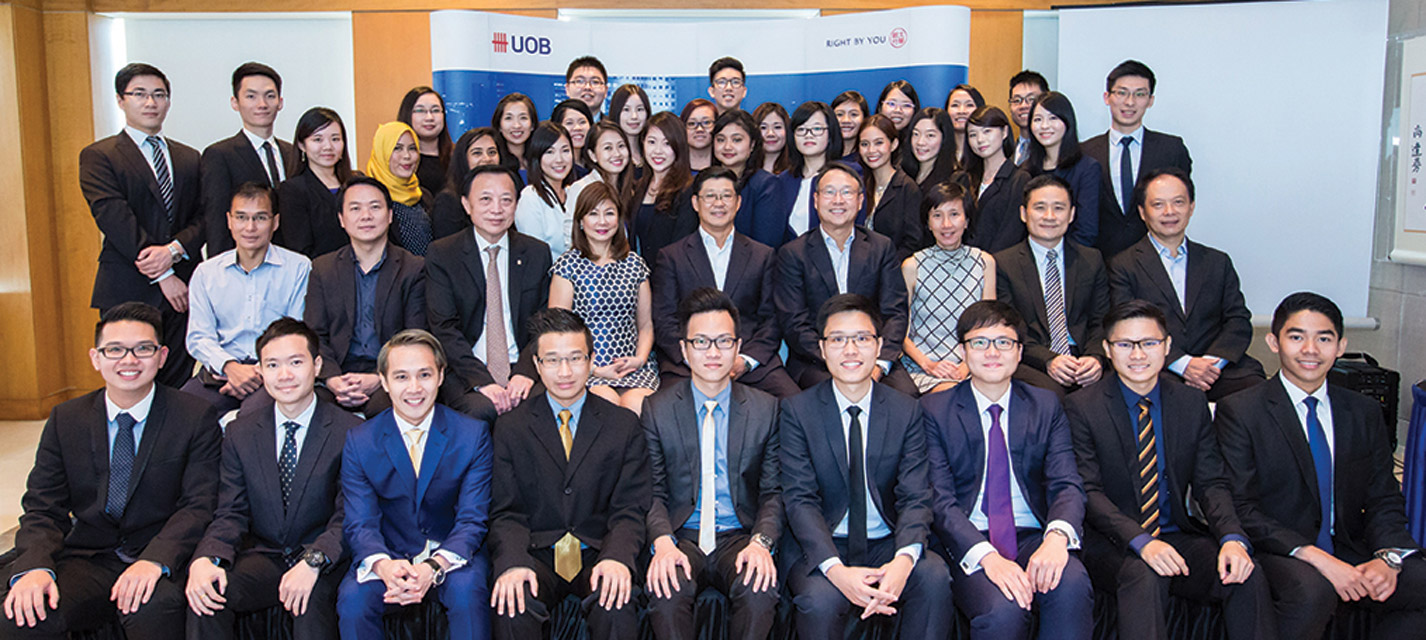 Professional development for our high-potential employees is also provided by the UOB Leadership Academy. The Academy runs a suite of programmes designed to develop leadership skills and to prepare managers to implement and to manage change. It also offers senior leaders coaching on making a strategic impact across the organisation.
To ensure leadership succession is sustained, we have enhanced our succession planning and development efforts. Through our annual Group Organisation and People Review programme, we identify key talents and potential leaders from across the Group. We nurture such talent with mentorship programmes and place them on job rotation to give them exposure across the breadth and depth of various disciplines and across countries.
| | |
| --- | --- |
| 1 | Under the Wage Credit Scheme, the Singapore government co-funds 40 per cent of the gross monthly wage increase given over the period of 2013 to 2015 and 20 per cent of the wage increase given over 2016 to 2017. Eligible employees are Singaporean employees earning a gross monthly wage of less than $4000. |
Making a real difference
Caring for our people
At UOB, we look after the well-being of our colleagues and are committed to providing our people with a conducive environment based on the principles of care and respect.
As part of this belief, we promote a healthy work-life balance for our people by offering flexi-work arrangements, as well as family care and childcare leave days. In 2015, we doubled our paternity leave in Singapore to two working weeks to give the fathers among our colleagues the option to spend more time with their newborns. This benefit is in addition to Shared Parental Leave where the new father can share one working week of his spouse's maternity leave allocation.
Our care for our people also extends to ensuring their health and safety at the workplace. All full-time permanent employees are enrolled in UOB's healthcare programme – Healthy Employees, Active Lifestyles or HEAL – which has comprehensive medical and healthcare coverage, as well as flexible wellness benefits. Our people are given HEAL dollar credits that can be spent on a wide range of health and wellness benefits for themselves and their dependents. These include health screenings, vaccinations, dental and optical treatments, gym memberships and health-related workshops. This programme also provides a counseling helpline for any under stress or facing challenges at work.
Taking care of our colleagues' welfare also means that we provide and maintain an office environment that is safe for our people. UOB's workplace safety policy and guidelines ensure that every measure is taken to eliminate health and safety risks. Such measures range from conducting regular checks at our offices and of our facilities and equipment, to implementing procedures for dealing with emergencies at the workplace.

Being an inclusive employer
We believe in the strengths of a diverse workforce and value the competitive advantages that it offers. In 2015, we partnered with the Autism Resource Centre's Employability and Employment Centre to hire people with autism for the UOB Scan Hub. This is the Bank's nerve centre for the verification, digitisation and archival of customer documents in Singapore. Our new colleagues are well-suited for the Scan Hub roles as the job draws on their particular strengths, those of unwavering focus and attention to detail.
Together with the ARC, we reorganised work processes, modified our office environment and developed structured training programmes to enable colleagues with autism to work at Scan Hub. These colleagues work under the guidance of on-site ARC job coaches who are specialised in helping them adjust to the working environment. Supervisors and other colleagues also receive guidance on working with individuals with autism. We also held a series of talks to provide our people with more insight into interacting with colleagues with autism and in turn helping them to succeed at the workplace.
Today, people with autism make up 30 per cent of the workforce at the UOB Scan Hub. For this inclusive employment initiative, UOB was recognised by the National Trades Union Congress (NTUC) with a May Day Model Partnership Award in the Management Category. UOB was the only bank among 106 awardees at the 2015 awards.
We also value our colleagues above the age of 60 for the experience and expertise that they bring to the Bank. We offer re-employment to those who reach the age of 62 as part of our Retirement and Re-employment policy. In addition, under our Return to Work policy, we provide modified or alternative employment to those returning to work after an extended period of absence due to an occupational or non-occupational injury or illness. We endeavour to match the best opportunity available to the skills and abilities of these colleagues to make it easier for them to adjust to the workplace upon their return.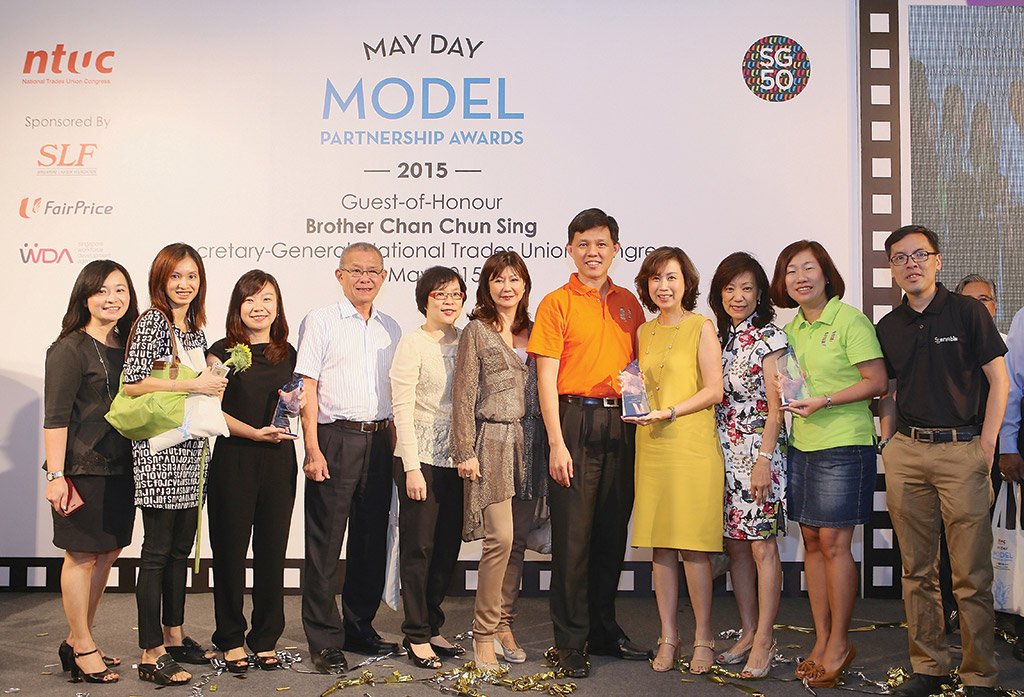 ---
We began our inclusive journey at the UOB Scan Hub with the vision to create meaningful and long-term job opportunities for our colleagues by understanding and focusing on their different abilities. It is heartening to see that this journey has touched the lives of many of our colleagues and their families. At the same time, the Bank has also benefitted from having a stable and reliable team of people who are committed and enthusiastic about their work because the tasks draw on the strengths that they possess.
Ms Susan Hwee
Managing Director and Head of Group Technology and Operations
---
Marking our 80th Anniversary with our Colleagues
To mark UOB's 80th anniversary and show our appreciation for our people, all full-time employees across the Group were hosted to celebratory tea parties and received a special package comprising additional leave and a $100 stored value card. In recognition of their dedication and loyalty, all permanent employees across the Group also received a one-time cash gift pegged to their years of service.
It was a double celebration for our people in Singapore as everyone up to the vice president level received a $1,000 cash gift and an extra day of annual leave as part of Singapore's Golden Jubilee.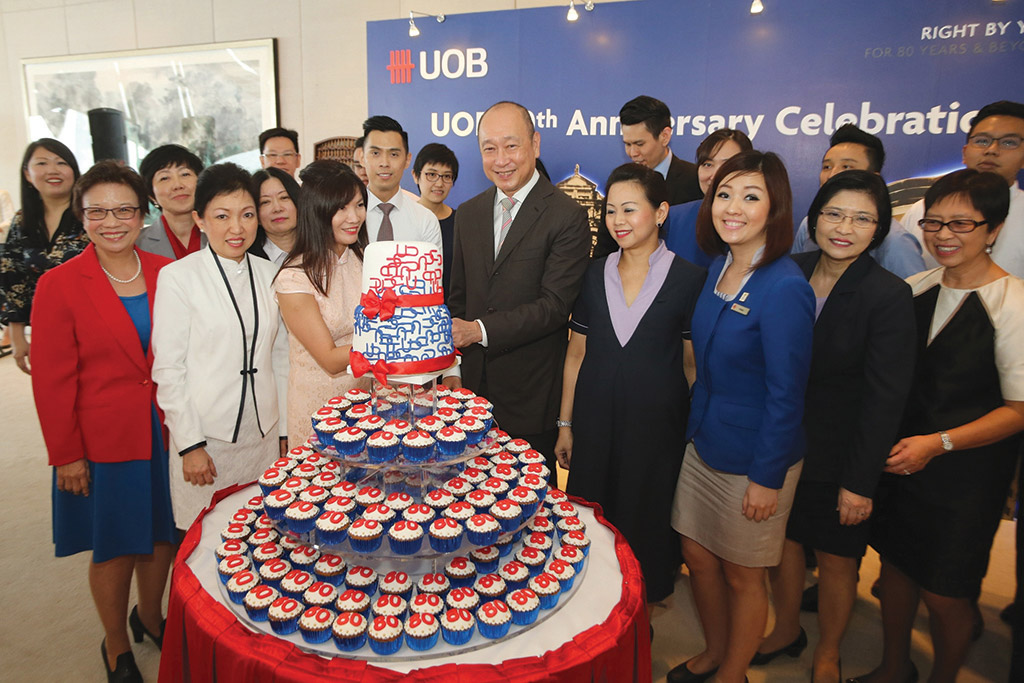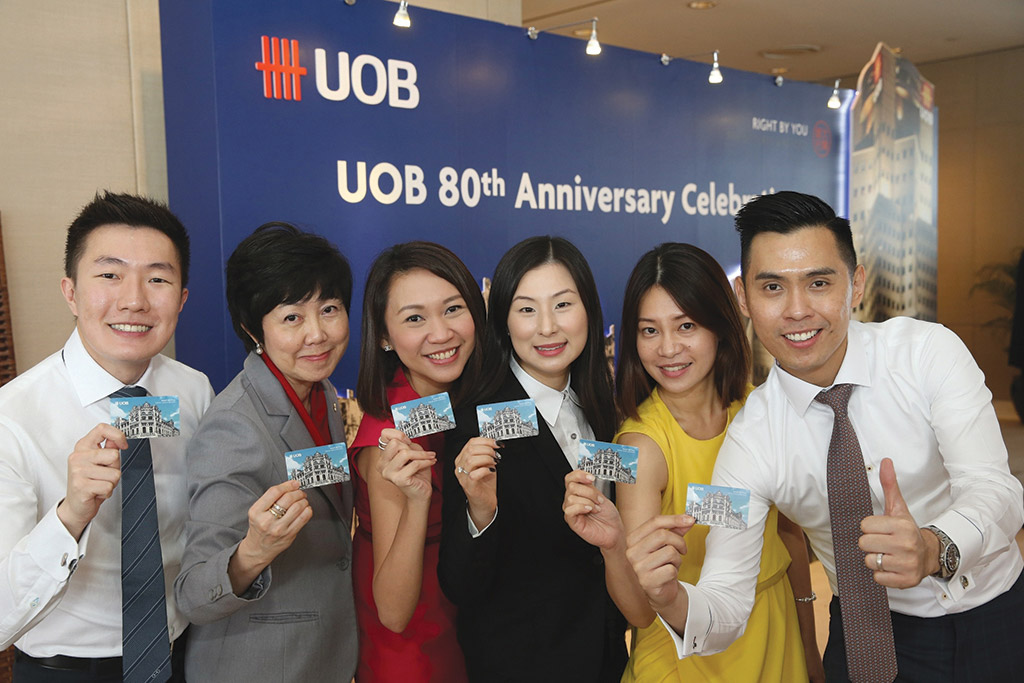 Engaging our people
Employee engagement is integral to developing our people's sense of belonging at UOB. Through communication channels such as townhalls, dialogues and articles on the intranet, our people are kept informed of business developments, operational changes and the Bank's financial performance. They are also invited to participate in volunteer events and workshops which are organised as part of the Bank's community programme focusing on art, children and education.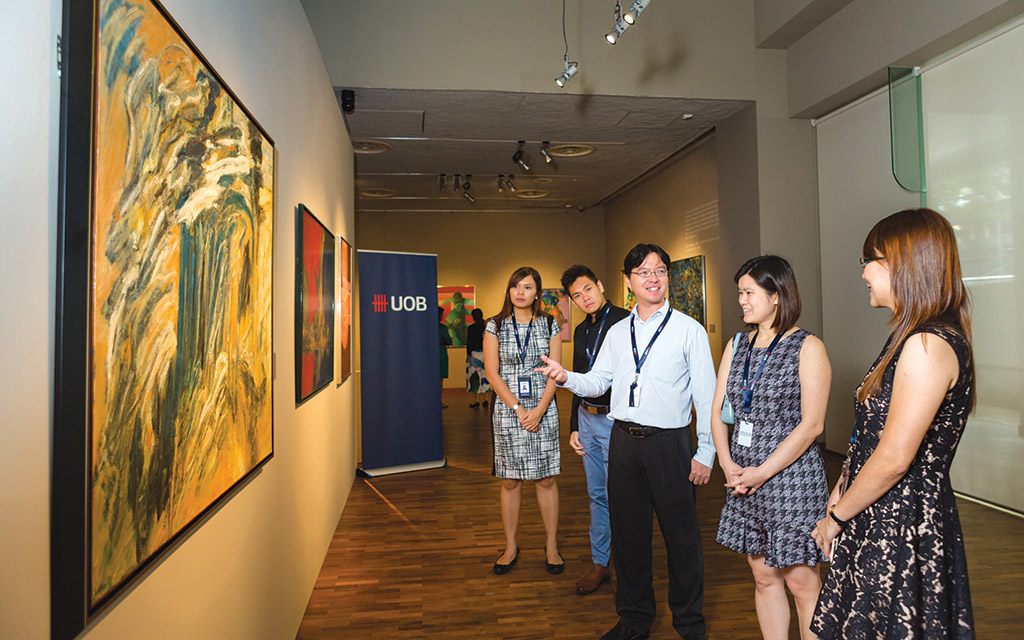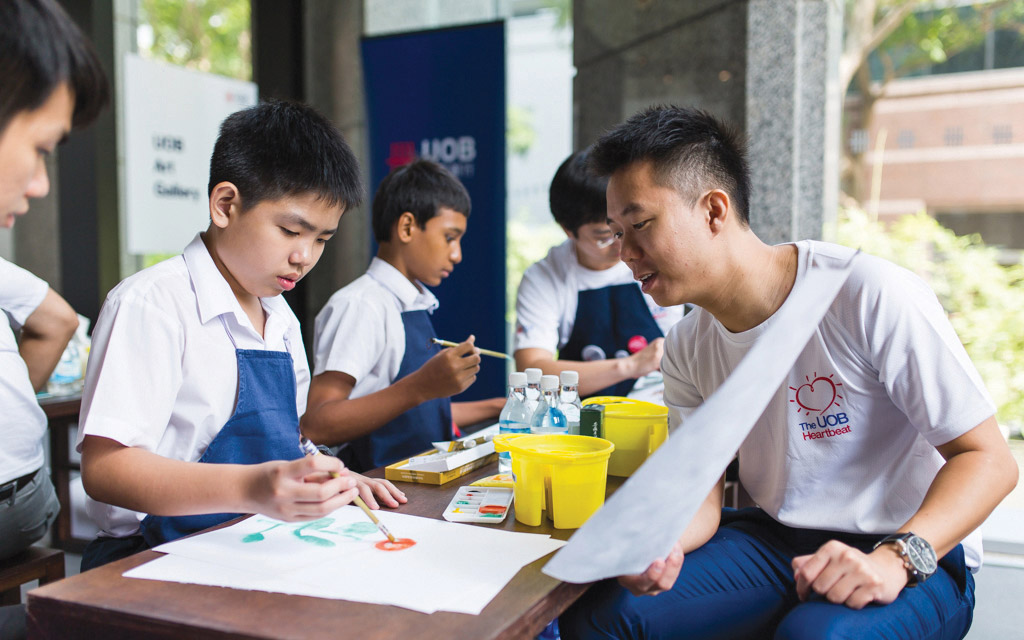 More information on our community initiatives can be found in the Community section of this report.
Leading by positive example
Inspiring our people through role models
UOB is dedicated to improving the standards and competencies of professionals in the financial sector. The investments we make in our people not only sharpen our own competitive edge and strengthen our effectiveness as practitioners but also enable us to play a leading role in raising the standards of the banking industry.
In 2015, Ms Susan Hwee, Managing Director and Head of Group Technology and Operations, was conferred the title of IBF Distinguished Fellow by the Institute of Banking and Finance Singapore (IBF). This is the highest accolade bestowed by IBF to C-suite executives to recognise their professional achievements. As an IBF Distinguished Fellow, Ms Hwee serves as a role model, thought leader and mentor to help develop Singapore's financial sector.
IBF also awarded the IBF Fellow title to three senior executives from UOB: Mr Thio Boon Kiat, Chief Executive Officer of UOB Asset Management, Mr Sam Cheong, Executive Director and Head of Group Foreign Direct Investment Advisory Unit, as well as Mr Thomas Siah, Executive Director and Industry Group Head, Commercial Banking.
The IBF Fellow title honours industry veterans who demonstrate thought leadership and commitment to industry development. Along with the IBF Distinguished Fellows, the IBF Fellows will play a vital role in nurturing the next generation of talent for the financial industry in Singapore.

Among colleagues, we also motivate each other through sharing of best practices and experiences across a number of disciplines. For example, for service excellence, UOB's Customer Advocacy and Service Quality team regularly draws attention to the role models among our colleagues who have exceeded the expectations of our customers. These colleagues are not just the ones who interact most with our customers at branches, but also those who play supporting roles, for instance in business operations. Their experiences prove the value of each and every colleague's contribution to the customer experience, regardless of their roles and responsibilities.
In 2015, the UOB Service Stars Awards recognised more than 100 employees from various business and support units who have set the standard in keeping our customers at the heart of all that we do.
More information on our customer-related initiatives can be found in the
Customers
section of this report.
---
I expect everyone to lead by positive example. This is the only way we can build a sustainable business based on long-term customer relationships.
Mr Wee Ee Cheong
Deputy Chairman and CEO
---
Celebrating our 80th Anniversary across the Group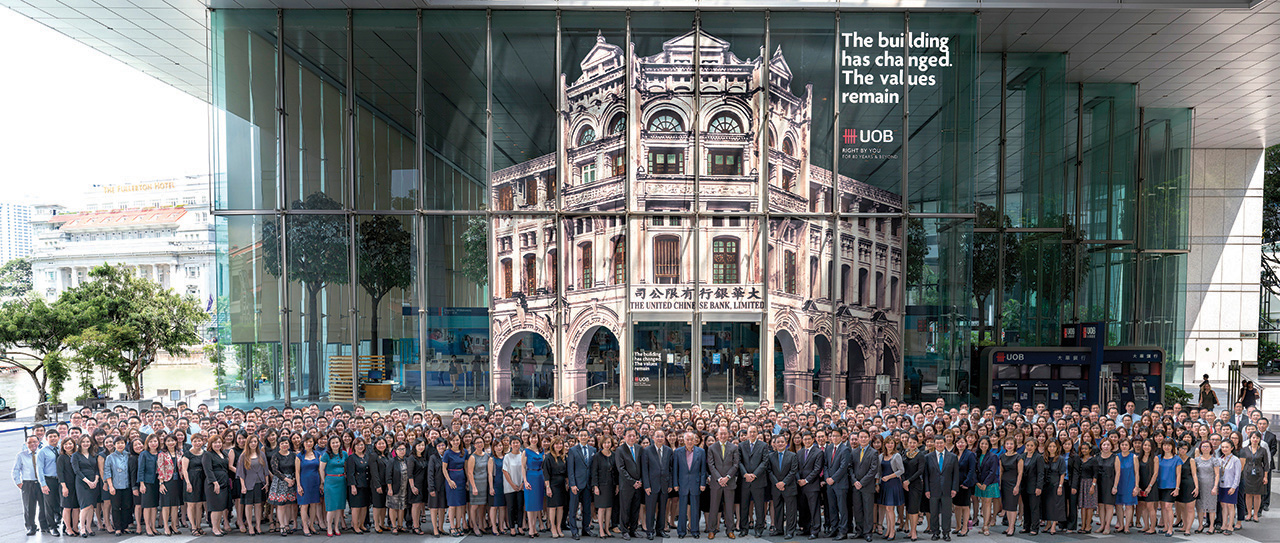 Our colleagues from around the world shared their birthday wishes for UOB.