Our Customer-focused Business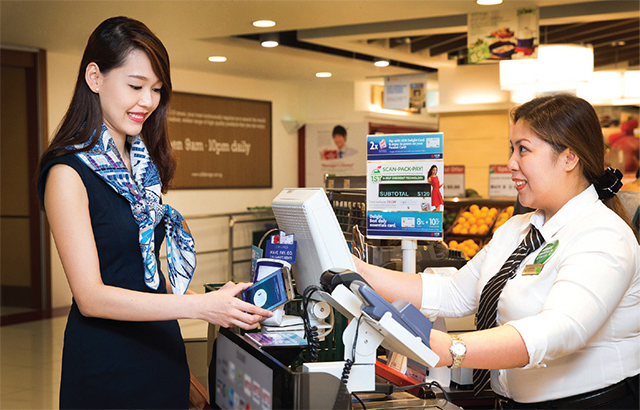 Our customers' financial future is as important to us as is their present. Whether their needs are simple or complex, our solutions address their personal or business banking priorities, and our expertise and insight help them attain their financial goals.
We attend to our customers' needs in ways that best suit their lifestyles and preferences. Our strong customer relationships are founded on our intimate understanding of who they are, what they hold precious and what influences them. Our broad range of products and services is designed to help them plan, save, invest and spend in accordance with their needs and as they progress through the different stages of life.
UOB's retail banking business is focused on three key areas:
Helping our customers save for their future and invest wisely to grow their wealth,
Harnessing digital technology to provide a simple and consistent banking experience, and
Providing convenient payment options that match the lifestyles of our customers.
These priorities are infused into the products and services that we offer to our Core Banking customers, as well as to those in Wealth Banking, Privilege Banking, Privilege Reserve and UOB Private Bank.
The full spectrum of our wealth management customers starts with those who hold at least $100,000 of assets under management (AUM). More pertinent to us than their AUM, however, is knowing what is important to our customers as they go through life's many stages and what their financial goals are each step of the way. This deep understanding enables us to think ahead for them.
At the most basic level, they require simple investment solutions that extend beyond cash savings and help generate passive income. For the emerging affluent, many of whom are young professionals and young families, we help them prepare for life's milestones such as planning for their new home, a baby or their children's education. We also help them prepare for a time when work ceases to be about earning money but about the pursuit of their passions or hobbies. For our wealthy and high-net-worth clients, we want to ensure they understand that investment risks are controllable but returns often are not – a fundamental learning that is underappreciated. This principle is infused in our approach to advising our wealthy clients.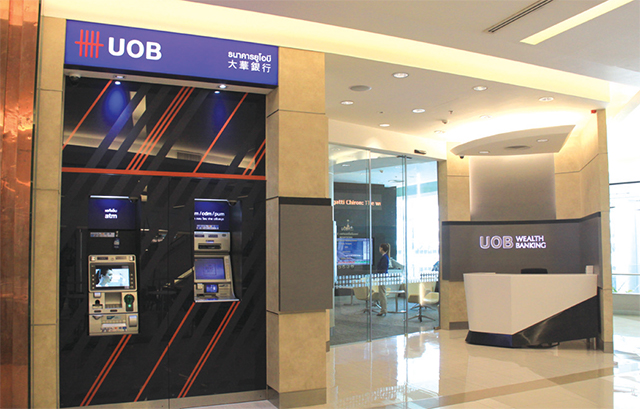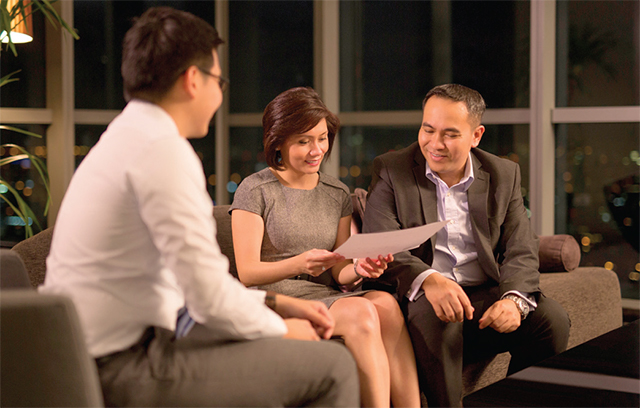 Our team of dedicated relationship managers and product specialists also work together to bring our clients the full franchise value of UOB with advice on investment opportunities, portfolio management and retirement planning. These services and products of various levels of sophistication are available throughout our Asian network of 52 dedicated wealth management centres, with UOB Private Bank serving our ultra-high-net-worth clients exclusively. Our Private Bank clients can depend on our strong in-country presence across Asia and deep local market insights as we work with them to grow and to preserve their wealth for future generations.
Our small business customers are also served through UOB's Group Retail segment. This is because the nature and size of their businesses mean that their requirements are closely intertwined with their personal banking needs. UOB's commitment to supporting the ambitions of our Business Banking customers is rooted in the entrepreneurial expertise that we have built up over our 80-year history. Our approach to working with small business owners is to harness the strengths of UOB's franchise to deliver straightforward banking solutions that match the needs of their businesses – from sole proprietorships to small- and medium-sized enterprises (SMEs). We are committed to placing the interests of the customer first and to stand by them through business cycles.
Our personal banking and business banking services are complemented by our 500-strong integrated branch network and 1,700 automated teller, cash deposit, coin and cheque machines in Southeast Asia and China, and in key cities around the world. Our customers can also bank with us easily online and via their mobile devices.
2015 Performance
In 2015, steady economic growth in Asia and increasing middle class affluence continued to be key growth drivers for the Group Retail business. UOB's astute market insights and strong wealth advisory services helped our customers as they sought new avenues of gaining higher yield. The value we provide customers through our customised financial solutions led to solid growth in 2015.
Overall revenue for Group Retail registered an 11 per cent year-on-year growth. With prudent management of expenses and targeted investment in building our capabilities, we kept expense growth to 9.3 per cent. As a result, the cost-to-income ratio for Group Retail was maintained at 53.2 per cent and the return on assets (ROA) at 1.2 per cent. The total operating contribution of the retail business to the Group grew by 14 per cent due to increased fee income and a larger client base.
In anticipation of possible future interest rate increases, we intensified our efforts in garnering deposits with a unique UOB ONE Account bundled solution for Core Banking customers which drove stable and active current and savings account balances as well as active card spend. The account was successfully launched in Singapore where more than $1 billion has been deposited since its launch. Overall, our total retail deposit base strengthened by 6.8 per cent compared with the previous year. This net growth in balances also contributed to improved net interest income from deposits.
In wealth management, the total assets under management of the Bank stood at $85 billion at the end of 2015, up 77 per cent from the $48 billion five years before. Our wealth management customer base almost doubled to 205,000 over the same period.
Business Banking's operating profit grew 31 per cent in 2015, making it the fastest growing business unit within the UOB Group for the second consecutive year, and a significant contributor to the Group Retail business. Prudent cost management and improvements in sales productivity also resulted in an improvement in ROA to 2.32 per cent. Nearly 50 per cent of Business Banking's operating profit came from Indonesia, Malaysia and Thailand where we continued to support our customers' businesses and growth plans given the increasing affluence and domestic consumption in these countries. Deposits in Business Banking accounts increased with our growing customer base and the strong product prepositions we create for our customers such as the BizTransact current account.
Outlook
In 2016, we will continue to enhance and invest in the capabilities and platforms that we have developed over the past year. With volatility in the markets expected to be a concern for our customers, we will focus on helping them adopt a holistic approach to investing their savings. We will do this using our core investing strategy that is built upon the basic tenets of diversification and the compounding effect. We will continue our efforts to provide tailored products and solutions to our wealth management customers using a more refined customer segmentation approach that takes into closer consideration their lifestyles and financial goals.
We want to ensure our customers experience a consistent quality of service whether they conduct their banking transactions at the branch, online or on their mobile devices. To ensure we plan around their present needs and stay relevant in their future, we build digital capabilities into our approach. This is at the core of how we read our customers' behaviour to understand them better, how we design our products and services, in the partnerships we strike that would bring substantial benefits to our customers and in ensuring every encounter they have with us is an enriching experience. In 2015, we transformed the ways our customers bank digitally by revamping our Personal Internet Banking and public website for retail clients and by launching a new mobile banking, lifestyle and payments app, UOB Mighty. We intend to build on these successes in 2016 by harnessing the advancements in technology.
As part of our customer-centric service model, we will focus on re-engineering our processes to make them more intuitive for our customers, to improve efficiency and to lower costs and error rates.
In Business Banking, we are scaling up our lending portfolio with an effective underwriting model and process customised for small businesses. With this credit model, we will deliver a superior customer experience with improved turnaround times, streamlined document requirements and a reduction in the number of touch points needed to complete a single process. With advanced risk decision-making capabilities from our dedicated analytics team, we are able to offer appropriate solutions to customers that best suit their needs and risk appetite.
Personal Financial Services
Helping customers safeguard assets and gain greater yield
Low interest rates and huge liquidity in the market led to more competition for deposits with banks focusing on transactional deposits. We sought to help our customers extract the most value from their money without them having to alter their banking behaviour. In understanding their transaction patterns – spending on credit cards, depositing salaries, having standing payment instructions – we created the UOB One Account enabling our customers to earn more on their deposits. Based on the frequency of their transactions, they could enjoy interest rates ranging from 1.5 per cent to 3.33 per cent per annum with the UOB One Account. This new approach enabled us to attract more than $1 billion of stable deposits from the launch of the product.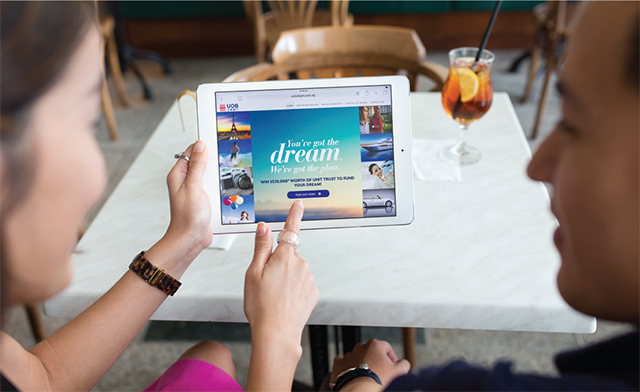 Making Dreams a Reality
We asked our customers to share their financial dreams and the means to achieve them through the UOB Income Builder Dreams Contest in 2015. More than 4,000 people wrote to us about their financial dreams which ranged from buying a house and paying for their children's education to becoming a successful entrepreneur.
To help our customers manage their investments better, we introduced the UOB Income Builder. This is an holistic approach to investing. It focuses on helping customers build passive income through an accumulation of core investments which are relatively stable and offer diversification. The UOB Income Builder approach is based on selected funds that invest across geographies and asset classes such that no single component can significantly impact performance. The funds are actively managed and overseen by professional fund managers. The approach draws on the evergreen investment principles of time, diversification and the compounding effect to help customers achieve a regular income stream and fulfil their financial aspirations. Since its launch, our customers have invested $2.5 billion through the UOB Income Builder approach as more Singaporeans become increasingly aware of the benefits of shifting their financial planning focus from saving only to saving and investing.
The UOB Income Builder was also well-received as an alternative investment option by investors who wanted to diversify from an over-reliance on capital appreciation in light of the cooling Singapore property market.
Home ownership however, remained one of the top aspirations of our customers. With this in mind, we introduced SIBOR Flex, a home loan that offers customers a combination of stability and flexibility. Homebuyers can enjoy the stability of a 12-month SIBOR rate for the first year of the loan with subsequent years pegged to the three-month SIBOR rate.

Making banking simpler with technology
With the mobile phone being an indispensable lifestyle device, we harnessed new technologies to make banking easier for our customers. In 2015, we introduced a new mobile application, UOB Mighty, which enables our customers to digitise their UOB credit and debit cards with their NFC-enabled Android smartphones instantly and make contactless payment wherever it is accepted in the world. Unlike other contactless payments whereby there is a blanket limit set on the transaction amount, payments made through UOB Mighty have no limit other than the customer's own credit or debit card limit.
Our customers were also the first outside of the US to make contactless payment via tokenised security set in their Android smartphones. Tokenisation encrypts a customer's card payment data on the mobile device to protect sensitive card information. Our customers simply launch the UOB Mighty app, select the 'Pay' function, enter a PIN and tap to pay at any NFC-enabled terminal worldwide.
The UOB Mighty's simple and intuitive user interface enables our customers to perform daily banking transactions in just a few easy steps, pay bills and transfer funds on the go. Beyond banking functions, we added a lifestyle element to UOB Mighty based on our understanding of our customers' behaviour, and in particular, Singaporeans' love of food.
UOB Mighty's dining feature offers customers a suite of dining-related services including a directory of more than 3,000 restaurants. Customers can search for restaurants, make bookings and pay with UOB Mighty or a physical UOB credit or debit card. After payment is made, they are prompted to submit a review based on the quality of food, price and service.
The information we gather from usage of the app enables us to delve deeper into understanding our customers' dining preferences and patterns. This enriches our insight as we develop more offerings around their lifestyles and expectations.
This tailored and localised approach is also applied in our engagement with customers in regional markets where local social chat apps and social media platforms are popular. In China, we use a WeChat account to offer our high-net-worth Privilege Banking clients the latest updates on our products and lifestyle offers, while the LINE account is tailored to the needs of retail banking customers. More than three million follow UOB's WeChat and LINE activities in China and Thailand.
Responding to our customers' changing online banking patterns and pace of life, we also revamped the UOB Personal Internet Banking website to make bill payments and funds transfers 20 per cent faster. With more than 85 per cent of UOB's customers using online banking services and two out of five accessing the service through a mobile device, we simplified the layout and navigation of our online banking website which can also be accessed through any mobile device. The new layout has grouped banking functions and services into the four most frequently-used categories so that customers can more easily move, manage, view and grow their finances. UOB's online banking website also has various sidebar tools from which customers can choose to access information on their chosen unit trusts or to track selected foreign exchange rates.
With more customers investing their money online, the new website will also enable them to place structured deposits, purchase unit trusts and invest in gold and silver. Today, close to 80 per cent of gold trading through the UOB Gold and Silver Savings Account is performed online.

Delighting our customers with rewards and rebates
In 2015, we continued to expand the depth and range of our card products to match our customers' lifestyle needs. With our cardmembers not only travelling more, but also spending more in Southeast Asia than anywhere else in the world, we refreshed the UOB PRVI Miles Card for our customers to enjoy benefits normally reserved for locals in Singapore, Indonesia, Malaysia and Thailand. Knowing that the benefit that appeals most to the frequent traveller is air miles, we ensured that the UOB PRVI Miles Card offers our cardmembers faster air miles earn rates than other cards in the market. In Singapore, where the card has been popular for some years, take-up for the refreshed card grew 191 per cent with billings increasing by 46 per cent year on year. Demand for the card was also strong with customers in Indonesia, Malaysia and Thailand where it was introduced for the first time in 2015.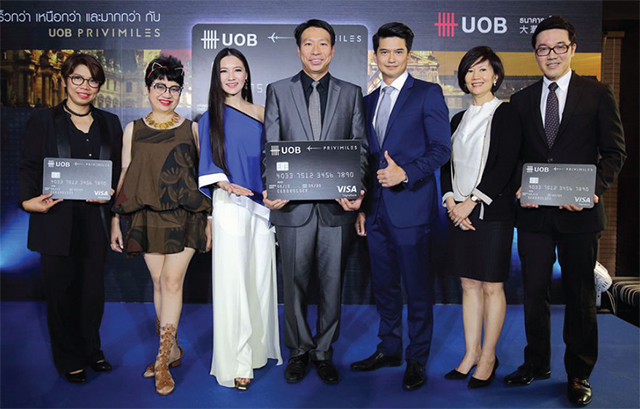 We also apply our knowledge of our customers' travel patterns on the ground to make them feel special. In Singapore, we partnered with Paragon shopping mall which is frequented by locals and affluent regional visitors. As part of the tie-up, we offered discounts, complimentary limousine rides, coffee vouchers and exclusive gifts to all UOB cardholders, regardless of their home country, during the end-of-year shopping season.
We strengthened the offers available on a number of our most popular cards including the UOB Delight Card and the UOB One Card. In celebration of Singapore's Golden Jubilee, we introduced a limited-edition UOB One Card in gold with a cash rebate of up to five per cent on all spend, making it the most generous cash rebate card in the market. Following its launch, the number of customers who applied for the UOB One Card doubled and billings grew by 20 per cent year on year. Our UOB Delight Credit Card, a co-brand card in partnership with Dairy Farm Singapore, was also enhanced with more benefits for daily items such as groceries, pharmaceuticals, transport, utilities and dining.
Wealth Management
Asian perspectives for managing wealth
UOB's approach to managing our customers' wealth is based on a deep understanding of their present and long-term financial needs, risk appetites and lifestyles. Our wealth management philosophy rests on putting the customer at the heart of all that we do:
Clients before products – We take the time to understand our clients' needs and aspirations to provide suitable and relevant solutions and advice.
Risks before returns – We ensure clients understand and appreciate the risks associated with their investments, and do not overlook or fail to grasp fully the associated risks.
Goals before opportunities – We help our clients prioritise their goals in view of specific market opportunities so that they can meet their long-term financial ambitions.
Ours is a tailored approach which takes family, business and lifestyle needs into account for our Wealth Banking, Privilege Banking, Privilege Reserve and UOB Private Bank clients. Whether they are young families, affluent professionals, entrepreneurs or sophisticated investors, our clients can be assured that we take the time to consider their specific concerns and needs before offering thoughtful financial advice and customised solutions.
Demand for our wealth management services increased amid growing consumer affluence in Asia and a search for greater yield in a low-interest rate and low-rental environment. With continued market volatility, we also focused on helping our clients protect their assets and diversify their risk. As a result, our wealth management business registered income growth of 16 per cent in 2015.
We continued to expand our regional wealth management business with targeted branch openings in affluent neighbourhoods. For instance, we opened our first Wealth Banking Centre in Thailand at the upmarket Siam Paragon shopping mall in central Bangkok to serve a growing pool of affluent young professionals. Our relationship managers and product specialists are there to provide them with financial advice on topics such as planning for their children's education and their own retirement.
As for our clients' healthcare needs, we expanded our menu of lifestyle privileges with the UOB Medical Concierge service for our regional clients who often fly into Singapore for check-ups and other medical services. The Concierge service, offered in partnership with Parkway Hospitals Singapore, is available around the clock to our Privilege Banking and Privilege Reserve clients from Singapore, Malaysia and Indonesia. It helps them schedule their appointments speedily and arranges their hospital admission. UOB is also the first bank in Singapore to offer a telephone medical triage service which directs clients to the most suitable medical specialists based on their medical needs.

Private Bank: Growing wealth and preserving it for the next generation
The UOB Private Bank is dedicated to managing the wealth of our ultra-high-net-worth clients, and preserving their wealth for generations to come. We offer them dedicated advisory and customised solutions that draw on the Bank's full suite of personal, business and investment services as part of our one-bank approach.
Many of our clients are first-generation Asian entrepreneurs with unique personal and business banking needs. After decades of banking with us, a number of our clients are now focused on succession planning as they hand over the reins of their businesses to the next generation.
The priority our clients place on protecting their wealth and growing it for the next generation is closely aligned with UOB's own long-term approach to building for the future. We are guided by this deep appreciation of our clients' needs in our investment strategy which focuses not just on the now but the next years to come.
The success of our Private Bank lies in our sound investment strategies, the rigour of our market analysis, the calibre of our people and the industry knowledge of our client advisers. We make sure our people are equipped with the knowledge and the sensitivity to serve ultra-high-net-worth clients with a special touch. This is achieved through the selective hiring of individuals with the right skillsets and values to build a sustainable franchise.
In order to meet the rising demand for our wealth management advisory services, we increased the number of our relationship managers by 48 per cent from a year ago. Our 2015 Private Bank income grew 48 per cent year on year. We will continue to invest in new products, platforms and most importantly, our people in the years to come.
Defining Principles
The importance we place on shared principles was brought to life in an award-winning UOB Private Bank television campaign. It reaffirms our commitment to helping our clients leave a lasting legacy for the next generation and to our own long-term approach to building for the future.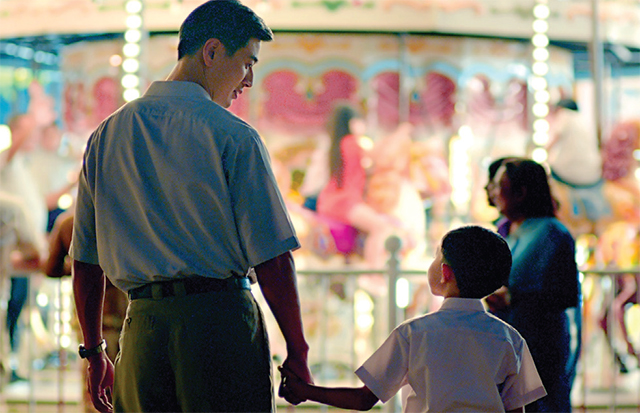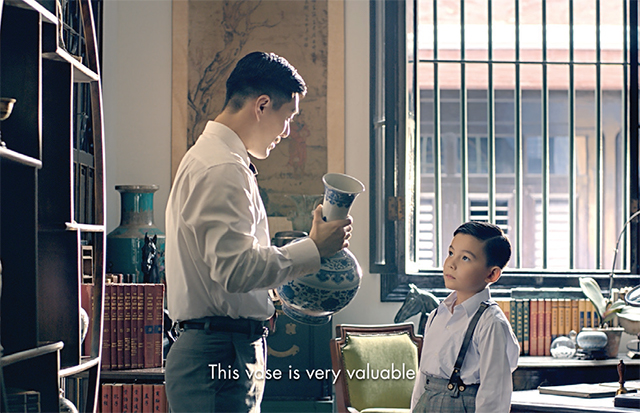 Business Banking: Helping small businesses realise their potential
We understand that small business owners are unique in that their personal and business banking needs are often intertwined. It is with our knowledge and appreciation of their priorities that 100 of UOB's retail branches across Asia offer the convenience of Business Banking services under the same roof. Our range of products and services matches their needs as they progress through different stages of their business and growth cycles: account and fund transfer services for basic transactions, lines of credit for working capital and capital investment, and trade and foreign exchange services for local and overseas business needs.
Our deep understanding of our customers' needs, consistent delivery of relevant products and swift service with a personal touch are the reasons behind our consistently strong performance over the past four years. UOB is now the preferred banker to more than half of all small businesses in Singapore and we have a strong presence in regional SME markets.
In 2015, we offered our customers strong product propositions such as transactional accounts featuring benefits tailored to help small businesses save on costs and maximise returns on their deposits. For instance, in Singapore we offer BizTransact, a current account with attractive transactional benefits such as free payroll transactions and discounted outward telegraphic charges. In Indonesia, the GIRO 88 current account offers the additional benefit of tiered interest rates for higher deposit bands.
In light of the economic uncertainties, we launched an analytics-driven credit approvals-in-principle campaign for our loyal customers. We studied account transaction behaviours to be able to provide credit-worthy customers with additional overdraft or term loan facilities that were welcomed in the challenging operating environment. Fee income from such facilities together with income from trade and foreign exchange services helped us grow total income by 19 per cent in 2015.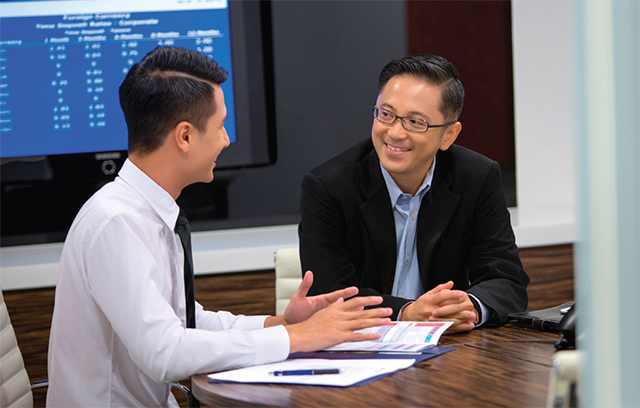 In a tough credit environment, many small businesses find they need working capital urgently. Through our BizMoney loan we were able to offer the speed and convenience these customers require. The BizMoney loan enables business owners to apply for a line of credit with just their bank statements and have their applications processed within three days. The keyman insurance offered as part of the package also provided business owners with the peace of mind of protection. The product contributed seven per cent of Business Banking's income.
Building on the success of BizMoney, we embarked on a two-year credit excellence initiative in 2015 to improve our credit underwriting model and process for a better customer experience and improved risk management. By the end of 2016, we intend to make our loans application process even smoother and faster for customers by reducing processing times by 75 per cent and by cutting down the paperwork required for the application process across all markets.
In helping our customers increase efficiency and save costs we introduced the UOB Payroll service. It addresses a new Singapore government requirement for small businesses to issue itemised payslips and key employment terms, and to maintain detailed employment records. The UOB Payroll service, which comprises a UOB Business Banking operating account and HREasily payroll software, enables small businesses to pay their employees in a few easy steps and saves them at least 40 per cent in payslip management costs. The service also eliminates the need for manual payslips which can be complicated and time-consuming for small businesses to produce.
Over the next three years, we expect a greater number of our small business customers to expand overseas and to find new outlets for their products and services. To support their ambitions, we have deepened our expertise in the areas of international credit and risk management, trade financing and regional regulatory frameworks so that we are better equipped to help our customers seize the opportunities in new markets. In this regard, our bankers are trained to the highest standards through the UOB-SMU Banker's Executive Certificate programme. Administered by the Singapore Management University, it is the finance industry's first tertiary education programme designed for small business bankers.