Tookitaki and the quest to prevent financial crime
Tookitaki is a Singapore-based RegTech startup that develops intelligent AML solutions. Co-founded by CEO Abhishek Chatterjee and COO Jeeta Bandopadhyay in 2014, Tookitaki initially started out by providing data analytics to marketers.
Abhishek, formerly an associate at an investment bank, saw that AML solutions at the time were ineffective at promoting compliance and also struggling to keep pace with the growth of digital banking and online transactions. As such, in late 2016, Tookitaki shifted its focus to machine learning-based platforms for predictive analytics on regulatory compliance.
Tookitaki aims to help financial institutions comply without complications and enable integrated as well as sustainable compliance management. What differentiates Tookitaki from competitors is its unique approach to combating financial crime.
Instead of fighting siloed, where the information vacuum becomes the gaps exploited by bad actors, Tookitaki takes a democratised detection approach with its industry-only AML ecosystem, which includes the network of experts.
The AML Ecosystem is a game changer since it helps remove the information vacuum created by siloed AML operations. It also lays the foundation for a democratised detection approach where AML behavioural models are shared across an ecosystem through a privacy-protected framework. Tookitaki's network of experts includes risk advisers, legal firms, AML specialists, consultancies and financial institutions from across the globe.
In addition to the AML ecosystem, which is a first-of-its-kind community-driven initiative, Tookitaki's Anti-Money Laundering Suite, or AMLS, is an operating system comprising of four modules, under one roof to address customers' compliance requirements. It provides holistic risk coverage, sharper detection, and significantly fewer false alerts. It can be deployed in multiple environments including the public cloud, private cloud, and data centre.
Tookitaki's AML Ecosystem and the AMLS work in tandem and help stakeholders widen their view of risk from an internal one to an industry-wide one across organizations and borders. Moreover they can do so without compromising privacy and security.
"Multiple AI solutions need to come together to build a sophisticated, integrated AI framework in the banking and financial services world," says Abhishek, in a joint whitepaper by UOB and Deloitte. "Tookitaki's AMLS follows the same guiding principle and allows seamless integration with existing frameworks while being scalable and explainable."
Machine learning models, too, benefit AML ecosystems. For one, it increases effectiveness in identifying suspicious activities due to its sharper focus on data anomalies rather than threshold triggering. Machine learning models also allow for easier customisation of data features to accurately target specific risks, as well as enable extended look-back periods to detect more complex scenarios.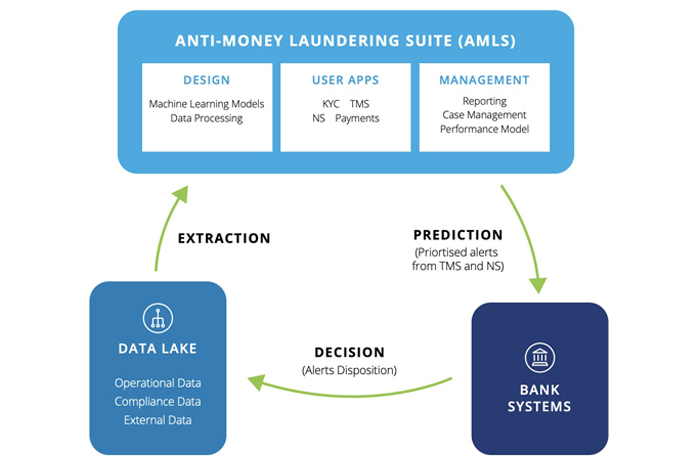 Tookitaki designed an integrated machine learning platform to rapidly develop and deploy AML solutions. Photo: UOB Tech Startup Ecosystem.