Aimazing's initial pivot from failure
When Artificial Intelligence (AI)-based marketing analytics startup Aimazing was incorporated seven years ago in Singapore, it was still a mobile wallet business. Since then, Aimazing has pivoted twice–first shifting to a business-to-business (B2B) FinTech model, then reorienting focus to data analytics, where it finally found its niche in 2017.
Today, the company is the retail analytics platform of choice for mall management, allowing establishments like the Philippines' Power Plant Mall to make data-driven decisions with complete transactional data visibility. Aimazing now has over 1,000 clients across Singapore, Malaysia, the Philippines and Taiwan.
A "pivot," according to Eric Ries' Lean Startup Methodology, is a "course-correct" manoeuvre, a Plan B for a business model that isn't taking off. In Ries's Methodology, businesses should sketch out hypotheses, or testable guesses, defining their mission and preferred outcomes. If the hypotheses aren't validated by experience, then the business should "pivot" to a new business model, and repeat till they find one that works.
Structural changes can seem daunting and tedious. But entrepreneurship, by nature, has no shortage of pivots. Even some of the most successful tech companies are born from multiple course corrections. Just ask Twitter, which started out as a podcasting company; or PayPal, which pivoted five times before finding success.
However, not all pivots lead to positive results. As the whole world saw in the last two years, COVID-19 was a big, unforeseen curveball for a great many industries. Aimazing CEO and co-founder Jun Ting offers the following lessons, based on his own experiences, on dealing with failure and pivoting a successful start-up.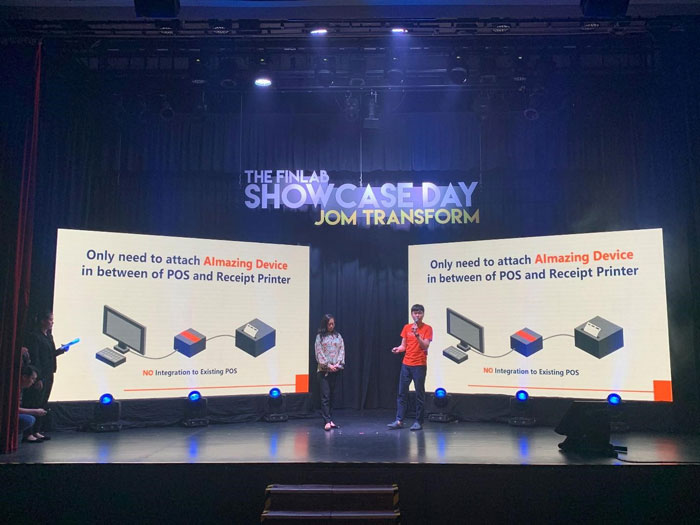 Aimazing demonstrates the ease of integrating the Aimazing Device to an existing point-of-sale system at Malaysia's Jom Transform Programme Showcase Day in 2019. Photo: Aimazing