Philippines FinTech trends and opportunities
COVID-19 catalysing payment services and outreach to unbanked
As COVID-19 precipitated a series of lockdowns throughout the Philippines, FinTech firms have stepped up to address payment transactions that could not be done in person.
The use of digital-only transactions grew as more Filipinos were forced to adapt. Payments provider GCash reported an eightfold increase3 in 2020's transaction value compared with the same period in 2019, processing PHP1 trillion (US$19.8 billion) in transactions throughout the year. The surge in adoption and usage of GCash's solution led it to increase wallet limits4 to PHP500,000 (US$9,920). A 2020 Visa study reported that the majority of first-time digital payments in the Philippines were made for food and groceries, bill payments and pharmaceutical products.
The unbanked population have been a particular focus of GCash and Voyager Innovations' payments platform, PayMaya, both of which lead the Philippine mobile wallet market with 40 million5 and 38 million6 users respectively.
According to Voyager Innovations, its most recent influx of funds will go to expanding services for the unbanked through PayMaya, its remittance service Smart Padala, and its nascent digital bank Maya Bank. PayMaya reports that its 250,000 access touchpoints already outnumber the country's ATMs and bank branches seven to one, catering to the unbanked even in remote parts of the country that lack any banking presence.
As of January 2021, PayMaya expanded from payments to lending and insurance, with 'sachet' loans for micro-, small- and medium-sized enterprises, and PayMaya Protect that covers COVID-19, personal accidents, and even mobile device coverage for less than PHP1 (US$0.02).
Government-sponsored efforts to promote digital payments have likewise increased significantly during the numerous community quarantines of 2020 and 2021.
Official COVID-19 relief programs have helped boost awareness and use of digital payments among unbanked Filipinos. The second tranche of the Government's Social Amelioration Program was disbursed primarily through almost 10 million newly created bank accounts, significantly boosting financial inclusion in 2020.
Government-sanctioned electronic payment channels also saw a phenomenal increase in uptake.
QR PH, the national QR code standard that governs transfers between banks and e-wallets in the Philippines, saw the value of QR payments between individuals increase to PHP974.2 million7 (US$19.3 million) as of May 2021 from only PHP1.04 million (US$20,654) in November 2019.
PESONet and InstaPay, the BSP's automated clearinghouse frameworks, also reported rapid growth in the wake of the pandemic.
According to BSP Governor Diokno, PESONet's volume of transfers surged 376 per cent to 15.3 million transactions, with transaction values reaching PHP951.6 billion (US$18.9 billion). InstaPay's transfer volume surged 459 per cent to 86.7 million transactions, with transaction values of PHP463.4 billion (US$9.2 billion).
Demand for coins in 2020 subsequently dropped by 57 per cent in volume and 60 per cent in value compared with 2019. "More accessible and more convenient e-payment options may have partly contributed to the decline, aside from softer economic activities during the said period," explained Diokno.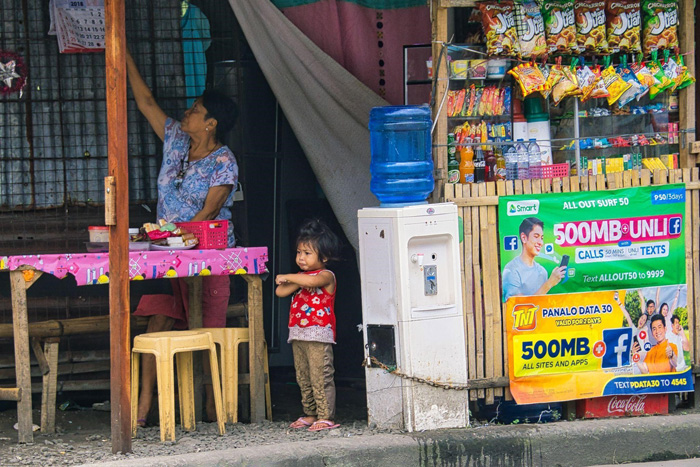 Filipino FinTech firms are catering to the country's unbanked population. Photo: Brian Evans (CC BY-ND 2.0)/Flickr
Arrival of digital banks
In the BSP's latest financial inclusion study, in 2019, 31 per cent of cities and municipalities in the Philippines lacked both banks and micro-banking offices. These structural obstacles to financial inclusion, which perpetuate the country's persistently low financial inclusion levels, may finally be addressed with the advent of digital banks in the Philippines.
"Digital banks can help reduce the barriers that hinder financial access, such as the small and irregular income of clients, high transaction costs, geographical distance, and lack of proper documentation," explained the BSP's Deputy Governor Chuchi Fonacier.
"The BSP sees digital banks as future partners in advancing financial inclusion in the country by leveraging on digital technology to offer financial products and services that bridge the market gaps in the unserved and underserved segments," Fonacier added.
As of September 2021, six digital banks have been approved by the BSP—the Overseas Filipino Bank (OFB) in March 2021, a subsidiary of the government-owned Land Bank of the Philippines; Tonik Digital Bank and UNObank in June 2021; Union Digital Bank in July 2021; GoTyme in August 2021; and Voyager Innovations' Maya Bank in September 2021.
However, the BSP stopped accepting new applications for digital banking licenses from 1 September 2021, beginning a three-year moratorium that will allow the central bank to monitor the nascent industry's performance.
Digital assets and tokens making steady gains
While cryptocurrency is arguably far from mainstream in the Philippines, test cases by FinTech firms have increased its visibility and encouraged greater adoption by a wider range of users.
Virtual currency exchanges (VCEs) must be officially registered as remittance and transfer companies. As at March 2021, there were 17 BSP-registered VCEs8; their recorded transaction value amounted to PHP101.6 billion (US$2 billion) in 2020, up from PHP20.9 billion (US$415.6 million) in 20199. Transaction volumes doubled to 12.2 million in 2020, up from 6.6 million in 2019.
The BSP itself has completed a study exploring the creation of a central bank digital currency (CBDC), but BSP Governor, Benjamin Diokno expressed a preference for not rushing its actual development, foreseeing its introduction happening beyond his current term, which expires in 2023.
BSP's study instead recommended continuing research, capacity-building and building networks with like-minded central banks and institutions. "The initiative is aimed at enabling the BSP to keep pace with, and to enhance its readiness to adjust and evolve amid rapid technological developments," Diokno said.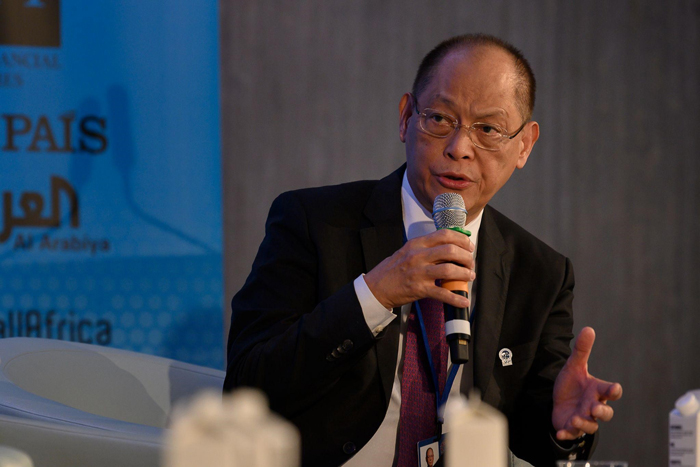 BSP Governor Benjamin Diokno. Photo: World Bank Photo Collection/Flickr