Digital banks need to offer interesting experiences and competitive promotions
In the last two years, incumbents and new market entrants to digital banking launched within months of each other: TMRW by UOB, Bank Jago and Neo Bank, to name a few. It is an exciting space, and just seven per cent of respondents said they would not be interested in a digital bank account. Over half of respondents are interested (58 per cent), and 35 per cent are opting for a wait-and-see approach19. Over half of consumers (54 per cent) expressed that new, engaging experiences and competitive rates and promotions are key to winning them over20.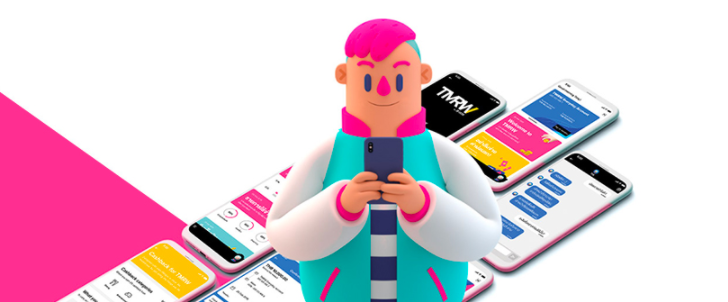 TMRW by UOB offers a hyper-personalised digital banking experience for retail consumers. Photo: UOB
Indonesians are curious and open to trying new things; honing the customer experience to create value is the most immediate way to improve stickiness. For a majority of FinTechs in the ASEAN region, the country will be a most exciting and valuable market to watch.
For more insights on Indonesia and ASEAN's dynamic FinTech industry, please download FinTech in ASEAN 2021: Digital takes flight.
1e-Conomy SEA 2021 report by Google, Temasek and Bain & Company
2An electronic survey was conducted from 25 August to 7 September 2021 with a total of 3,086 respondents across Indonesia (519), Malaysia (513), the Philippines (512), Singapore (508), Thailand (515) and Vietnam (519) to find out more about their digital financial behaviours.
3FinTech in ASEAN 2021 research question A3: Which e-wallet(s) do you use most regularly, if any? Base: Total respondents
4Question A1_2: Thinking about your shopping habits, which of the following payment methods have you used the most often? Base: Total respondents
5Question A2: What are the factors that influence your choice of paying via a digital payment method? Base: Total respondents
6Millennial generation, the main factor increasing retail investors in the capital market, Universitas Gadjah Mada Faculty of Economics and Business News, 14 October 2021
7Indonesian portfolio investors grow at five-year high in 2021, The Jakarta Post article, 24 December 2021
8Novice investors in Indonesia get burned by frequent IPO reversals, DealStreetAsia article, October 2021
9Indonesia now has more crypto investors than stock market investors, The Jakarta Post article, 6 August 2021
10Indonesia considers plan to tax trade in cryptocurrencies, Reuters article, 11 May 2021
11Question A7_1: A growing number of merchants worldwide are starting to accept digital currencies [like cryptocurrencies and central bank-issued digital currencies] as a mode of payment. Given a choice, would you use a digital currency? Base: Total respondents
12Question A7_3: Why would you want to use a digital currency? Base: Those who would use a digital currency
13Bank Indonesia Mulls Digital Currency as a Way to 'Fight' Crypto, Bloomberg article, 30 November 2021
14Question B7: What are some reasons why you have chosen or may choose to use BNPL schemes? Base: Those who have used or intend to use pay later methods
15Insurance in Indonesia - Opportunities in a dynamic market, Page 27, KPMG, April 2016
16Question C1: Have you purchased any insurance online before? Base: Total respondents
17Question C3: What are the reasons holding you back from purchasing insurance online? Base: Those who have not purchased insurance online before
18Question C5: Which of these insurance products have you purchased before, or are interested to purchase? Base: Total respondents
19Question E2: With the increase in digital-only banks across Asia, would you consider banking with a digital bank? Base: Total respondents
20Question E3A: What are the factors that would make you want to open a bank account with them? Base: Those who considered banking with a digital bank