Healthcare from a distance
Telemedicine played an important role during the pandemic. Medical professionals were able to provide consultation and prescriptions to patients remotely via secure video or audio connections, reducing the need for patients to visit a clinic or hospital.
Singapore-headquartered Doctor Anywhere is a telemedicine service provider that experienced a surge in consultation demand during the pandemic. Since the start of the pandemic till June 2020, overall usage on its telemedicine platform increased almost four-fold. Consultations for chronic medication refills grew nine times in the same period.
In response to the rising demand, Doctor Anywhere set up a virtual COVID-19 medical advisory clinic to identify COVID-19 signs and symptoms, enabling early detection of suspected cases for further medical assistance. Doctor Anywhere also launched an online mental wellness service for users to speak confidentially with psychologists and counsellors from the comfort of their homes.
Mr Lim Wai Mun, founder and CEO of Doctor Anywhere, said, "The pandemic has highlighted the need for people to be able to seek medical treatment remotely so that they do not put themselves or others at risk by heading out while unwell. Together with the (Singapore) Government's initiatives to encourage telehealth adoption, patients are now more willing to change their previous perceptions and beliefs about telehealth."
According to a survey by Bain & Company, nearly half of its 1,823 respondents see digital health services such as telemedicine becoming a permanent go-to option in the next five years. There is immense potential for telemedicine in ASEAN countries such as Indonesia because of its huge rural population base. The growing acceptance and demand for telemedicine will spur further investments into this area as well as the technological infrastructure that supports it, which will in turn improve the quality of service in the long run.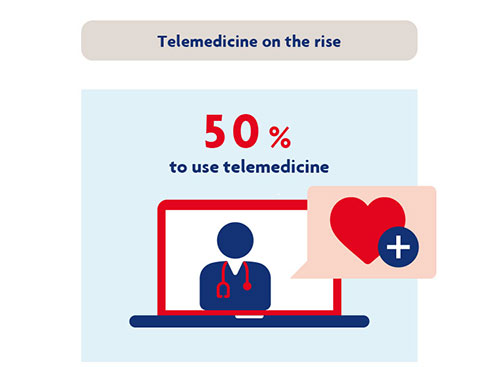 Bain & Company's Asia Pacific Front Line of Healthcare Report 2020, 50 per cent out of a respondent base of more than 1,800 expect to use telemedicine in the next five years.