UOB funding lifecycle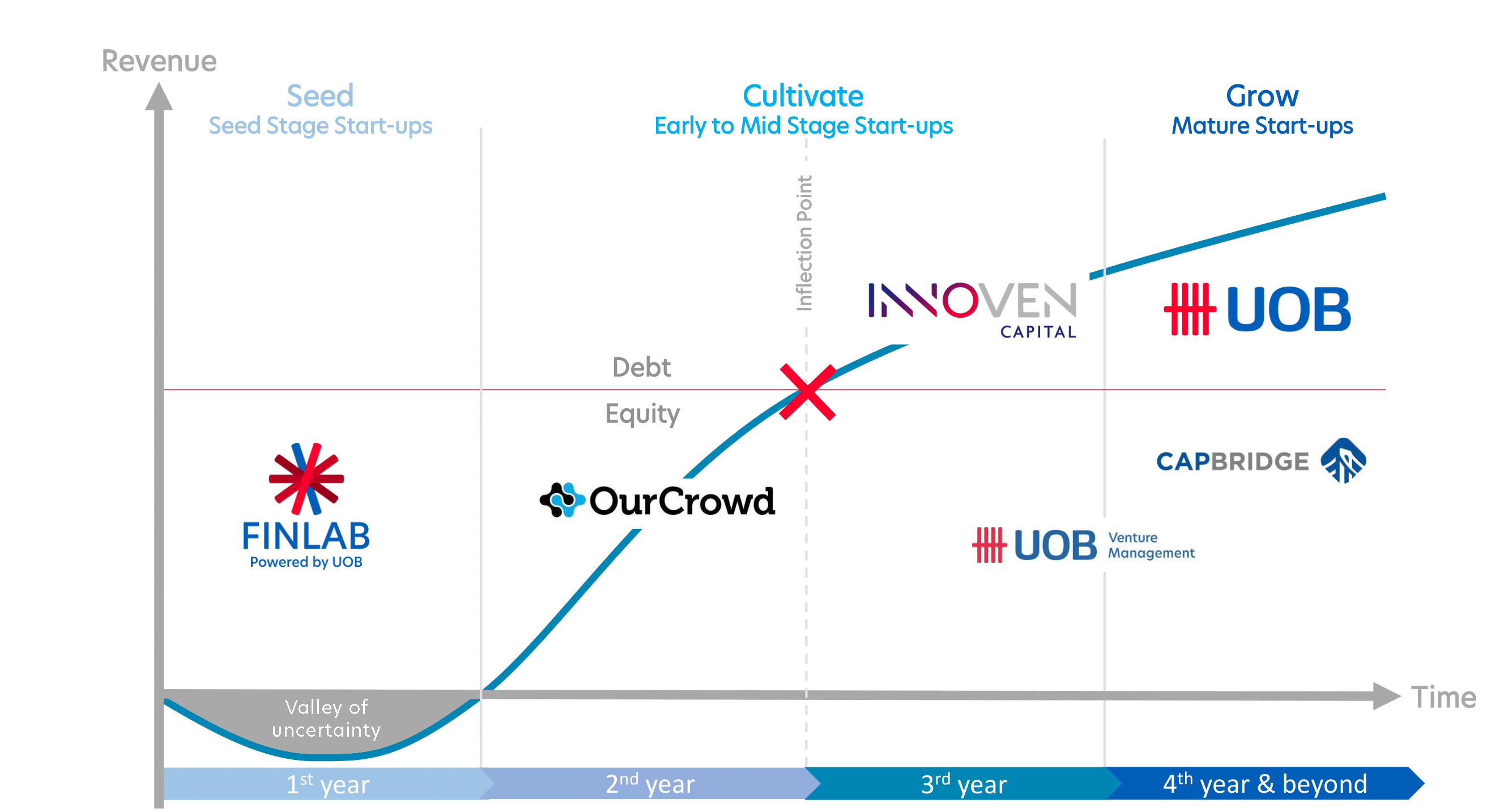 UOB has been supporting business across ASEAN at all stages of growth for more than 80 years. We understand the challenges faced in growing a business and the support that is required to achieve sustainable growth while progressing through the different growth stages.
We understand that start-ups may not be able to raise the funds through traditional loans as they are still developing their concepts, products and services into viable business models, and as such may not have consistent cash flow.
As such, we collaborated with strategic partners to develop UOB's tech start-up funding ecosystem. Through our ecosystem, start-ups can access alternative funding options such as venture debt and equity crowdfunding.
In addition, through our tech start-up funding ecosystem, start-ups will also gain access to the expertise and network of our partners, such as OurCrowd, InnoVen Capital and CapBridge, for mentorship, business management advice and market access.
Helping high growth tech start-ups access alternative equity funding and more through OurCrowd
For tech start-ups in Asia with high growth potential, UOB has partnered with OurCrowd to provide access to funding from global investors. These investors include corporates as well as accredited investors among UOB's client base. OurCrowd's equity crowdfunding solution complements UOB Venture Management's venture capital expertise to offer alternative financing solutions to fast-growing start-ups.
In addition, UOB also works with OurCrowd to connect tech start-ups to the Bank's corporate clients as they source for innovative technology solutions to tackle business and operational challenges.
Learn more about OurCrowd here.
Venture Debt financing through InnoVen Capital
In addition to raising capital via equity financing, start-ups can also consider venture debt as a synergistic yet less-dilutive solution to their capital needs. Through InnoVen Capital, a joint-venture between Seviora Holdings Pte Ltd (wholly owned subsidiary of Temasek Holdings) and UOB, start-ups can obtain additional funding whilst diluting less equity by choosing to apply for a venture loan.
Learn more about venture debt in the video below, recorded during SFF x SWITCH 2020:
Providing direct private equity investment through UOB Venture Management (UOBVM)
UOBVM invests in privately-held companies at the expansion/growth stage, with a proven track record in identifying investment opportunities particularly in Southeast Asia and China. The investment per deal ranges from US$10 million to US$50 million, depending on the funding requirements of respective companies.
UOBVM has incorporated Environmental, Social and Governance (ESG) assessment frameworks within its investment evaluation process since 2004. Currently, a proportion of UOBVM's capital is placed in enterprises that generate positive social and/or environmental impact, apart from financial returns, targeting high-growth businesses (across ASEAN and China) that seek to improve the livelihood of people in the base of the pyramid.
Private listing with CapBridge
Global private capital platform CapBridge has signed an agreement with UOB to offer a range of private capital solutions to private, high-growth companies in Singapore and in the Bank's key markets including China, Hong Kong, Indonesia, Malaysia, Thailand and Vietnam.
Through its investment syndication platform, CapBridge will match UOB's clients with anchor investors and accredited co-investors, catalysing private capital as a source of funding and helping these companies to broaden their investor base further. UOB's clients can also choose to list a portion of their equity on CapBridge's affiliate 1exchange (1X), Singapore's first and only regulated private securities exchange platform, of which Singapore Exchange Limited is a shareholder and strategic partner.