Faced with high inflation and rising operational costs, businesses in the city-state are focusing on enhancing efficiency and navigating financial risks. According to the UOB Business Outlook Study 2023 (SME & Large Enterprises), although business sentiment has vastly improved by 34 percentage points since 2020, firms are adopting various strategies – including cost reduction and soliciting new sources of revenue – to help drive growth.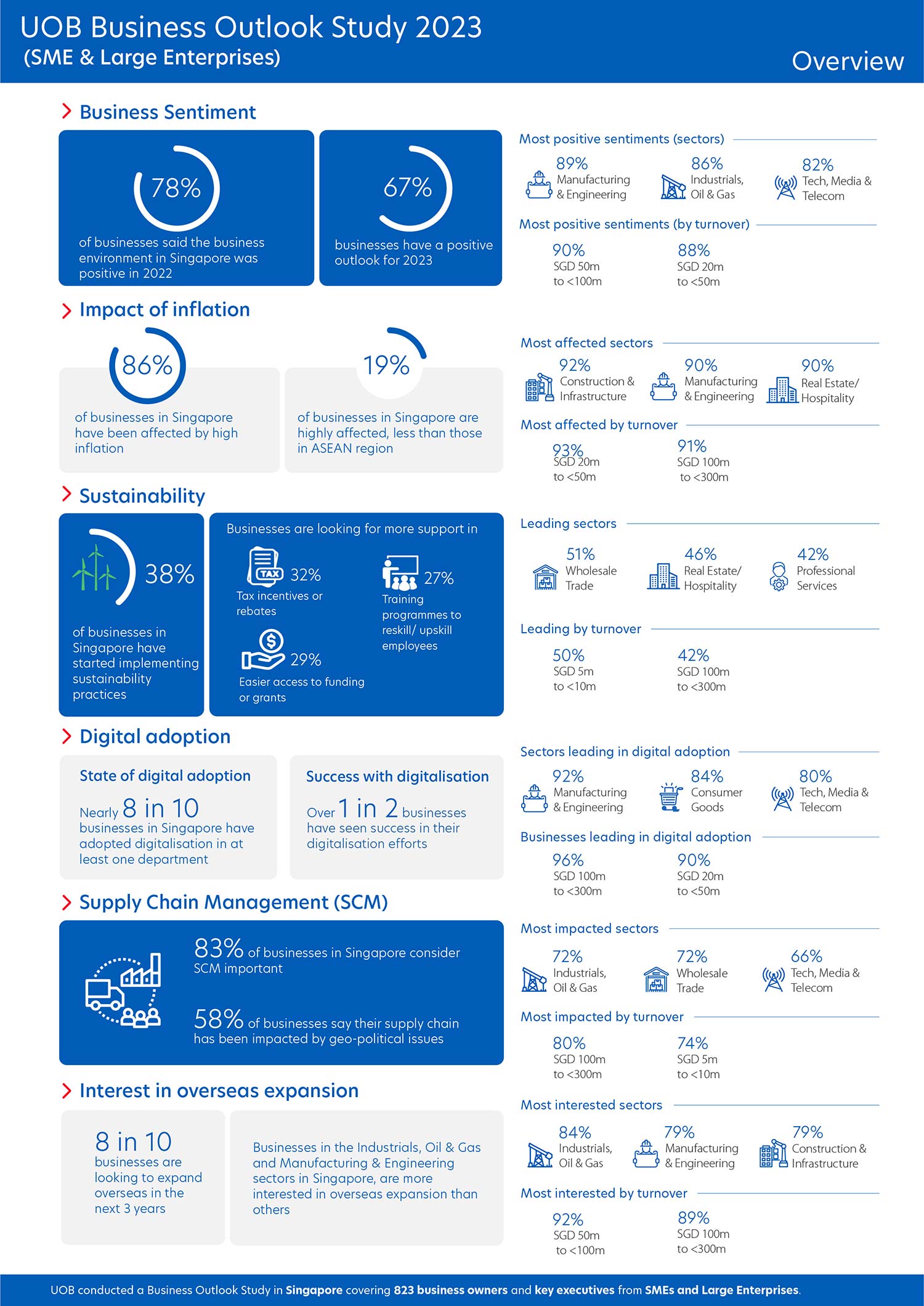 Prioritising cost management and revenue diversification
Two in three businesses in Singapore are optimistic for 2023 despite increased operating costs. The positive outlook was especially prevalent in the manufacturing and engineering industry.

High inflation, rising costs and interest rates emerged as unprecedented challenges in 2022, with inflation alone affecting 86 per cent of businesses. Nearly 60 per cent of businesses experienced increased operating costs driven by high inflation, with more than one-third reporting increased raw material expenses, leading many to cut costs.
To counter the effects of inflation, 45 per cent of businesses are prioritising productivity improvement, while 37 per cent are capitalising on government schemes.

There is now a focus on managing costs and developing new sources of revenue to stay resilient against future challenges. Businesses are also tapping into emerging sectors and leveraging technology to drive innovation.
Companies are now focusing on cost reduction and exploring ways to gain new revenue sources as well as customers. Although more than 70 per cent of businesses seem prepared for these priorities, smaller firms are relatively less ready and require additional support – in the shape of tax incentives, grant applications and improved access to funding.
Riding the sustainability journey
Seventy-six per cent of businesses in Singapore recognise the importance of sustainability, but only 38 per cent have started implementing sustainable practices. The most common sustainability practices implemented are ensuring employee welfare and using energy-efficient equipment. Companies also report seeing a shift whereby more customers are demanding for sustainability from brands (36 per cent, vs 30 per cent in 2021).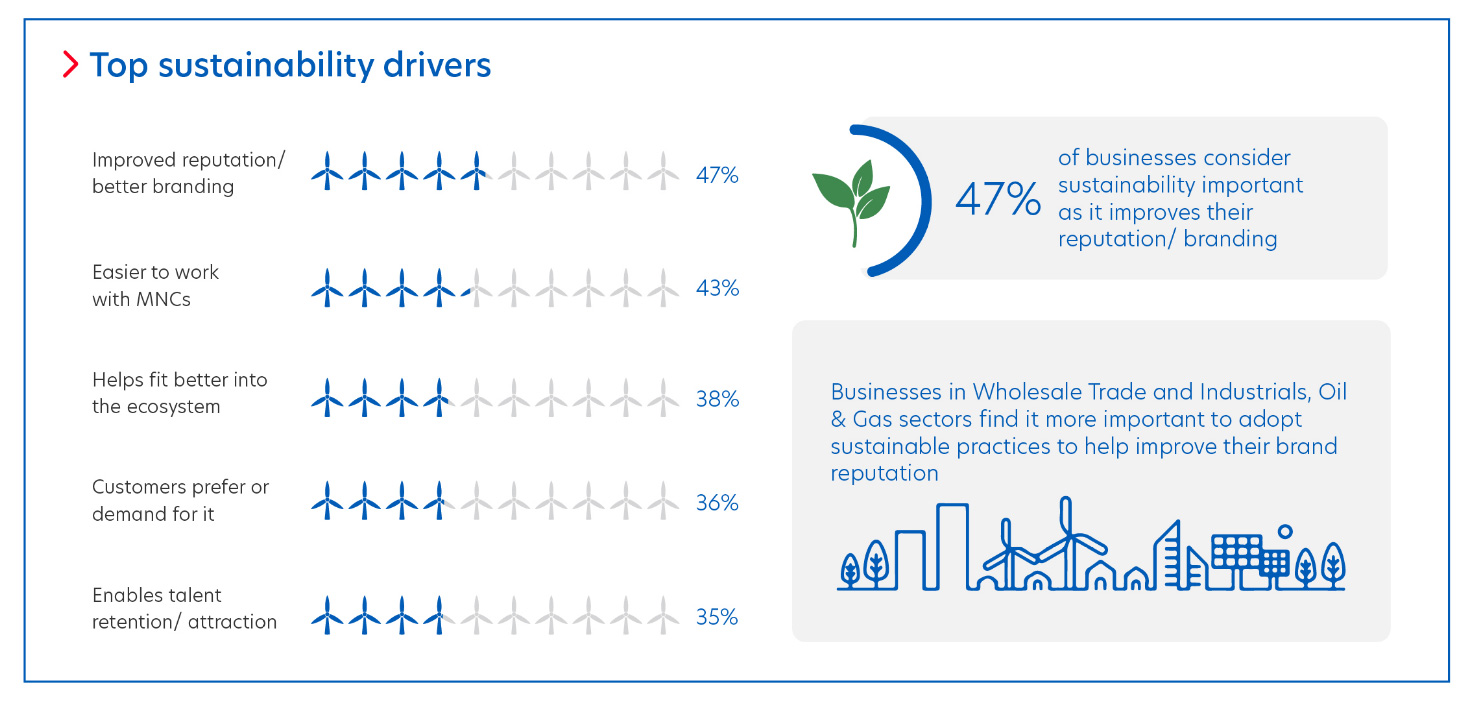 The top barriers to implementing sustainability practices are the increased cost of products/services to end-customers and a lack of knowledge within the organisation on which green initiatives to embark on. However, fewer firms are citing these concerns as barriers compared with two years ago, possibly indicating that companies are finding workarounds to any cost increases, and that they are equipping themselves with more knowledge in this area.
Embracing a digital future
Digitalisation has made a transformative impact on government-citizen interactions, business innovation, and people's everyday lives. Technological breakthroughs such as artificial intelligence (AI) present remarkable possibilities for growth and innovation in various sectors.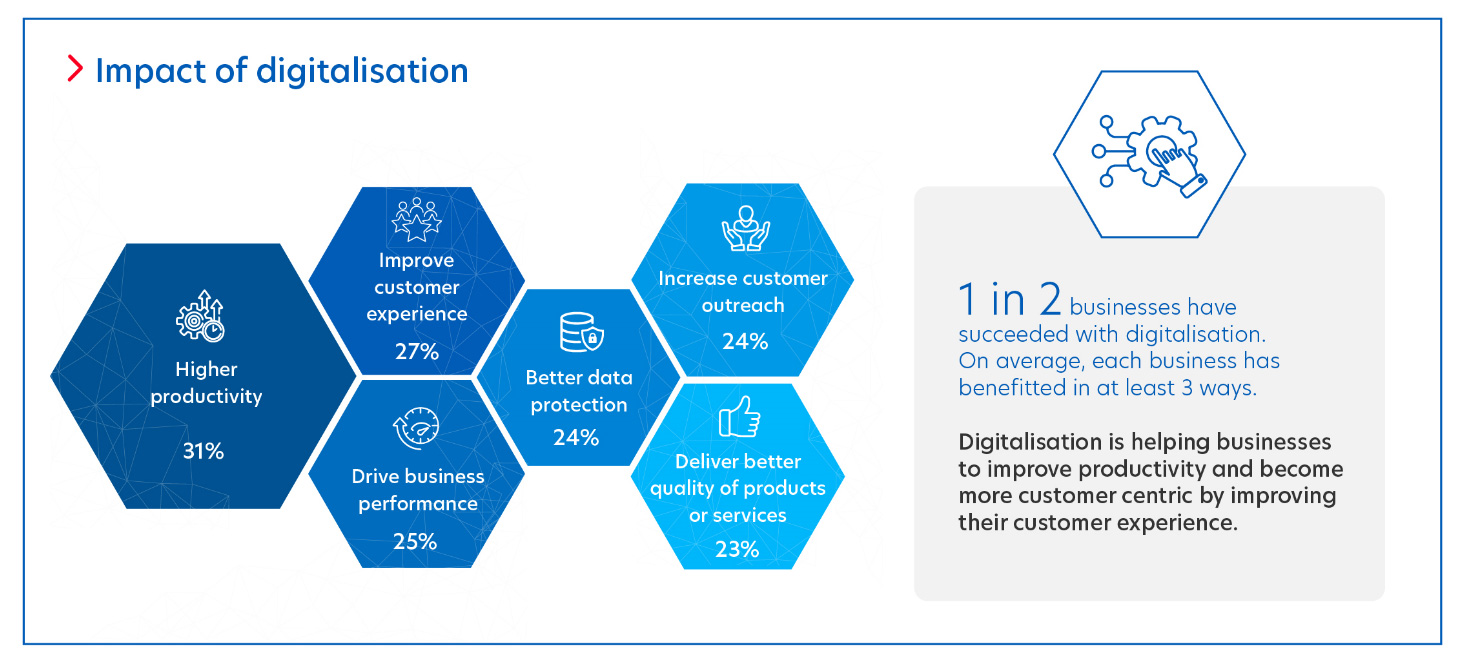 Digital adoption is growing in Singapore, with 80 per cent of businesses implementing digital solutions in at least one department. More than half of the respondents reported some degree of success in their digital transformation, particularly the wholesale trade and industrials, oil and gas sectors.
Major obstacles encountered by businesses in going digital include high implementation costs, a shortage of talent with digital skillsets, and cybersecurity concerns. Smaller businesses are looking for financial support in the form of easier access to funding or grants, and tax incentives to help them on their digital journey. Larger businesses, on the other hand, are seeking connections within the industry and moratorium on loans to boost their efforts.
Navigating supply chain disruptions
Major supply chain disruptions in recent years have greatly affected 58 per cent of businesses. Larger firms felt its impact more, particularly those in the tech, media and telecom, wholesale trade and industrials, and oil and gas sectors.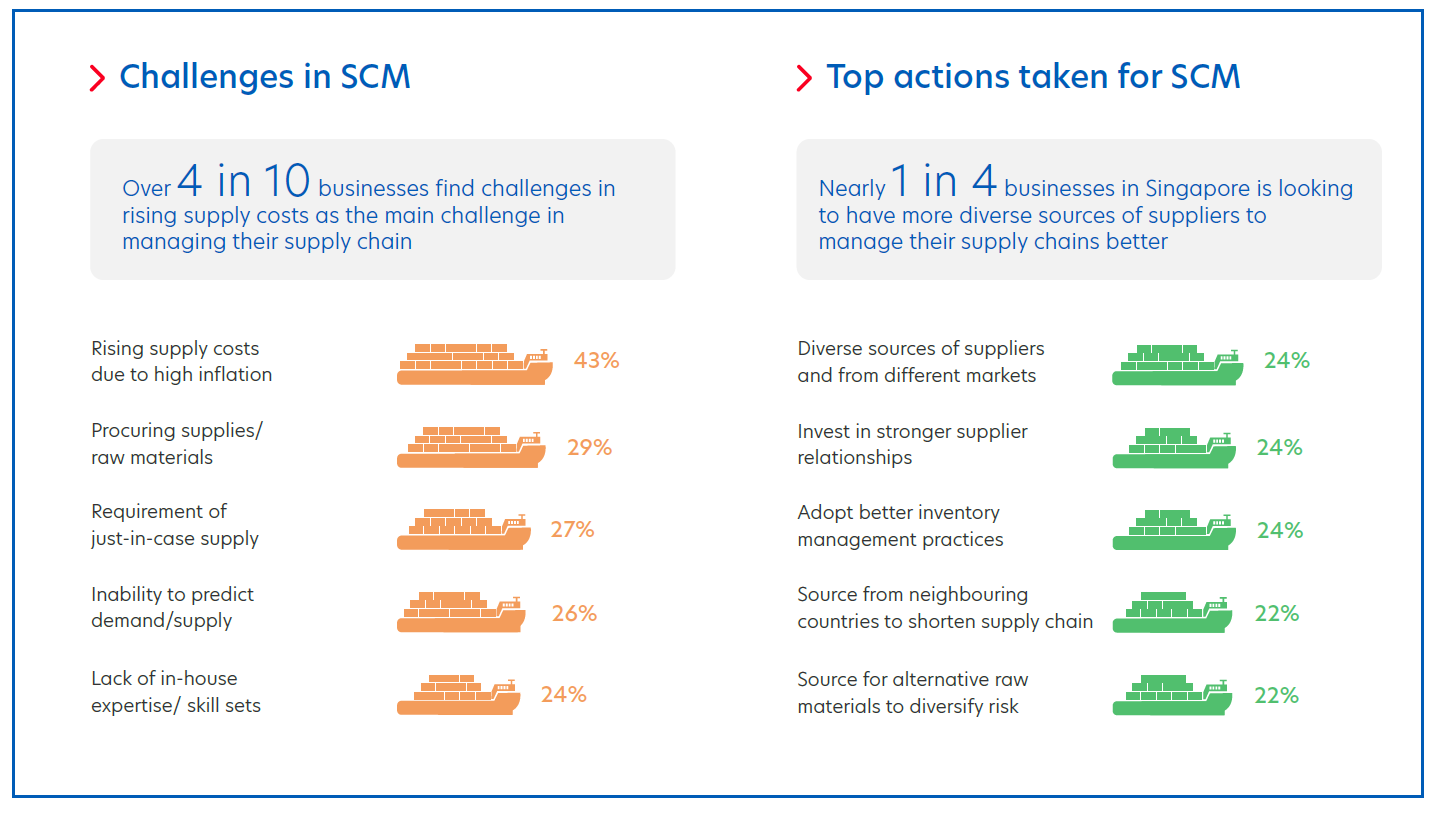 Forty-three per cent of businesses cited rising supply costs caused by inflation as their main challenge. This was followed by difficulty in procuring raw materials and just-in-case supply.
To ensure a resilient supply chain, businesses are prioritising actions such as diversifying their supplier base, cultivating stronger supplier relationships, and implementing improved inventory management practices. In terms of preferred support, businesses would like to see more tax incentives or rebates (38 per cent), and easier access to funding or grants (37 per cent).
Expanding beyond borders
More companies (75 per cent) are interested in expanding their operations overseas compared with the previous year. Firms operating within the industrials, oil and gas sector are most keen to grow beyond borders.
Cross-border digital trade platforms are gaining traction among businesses, particularly those in manufacturing, engineering, and industrials, oil and gas, as they seek to fulfil their global aspirations.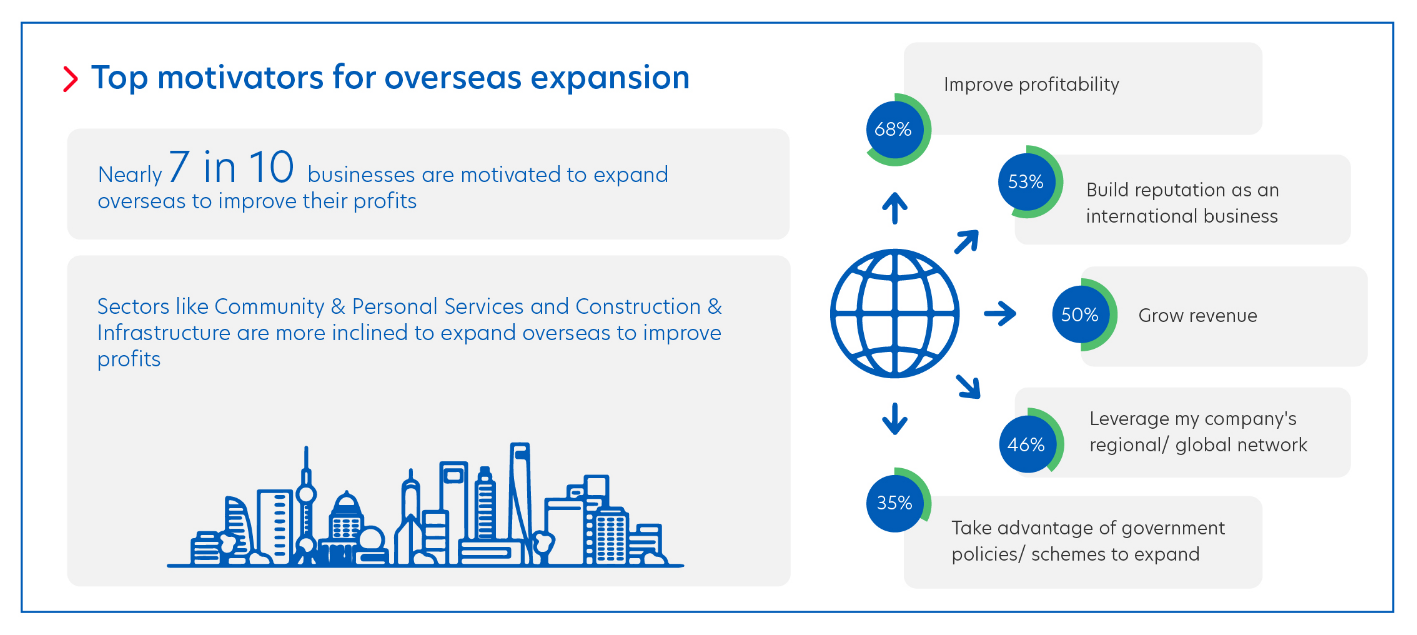 Respondents cited increased profitability, international reputation, and revenue growth as the top drivers to expand beyond borders. Destinations of interest include Mainland China (a key focus of businesses in manufacturing and engineering) and Southeast Asia, particularly Malaysia, Indonesia, and Thailand.
However, businesses face difficulty in finding the right partners to work with, as well as a lack of knowledge about overseas markets. Support through funding/grants for new markets, tax incentives and connections to industry peers are desired to help navigate new markets.
About this study
The UOB Business Outlook Study 2023 (Singapore) surveyed 823 business owners and key executives from SMEs and Large Enterprises across the country, to understand their views around:
Business sentiments and priorities
Rising inflation, its impact and mitigation
Sustainability in business
State of digital adoption
Supply chain management
Overseas expansion
Important notice and disclaimers
This article shall not be copied or relied upon by any person for whatever purpose. This article is given on a general basis without obligation and is strictly for information only. The information contained in this article is based on certain assumptions, information and conditions available as at the date of the article and may be subject to change at any time without notice. You should consult your own professional advisers about the issues discussed in this article. Nothing in this article constitutes accounting, legal, regulatory, tax or other advice. This article is not intended as an offer, recommendation, solicitation, or advice to purchase or sell any investment product, securities or instruments. Although reasonable care has been taken to ensure the accuracy and objectivity of the information contained in this article, UOB and its employees make no representation or warranty, whether express or implied, as to its accuracy, completeness and objectivity and accept no responsibility or liability for any error, inaccuracy, omission or any consequence or any loss or damage howsoever suffered by any person arising from any reliance on the views expressed and the information in this article.