Our decisions and actions are guided by our values of Honour, Enterprise, Unity and Commitment. As an organisation that focuses on bringing out the best in our colleagues, we provide them with training and career development opportunities to ensure that they possess the right skillsets and mindsets to remain relevant to our customers and the industry well into the future.
‍
With more than eight decades of growing our business sustainably across borders, we understand and appreciate the diversity and range of our many markets. As we deepen our expertise on the ground, we also help our colleagues broaden their perspectives across the region so they are able to make considered decisions for the long-term good of our customers, our communities and our environment. This is fundamental to our risk culture. We balance opportunity with responsibility for the present and into the future.
UOB's distinctive prudent and risk-focused approach to growing our business has been a constant since our founding. We encourage
awareness, understanding and respectful behaviour at UOB to reinforce our values-based, risk-aware and risk-focused culture.
          "We have been through tough times before and our strong risk culture will enable us to weather what lies ahead as we balance responsibility with opportunity. Always be guided by our values of Honour, Enterprise, Unity and Commitment."
Mr Wee Ee Cheong,
Deputy Chairman and Chief Executive Officer (CEO), UOB
          "At UOB, our strong risk culture sets the tone for how we do business. Whatever we do, we must consider if it is the right and fair outcome for our customers and for the Bank."
Mr Chan Kok Seong,
Group Chief Risk Officer, UOB
In 2019, the steps we took to strengthen our risk-first approach included:
enhancing the Group-wide Code of Conduct e-learning for colleagues to include a standalone module on risk;

increasing awareness of risk culture and conduct risk across the Group through a dedicated site on MyUOB, the Group's intranet,
to share our senior management's views on risk management, leadership by example, as well as internal risk management best practices and external case studies; and

prioritising risk culture in town halls and training sessions conducted by business and support units.
Driving values-based performance
UOB's performance management framework sets the structure that encourages a high-performance culture. Our meritocratic and values-based approach rewards performance and supports career development.
‍
Each individual's progress is measured and assessed through our performance management process called PEAK which stands for
Plan, Engage, Appraise and Keep Track. We enhanced this process with a Performance and Development Committee (PDC) in 2018 to evaluate the achievements of our managing directors based on their key performance indicators and feedback from their managers and peers. In 2019,
we extended the PDC framework to include more than 8,000 colleagues across the Group.
Upholding our customer commitments
Across the organisation, we commit ourselves to fulfilling our customers' expectations in a manner that is distinctive to UOB.
Our annual Group-wide UOB Customer Commitments Awards (CCA) programme acknowledges our role models in this regard and reminds us of our responsibility to our customers, whether we are in customer-facing roles or not. It also inspires colleagues to keep raising the standard of our values-based service.
‍
Our values correspond with each of our four customer commitments:
Treat you fairly;

Provide you with the right solution;

Know you personally; and

Be there when it matters.
In 2019:
9,130 colleagues were nominated for the CCA awards, an increase of 39 per cent over 2018;  

96 individuals and 38 teams won awards for setting standards in their daily decisions and actions; and  

10 markets were represented – Australia, mainland China, Hong Kong, Indonesia, Malaysia, Myanmar, Singapore, Thailand, the US and Vietnam. UOB (Vietnam) took part for the first time as a subsidiary.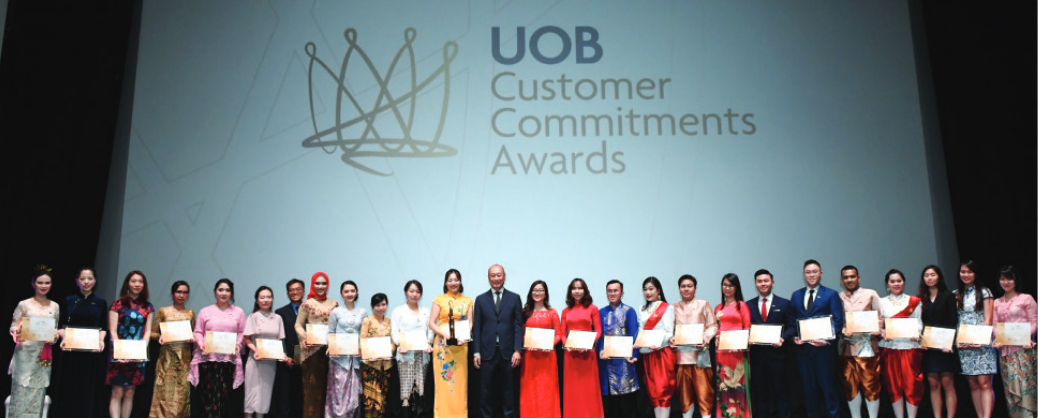 "Our customer commitments are far more than the smiling faces, the warm touches, the kind word,
the helping hand. When we say we are committed, at UOB we have to address the whole customer experience, everything that leads to it and everything that maintains it, every step of the way."
Mr Wee Ee Cheong,
Deputy Chairman and CEO, UOB