At UOB, we focus on establishing and deepening relationships with our customers throughout their life and business stages. For more than 80 years, we have done this by staying attuned to our customers' needs, adapting to the ever-changing environment and providing them with the right solutions to help them achieve their financial goals. We are conscious of the growing influence of technology and innovation on all facets of lives and livelihoods and especially among ASEAN's young and digitally-savvy population. This is why we meld the online and offline worlds seamlessly to create distinctive banking solutions, offered through our omni-channel touchpoints and in a manner that best suits each customer. We also provide the increasingly affluent consumers and burgeoning enterprises with financial advisory services and products so that the wealth they generate and the successes they achieve are carried into the future. We are guided by our values which ensure we manage our customers' assets as if they were our own.
Engaging customers through our omni-channel approach
At the heart of our customer-centric approach is our focus on providing all the financial solutions our customers need, prefer and want, whether in person or online. Our omni-channel approach gives our customers access to a global network that includes:
more than 500 branches, including wealth and privilege banking centres, private bank suites, business and commercial banking centres, and offices across 19 markets;

1.3 million automated teller machines (ATMs), including shared ATMs, and cash machines that support self-service banking transactions such as withdrawals, deposits and funds transfers;

mobile banking apps, such as UOB Mighty and UOB Business; and

internet banking channels that enable our customers to bank anytime and anywhere.
20% increase
in total banking transactions
96%
of all transactions* are digital
1 in 3
banking accounts in Singapore opened digitally
2 in 5
customers in Singapore prefer to use
multiple banking touchpoints
Transforming our customers' branch experience
To keep ahead of changing customer expectations, lifestyles and preferences, we have been transforming our branches across the region. By applying design thinking to existing branches, testing innovative concepts and seamlessly incorporating technology into the branch experience, we are able to engage and to serve our customers better.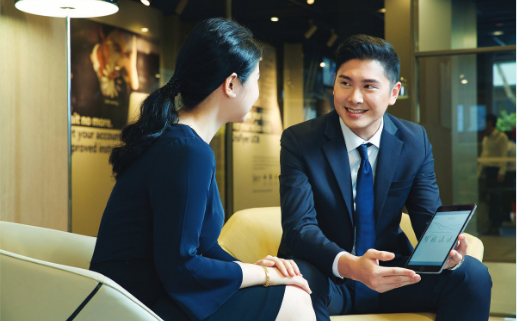 In 2019, our branch transformations included:
high street wealth banking branches in Singapore that integrate digital and face-to-face financial advisory services and use technology, such as our purpose-built digital wealth advisory tool, to assist our emerging affluent customers in making investment decisions confidently;

express and satellite branches at accessible and convenient locations in Singapore where our young professional and young family customers bank, live and play;

redesigned branches in Thailand where more than two-thirds of the space is dedicated to providing financial advisory and the rest for over-the-counter transactions;

lifestyle branches for young professionals and young families in Thailand; and

a new privilege banking centre in Xujiahui, Shanghai, a major commercial centre in the city, to serve high-net-worth customers in China.
Making digital transactions safer, swifter and simpler
We continued to make it convenient for consumers to make payments and to transfer funds easily and securely to businesses and individuals. For example in Singapore, we partnered our corporate clients in the airline and telecommunications industries to enable PayNow Quick Response (QR) code payments for consumers to scan and to pay for their purchases easily.
‍
Our award-winning mobile app UOB Mighty, which combines banking services, contactless payments and rewards in a single app, continues to set the standard for mobile banking apps. Since 2015, we have been continually enhancing UOB Mighty to enable our customers to bank, to pay and to enjoy rewards and benefits according to their preferences.
‍
We also integrated national e-payment initiatives, including Malaysia's DuitNow, Singapore's PayNow and Thailand's PromptPay, into UOB Mighty. It was to enable our customers in these markets to make payments seamlessly using just the recipient's mobile phone or business registration number.
Helping consumers save, spend and invest wisely
To meet the needs of the growing group of affluent customers in ASEAN, we expanded our wealth management services into Indonesia with the launch of Wealth Banking services in 2019. We also renewed our bancassurance arrangement with Prudential Group to combine our complementary product and digital capabilities for the benefit of our customers. We widened the scope of our collaboration to include Vietnam, our fifth market for Prudential's life insurance products. Our other markets are Indonesia, Malaysia, Singapore and Thailand.
In 2019, an average of

>1.5 million
transactions were made monthly on UOB Mighty in Singapore.

Total number of transactions increased

88%
from 2018.