Deepening investor engagement efforts with thematic showcases on digital banking, digital finance and sustainability opportunities across the region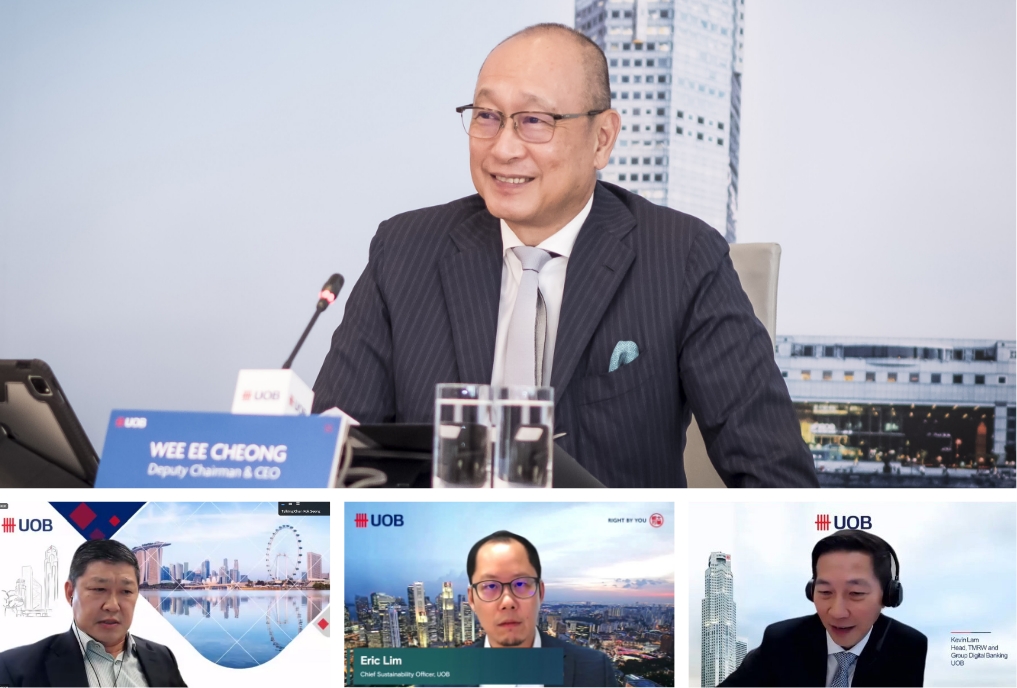 We are committed to maintaining open, regular and transparent communications with our investment community as it is key to maintaining their trust and confidence in the Bank. Our investment community includes shareholders, institutional and retail investors, shareholder proxy advisory agencies and equity, fixed income and ESG-focused analysts, as well as credit rating agencies.
‍
In 2021, we held various thematic showcases across digital banking, digital finance, sustainability and the future of work. These included:

Dedicated fireside chats with our senior management to showcase our strengthened digital capabilities and initiatives, including how our unified UOB TMRW platform in Singapore positions us for future growth;

Dialogue with our CRO who shared his views on the potential of blockchain technology and aspects in which UOB is focused on deepening capabilities; and

Panel discussions with our CSO who shared the progress of our sustainability journey and UOB's role in supporting ecosystem players across the region in their own transition to a low-carbon future.
These sessions were very well-received by the investment community as they provided additional avenues for in-depth engagement to showcase our thought leadership across various topics of interest.

"We hosted a fireside chat last week with Mr Kevin Lam, Head of UOB's digital bank, TMRW, where we exchanged views on the rise of digital banking, threats these new entrants pose, and opportunities that emerge. We also discussed UOB's TMRW – something investors don't seem to have paid much attention to... Numbers aside, investors should note the significant progress made and the newfound confidence to share quantifiable impact. More generally, the insights shared are relevant to investors looking at digital banks and FinTechs across ASEAN."
"UOB: Mighty in digital banking, TMRW... Today?", Bernstein, 9 November 2021
"With increasing focus on blockchain and cryptocurrencies, UOB's CRO was keen to share his views on developments and where UOB may play a role. UOB is a systemically important bank in Singapore and the jurisdiction is embracing the space to foster innovation. We came away from the discussion impressed by the thoughtful stewardship UOB is under."
"A conversation with UOB's Chief Risk Officer on Blockchain opportunities", Macquarie, 27 August 2021
"We recently hosted an investor call with UOB's Chief Sustainability Officer – Mr Eric Lim. UOB is positioning its strategy to leverage its balance sheet together with advisory, wealth and solutioning capabilities to support customers in the transition to sustainable opportunities. UOB is also transforming culturally within the organisation as it looks to build a sustainable growth strategy that serves all stakeholders. This should drive long-term competitive advantages for UOB."
"Building a green franchise", Maybank, 4 June 2021
We regularly review our disclosures to provide investors with the necessary information to make sound investment decisions. In 2021, we continued to provide detailed disclosures on the asset quality of our portfolios, the progress of our digital initiatives and our continued efforts in driving the sustainability agenda for our customers and communities.
‍
To overcome the travel restrictions and social distancing measures during the pandemic, we continued to use digital meeting tools to engage the investment community virtually. In 2021, we held around 600 virtual meetings with debt and equity investors to provide updates on UOB's financial performance, asset quality and business outlook. Senior management also proactively engaged the investment community at briefings and conferences to emphasise UOB's responsible yet progressive stance as a long-term player in the region.

These meetings included:

quarterly results briefings and post-results investor calls;
investor conferences and meetings with North American, European and Asian institutional investors;
Securities Investors Association (Singapore) Corporate Connect Webinar with retail investors on Facebook Live;
engagement with credit rating agencies; and
the UOB annual general meeting.