Scores awarded to SMEs based on the DELS criteria
DELS Criteria
When applying at the business level, applications will be scored based on the DELS criteria: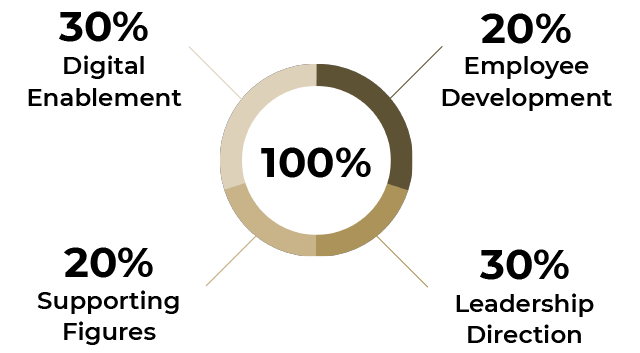 Scores for the first three criteria (D, E, and L) would be awarded based on essays submitted. For the criteria on Supporting Figures, business may provide relevant information to the judging panel at their discretion.
‍
Participating SMEs are required to ensure their submissions are in accordance to the following areas of evaluation:
‍
Digital Enablement: Can it help the business adapt to changing needs?
State why and how the business has improved daily operations through digitalisation and innovation.
‍
Employee Development: Can all employees benefit from this?
State how the business has communicated, updated, and equipped all employees with the information and know-how they need concerning these digital and innovation initiatives.
‍
Leadership Direction: Is it sustainable?
Explain how digitalisation and innovation is sustainably, actively promoted and encouraged in the business.
‍
Supporting Figures: Any tangible results?
Provide the relevant facts and figures to showcase the significance of their digitalisation and innovation efforts.