01 February 2023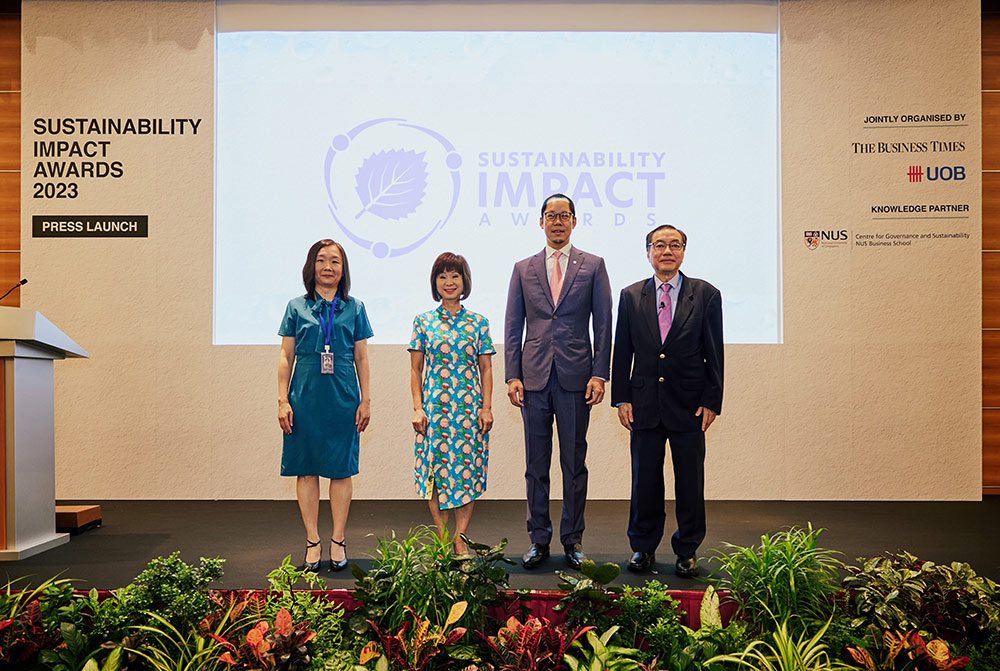 Mr Eric Lim (second from right), Chief Sustainability Officer at UOB, with Dr Amy Khor (second from left), Senior Minister of State for Sustainability and the Environment, Ms Chen Huifen (extreme left), Editor of The Business Times and Professor Lawrence Loh (extreme right), Director of CGS at NUS Business School, witnessing the launch of the Sustainability Impact Awards logo.
Singapore, 1 February 2023 – To recognise the sustainability efforts of individuals and businesses in Singapore, and to encourage such business practices, UOB and The Business Times (BT) have come together to launch the inaugural Sustainability Impact Awards. The launch ceremony and the unveiling of the Awards' logo was witnessed by Dr Amy Khor, Senior Minister of State for Sustainability and the Environment this morning at SPH Media's News Centre.
The Awards seek to recognise and celebrate the people and businesses that have made a significant positive impact on the environment and societal well-being through their sustainability initiatives.
The Centre for Governance and Sustainability (CGS) at the National University of Singapore Business School is the Knowledge Partner for the Awards.
Ms Chen Huifen, Editor of The Business Times, said, "In recent years, Environmental, Social and Governance (ESG) issues are key concerns for many. To help our readers navigate this rapidly evolving ecosystem, BT has prioritised and continues to strengthen our ESG coverage. We are honoured to be working with UOB on the Awards which we trust will become a useful platform for sustainability champions to further develop and share their stories as they serve as beacons of success to others."
Prior to the unveiling of the Awards' logo, Mr Eric Lim, UOB's Chief Sustainability Officer, spoke about the bank's longstanding commitment to partnering its stakeholders in fulfilling a purpose centred on creating positive environmental and social impact.
Mr Lim said, "In a recent SME survey by UOB, we found that 76 per cent of companies across key industries in Singapore now appreciate the importance of sustainability, up from 60 per cent in 2021. Sustainable impact is fundamentally linked to the concept of corporate and personal purpose when creating value in a meaningful way, and the Sustainability Impact Awards exemplify the essence of this belief."
The Awards – which will open for nominations from 1 February to 31 March 2023 - will be assessed by an esteemed panel of judges chaired by Mr Lee Chuan Seng, Chairman of the National Environment Agency. He will be joined by:
Ms Chen Huifen, Editor of BT;
Professor Lawrence Loh, Director of CGS at NUS Business School;
Mr Chia Ngiang Hong, Group General Manager of City Developments Limited;
Mr Jeffrey Siow, Managing Director and Chief Operating Officer of Enterprise Singapore;
Mr Michael Tang, Head of Listing Policy & Product Admission, Singapore Exchange
Regulation; and
Ms Theresa Goh, Managing Founder of 360 Dynamics.
On the judging criteria for the Awards, Professor Loh said good governance would be a prerequisite for all categories. While nominees may come from any industry, applicants in the "Individual" category will be assessed on the basis of qualitative and behavioural traits, and companies under the "Enterprise" category must demonstrate their Internal Sustainability Practices and the scale of their impact.
"In our quest for sustainability, it is essential that we go beyond the outputs and outcomes. Most critically, it will be the actual impact on people's lives and their living environments that ultimately matters. Through the Sustainability Impact Awards, we hope to identify these role models who have made a real difference in advancing the frontiers of environmental and social impact, rooted in good governance," said Professor Loh.
Interested individuals and businesses may download the application form via the Awards website. Nomination closing deadline is 31 March 2023.
For more information on the Sustainability Impact Awards' assessment criteria, please refer to the Annex.