Lincoln Sea, Greenland,
82 32 30.3036N, 59 54 50.3814W,
July 24th, 2017
Soft pastel on paper
186cm x 290cm
This artwork is inspired by artist Zaria Forman's flights with NASA, it depicts an area of the Lincoln Sea in Greenland where some of the oldest and thickest sea ice is found in the Arctic. The large pressure ridges shown in the drawing are caused by ocean circulation, which pushes the ice against the coast. The rough ice creates a trap for the bright-blue melt ponds to form on the surface during the summer. The topography of this specific area causes these pools to be deeper (a few feet) than most others in the Arctic.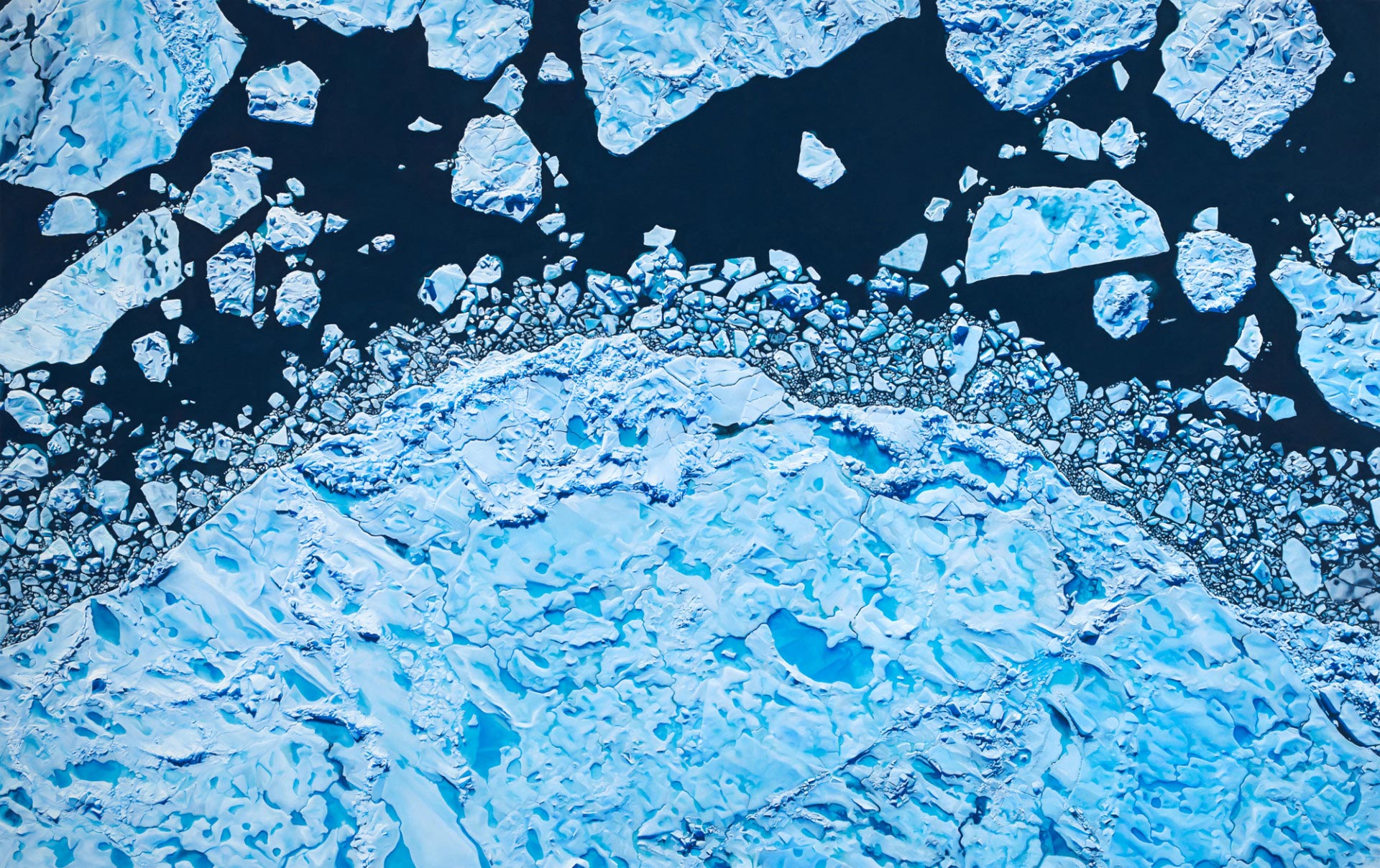 Forman's motivation as an artist has always been to evoke an emotional connectedness to dramatic and fragile places and to forge a sense of stewardship. Because few people are able to experience these remote and extreme landscapes themselves, the size of her drawings serves to physically and emotionally envelop the viewer, facilitating both intimacy and awe.
Zaria Forman
"My motivation as an artist has always been to evoke an emotional connectedness to these dramatic and fragile places and to forge a sense of stewardship. When you love something, you want to protect it. By showing the beauty of these remote landscapes at the forefront of climate change, I hope to inspire you to preserve them."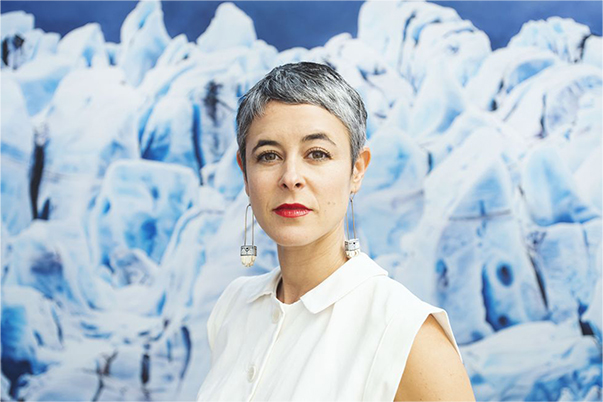 Zaria Forman documents climate change with pastel drawings. She travels to remote regions of the world to collect images and inspiration for her work, which is exhibited worldwide. She has flown with NASA on several Operation IceBridge missions over Antarctica, Greenland, and Arctic Canada. She was featured on CBS Sunday Morning, CNN, PBS, and BBC. She delivered a TEDTalk, and spoke at Amazon, Google, and NASA's Goddard Space Flight Center, exhibited in Banksy's Dismaland, and was the artist-in-residence aboard the National Geographic Explorer in Antarctica. Her works have appeared in publications such as The New York Times, National Geographic, The Wall Street Journal, and the Smithsonian Magazine. Forman currently works and resides in upstate New York, and is represented by Winston Wächter Fine Art in New York, NY and Seattle, WA.
NASA invited Forman to join Operation IceBridge, an airborne science mission that has been mapping changes in the ice at both poles for over a decade. She joined them on flights over Antarctica and the Arctic for daily 12 hour flights, flying only 1500 feet above glaciers, sea ice, and mountaintops. Forman's proximity to NASA scientists allowed her to ask endless questions about what they were seeing and how the scientists were measuring it. This experience informed and elevated her own practice of observing ice, and in turn, her drawing technique evolved toward heightened precision and nuance.
Lincoln Sea, Greenland, 82 32 30.3036N, 59 54 50.3814W, July 24th, 2017 is currently on exhibition at UOB Plaza 1 in collaboration with Silverstrand Capital, a single family office that invests in regenerative food systems and nature based climate solutions, to share art with the public and spark important conversations about climate change and environmental protection.
The 'Art and Sustainability' exhibition is part of the ongoing UOB Sustainability programme to create awareness on our environment.