FinTech trends and opportunities in Thailand
COVID-19's impact on FinTech firms
The economic turmoil brought about by the impact of COVID-19 rocked all sectors of society in Thailand, as a drastic reduction in tourism revenue from US$117.5 billion in 2019 to US$24.5 billion in 2020 caused a contraction of the economy by five per cent in 2020.
Yet the crisis has also introduced new opportunities for FinTech firms. Social distancing, lockdowns, and temporary bank branch closures have changed consumer behaviour, spurring FinTech firms to innovate. According to the e-Conomy SEA 2021 report, nine out of 10 internet users in Thailand have made at least one purchase online. The country's internet economy is now worth US$30 billion, up 51 per cent from 2020. To encourage people to go digital, pandemic relief programmes were paid out through online payments platforms like e-wallet Pao Tang.
Thailand's leading digital payment method is TrueMoney, an e-wallet backed by the True Digital group which provides a broad range of financial services. A 2020 Rapyd study found that 66 per cent of respondents reported using it regularly, with seven per cent choosing it over other payment methods.
Roadmap required for digital banks
Work needs to be done on Thailand's nascent landscape for digital banks, as the country's central bank, Bank of Thailand (BOT), has yet to outline a concrete digital banking roadmap and a proposed licensing regimen. In early 2020, Ronadol Numnonda, BOT deputy governor said that "digital banks are an option," and promised "a comprehensive study" of the way forward for licensing2.
At the moment, no neobanks have announced an intention to launch in Thailand. Incumbent banks, on the other hand, have proceeded with launching their own digital banking services.
UOB launched its TMRW digital bank in Thailand in 2019, tripling its customer base in just six months. TMRW considers customer engagement as its key measure of success. Customer engagement quadrupled in TMRW's first year of operations, with more than two-thirds of new users referred by satisfied customers.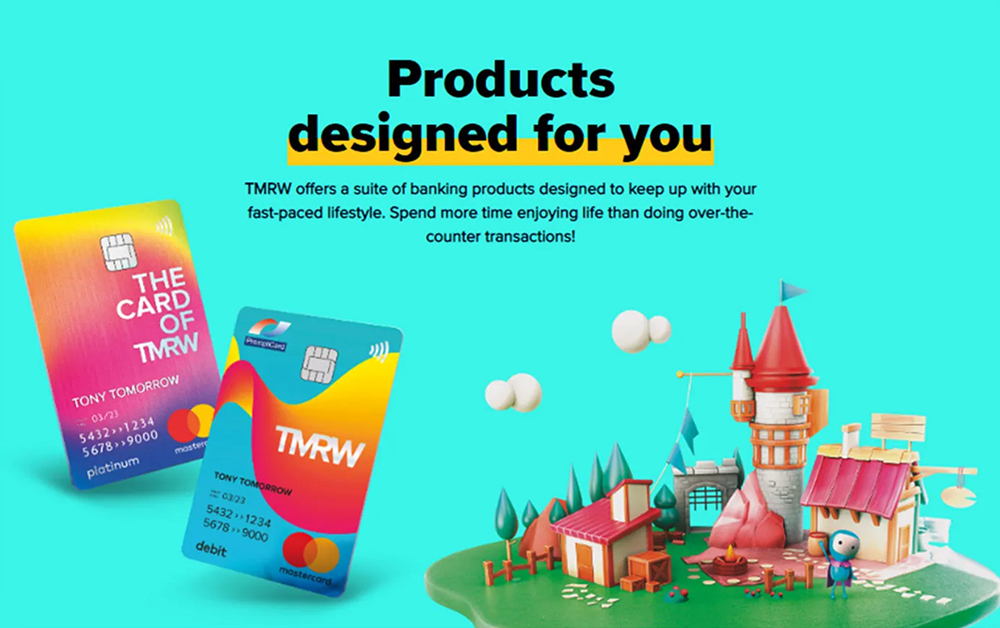 UOB launched its digital bank, TMRW, in Thailand in 2019. Image: TMRW
Meanwhile, Kasikornbank and messaging platform LINE have collaborated to form LINE BK, a "social banking service" that accumulated over two million users within four months of its Thailand debut in October 2020. The service is also pioneering 'nano loans' that provides credit access for borrowers with a minimum income of 5,000 baht per month, addressing concerns about financial inclusion.
Project Inthanon – Thailand's CBDC
CBDCs represent one area where Thailand has advanced further relative to the regional status quo.
Project Inthanon, Bank of Thailand's CBDC project, is intended as a proof-of-concept for digital currency-based fund transfers using distributed ledger technology. Having passed two phases testing basic payment functionality, Project Inthanon is presently at phase three, which tests joint payment systems with commercial banks and businesses. Phase four will expand payments to retailers by the second quarter of 2022.
Cross-border transfer prototypes have also been initiated, first in collaboration with the Hong Kong Monetary Authority and expanding in scope to include the Central Bank of the United Arab Emirates (UAE) and the Digital Currency Institute of People's Bank of China in February 2021. Future Thai FinTech firms may benefit from widespread adoption of CBDCs in Thailand, with their concomitant speed, security, and traceability enhancing FinTech firms' service delivery.
Evolving views on digital assets
In July 2021, BOT published guidelines covering blockchain technology in the financial sector. Citing blockchain's "robust potential in providing increased efficiency, transparency and interoperability across industries" and the need to "increase people's confidence" in using "blockchain-backed financial services," the BOT proposed the guidelines to help regulate blockchain technology adoption by FinTech firms and other financial services providers.
Most recently, the Tourism Authority of Thailand (TAT) announced that it is working with regulators and leading crypto exchange Bitkub to enable the acceptance of cryptocurrencies for inbound travellers, in a bid to draw in newly minted crypto millionaires. This is expected to be ready "by the time global travel returns to normal", according to TAT's Governor Yuthasak Supasorn.
Despite these positive moves, the crypto sector experienced a few setbacks. Thai regulators still do not treat digital assets as legitimate means for payments for goods and services.
In May 2021, Thailand's Anti-Money Laundering Office began requiring face-to-face Know Your Customer procedures to open new crypto accounts3. The Thai Securities and Exchange Commission (SEC) also announced it would transfer oversight of initial coin offerings for investment and utility tokens to the Securities Act4. This move aligns Thailand's regulations on digital assets trading with international standards and offers an added degree of supervision over assets being increasingly traded by young, inexperienced investors.
The SEC also issued a criminal complaint against crypto exchange Binance in July, for operating a digital asset business without a licence.
National PromptPay e-payment system
Uptake of Thailand's e-payment system PromptPay has accelerated as a result of the present disruption – its facilitation of cashless, contactless transactions has eased financial interactions hampered by social distancing measures.
"Amid the COVID-19 pandemic, PromptPay has enabled online business and personal transactions to thrive," said BOT Governor Sethaput Suthiwartnarueput. "The number of PromptPay users has grown rapidly to 56 million. Government agencies have also utilised the system to provide social transfers directly to Thai citizens during the crisis."
As of May 2021, the number of transactions over PromptPay averaged 23 million per day, up from 13 million daily in the same month in 2020, according to BOT statistics; the figure has risen to 28 million daily transactions as of October 20215.
In April 2021, PromptPay and Singapore's PayNow real-time retail payment systems announced a linkage that would allow cross-border transactions with the same level of ease as domestic ones. (UOB is one of three pioneering Singapore banks participating in this scheme.)
PromptPay access is open only to established banks, or mediated through them. While the service is technically open to both banks and non-banks, a BoT spokesperson specified that "[entities] joining PromptPay [are] required to meet the high technical/security and regulatory requirements," noting that non-banks (including independent FinTechs) may partner with a sponsoring bank to join the service.