Community Efforts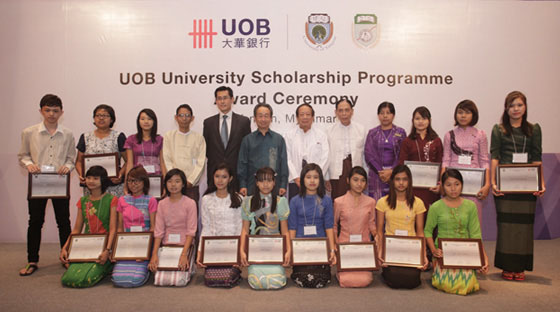 I. UOB University Scholarship Programme




The UOB University Scholarship Programme is a partnership between UOB,
the University of Yangon and Yangon University of Economics to help the top students from all backgrounds, including those who are less privileged, to complete their studies. On 25 February 2015, 15 outstanding undergraduates in Myanmar were chosen from more than 200 applicants to be a part of the UOB University Scholarship Programme. A total of 45 undergraduates from the two partner universities will be chosen for the programme over the next three years.
Each student will have their tertiary studies fully funded by UOB. They will also be given the opportunity to complete an internship with UOB in the final year of their university studies.

II. Nuturing local banking talents




As part of developing local banking talent and supporting the financial sector in Myanmar, UOB has also been sharing best practices with Myanmar bankers through training programmes. Over the last two years, UOB organised 10 knowledge-sharing seminars for Myanmar's bankers, regulators and the local business community, covering topics ranging from risk management to project financing.