12 November 2021

By Melissa Low
The island nation of Singapore is taking big steps in advancing the green agenda despite challenges posed by the evolving COVID-19 pandemic. The Singapore Green Plan, coupled with a new carbon exchange, boosts the island nation's climate action initiatives and positions it to become a carbon services hub.
---
Like all countries affected by the COVID-19 pandemic in 2020, Singapore's economy was impacted due to its high dependence on international trade. The island city-state recognises that there will be no return to the old normal when the pandemic recedes. The world is already changing as countries seek to recover better by becoming more efficient and resilient, and through the acceleration of digital innovation and transformation.
Green recovery plans underway
In February this year, Singapore announced the Singapore Green Plan 2030. This 10-year plan lays out the country's priorities for collaboration with the international community, including to develop low-carbon solutions and pursue a low-carbon transition that does not hurt economic competitiveness and have adverse impacts on Singaporean livelihoods.
There are five pillars that build on existing sustainability efforts and includes new initiatives and targets:
City in Nature: to create a green, livable and sustainable home for Singaporeans;
Sustainable Living: to make reducing carbon emissions, keeping the environment clean, and saving resources and energy a way of life in Singapore;
Energy Reset: to use cleaner energy and increase our energy efficiency to reduce carbon footprint;
Green Economy: to seek green growth opportunities for the creation of jobs, transforming industries, and harnessing sustainability as a competitive advantage; and
Resilient Future: to build up Singapore's climate resilience and enhance food security.
The Singapore Green Plan 2030 announcement comes off the back of the country's submission of its updated Nationally Determined Contribution or NDC in March 2020 to peak its emissions at 65 million tonnes of carbon dioxide equivalent (MtCO2e) by 2030. At the same time, Singapore also submitted its Long-term Low Emissions Development Strategy (LEDS) pursuant to Article 4, paragraph 19 of the Paris Agreement, to halve emissions from its peak to 33MtCO2e by 2050, with a view to achieving net zero emissions as soon as viable in the second half of the century.
To do this, Singapore announced that transformations in industry, economy, and society; adoption of advanced low-carbon technologies; and effective international collaboration, for example international climate action, regional power grids, market-based mechanisms as key strategies. In developing Singapore's LEDS aspiration, the country has taken a positive outlook on global advances in technology and the potential for international co-operation.
Setting the right price for carbon
Singapore is the first country in Southeast Asia to implement a carbon tax. It was introduced in 2018 and started operating in 2019 for an initial period of five years. At this point, the Government has already committed to reviewing the tax level and trajectory post-2023 by 2022, in consultation with industry and expert groups in order to give businesses an opportunity to adjust to changes.
Market-based mechanisms help facilitate the price discovery process and allow emissions to be priced into commercial decisions.
The tax operates as a Fixed Price Credit Based (FPCB) system where companies pay their carbon tax of S$5 per tonne of CO2e by surrendering non-tradeable, fixed price carbon credits purchased from the Government. It is notable that carbon tax is designed as an FPCB system, as it offers regulatory bodies and companies the opportunity to build up necessary capabilities to operate in a linked market if such opportunities present themselves in the future.
On 20 May, Singapore took a big step in advancing the green agenda by announcing the establishment of a carbon marketplace called Climate Impact X (CIX). CIX is a joint venture between DBS, Singapore Exchange, Standard Chartered Bank and Temasek Holdings and was first envisioned by the Emerging Stronger Taskforce's Alliance for Action on Sustainability. CIX will provide a marketplace for trading carbon credits commencing in late 2021.
CIX is the second carbon exchange after AirCarbon Exchange (ACX), which was launched in 2019. ACX uses blockchain technology to accelerate the efficiency of carbon trading. Around the time of CIX's launch, ACX became the world's first carbon negative trading platform after it completely offset its own emissions from the date of the company's inception to March 2022 (based on projected emissions).
These carbon exchanges are expected to enhance the climate finance ecosystem within Singapore, and expand the range of mechanisms for firms to manage and price their carbon externalities. Large companies with a regional presence in Singapore – Google, Microsoft and Amazon, are said to be in discussions to use CIX in their efforts to become net-zero emitters. These exchanges have an additional benefit of expanding the tools for pricing carbon in Singapore, and allows the island city-state to widen the scope of its environmental management activities to beyond its shores.
Electrification of transport sector has dual benefit of emissions reduction and promoting carbon capture
Another major strategy for Singapore moving forward is the creation of a sustainable transport system. By 2040, the country will phase out all internal combustion engine vehicles and have all vehicles run on cleaner energy.
Phasing out pollutive vehicles is technically not difficult for Singapore as it has in place a pragmatic policy to keep vehicle numbers in check. The Certificate of Entitlement (COE), which gives you the right to own and use a vehicle in Singapore, is eligible for 10 years. To enable the update of cleaner vehicles, the Government will cease new registrations of diesel cars and taxis from 2025 and internal combustion engine vehicles from 2030.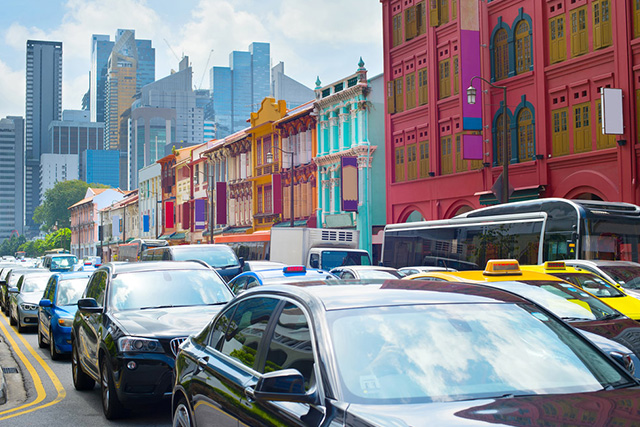 Cars on a busy street in Singapore. By 2040, the country plans to phase out all internal combustion engine vehicles in favour of those that run on cleaner energy. Photo: Shutterstock
In terms of infrastructure, 60,000 charging points will be made available nationwide, including 40,000 in public carparks and 20,000 in private premises, by 2030. The Energy Market Authority has established a nationwide electric vehicle (EV) charging standard TR25:2016 for the EV charging systems in Singapore. The Type 2 AC and Combo-2 DC charging systems have been adopted as the National Public Charging Standards (NPCS).
These bold steps to electrify the transportation sector are important building blocks for the adoption of clean energy technologies like carbon capture, utilisation and sequestration (CCUS) for Singapore. EV adoption will essentially be moving tailpipe emissions to the power plant, which can then be captured with CCUS technology in the future.
CCUS technology will be crucial in helping Singapore halve its emissions from its peak to 33MtCO2e by 2050. It is encouraging that Keppel Data Centres, Chevron, Pan-United, and Surbana Jurong, with the support of Singapore's National Research Foundation, have signed a memorandum of understanding (MOU) to jointly develop the first end-to-end decarbonisation process and carbon capture system in Singapore.
Research is underway too at the Singapore Energy Centre (SgEC) set up by ExxonMobil at the National University of Singapore to develop and test a laboratory-scale prototype that mimics the deep ocean environment, in order to investigate the stability of CO2 hydrates for potential long-term storage of CO2 in deep oceanic sediments.
Singapore will also need to look regionally to testbed and store carbon that may be captured from its energy generation and industrial sources.
Regionally, Singapore is committed to working with its neighbours to advance the ASEAN Plan of Action for Energy Cooperation 2016–2025. The plan seeks to reduce energy intensity in the region by 20 per cent from 2005 levels by 2020, and increase renewable energy's share in the ASEAN energy mix to 23 per cent by 2025.
Singapore has also come together with fellow ASEAN countries to develop the ASEAN Green Bond Standards, to facilitate green financing in the region. Bilaterally, Singapore wants to work towards importing electricity through bilateral power trading arrangements and regional power grids, which will allow the country to tap on renewable energy options otherwise unavailable in Singapore.
This article was first published in Issue 3, 2021 of 'Insight Asia-Pacific' of the OAV – German Asia-Pacific Business Association.

Melissa Low is Research Fellow at the Energy Studies Institute, National University of Singapore. She has participated in the United Nations Framework Convention on Climate Change (UNFCCC) Conference of Parties (COP) for over a decade and is an active sustainability thought leader, authoring, publishing and presenting at various forums.
This article shall not be copied or relied upon by any person for whatever purpose. This article is given on a general basis without obligation and is strictly for information only. The information contained in this article is based on certain assumptions, information and conditions available as at the date of the article and may be subject to change at any time without notice. You should consult your own professional advisers about the issues discussed in this article. Nothing in this article constitutes accounting, legal, regulatory, tax or other advice. This article is not intended as an offer, recommendation, solicitation, or advice to purchase or sell any investment product, securities or instruments. Although reasonable care has been taken to ensure the accuracy and objectivity of the information contained in this article, UOB and its employees make no representation or warranty, whether express or implied, as to its accuracy, completeness and objectivity and accept no responsibility or liability for any error, inaccuracy, omission or any consequence or any loss or damage howsoever suffered by any person arising from any reliance on the views expressed and the information in this article.