18 January 2021

By Jonathan Tan
---
In the blink of an eye, another year has passed. Not just any year, but one that's been called 'unprecedented' or 'extraordinary' for what it has taught us about living in a pandemic. At The FinLab, we've moved our transformation programmes, birthday parties and business meetings online. Whipping out my trusty iPhone to scan a QR code—to check in, to pay, to participate in an online poll—has become second nature. My digital footprints far outnumber my physical ones (if only FitBit counted those).
And it isn't just me. According to the e-Conomy SEA 2020 report by Google, Bain and Temasek, there were 40 million new Internet users last year in Southeast Asia. As businesses and governments moved to digitise products and services, more than one in every three users who tried these new digital services were first-timers.
The challenges of operating in a digital-led landscape can be somewhat intimidating for traditionally run small- and medium-sized enterprises (SMEs). Add to that the disruptions that COVID-19 has brought on. Some of the business owners we meet ask: How can I operate effectively in the new normal? How can I future-proof my business to weather the months ahead? How much will going digital cost? I don't know much about technology – how do I even get started?
But don't forget that on the flipside of the challenges, the opportunities are just as vast.
We recently caught up with two SMEs we met through The FinLab's business transformation programmes, to find out how they have been affected by the pandemic and what words of advice they have for other SMEs that have yet to go digital. The first, Artty Groups, produces premium leather fashion accessories and joined our Smart Business Transformation Programme in Thailand in 2019. Meanwhile, VCR PLT, which operates two cafes in Malaysia's Klang Valley, was part of our Jom Transform programme in 2019.
Artty Groups (Thailand): Leather artisans go agile
Pruetthida Srisuntisuk—founder of Artty Groups and third-generation leather specialist—first heard of the COVID-19 outbreak from her supplier in China in December 2019. She anticipated that the situation would worsen in Europe when she travelled to Italy for an exhibition in February 2020. She then spent the rest of her trip planning a business re-model to prepare for what would be a truly different year.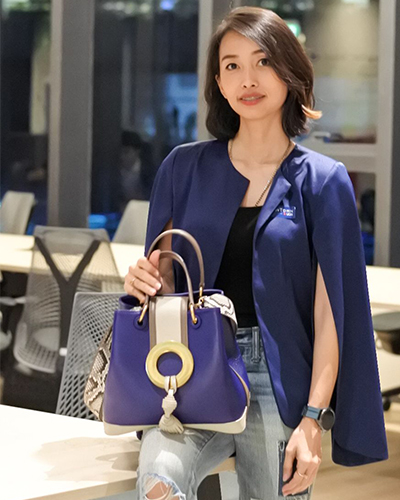 (Taken pre-COVID) Pruetthida Srisuntisuk, founder of Artty Groups, remains focused on business expansion. Photo: Artty Groups
"COVID-19 came very suddenly but it can be a push factor for change," says Pruetthida. "My initial plan was to expand Artty leather and produce uniforms for luxury hotels. But I stopped and I am glad I did, especially since the hospitality industry is going through tough times now."
Pruetthida was able to pivot quickly while keeping an open mind. Back in Thailand, her company lost no time repurposing its production line to sell fabric face masks instead, which were in high demand due to the pandemic.
Says Pruetthida: "As business leaders, we need to facilitate change, which may involve changing the business structure from top to bottom, or changing roles and mindsets within the company. I provided my staff members with a phone and a computer and encouraged them to take virtual courses to expand their skill sets. All of them have now been reskilled to run sales apart from administrative work."
While the retail sector may not have fully recovered from the pandemic's effects, Pruetthida is optimistic that "shopping will continue even when you need to save money". Her plan for Artty Groups is to master digital marketing and automate both its sales processes and inventory management system to take advantage of the growth in digital. Joining the Smart Business Transformation Programme two years ago was just one small but important step in Pruetthida's journey towards digitalising her business, giving her the courage to be more innovative and forward-looking in bringing her business to the next level.
VCR PLT (Malaysia): Brewing options with employees
The food and beverage industry has been hit hard by the pandemic. In March 2020, the Malaysian Government announced a Movement Control Order (MCO)—a nationwide prohibition of movement and mass assembly—that saw all non-essential services closed, with restaurants only allowed to operate takeaways and deliveries. Due to the dip in sales, many businesses struggled to lower their overheads and to preserve capital. Some considered downsizing or cutting staff costs – surely a difficult conversation to have with employees.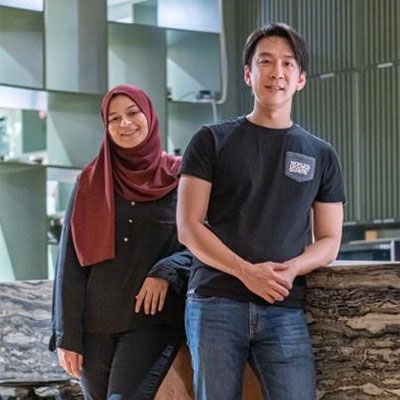 (Taken pre-COVID) Andrew Lee (right), owner of VCR PLT, pictured next to Nur Fatimah Attaullah (left), Financial Controller. Photo: VCR PLT
Andrew Lee, who owns VCR PLT and supplies specialty coffee beans and pastries to other businesses in Malaysia, was not spared when footfall to his two cafes plunged during the country's first MCO.
Faced with some tough decisions, he says that having a proper dialogue with staff on how the company is faring is important and can yield new possibilities. "From there, employers and employees can negotiate employment terms that would be more feasible for both parties in the event the COVID-19 situation gets worse," says Andrew.
The pandemic also helped spotlight the value of going digital. Following its participation in The FinLab's Jom Transform programme, VCR had implemented Dropee, a B2B e-commerce and procurement solution to streamline its wholesale coffee operations. The Dropee platform helped VCR in selling online, tracking orders, and automating its sales reports. VCR is now exploring an enterprise resource planning solution to reduce the manual tracking of inventory and to simplify its business workflow.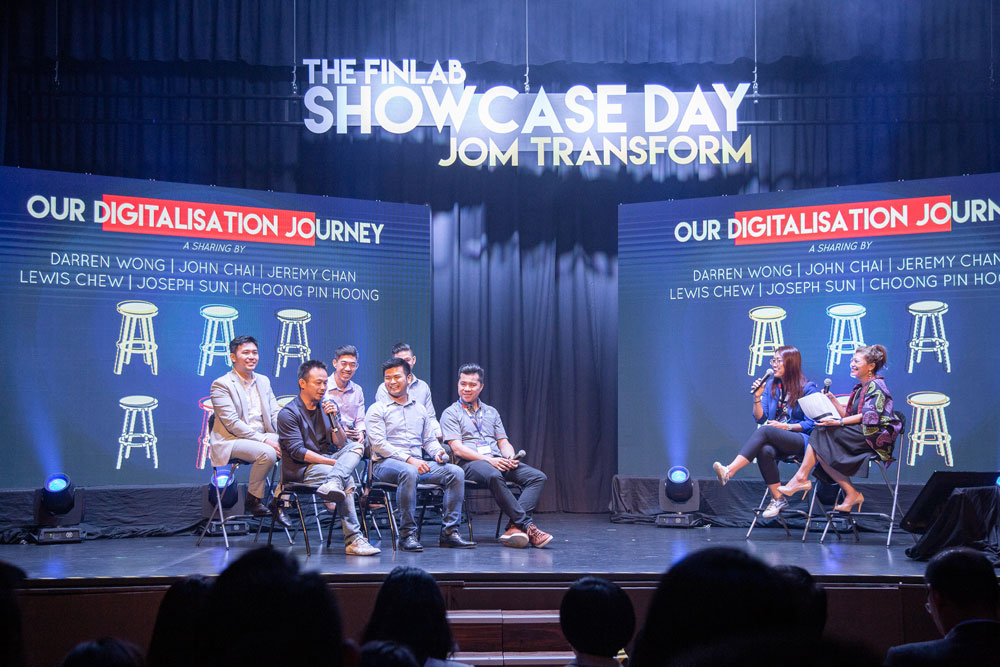 Malaysia's Jom Transform Programme Showcase Day in 2019, where selected SMEs of the programme shared about their company's digitalisation journeys. Photo: The FinLab
What business leaders need to remember is that how we respond in times of crisis sets the tone for how the business recovers post-crisis. Employees look towards their team leaders for guidance in these tentative times. The goal is to be transparent and to communicate, communicate, communicate.
All in to go digital
To survive these stormy seas, businesses must embrace agility and adapt to new challenges quickly. But as SMEs steady their ships into calmer waters, leaders will need to adopt a 'twin engine' mindset – one to keep everyday operations going and the other to build up and capture emerging revenue opportunities.
One thing is certain though. The COVID-19 pandemic has been a wakeup call for businesses big and small to wholly embrace digitalisation.
For many businesses, the lack of knowledge on where to begin makes for a daunting start on the digitalisation journey – especially when running on twin engines. It is important to have partners who can help you reboot your operations and help you put together a digitalisation roadmap.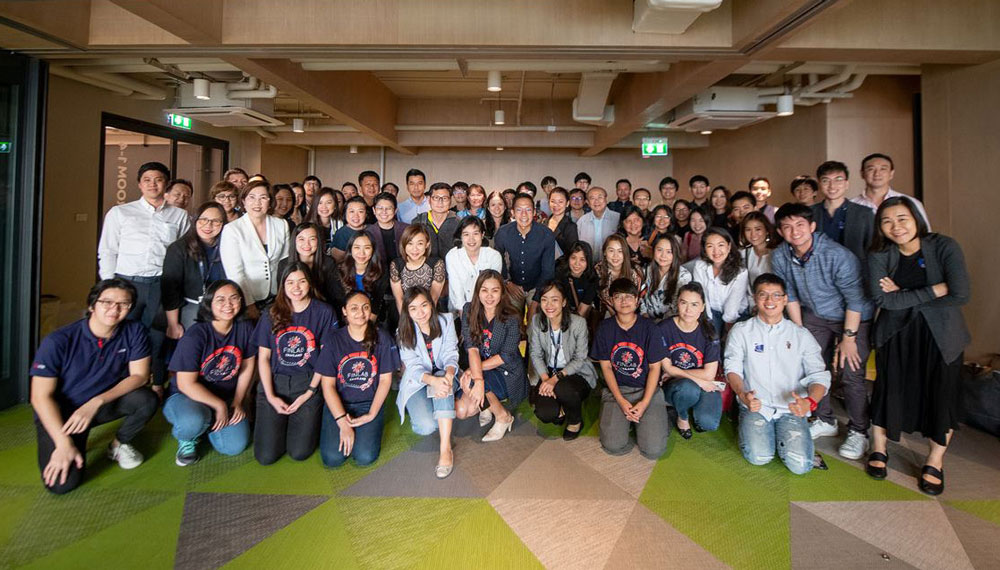 (Taken pre-COVID) The FinLab team, together with participants from the Smart Business Transformation Workshop in Thailand at the start of 2020. Photo: The FinLab
At The FinLab, we help SMEs and entrepreneurs navigate an increasingly online world. With the backing of UOB's extensive network and close to 85 years of ASEAN experience, we can support you as you ride out the COVID-19 storm. Our self-help tools like The FinLab's Business Model Canvas (BMC) Online can serve as a framework to guide you in thinking about your current and potential business models based on the unique strengths of your business.
Since launching in 2015, The FinLab has engaged with more than 2,500 SMEs in Malaysia, Singapore and Thailand. If you need help in going digital to drive productivity and revenue growth, just connect with us through the link below to join our free PROPEL digitalisation programme for SMEs.

About the author
Jonathan Tan is Senior Vice President, Group Channels & Digitalisation at UOB and Programme Director of The FinLab, an innovation accelerator powered by UOB. Prior to joining UOB and The FinLab, he worked in IT, digital banking, and has spearheaded many digital transformation initiatives. Jonathan is passionate about improving businesses through digitalisation and is an expert in digital communications channels and online platform management.
This article shall not be copied, or relied upon by any person for whatever purpose. This article is given on a general basis without obligation and is strictly for information only. The information contained in this article is based on certain assumptions, information and conditions available as at the date of the article and may be subject to change at any time without notice. You should consult your own professional advisers about the issues discussed in this article. Nothing in this article constitutes accounting, legal, regulatory, tax or other advice. This article is not intended as an offer, recommendation, solicitation, or advice to purchase or sell any investment product, securities or instruments. Although reasonable care has been taken to ensure the accuracy and objectivity of the information contained in this article, UOB and its employees make no representation or warranty, whether express or implied, as to its accuracy, completeness and objectivity and accept no responsibility or liability for any error, inaccuracy, omission or any consequence or any loss or damage howsoever suffered by any person arising from any reliance on the views expressed and the information in this article.