27 December 2021

By Sam Cheong
---
2021 marks 30 years of dialogue relations between ASEAN and China. Since 1991, bilateral trade between ASEAN and China has been increasing steadily. Despite the impact of the pandemic, ASEAN surpassed the European Union in 2020 to become China's largest trading partner for the first time. Before that, China was already ASEAN's top trading partner for eight consecutive years.
Bilateral trade between ASEAN and China grew 6.7 per cent in 2020 even when global trade contracted 5.3 per cent as countries battled with pandemic-related lockdowns and disruptions in global supply chains. China also began exporting a wider range of goods to ASEAN countries, including substantial increases in medical goods and products related to remote working. In the first quarter of 2021, ASEAN was once again China's top trading partner.
Foreign direct investment (FDI) from China into ASEAN also grew by 23.3 per cent year on year, reaching US$16 billion in 2020. In the same year, more than 6,000 Chinese companies set up presence in ASEAN, according to statistics from China's Ministry of Commerce.
The long-drawn COVID-19 pandemic has underscored the interdependent nature of ASEAN-China relations. While the new Omicron variant's full and direct impact on trade has yet to be seen, we are positive of the momentum for the expanding trade and investment connectivity between ASEAN and China.
Unlocking trade potential with the RCEP
In November 2020, the close ties between ASEAN and China were further reinforced when both sides signed the Regional Comprehensive Economic Partnership (RCEP) together with Australia, Japan, New Zealand and South Korea. As the world's largest free trade pact, the RCEP aims to promote multilateralism within and beyond the Asia Pacific.
The RCEP, which is set to take effect on 1 January 2022, covers a region that makes up 30 per cent of the world's population and economic output. The trading pact will eliminate up to 90 per cent of the tariffs on imports among its members within 20 years of coming into effect.
Member countries can look forward to a cheaper and faster process when selling goods to each other, which can result in a surge in trade activities. This will further elevate the member countries' export competitiveness and efficiency, thereby attracting investors from beyond the Asia Pacific to the region's integrated market.
As part of the deal, there will be an increase in the permissible foreign shareholding limits for the services sector. This means we can expect greater foreign participation in areas such as telecommunications, financial services as well as logistics, which will in turn create opportunities for companies looking to expand overseas
We believe that the RCEP will become a key catalyst for further inflow of foreign direct investments for ASEAN. It is poised to reshape the future of business and commerce in ASEAN.
Tapping ASEAN's long-term potential
With the world's fastest growing middle-class population, ASEAN will continue to be at the forefront of the continued market boom.
According to the Peterson Institute of International Economics, Indonesia, Malaysia, the Philippines, Thailand and Vietnam will be the key beneficiaries of the RCEP. Their digitally-savvy growing middle class will continue to contribute greatly to the global economy in the next decade.
In another 2021 report on ASEAN's manufacturing value chain by Boston Consulting Group, the bloc's manufacturing exports grew five per cent annually from 2015 to 2019, outpacing the global average of three per cent during the same period. The report also estimates that the region's manufacturing output could grow to US$600 billion a year by 2030, an increase of US$400 billion or 300 per cent from 2020 levels.
ASEAN's strong ties with China will help companies in the region access China's consumer market much faster and more efficiently than its competitors from other regions. ASEAN and China can turbo-charge their respective economies by leveraging their strong interconnectivity and comparative advantages in the global value chain.
Green economy collaborations
Concerns about climate change have pushed Southeast Asian governments and businesses to embrace the green economy, which is anticipated to offer US$1 trillion in annual economic opportunities by 2030 according to consulting firm Bain & Company. These opportunities will be in areas of sustainable production and consumption, including in electric vehicles, renewable energy and waste-to-energy solutions. The Monetary Authority of Singapore also estimated that US$200 billion of green investments will be needed annually in ASEAN till 2030.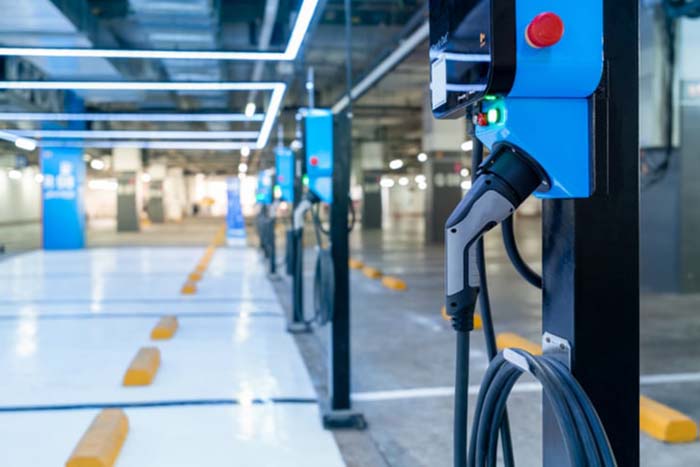 A charging station for electric vehicles (EVs). Closer cooperation between ASEAN and China is expected in the growing EV sector. Photo: Shutterstock
ASEAN and China reaffirmed their commitment to deepen their cooperation on driving the low-carbon, circular and green economy during the ASEAN-China Summit held in November 2021. For instance, Chinese companies have started investing in Indonesia's lithium projects in anticipation of the EV sector's growth.
The common agenda of accelerating the green economy could further boost bilateral collaborations and create new investment opportunities. Financial institutions such as UOB can play a role in financing sustainability-related projects across ASEAN with our suite of sustainable financing solutions.
Digital cooperation
By 2030, Southeast Asia's internet economy could reach US$1 trillion due to growth of e-commerce and digital services. Key to this growth is the strengthening of data infrastructure and regulations across the region to build consumers' confidence. To connect internet economies, digital trade agreements that can reduce regulatory fragmentation are key.
Recognising the importance of digital cooperation, at the first ASEAN Digital Ministerial Conference held in January 2021, member countries pledged to strengthen policy coordination and to deepen cooperation in areas such as digital technology and applications. The move was a timely one, as traditional business operation models have been disrupted during the pandemic and the global economy has evolved to be more digitalised than before.
ASEAN and China can further cooperate to accelerate the region's digital transformation and the move towards Industry 4.0.
Digital solutions including business process management systems and robotic process automation are key for companies looking to optimise their operations. Specifically, companies in the transportation and logistics sector are relying heavily on technology in their enterprise resource planning as well as warehouse and transportation management systems. Many companies in China are more than familiar with these applications and processes given their own digital transformation experiences and they can lend a hand to help their ASEAN partners implement these changes.
Over the years, UOB has actively been promoting ASEAN-China economic connectivity through our FDI Advisory Unit, first set up in 2011 to support the growing trade and investment flows from China into Southeast Asia. We also set up dedicated China desks in Indonesia, Malaysia, Singapore and Vietnam in 2018 to step up our efforts at promoting these regional flows. Since launch, we have assisted more than 3,500 companies tap business opportunities in Asia, of which one-third of these companies were from China. We continue to work closely with trade associations such as the China Council for the Promotion of International Trade and the China Chamber of International Commerce to expand business opportunities.
ASEAN and China have grown to be more interconnected over the decades. Catalysed by the RCEP, greater trade and investment flows are expected to bring more opportunities for ASEAN and Chinese companies alike.
As the global economy stands on the cusp of tremendous change brought about by the pandemic and digital transformation, the bilateral relationship built over 30 years will continue to serve as a foundation for a stronger partnership in the years to come.
This article was first published in The Business Times on 27 December 2021.

Sam Cheong is the Head of Group Foreign Direct Investment Advisory and Network Partnerships, UOB. Follow him on LinkedIn.
This article shall not be copied, or relied upon by any person for whatever purpose. This article is given on a general basis without obligation and is strictly for information only. The information contained in this article is based on certain assumptions, information and conditions available as at the date of the article and may be subject to change at any time without notice. You should consult your own professional advisers about the issues discussed in this article. Nothing in this article constitutes accounting, legal, regulatory, tax or other advice. This article is not intended as an offer, recommendation, solicitation, or advice to purchase or sell any investment product, securities or instruments. Although reasonable care has been taken to ensure the accuracy and objectivity of the information contained in this article, UOB and its employees make no representation or warranty, whether express or implied, as to its accuracy, completeness and objectivity and accept no responsibility or liability for any error, inaccuracy, omission or any consequence or any loss or damage howsoever suffered by any person arising from any reliance on the views expressed and the information in this article.