03 August 2022
By Christine Ip
---
Many businesses began 2022 with headwinds. Recovery from the pandemic was interrupted by rising regional conflicts, which have further disrupted supply chains and set in motion inflation. How can companies continue to thrive in times of unprecedented change? Should enterprises think about setting sail and searching for a "blue ocean" of their own?
Despite the macro challenges, there are many reasons to be optimistic this year. The Association of Southeast Asian Nations (ASEAN) has drawn more foreign direct investments than it did before the pandemic. In Southeast Asia, quarantine-free travel has resumed; the Regional Comprehensive Economic Partnership (RCEP)—which went into effect at the beginning of the year—will also aid in the development of a more inclusive and open economic and trade relationship within the region.
The combined trade volume between China and ASEAN—both RCEP members—exceeded US$800 billion for the first time last year. ASEAN has been China's largest trading partner for two years running, while China has been ASEAN's largest trading partner for 13 consecutive years.
If we shift our gaze to the past, Deng Xiaoping's visit to Singapore in November 1978 was a catalyst in facilitating economic and trade ties between China and ASEAN. Over the past few decades, China has progressively opened up to foreign trade and investment and enacted free-market reforms, enabling it to become the world's second-biggest economy and the largest trading nation. Since then, the two markets have embarked on a journey of cooperative development and common prosperity. At UOB, we have been actively helping our customers seize new and growing opportunities in the region, made possible through our established network across ASEAN and China.
China is now an important driver of the global economy and a leader in international trade and investment. Chinese enterprises have strengthened their competitiveness, embarked on capital accumulation, boosted their innovation and execution capabilities, and embraced the vision of internationalisation. According to a study conducted by UOB Hong Kong and the Hong Kong Trade Development Council (HKTDC), nearly 60 per cent of companies in the Guangdong-Hong Kong-Macao Greater Bay Area (GBA) are considering further expansion into ASEAN within the next three years. Many companies regard ASEAN as the most preferred market outside China to establish a regional office.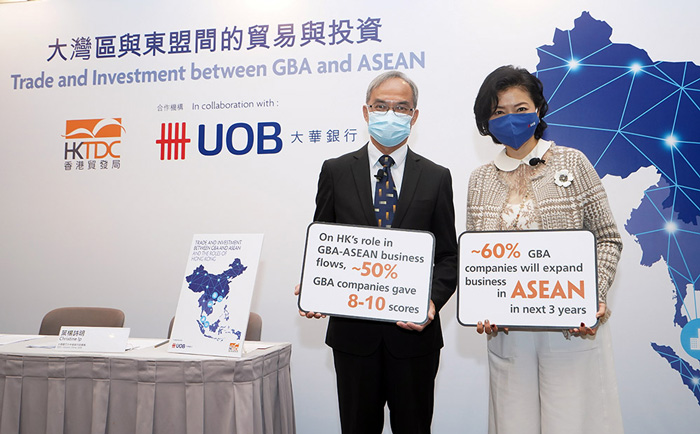 UOB and the HKTDC jointly unveil findings of a study on the trade and investment between the GBA and ASEAN. The research, conducted in 2021, surveyed 657 GBA companies to understand the opportunities and challenges faced in expanding their business in ASEAN. Photo: UOB
GBA has been playing an important role in connecting China to international markets. For example, Singapore and Guangdong have established a cooperation committee mechanism; Sino-Singapore Guangzhou Knowledge City has been upgraded to a national-level project, while projects such as the Singapore-China (Shenzhen) Smart City Initiative have made good progress. With the development of the China-Singapore (Chongqing) Demonstration Initiative on Strategic Connectivity and the New International Land-Sea Trade Corridor, connectivity via sea, land and air will be further enhanced. This will help drive the cross-border circulation of finance and technology, and enable enterprises in the GBA to take advantage of the restructuring of global supply chains post-pandemic.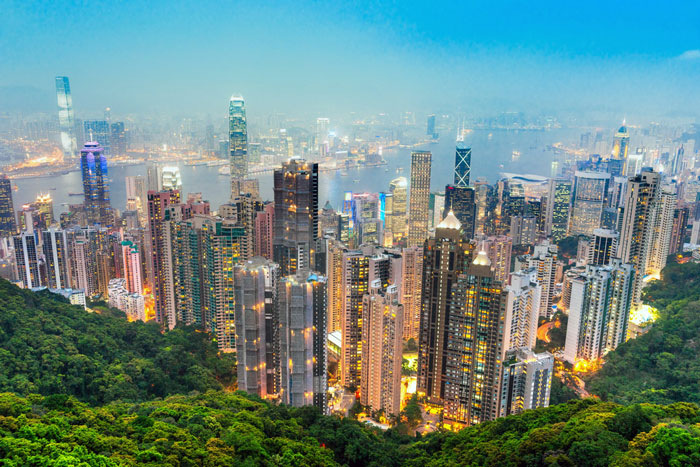 Enterprises in the GBA tend to leverage Hong Kong SAR as a platform to facilitate trade and investment between GBA and ASEAN. Photo: Shutterstock
As the most strategic international financial centre in the GBA, Hong Kong SAR can continue to strengthen its role as a bridge for enterprises in the GBA to enter ASEAN. The Free Trade Agreement and Investment Agreement between ASEAN and Hong Kong SAR, which went into effect in February 2021, have reduced trade and technological barriers, enabling enterprises to benefit from improved market access, increased legal certainty and fairer treatment. All these will strengthen Hong Kong SAR's position in supporting the expansion of GBA businesses into ASEAN.
As enterprises set sail toward open seas, they may need help to ride the wind and to read the waves. UOB is well positioned to offer Chinese enterprises strong support as they go global.
Early Chinese investors who expanded to ASEAN have gained valuable experiences amid challenges. They realised that what worked in China may not always work in ASEAN. To succeed, Chinese enterprises need to adapt to local customs, business practices and cultivate local talent through cultural inclusion. This is particularly true in Southeast Asia, with its diverse ethnic, cultural and linguistic population. This approach is similar to how foreign companies adopted localisation strategies when they expanded into China.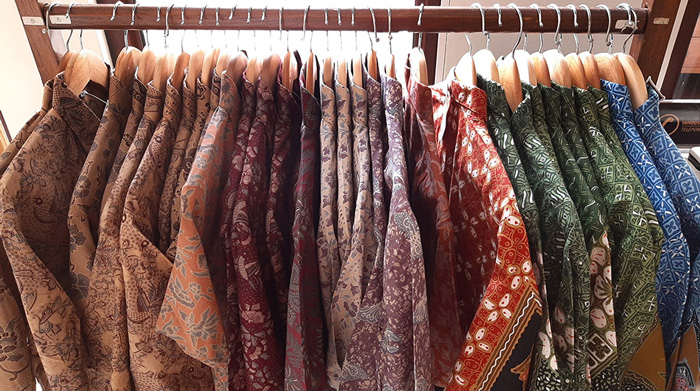 In Indonesia, wearing a batik shirt to a business meeting is considered appropriate. It is also seen as a celebration of Indonesia's artistic and cultural legacy. With our extensive footprint and in-depth knowledge of ASEAN, UOB can help Chinese enterprises enter this market. Photo: Shutterstock
With more than 80 years of experience, UOB has an extensive regional network, a deep understanding of ASEAN and strategic coverage in China. In 2011, we set up a dedicated Foreign Direct Investment (FDI) Advisory Unit to connect Chinese enterprises with government bodies, trade associations, professional service providers and the Bank's client network. To strengthen the increasing trade and investment flows from China into Southeast Asia, we have also set up China Desks in Indonesia, Malaysia, Singapore, Thailand and Vietnam to better support Chinese enterprises to navigate the diverse economic and business environments across the region. Since the establishment of our FDI Advisory Unit, we have facilitated more than 3,500 companies in their cross-border expansion into Asia, of which 45 per cent are Chinese enterprises. These companies that UOB has supported since 2014 are projected to invest S$34.3 billion and generate 158,000 jobs, largely across Southeast Asia and Greater China.
Our experience in supporting Chinese enterprises to internationalise has given us a unique perspective. We are familiar with the local market dynamics in ASEAN and the nuances of doing business in China. This means that we are better equipped to help Chinese enterprises to find their own "blue ocean" by connecting the dots between business, people and business culture, in order to achieve success in ASEAN.
As businesses navigate uncertain waters, collaboration is key to success. Let UOB partner you on this journey towards a prosperous future. Bon Voyage!

About the author
Christine Ip is CEO – Greater China of UOB, overseeing the Bank's business in Greater China covering markets in Mainland China, Hong Kong SAR and Taiwan. She is also a Non-Executive Director of UOB China.

Mrs Ip is a seasoned banker with more than 30 years of experience in both consumer and wholesale banking, with significant experience in Mainland China. Prior to joining UOB, Mrs Ip held a range of local and overseas positions with international banks in Hong Kong, Mainland China, Singapore, Canada and the United States.

Follow her on LinkedIn
This article shall not be copied or relied upon by any person for whatever purpose. This article is given on a general basis without obligation and is strictly for information only. The information contained in this article is based on certain assumptions, information and conditions available as at the date of the article and may be subject to change at any time without notice. You should consult your own professional advisers about the issues discussed in this article. Nothing in this article constitutes accounting, legal, regulatory, tax or other advice. This article is not intended as an offer, recommendation, solicitation, or advice to purchase or sell any investment product, securities or instruments. Although reasonable care has been taken to ensure the accuracy and objectivity of the information contained in this article, UOB and its employees make no representation or warranty, whether express or implied, as to its accuracy, completeness and objectivity and accept no responsibility or liability for any error, inaccuracy, omission or any consequence or any loss or damage howsoever suffered by any person arising from any reliance on the views expressed and the information in this article.