21 September 2021

By Julia Goh and Loke Siew Ting
---
Malaysia attracted a total approved investment of MYR107.6 billion (US$25.7 billion) of foreign direct investments (FDI) and domestic direct investments (DDI) in the first half of 2021 (1H2021) – an increase of 70 per cent compared to MYR63.3 billion a year ago. More than 58 per cent of total approved investments in the first half of 2021 were from foreign investments. The manufacturing sector accounted for the largest share of total approved foreign investments, amounting to MYR58.2 billion or 93 per cent of total approved FDI.
The jump in approved investments is a sign of investor confidence and demonstrates Malaysia's path to a vibrant and sustainable economic recovery. We anticipate the investment sentiment to improve in the fourth quarter of 2021 in tandem with the further re-opening of economic sectors, progress in the national vaccination program towards vaccinating 100 per cent of the adult population, and entering an endemic phase by year-end.
We maintain our 2021 full-year investment approvals forecast of MYR185 billion (2020: MYR167.4 billon) with year-to-date total committed investments hitting 58 per cent of our target.
Manufacturing investment approvals continue to take the lead
Manufacturing investment approvals jumped by 84 per cent year-on-year to MYR66.9 billion in 1H2021, with FDI contributing 87 per cent (or MYR58.2 billion) while the remaining 13 per cent (or MYR8.8 billion) were from domestic sources. Majority of the overall committed investments in the manufacturing sectors were new investments, amounting to MYR55.4 billion (or 83 per cent share) initiated by foreign investors.
The top three leading sources of FDI in the manufacturing sector were Singapore, South Korea, and the Netherlands, accounting for a combined MYR53 billion or 91 per cent of total approved FDI in the sector during 1H2021.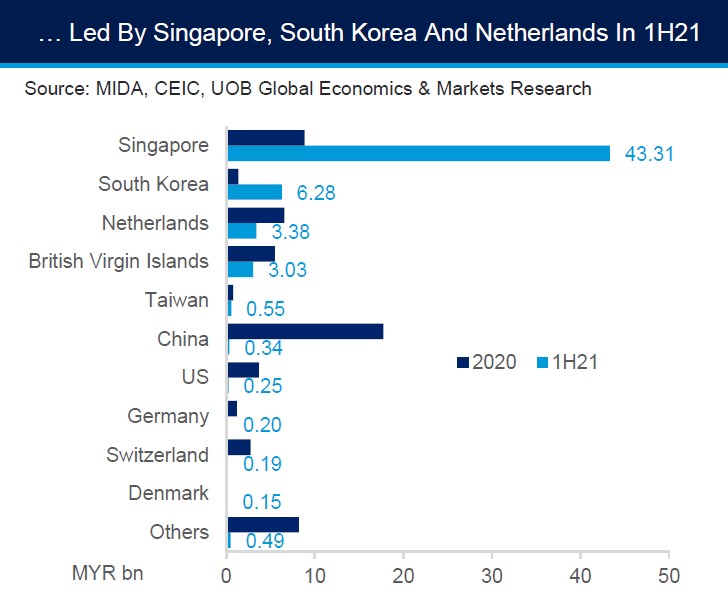 Figure 1: Top FDI sources into Malaysia's manufacturing sector in 1H2021. Source: MIDA, CEIC, UOB Global Economics & Markets Research
Some of the notable FDI projects approved in 1H2021 include a South Korean renewable investment to produce copper foil for electric vehicles (battery manufacturing); a South Korean company's solar grade polysilicon plant expansion in Samalaju, Sarawak; China's solar energy project approved under the PENJANA scheme; and a MYR8.5 billion investment from an Austria-headquartered company to produce high-end printed circuit boards and substrates for semiconductors in Kulim High-Tech Park.
Electrical and electronic (E&E) products lead the manufacturing sector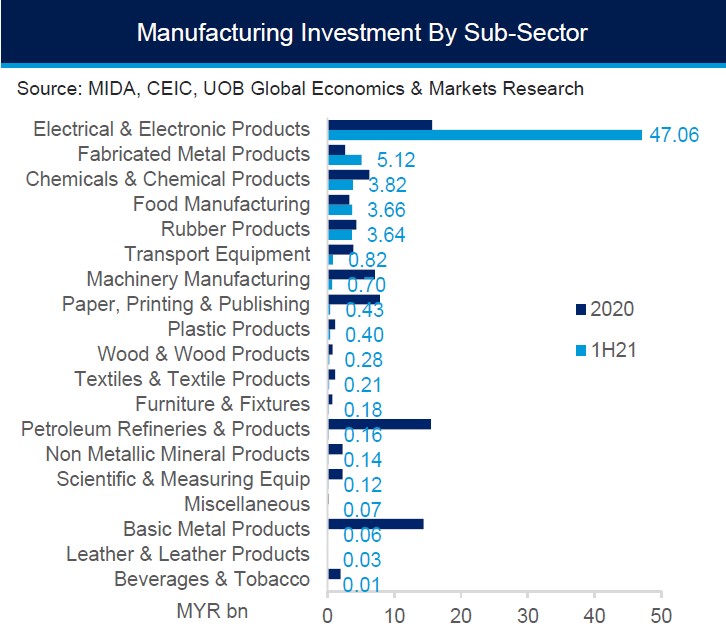 Figure 2: Malaysia's manufacturing investment by sub-sector, 1H2021. Source: MIDA, CEIC, UOB Global Economics & Markets Research
The E&E industry gained the highest approved investment value within the manufacturing sector in 1H2021 at MYR47.1 billion. This was followed by fabricated metal products (MYR5.1 billion), chemicals and chemical products (MYR3.8 billion), food manufacturing (MYR3.7 billon), and rubber products (MYR3.6 billion). These five industries made up 95 per cent of total committed investments in the manufacturing sector.
Top investment destinations for manufacturing within Malaysia
By state, key recipients of approved manufacturing investments were Kedah, Selangor, Sabah, Perak, and Johor. These five states collectively contributed 89 per cent or MYR59.4 billion to overall manufacturing investment approvals.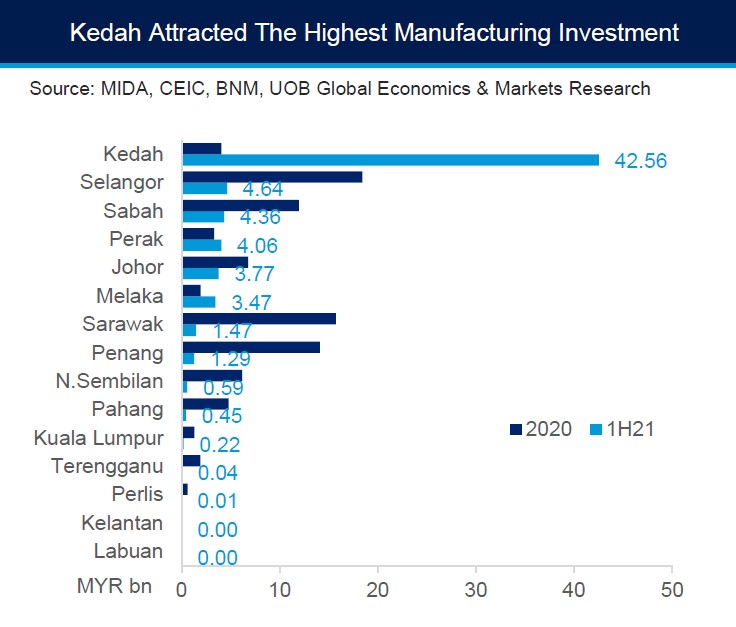 Figure 3: Top investment destinations for manufacturing within Malaysia in 1H2021. Source: MIDA, CEIC, BNM, UOB Global Economics & Markets Research
Potential jobs creation
Amidst a very challenging global economic landscape, the total approved investments involved 2,110 projects with the potential to create 44,994 new jobs in Malaysia. The foreign investments into the manufacturing sector alone will create 32,220 job opportunities in various positions and roles, paving the way for improved employment prospects.
This is an excerpt from Malaysia: Investment Approvals Hit MYR107.6bn In 1H21.
Source: Malaysian Investment Development Authority (MIDA), UOB Global Economics & Markets Research

Senior economist Julia Goh joined UOB Malaysia in 2015 with 12 years of research experience working in the stockbroking industry. In her current role, she is responsible for economic coverage of Malaysia and is frequently quoted in local and foreign media on the country's economic trends, developments and currency.

Julia graduated from the University of Melbourne with a Bachelor of Commerce and a First Class Honours in Master of Economics, specialising in international and monetary economics and applied econometric techniques.

Economist Loke Siew Ting joined UOB Malaysia in 2018 and is responsible for providing macroeconomic research focusing on Malaysia and the Philippines. She has more than a decade's worth of research experience honed through her work in stockbroking, pension funds and at the Securities Commission Malaysia.

Prior to joining UOB Malaysia, Siew Ting was a capital market analyst at the Employees Provident Fund in Malaysia, covering the Asia Pacific region. She also held research positions at an ASEAN investment bank where she was part of the winning research team that ranked top three at the Asiamoney Brokers Poll for seven consecutive years.
This article shall not be copied or relied upon by any person for whatever purpose. This article is given on a general basis without obligation and is strictly for information only. The information contained in this article is based on certain assumptions, information and conditions available as at the date of the article and may be subject to change at any time without notice. You should consult your own professional advisers about the issues discussed in this article. Nothing in this article constitutes accounting, legal, regulatory, tax or other advice. This article is not intended as an offer, recommendation, solicitation, or advice to purchase or sell any investment product, securities or instruments. Although reasonable care has been taken to ensure the accuracy and objectivity of the information contained in this article, UOB and its employees make no representation or warranty, whether express or implied, as to its accuracy, completeness and objectivity and accept no responsibility or liability for any error, inaccuracy, omission or any consequence or any loss or damage howsoever suffered by any person arising from any reliance on the views expressed and the information in this article.