17 September 2020

By Enrico Tanuwidjaja
Key takeaways
The supply chain disruptions that resulted post-COVID-19 has led many countries to renew efforts in self-production and self-sufficiency, especially in strategic industries.
Despite the inward-looking shift, globalisation and global trade are unlikely to be in permanent retreat.
Under the scenario of China-led globalisation, Indonesia's bilateral economic collaboration with China is likely to be pivotal for its long-term economic growth.
---
The year 2020 started with fresh global optimism about the future of the economy, but the COVID-19 outbreak has disrupted industries, businesses and livelihoods, causing a sharp downturn. The global economy that grew 2.9 per cent in 2019 is now predicted to contract at least five per cent in 2020.
In our prognosis of the global economy, we highlight at least two macro changes that could happen when the pandemic ends. First, after decades of globalisation, it is likely that many countries have become more inward-looking as they seek to enhance their resilience against global crises. The COVID-19 pandemic has led to countries closing their borders and halting large-scale manufacturing activities, affecting global and regional supply chains. As a result, many countries are now seeking to expand their domestic production and to reduce their reliance on overseas suppliers so that any disruption to their supply chains can be resolved quickly.
Self-production and self-sufficiency will become more important, especially for strategic industries. In the event that a country is not able to produce domestically, it must diversify the sources of its imported supplies. Either approach or a combination of the two approaches will increase the cost of raw materials and supplies, but on the bright side, it will ensure the availability of alternative supplies during an emergency. Despite higher costs, production will be more stable should another global disruption occur in the future.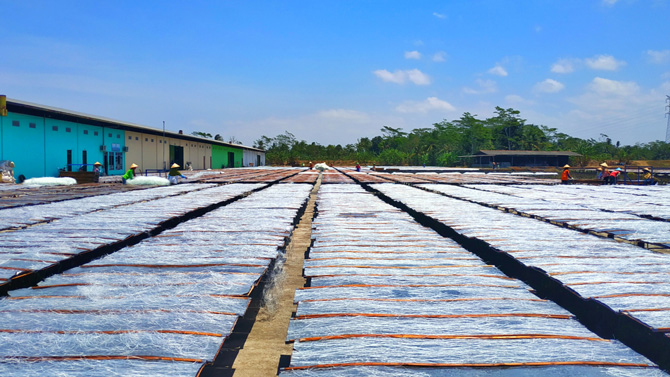 Rice noodles drying in the sunlight at a semi-traditional Indonesian vermicelli noodle factory. To mitigate future supply chain disruptions, governments are looking to boost domestic production in critical sectors and to diversify the sources of imported supplies. Photo: Shutterstock
While pandemics do tend to trigger a decline in international trade that in turn adversely impacts economic growth, we believe countries will remain resilient, as seen a century ago following the Spanish Flu Pandemic of 1919.
As history has shown, globalisation and global trade are also unlikely to be in permanent retreat. To that end, the second macro change is an acceleration of the transition of the globalised system from a US-centric to a China-centric one. In this global crisis, we have seen China's efforts to manage the domestic impact of COVID-19 and their assistance to other affected countries. China's COVID-19 recovery, combined with the pre-pandemic momentum it gained through its Belt and Road Initiative investments in the eastern hemisphere, will enable the country to emerge even stronger in its global influence.
Indonesia must examine the implications from the global pandemic and undertake the right strategy in response to the situation. China is Indonesia's largest trading partner for several of its export-import sectors and as at the first quarter of 2020, China has contributed 19 per cent of the country's total inward foreign direct investment (FDI). China's notable investments include an electric car battery plant in Morowali, which has been in operation since 2018. Indonesia's import of capital goods and machinery used in production also come mainly from China. Under the scenario of China-led globalisation, Indonesia's bilateral economic collaboration with China is likely to be very important to the promotion of its long-term economic growth.
Even as Indonesia continues to welcome global trade and investments, it must strengthen its resilience by deepening domestic capabilities. For example, FDI into Indonesia could be accompanied by an obligation to transfer knowledge and technology to local businesses and the Indonesian workforce. Enhancing the expertise and skills of Indonesian workers is key to their increased participation in the domestic economy, which will lead to improved wages and living standards.
Given Indonesia's large workforce and rich, diverse natural resources, the country should be able to increase domestic production in core and strategic industries such as basic and processed foods, healthcare, apparel, building materials and transportation. For its non-core and non-critical sectors such as tourism, hospitality, entertainment and non-essential manufacturing, we also expect to see greater diversification of supply chains as companies pay closer attention to business continuity by finding a new balance between competent local suppliers and diversified overseas suppliers. In essence, companies must change the way they operate.
Policy reforms can boost growth
Indonesia's economic policy has been moving in the right direction since the start of this decade, with reforms being rolled out to promote sustainable economic growth and resilience. The Omnibus Law to create more sustainable jobs marked the beginning of structural reform to enhance the skills of Indonesian workers and to attract the right FDI – mainly in the food and beverage (F&B) and transportation sectors – with the aim of strengthening the Indonesian economy. Indonesia should also encourage local investors to do more to support its core and strategic industries. For example, the F&B sector received more than US$17 billion in domestic direct investment last year, the highest among all sectors.
Fiscal policy would also be more expansive and, if necessary, more counter-cyclical through an increase in government spending or a reduction in taxes to help stimulate economic recovery. The government has a critical role to play in developing Indonesia's core and strategic sectors and in rolling out fiscal measures, since global economic disruption may come unexpectedly. To build up Indonesia's economy, monetary and financial policies need to maintain the stability of the exchange rate and facilitate lending to the private sector, especially small- and medium-sized enterprises. Policies are also encouraged to support the growth of the financial sector and the provision of more diverse and competitive financial products, so that sufficient liquidity will be made available to businesses and individuals who need it.

About the author
Enrico Tanuwidjaja is the Economist at UOB Indonesia. He joined UOB Indonesia in 2017 and is responsible for macroeconomic research focusing on Indonesia. Enrico writes on the Indonesian macroeconomic development and outlook as well as on the domestic financial market, giving insights for UOB's internal and external clients. Enrico is regularly featured in reputable news and business media, including writing opinion pieces. Follow him on LinkedIn.
A translation of this article was originally published in Bisnis Indonesia on 25 August 2020.
This article shall not be copied, or relied upon by any person for whatever purpose. This article is given on a general basis without obligation and is strictly for information only. The information contained in this article is based on certain assumptions, information and conditions available as at the date of the article and may be subject to change at any time without notice. You should consult your own professional advisers about the issues discussed in this article. Nothing in this article constitutes accounting, legal, regulatory, tax or other advice. This article is not intended as an offer, recommendation, solicitation, or advice to purchase or sell any investment product, securities or instruments. Although reasonable care has been taken to ensure the accuracy and objectivity of the information contained in this article, UOB and its employees make no representation or warranty, whether express or implied, as to its accuracy, completeness and objectivity and accept no responsibility or liability for any error, inaccuracy, omission or any consequence or any loss or damage howsoever suffered by any person arising from any reliance on the views expressed and the information in this article.