04 August 2021

By UOB FDI Advisory
Global flows of foreign direct investment (FDI) have been hit harder by the coronavirus pandemic than the global financial crisis of 2008-2009.
According to a 2021 report by the United Nations Conference on Trade and Development (UNCTAD), global FDI flows dropped one-third from US$1.5 trillion in 2019 to US$1 trillion in 2020. In fact, 2020's FDI flows were 20 percent lower than in 2009 after the financial crisis.
Lockdowns and the prospect of a recession have caused many companies to reassess their investment plans. But how does the landscape look like in Southeast Asia? We combed through the report and came up with four FDI trends in the region according to UNCTAD's World Investment Report 2021.
1. FDI inflows across Asia remain resilient
Despite the COVID-19 pandemic, Asia stood out as an attractive destination for FDI.
According to the report, flows to developing Asia in 2020 rose by four per cent to US$535 billion – driven by investment flow into China. FDI inflows to China was at US$149 billion in 2020, compared to US$141 billion in 2019. This helped prop up declining FDI in developing economies – which decreased by eight per cent compared to 58 per cent in developed and transition economies.
For example, Volkswagen AG, the German automobile manufacturer, has increased its stake in Chinese EV maker, Anhui Jianghuai Automobile Holding, from 50 to 70 per cent, in a bid to be China's biggest foreign automaker. It is also looking to become the largest shareholder in battery supplier Gotion High-Tech Co. Ltd., and the first international automotive manufacturer to invest directly in the Chinese EV battery market.
FDI growth in Asia is expected to continue, with a five to 10 per cent year-on-year increase in 2021. According to the report, this growth is driven by "growing markets, extensive regional and global linkages, and an investment climate that has remained generally open despite the pandemic".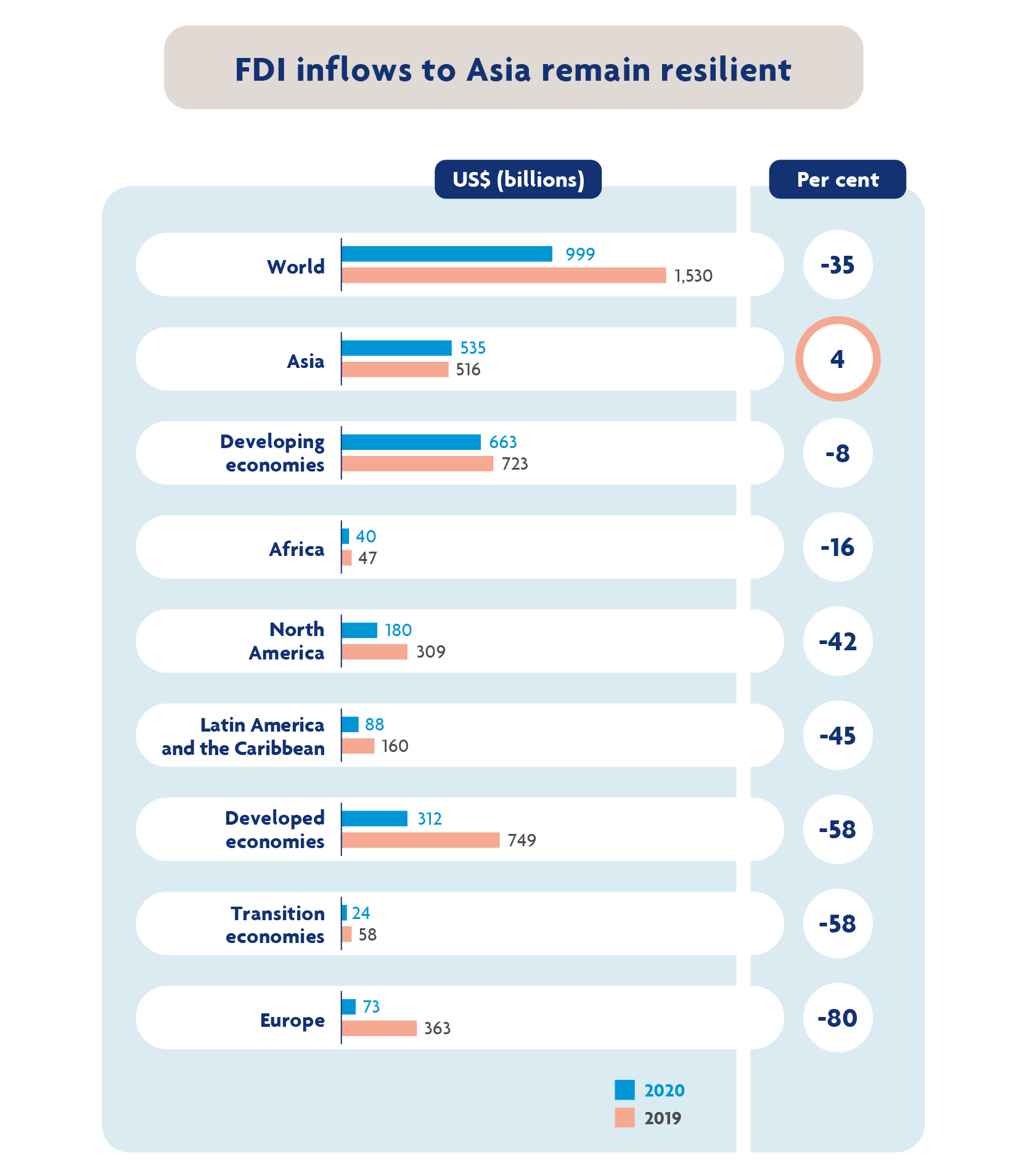 Figure 1: FDI inflows into Asia remained positive in 2020. Source: UNCTAD, FDI/MNE database
The recent signing of the Regional Comprehensive Economic Partnership (RCEP) involving all ASEAN member countries, China, Japan, South Korea, Australia and New Zealand is expected to be one of the major growth drivers as the trade bloc becomes more economically integrated.
2. Only Asia saw growth in energy infrastructure projects
In 2020, energy infrastructure projects fell 40 per cent to US$27 billion – the lowest point in eight years. Asia was the only region to grow both in the number and value of projects.
FDI in Vietnam, for example, fell by only two per cent, buoyed by investments in electricity projects. A US$5 billion gas-fired power plant was proposed by ExxonMobil (United States) and a US$2.2 billion coal-fired power plant will be developed by Thai companies in the Quang Tri Economic Zone. Delta Offshore Energy (Singapore) will also be setting up a US$4 billion LNG power generation facility in Bac Lieu, Vietnam.
FDI in renewable energy sources is set to grow further. Defying the global slowdown in spending, FDI in renewable energy projects increased to US$33.4 billion in 2020 from US$30.7 billion in 2019.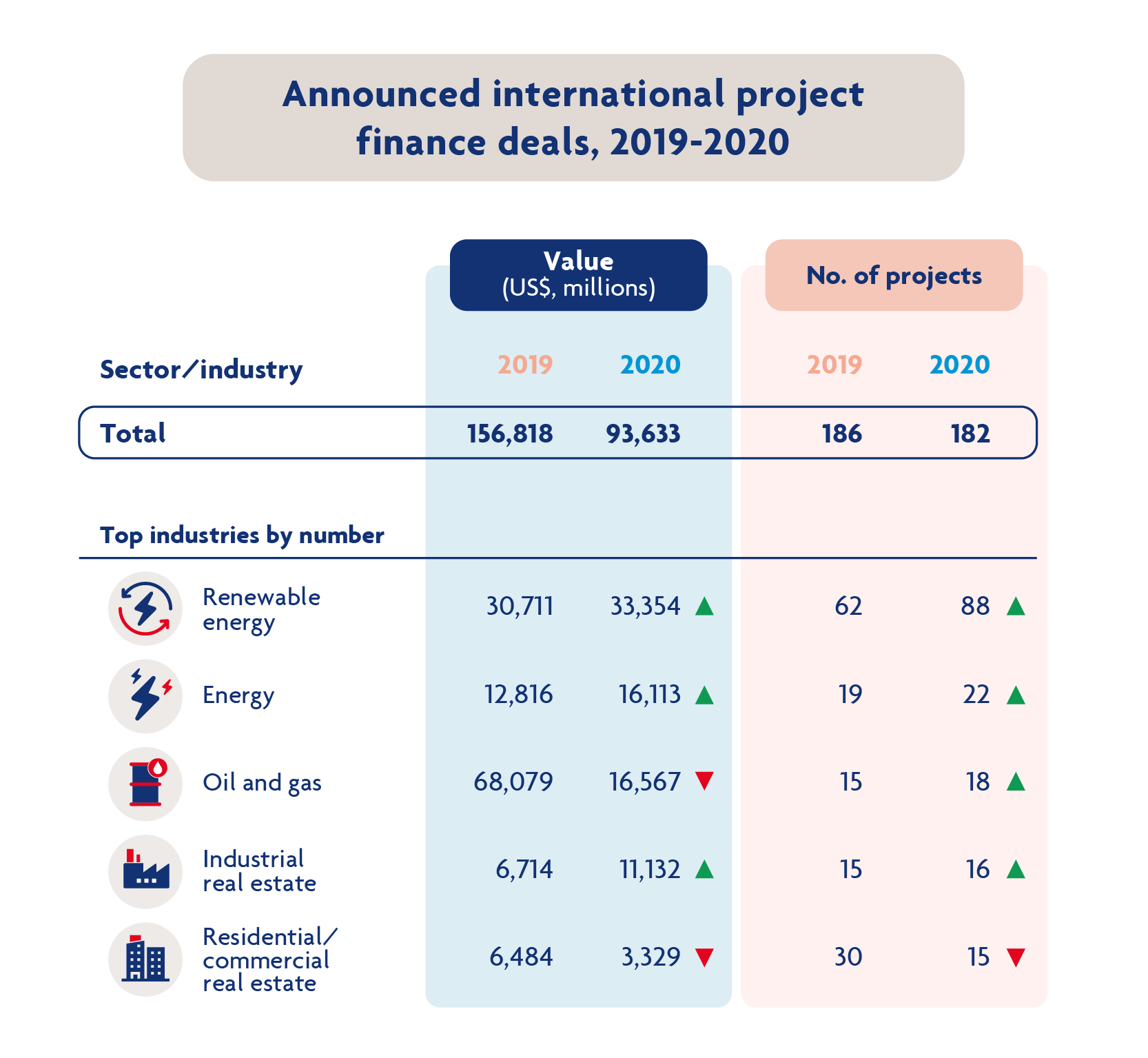 Figure 2: Announced international project financing deals within developing Asia in 2020, versus 2019.
Source: UNCTAD's World Investment Report 2021
3. Southeast Asian countries invest within the region
Despite the decline in FDI outflows globally, Southeast Asian-based companies and entities are fast becoming an important investor to the region. ASEAN's share of global investment outflow rose from six per cent in 2019 to eight per cent in 2020.
Much of the investment stayed within the region, due to its attractive long-term growth potential. The region's economy is expected to double to US$6.6 trillion by 2030 from US$3 trillion in 2018. Singapore and Thailand were the two largest investors into the region in 2020.
Companies from Singapore formed the largest investor group in some countries – 25 per cent of FDI in Indonesia and 40 per cent of FDI in Vietnam was from Singapore. According to enterprise development agency, Enterprise Singapore, companies from the island state have invested in Indonesia's consumer products and services, manufacturing, transportation, logistics and infrastructure sectors.
Multinational companies are also setting up regional treasury centres in Singapore, using the country's business-friendly environment and robust financial system as a springboard into the region.
Thailand's FDI outflows more than doubled to US$17 billion in 2020. Almost 85 per cent of the outflows were funnelled into industries such as financial services, manufacturing, real estate, and construction activities within ASEAN.
B.Grimm, a Thai private power producer, is building a solar power plant in Vietnam that is set to be one of the largest in the region. Impact Electrons Siam is also developing a 600MW wind farm in Laos, which will be the biggest wind project in ASEAN.
Thai companies were also involved in mergers and acquisitions in 2020 – Thai Beverage acquired Frasers Commercial Trust (Singapore) while a Thai investor group acquired Tesco's Malaysian operations.
Indonesia and the Philippines also invested into the region – outward investment rose to US$4.5 billion and US$3.5 billion from the two countries respectively. Ayala Corporation (Philippines) is constructing a wind farm in Vietnam together with a Singaporean partner while Japfa Comfeed (Indonesia) opened a feed mill, also in Vietnam.
Intra-regional investment will boost not only stronger economic cooperation but also overall economic growth prospects for the region.
4. Continued investment in digital economy and infrastructure
Southeast Asia saw an overall decline of 25 per cent in FDI inflow from 2019 to 2020 due to lockdown measures, supply chain disruption and delayed investment.
The top FDI recipients in the region recorded a similar decline – Singapore by 21 per cent, Indonesia by 22 per cent and Vietnam by two per cent. These three countries accounted for more than 90 per cent of FDI inflows in 2020.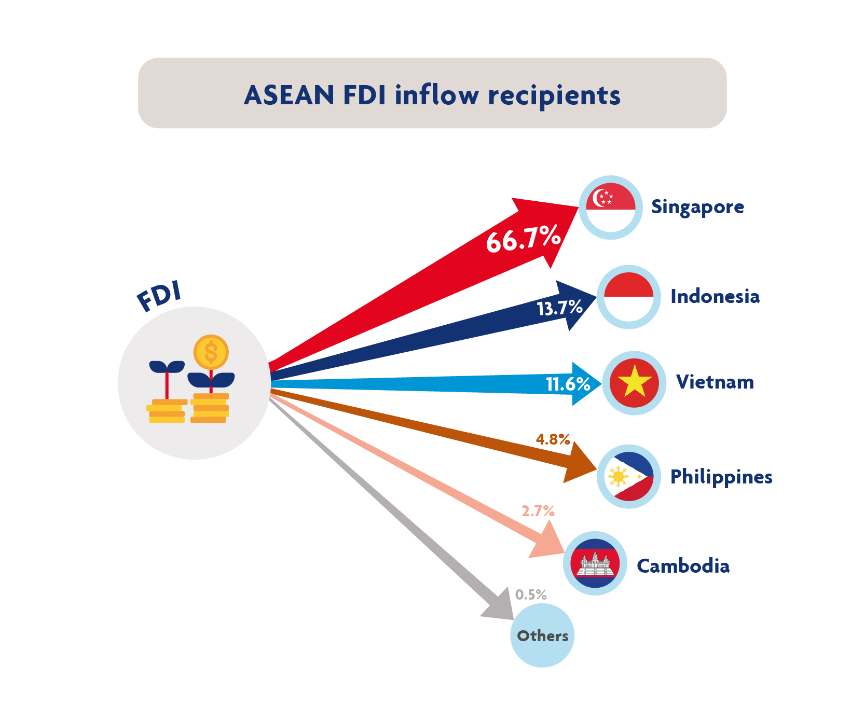 Figure 3: Singapore, Indonesia and Vietnam make up more than 90 per cent of ASEAN FDI inflow
In Thailand, FDI sank to -US$6 billion, driven by the divestment of Tesco (United Kingdom) to a Thai investor group for US$10 billion. In Malaysia, FDI fell 55 per cent to USS$3 billion, while in Myanmar, FDI fell 34 per cent to US$1.8 billion.
According to the report, "announced greenfield investments and international project finance deals each declined by about 20 per cent in value".
Moving forward, countries in the region are expected to continue investing in the digital economy, e-commerce, digital infrastructure (5G networks and data centres) and cloud computing.
The region is also a rapidly growing global data hub in the next five years, overtaking growth in North America and other Asia Pacific countries. Data centre and cloud-driven global companies are increasing investment and building more facilities in the region.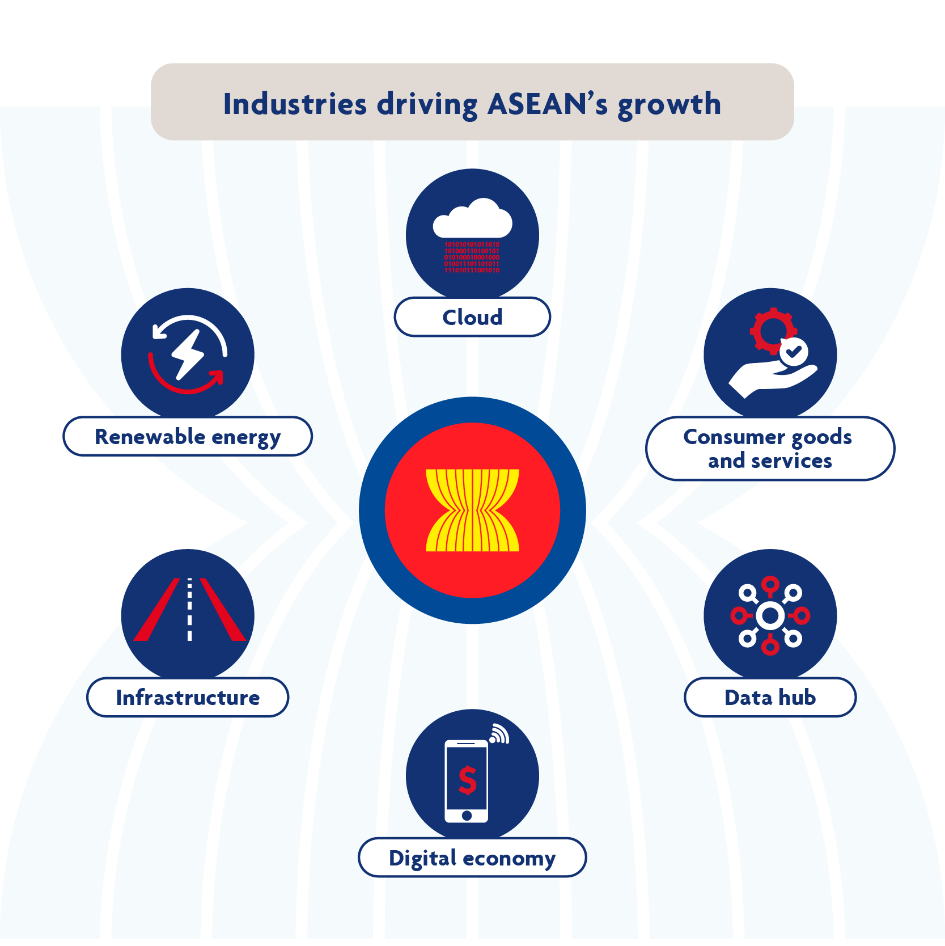 Rising investment in renewable energy and technology across ASEAN
Overall, FDI prospects for the region are positive due to intra-regional flows and stronger economic growth prospects. But much will depend on how countries in ASEAN are able to contain the new waves of the pandemic unfolding as we speak.
UOB FDI Advisory provides a one-stop shop for businesses that are keen to invest into Southeast Asia. Through the unit, businesses receive guidance on their market entry strategies, including how to navigate local customs and the regulatory landscape. The unit also connects companies with ecosystem partners such as government agencies, trade associations and professional service providers. In doing so, companies are able to make the necessary connections right from the start, instead of having to spend valuable time and resources finding partners that can enable and accelerate their growth.
This article shall not be copied, or relied upon by any person for whatever purpose. This article is given on a general basis without obligation and is strictly for information only. The information contained in this article is based on certain assumptions, information and conditions available as at the date of the article and may be subject to change at any time without notice. You should consult your own professional advisers about the issues discussed in this article. Nothing in this article constitutes accounting, legal, regulatory, tax or other advice. This article is not intended as an offer, recommendation, solicitation, or advice to purchase or sell any investment product, securities or instruments. Although reasonable care has been taken to ensure the accuracy and objectivity of the information contained in this article, UOB and its employees make no representation or warranty, whether express or implied, as to its accuracy, completeness and objectivity and accept no responsibility or liability for any error, inaccuracy, omission or any consequence or any loss or damage howsoever suffered by any person arising from any reliance on the views expressed and the information in this article.