08 January 2020

This story was originally published on Lianhe Zaobao on 6 October 2019.
Amidst a global economic downturn and tense trading environment, the ASEAN regional economy is still seeing strong growth, with increasingly active trade and commerce dealings.
This immense emerging market is akin to a utopia in a troubled world, attracting global investors.
How can Singapore companies take further steps to explore potential business opportunities in the increasingly competitive ASEAN market and pull ahead of the pack?
In the series "Businesses in ASEAN" ("商聚亚细安"), Lianhe Zaobao brings first-hand market information of the various countries to businesses interested in advancing into the region, helping Singapore enterprises lock in development opportunities.
---
On a working trip to Singapore in 2003, an Indonesian businessman encountered Ya Kun coffee and kaya toast, and fell in love with it. He then approached Mr Adrin Loi, Ya Kun's second-generation owner, hoping to franchise the brand in Indonesia.
Mr Jesher Loi, the third generation anchor of Ya Kun told Lianhe Zaobao that the company was not prepared to venture beyond Singapore at that time, hence they rejected the offer.
"We didn't expect him to persist, but he approached us again. My father was moved by his sincerity and decided to work with him and step abroad."
Now, Ya Kun's coffee can be enjoyed in Malaysia, Thailand, Philippines, Vietnam, Cambodia and Myanmar. Indonesia has also become the group's largest overseas market, with 24 branches.
Mr Loi said: "There are 43 Ya Kun branches in ASEAN. This area has a large population with similar tastes to Singapore, and this makes it an ideal market."
ASEAN has always been the preferred location for Singaporean businesses to expand overseas. According to a survey published by the Singapore Business Federation (SBF) in mid-2019, 82% of local companies with business abroad have operations in ASEAN. In today's turbulent and volatile climate, the region's vast potential has increasingly caught the attention of global investors, creating more business opportunities for local enterprises.
ASEAN to become the fourth largest economy in the world
Mr Joongshik Wang, Partner, Strategy and Operations of Ernst & Young (EY) Corporate Finance, points out that global geopolitical factors have affected the operations and supply chains of companies, and many businesses have the intention to shift their operations to Southeast Asian countries.
"US-China trade tensions have led some businesses to change their supply chains and shift their manufacturing bases from China, benefitting Southeast Asian markets such as Vietnam."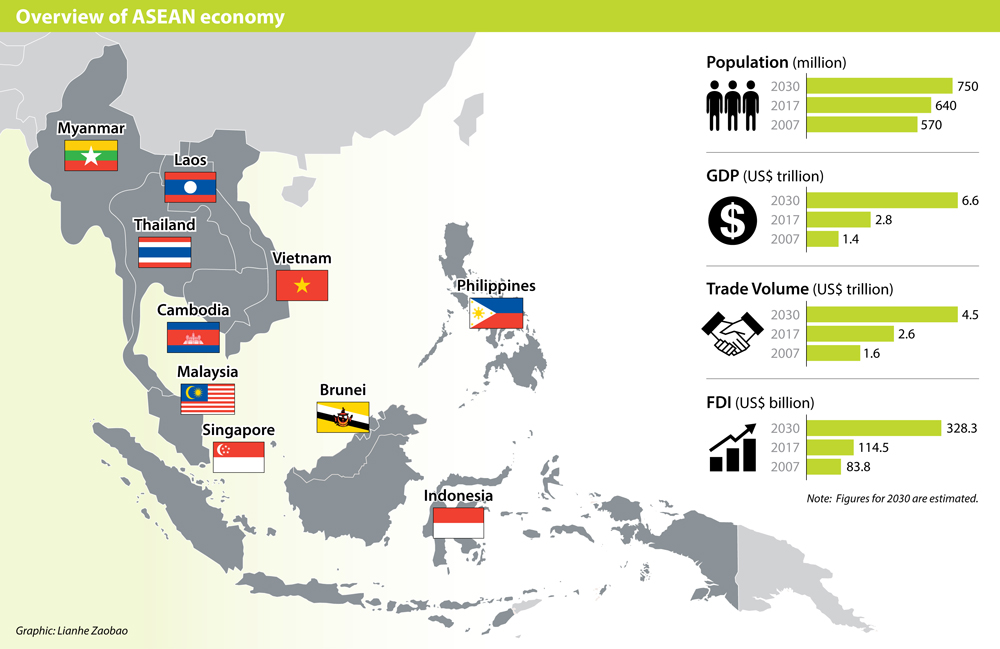 Overview of the ASEAN economy, covering population numbers, GDP, trade volume and FDI injections. Graphic: Lianhe Zaobao
According to statistics from the International Monetary Fund (IMF), ASEAN's gross domestic product (GDP) was about 2.9 trillion US dollars (S$4 trillion) in 2018, making it the fifth largest economy in the world. The ASEAN economy is growing at an average annual rate of 5.2%. It is estimated that by 2030, ASEAN's GDP will hit 6.6 trillion US dollars, becoming the world's fourth largest economy after the United States, China and the European Union.
ASEAN cities are developing rapidly and the middle class population is growing continuously. SBF chairman Mr Teo Siong Seng believes that the expertise and skills of Singapore companies can meet the infrastructural, financial, medical, logistical and educational needs of these countries.
"These opportunities are right on our doorstep. Many of our companies are well-positioned to ride on ASEAN's positive growth momentum to expand their businesses into the region."
Mr Roland Ng, president of the Singapore Chinese Chamber of Commerce and Industry (SCCCI) noted that some local enterprises, especially small and medium-sized enterprises, have relatively limited resources and therefore tend to expand their businesses into neighboring countries first.
"Singapore is geographically nearer to other ASEAN member states, and we are more familiar with their language and culture. Besides furthering their business, local companies can join hands with business partners to enter third-party markets."
According to SBF's survey, Vietnam, Myanmar, Malaysia and Indonesia are the most preferred destinations for local companies when they are thinking of venturing into the regional market. Local businesses view the consumer demands, investment environment and business costs of these markets as relatively favorable to them.
SCCCI's 2019 business survey revealed that Malaysia and Indonesia are the most popular regional markets for local businesses. In addition, Thailand, Vietnam, Cambodia and the Philippines have become more appealing to local businesses as compared to last year.
"These ASEAN countries have an abundance of young and skilled laborers. With the rise of the middle class, the consumer economy has also flourished, which has led to urbanization and the rapid development of infrastructure," said Mr Ng.
Unlimited business opportunities in four areas
The 10 ASEAN countries have varied economic development and key industries. Which sectors have the greatest potential and which countries have the most business opportunities? Mr Tan Soon Kim, Assistant Chief Executive Officer of Enterprise Singapore (ESG) points to four key areas that local enterprises can focus on.
1. Middle-class consumer groups
The 10 countries in ASEAN have a total population of 640 million, with a market size nearly 100 times that of Singapore. The regional population is expected to increase to 710 million in 10 years. According to the Hong Kong Trade Development Council's survey, by 2025, the annual household income of about 125 million ASEAN households will be more than $10,000. 30% of the households will have annual income ranging from $25,000 to $95,000.
The ever-expanding regional middle-class population has a high demand for food and beverage, luxury goods, education, health care, leisure services and other consumer-related items, creating limitless business opportunities for enterprises.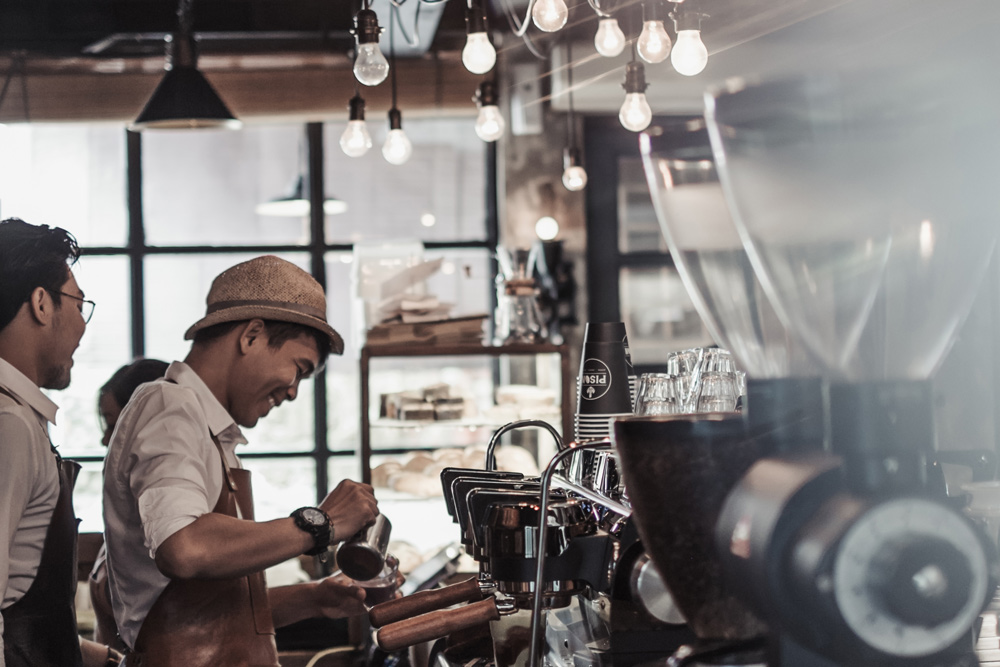 The growing affluent middle-class in Indonesia has contributed to changing taste buds and a buzzing café culture. Photo: Kenneth Gandakusuma/UOB Brand Photography
Mr Tan said: "Singapore companies also possess a strong branding, largely attributed to Singapore's reputation in food safety and quality. This is something that took many years for Singapore to achieve and will continue to become a differentiator for Singapore food companies."
Vietnam, for example, has a fast-growing middle class population and has attracted many local catering and retailers into its market in recent years. Select Group, Jumbo Group and Mr. Bean have all expanded their business to Vietnam.
2. Digital economy and disruptive technology
With the third largest population in the world, ASEAN is also a young market. 60% of the population in the region is below 35 years of age. Even by 2030, the median age of the population is only 33 years old.
In addition, it is also the region which has the fastest development of internet in the world. The average number of new internet users is 4 million per month, and for every 100 persons, the average ownership of mobile phones is 147.2. These have laid the foundation for the rapid development of a digital economy.
The latest Google, Temasek, Bain & Company e-Conomy report estimates that the scale of the Southeast Asian digital economy has hit 100 billion US dollars in 2019, and is expected to double to 300 billion US dollars in 2025, becoming the largest digital economy market after the United States and China.
The report also revealed that from 2015 to the first half of 2019, Southeast Asian digital economy companies have raised a total of 37 billion US dollars, of which about two-thirds flowed to private-hire car and e-commerce operators. In the first 6 months of 2019, regional players raised a total of 7.6 billion US dollars, an increase of 7% over the same period last year.
Not only can local businesses break into the electronic commerce industry, they can also provide payment, insurance, logistics and warehousing support services for regional e-commerce businesses. Southeast Asia's booming development in technology and the ecosystem of start-ups also provide opportunities for local entrepreneurs.
3. Infrastructure and intelligent systems
The urbanisation process and high-speed economic development of regional emerging economies have created huge demand for construction of infrastructure. The Asian Development Bank (ADB) estimates that the infrastructure investment required by ASEAN will reach 3.78 trillion between 2016 and 2030.
In addition to infrastructure services, such projects typically require financing and structural services in the process of borrowing. Apart from infrastructure companies, local companies providing professional services will also have the opportunities to participate in regional infrastructure projects.
Countries such as the Philippines and Indonesia have strong demand for infrastructure in transportation, energy, utilities and telecommunications. The populations around the major cities are continuously growing, as are the demand for intelligent transportation systems, water and electrical networks. Singapore businesses can work with local industries to provide complete infrastructure services.
On the other hand, Thailand is implementing the Eastern Economic Corridor (EEC) development plan. This involves a number of large-scale infrastructure projects related to airports, seaports and high-speed rails. Singapore's smart city solution providers can meet the needs of various development projects in the EEC, and Singapore logistics companies can also provide support for the participating provinces' manufacturing activities.
4. Manufacturing and Industry 4.0
Affected by the downturn of the global electronics cycle, Singapore's manufacturing sector has shrunk for four consecutive months. In contrast, manufacturing in regional countries such as Vietnam continues to maintain rapid growth.
Mr Tan said that the ASEAN countries have different strengths in manufacturing and Singapore companies should choose the market that best suits their business, capabilities and customers.
It is estimated that by 2030, ASEAN's GDP will hit 6.6 trillion US dollars, becoming the world's fourth largest economy after the United States, China and the European Union.
"Thailand's automotive and precision engineering manufacturing industries are developed. Vietnam's electronics, textiles, clothing and furniture manufacturing are also very strong, and companies that want to bring factories closer to Singapore usually choose Malaysia."
At the same time, Indonesia, Thailand and Vietnam are progressing towards Industry 4.0, and the local governments have developed an Industry 4.0 strategy and roadmap to improve the competitiveness of local manufacturing. Singapore solution providers can work with local manufacturers to provide them with a wide range of services including automation, robotics, additive manufacturing and industrial internet of things.
Do your "homework" before venturing overseas
Kenko, a local massage and health care brand, has ventured into the ASEAN market 12 years ago. Today, it not only has branches in Malaysia and Indonesia, but also runs training schools in several regional countries. Even Thailand, which is known for its massage services, has companies inviting Kenko to conduct lessons.
Kenko's executive Chairman Mr Jimi Tan shared with Lianhe Zaobao, when local companies expand into regional markets, the single greatest edge they have over competitors is the "Singapore Brand".
"When people hear that you are from Singapore, they feel that there is quality assurance. In their view, Singapore companies do things seriously and do not cut corners," said Mr Tan.
Unfamiliarity with local laws hinders development
However, he also admits that the lack of understanding of environment and regulations of foreign markets is the biggest obstacle the company has encountered in its regional expansion. In the past, when the company directly operated its branch in Malaysia, it had difficulties recruiting suitable employees as it was unfamiliar with the local employment regulations.
"Now we are looking for partners through franchising and our Malaysian counterparts help to manage the local business."
Mr Jesher Loi, director of branding and market development at Ya Kun, also believes that to successfully expand into the region, having a reliable partner is a must. He pointed out that Ya Kun broke into the ASEAN market through franchising, and the group only entered the Malaysia market in 2019 as it was searching for suitable business partners.
"They must understand the local market well, have sufficient knowledge of Singapore and agree with our business philosophy, so as to implement Ya Kun's level of quality and management."
SBF's survey revealed that 40% of Singapore companies had hit the wall when expanding overseas due to inadequate knowledge of the local market. In addition, uncertainties in foreign economic and political environments, differences in business culture, and the search for Singaporean employees who are willing to be out stationed are challenges faced by Singapore companies in the process of regional expansion.
Mr Sriram Changali, strategy and operation partner of EY–Parthenon, noted that ASEAN has developed markets such as Singapore and Malaysia, as well as emerging markets such as Myanmar, Laos and Cambodia. Cultures, languages, religions and business practices vary from country to country.
He said: "While the region is becoming more integrated, Singapore companies looking to invest in another ASEAN market should be mindful of local preferences and cultural sensitivities – they cannot rely on a one-size-fits-all strategy across such a diverse region."
"When people hear that you are from Singapore, they feel that there is quality assurance. In their view, Singapore companies do things seriously and do not cut corners."
Mr Tan advises local companies to do preparatory work in three areas before venturing overseas.
First, companies should create unique products and services in order to stand out amidst the fierce competition. Second, companies should be prepared to deal with a totally different business environment and be aware of the local political situation. Third, businesses should also establish networks with local stakeholders and groom talents who have an understanding of the local market and cultural differences.
Besides seeking assistance from ESG, local companies can also participate in training courses and overseas study tours organised by trade groups and associations, so that they can familiarise themselves with the local environment, find partners and prepare for expansion into new markets.
Mr Ng shared that SCCCI organised a delegation trip to the Philippines in April 2019, visited local trade associations, government agencies and enterprises to help companies understand the market dynamics and investment environment of the Philippines. It has made use of SCCCI's network to help Singapore enterprises connect with local counterparts.
Furthermore, SBF has led eight overseas business delegations in 2019 to markets including Cambodia, Indonesia, Malaysia, the Philippines and Vietnam. In June 2019, SBF launched the BusinessASEAN Network, bridging Singapore companies interested in exploring regional markets with local businesses. The network will be launched first in Vietnam, Indonesia, Thailand and Myanmar, before extending to other ASEAN countries.
Next story: The Indonesian market
"Businesses in ASEAN" is a series of reports launched by Lianhe Zaobao, bringing up to date regional market information to Singapore companies. This bi-weekly report starting from October 6, 2019, focuses on key growth areas and business must-know in different markets.
Business reporters from the Chinese Media Group travelled to nine ASEAN markets to gain insight into the business environment of each country and visited Singaporean companies in these countries to learn about their experiences and takeaways in local operations.
ESG is a knowledge partner of this series. The heads of market for each country will share business tips to help companies avoid cultural and regulatory minefields.
In the next story, "Businesses in ASEAN" will focus on Indonesia and explore the country's booming digital economy market. Singapore logistics and technology companies which have benefited will share about how they have navigated their journey.
Source: SGSME © Singapore Press Holdings Limited. Permission required for reproduction.
UOB makes no representation or warranty as to, neither has it independently verified, the accuracy or completeness of the information in this article. Any opinions or predictions reflect the writer's views as at the date of this article and are subject to change without notice.