20 January 2021

By UOB FDI Advisory
---
Asia is expected to have a clear and consistent recovery in 2021, assuming an efficient rollout of vaccines in developing economies, according to UOB's Quarterly Global Outlook 1Q2021.
Closer to home, ASEAN's longer term growth will be driven by its sound fundamentals, including its rising middle class, defined by daily expenditure of US$10 to US$100. Sixty-five per cent of the region's population is expected to be middle class by 2030, with 60 per cent under 35 years of age. In fact, one of the region's rising stars, Vietnam, took just 10 years from 2010 to 2019 to double its GDP per capita in current prices from US$1,629 to US$3,419.
The COVID-19 pandemic, which has accelerated the growth of digital economies, is also contributing to the region's digital growth potential. ASEAN is already well-placed to go online. The number of internet users will grow from 260 million in 2015 to reach 575 million by 2030. In other words, 80 per cent of the ASEAN population will be connected to the internet by 2030.
According to a report by Google, Temasek and Bain & Company, ASEAN's digital economy has soared to US$100 billion in value, tripling in size over the last four years. From 49 million active users in 2015, there are now 150 million active users in the region who are spending on goods and services online. As the region's internet connectivity and consumer purchasing power increases, the report forecasts that ASEAN's internet economy will grow to US$300 billion by 2025.
E-commerce offers consumers convenience, value and access to services in the convenience and safety of their own homes. This is particularly so for those living in smaller cities across ASEAN that may not have the same physical access to goods and services as those living in the major cities. Companies in the e-commerce market range from classified sites such as Mudah, to business-to-consumer and consumer-to-consumer e-commerce platforms such as Shopee, Lazada, Carousell and Tokopedia.
The COVID-19 outbreak has changed certain consumer behaviours. Retail footfall has fallen while online sales has increased. As covered in an article we wrote last year on post-pandemic opportunities, online grocery spending rose by 162 per cent from January to May 2020 compared to the same period the year before.
Tailored strategy needed for ASEAN's diverse markets
Many multinational companies are keen to capitalise on the growth in the region. However, in order to capture the region's full potential, companies need to understand the unique consumption patterns, infrastructure limitations and regulatory policies in each ASEAN city.
The region's population spans a wide demographic across different age and income levels. For example, Singapore's 2019 GDP per capita (in current prices) was US$65,233. This is nearly 50 times that of Myanmar, with a 2019 GDP per capita (in current prices) of US$1,300. Considering the different levels of purchasing power, businesses will need tailored strategies for each market.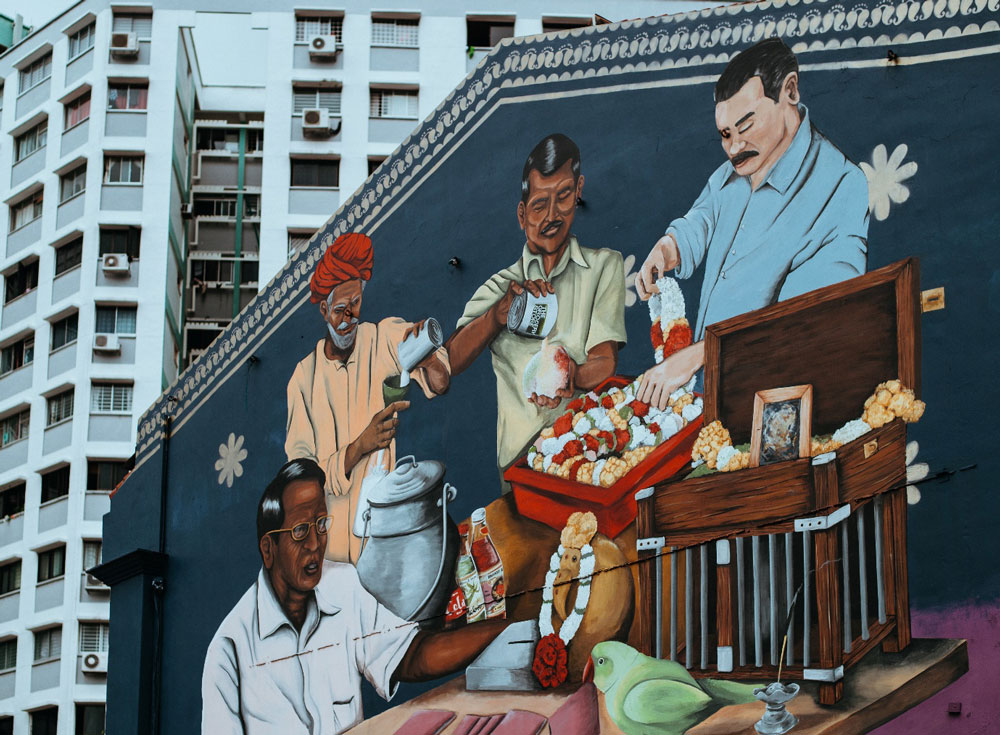 A mural in Little India, Singapore. Businesses new to ASEAN will need to familiarise themselves with the local culture, which can differ greatly between countries, and even states. Photo: Annie Spratt / Unsplash.
At the same time, content localisation is critical to succeeding in a region with 10 official languages and hundreds of local dialects. In Vietnam, homegrown marketplaces such as Sendo and Tiki effectively compete with regional players such as Lazada, while Tokopedia and Bukalapak are top contenders in Indonesia because of their strong local awareness. To champion local businesses, Lazada Indonesia launched the LazStar Academy – offering training and courses for local sellers. Online fashion brand Zalora has also combined global and local brands to ensure that its site caters to unique local tastes.
Digital commerce set to overtake e-commerce
To boost their localisation strategy, companies can consider adopting digital commerce, a newer take on the e-commerce business model. While e-commerce focuses on creating an online platform to bring the goods to the customer, digital commerce takes a more holistic approach when it comes to selling to the customer.
This means that businesses need to get intelligent and personal – delivering a superior customer experience through a personalised shopping journey. The path to purchase for consumers is now omni-channel, comprising multiple nodes as consumers conduct their research online, from looking up product information to checking on product reviews, before buying on online sites or entering a retail store.
Businesses that are able to provide relevant and individualised customer experiences as well as offer a unified customer journey across multiple channels will stand a better chance at differentiating themselves from the competition. Retailers that analyse market data correctly before putting their products on the shopfloor will also ensure a better product-market fit so that the customer experience is enhanced.
Businesses can start their digital commerce journey through the use of solutions such as Shopmatic and Synagie. Such solutions can help businesses integrate their payment and delivery systems as well as manage customer reviews, sales channels, inventory management and warehousing.
ASEAN's emerging middle-class is embracing the digital revolution. Businesses will do well to embark on this journey to capture this billion-dollar opportunity.
This article shall not be copied, or relied upon by any person for whatever purpose. This article is given on a general basis without obligation and is strictly for information only. The information contained in this article is based on certain assumptions, information and conditions available as at the date of the article and may be subject to change at any time without notice. You should consult your own professional advisers about the issues discussed in this article. Nothing in this article constitutes accounting, legal, regulatory, tax or other advice. This article is not intended as an offer, recommendation, solicitation, or advice to purchase or sell any investment product, securities or instruments. Although reasonable care has been taken to ensure the accuracy and objectivity of the information contained in this article, UOB and its employees make no representation or warranty, whether express or implied, as to its accuracy, completeness and objectivity and accept no responsibility or liability for any error, inaccuracy, omission or any consequence or any loss or damage howsoever suffered by any person arising from any reliance on the views expressed and the information in this article.