16 September 2021

By Charles Ferguson and Lee Eng Keat
---
If there is one thing the Association of Southeast Asian Nations (ASEAN) has shown the world in recent times, it is the region's unparalleled potential to become the world's next economic powerhouse.
With a combined gross domestic product (GDP) of US$3.2 trillion and a population of more than 650 million, the 10-member trading bloc's total GDP in 2019 even doubled from a decade ago and increased nearly fivefold since year 2000.
Last November, ASEAN inked the Regional Comprehensive Economic Partnership (RCEP) with major economies including China and Japan — marking the world's largest free trade agreement. RCEP covers a population of 2.2 billion, or almost 30 per cent of the world's population, with a combined GDP of US$26.2 trillion, or 30 per cent of the world's GDP.
What makes ASEAN stand out?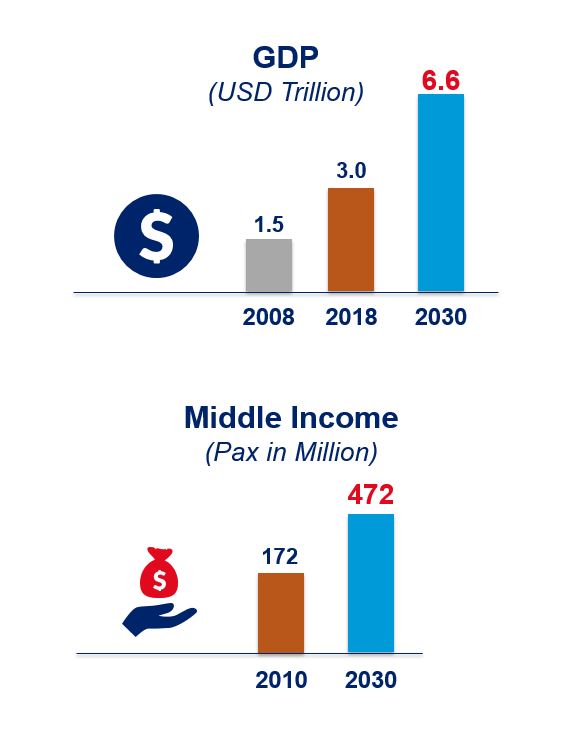 The ASEAN region is a growing market and will play an increasingly important role in the global economy in the years ahead. Source: Macrobond, UOB Global Economics and Markets Research, ADB Institute.
Apart from its substantial population size, ASEAN enjoys favourable demographics. The emerging face of ASEAN is young, educated, and entrepreneurial. According to the International Monetary Fund, more than half of ASEAN's population is under 30 years old. Meanwhile, technology plays a major role in daily living, education, and profession. In fact, according to the World Economic Forum (WEF), 31 per cent of ASEAN professionals are either entrepreneurs or work for a startup.
ASEAN enjoys high digital penetration rates that positively affect e-commerce growth. The 2020-2021 Investing in ASEAN report states that ASEAN has "more people coming online than any other region in the world" and predicts e-commerce forecasted growth to hit US$88 billion by 2025.
A rising middle class also provides a massive boost for ASEAN's economic takeover. By 2030, 65 per cent of the region's enormous population is projected to be middle class.
The region's growing consumer markets
In a recent joint webinar between UOB and Globalization Partners, ASEAN's economic prowess and strong growth potential were discussed, with four key consumer markets singled out as ones to watch: Indonesia, the Philippines, Vietnam, and Singapore.
Of the four, the emerging economies of Indonesia, the Philippines, and Vietnam account for over 70 per cent of ASEAN's population and more than half of the region's total GDP.
The following discusses the factors that set these four countries apart as consumer market titans and why potential investors should take note.
1. Indonesia
Roughly 75 per cent of Indonesia's population is classified as middle class.
According to the Future of Consumption in Fast-Growth Consumer Markets: ASEAN report by the WEF, the country's projected US$1.3 trillion in total consumption expenditure will also represent one-third of ASEAN's consumption by 2030, making it the largest consumer opportunity for the region.
Digital consumption soared to new heights with the combined power of millennial and Generation Z users. Together, these generations currently account for 75 per cent of ASEAN consumers and are expected to account for 70 per cent of Indonesian consumers by 2030.
Driven by the increasing number of internet users and e-commerce across Southeast Asia, digital payment transactions are expected to increase in ASEAN. Photo: Shutterstock.
The WEF also predicts that Indonesian internet users will rise to 262 million, with internet penetration reaching 92 per cent in urban areas and 82 per cent among the rural populations.
It is no surprise then that e-commerce rose in tandem with the high digital adoption rates. In a 2021 survey by Deloitte, over 70 per cent of the 1,500 surveyed households in Indonesia said they completed online purchases at least once a month. Forty-three per cent of respondents reported Shopee and Lazada as their most frequented e-commerce platforms.
Adding to that is a resilient consumer sentiment despite the ongoing pandemic. Deloitte states that overall consumer sentiment in 2020 was 82 per cent, comparable to the optimistic standards of 2019's 89 per cent.
2. The Philippines
Like Indonesia and Vietnam, the Philippines has a considerable population size of over 110 million, which works to the country's advantage.
The Philippines is set to experience the highest consumption growth in ASEAN by 2030. At the centre of the country's consumption spending is food and beverage (F&B), which will account for up to 40 per cent of consumption, according to the WEF.
With rising income levels, consumption patterns in the Philippines follow a technological slant.
Health and wellness apps are quickly gaining popularity due to their ability to administer swift and affordable access to rural areas. Kitika, a telehealth app with teleconsultation services, is one such example in the Philippines.
Online education platforms that offer affordable and accredited academic courses are also growing higher in demand.
While the Philippines is charting an impressive enough trajectory, its internet economy still has room for growth.
According to a joint report by Google, Temasek and Bain & Company, the country's internet economy will more than double from 2.1 per cent of current GDP to 5.3 per cent by 2025. A further growth surge in the online media sector is expected, opening up a massive window of opportunity for companies.
3. Vietnam
Rising income levels in Vietnam are impressive, to say the least. According to the WEF, the average disposable income per capita will increase from US$2,000 to US$4,000 by 2030 — a rate twice that of the United States.
In recent years, the Vietnamese have shifted their focus to quality and brand attributes rather than price — a pattern consistent with the overall trend of trading up, according to Deloitte in a recent 2021 report. In fact, the WEF states that 90 per cent of Vietnamese consumers read food labels and would pay more for healthier food options.
Another 90 per cent of Vietnamese are willing to fork out more for sustainable products. This comes as no surprise, as ASEAN continues to prioritise sustainability, particularly in emerging economies.
Like the Philippines, Vietnam also sees an increase in consumption for edutech and digital healthcare platforms.
With the pandemic inevitably driving consumers online, digital trends were amplified. This leaves a sizeable mark for companies to embrace technology and leverage it to respond acutely to consumer behaviors.
4. Singapore
Although Singapore only has a population of 5.9 million, the city-state punches above its weight and is a force to be reckoned with.
Singapore's consumption patterns differ from the above nations due to its higher rates of urbanisation and education.
As ASEAN's most developed economy, Singapore's population is almost entirely urbanised and online.
Primed as a leading technological hub, the country is home to tech juggernauts like Google, IBM, Microsoft, and Zoom. Since 2016, internet companies have raised more than US$23 billion in funds, and the country is showing zero signs of slowing down.
Relying on human capital as its best asset, the country continues to shift focus to high value-added service industries like FinTech.
A recent study by the Singapore Economic Development Board (EDB) states that the nation appeared as an outlier against other ASEAN countries, with over 59 per cent of its consumers being categorised as high spenders.
What does this mean for investment?
According to the UNCTAD's World Investment Report 2021, Singapore, Indonesia, and Vietnam accounted for more than 90 per cent of foreign direct investment (FDI) inflows in 2020 alone.
Indonesia, the Philippines, and Vietnam have also enforced anti-corruption initiatives – a step in the right direction and a massive plus for international investors. The proof is in the data.
ASEAN continues to present a massive opportunity for FDI inflows and healthy growth in a COVID-19-adapted economy.
How can companies expand into ASEAN?
UOB FDI Advisory provides a one-stop shop for businesses that are keen to invest in ASEAN. Through the unit, businesses receive guidance on their market entry strategies, including how to navigate local customs and the regulatory landscape. The unit also connects companies with ecosystem partners such as government agencies, trade associations, and professional service providers. In doing so, companies are able to make the necessary partnerships right from the start, instead of having to spend valuable time and resources finding partners to enable and accelerate their growth.
Globalization Partners can help onboard your employees, take care of payroll, taxes, and HR-related matters.
Globalization Partners' global employment platform simplifies international business growth by making it easy for companies to hire anyone, anywhere, within minutes, and without setting up subsidiaries.
Take a tour of the platform to explore its features and benefits today.
This article was first published at Globalization Partners on 7 September 2021.

Charles Hamilton Ferguson is the General Manager and head of Globalization Partners' business in Asia, where he is responsible for establishing scale and efficiency for the company's business expansion in one of the most dynamic markets in the world.

Charles holds a master's degree in innovation management from the Helsinki School of Economics at Aalto University and did his undergraduate studies at Bard College in the United States.

Lee Eng Keat is an Executive Director at Group Foreign Direct Investment Advisory, UOB. He is responsible for developing partnerships with government agencies, trade associations and professional service providers. These partnerships support the Bank's efforts to help companies set up and to grow their operations as they tap opportunities across Asia.

Eng Keat brings over two decades of experience with the Singapore Economic Development Board (EDB) to UOB. During his time at EDB, he developed strategies to engage global logistics, utility and agrifood companies to drive their investments into Singapore.
This article shall not be copied or relied upon by any person for whatever purpose. This article is given on a general basis without obligation and is strictly for information only. The information contained in this article is based on certain assumptions, information and conditions available as at the date of the article and may be subject to change at any time without notice. You should consult your own professional advisers about the issues discussed in this article. Nothing in this article constitutes accounting, legal, regulatory, tax or other advice. This article is not intended as an offer, recommendation, solicitation, or advice to purchase or sell any investment product, securities or instruments. Although reasonable care has been taken to ensure the accuracy and objectivity of the information contained in this article, UOB and its employees make no representation or warranty, whether express or implied, as to its accuracy, completeness and objectivity and accept no responsibility or liability for any error, inaccuracy, omission or any consequence or any loss or damage howsoever suffered by any person arising from any reliance on the views expressed and the information in this article.