04 January 2021

By UOB Global Economics & Markets Research
---
After a difficult and rather 'forgettable' 2020, light can finally be observed at the end of the tunnel as we look forward to a more hopeful 2021 thanks to positive developments of COVID-19 vaccines.
Going by conservative estimates, there is a 60 per cent chance we should see a containment of the pandemic by 4Q21, with gradual removal of social distancing measures across 2H21. Under such a scenario, the global economy could return to growth of 5.2 per cent, but we are also cognisant that growth recovery will be uneven and differentiated across different economies and sectors.
That said, in the near term, the world economy is still being held hostage by a raging COVID-19 pandemic and could send the economic activity into a temporary dip in 1Q (2021), before recovering again as vaccines get progressively and more widely rolled out.
In this article, we look more specifically at the 2021 economic outlook for the ASEAN-6 economies.
Indonesia
Possible full recovery in 2021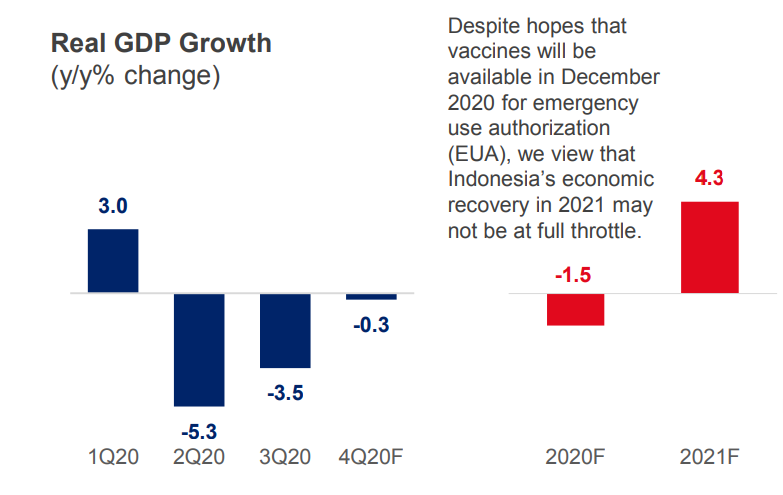 We expect Indonesia's economy to return to positive growth territory in 2021 with a baseline growth scenario of 4.3 per cent. Information and communication, and human health-and-social work activities, that thrive during the pandemic in Indonesia, will continue to grow strongly in 2021.
We expect Bank Indonesia to cut the 7D Reverse Repo rate by 25bps in 1Q 2021 to 3.5 per cent as growth recovery could still be uncertain and thus require further monetary support while fiscal disbursement remains somewhat lagged in supporting the broader pace of the economic recovery.
With the domestic economic outlook still uncertain and further rate cuts expected, sustained gains in the IDR beyond 14,000 appears unlikely. However, broad USD weakness would mean any rebound in USD/IDR is likely to be confined within familiar ranges.
Despite hopes that vaccines will be available in December 2020 for emergency use authorisation (EUA), we view that Indonesia's economic recovery in 2021 may not be at full throttle.
Our 2021 forecast
| | | | | |
| --- | --- | --- | --- | --- |
| Indicator | 1Q | 2Q | 3Q | 4Q |
| USD/IDR | 14,300 | 14,350 | 14,400 | 14,400 |
| IDR 7D Reverse Repo | 3.50 | 3.50 | 3.50 | 3.50 |
Malaysia
Uneven recovery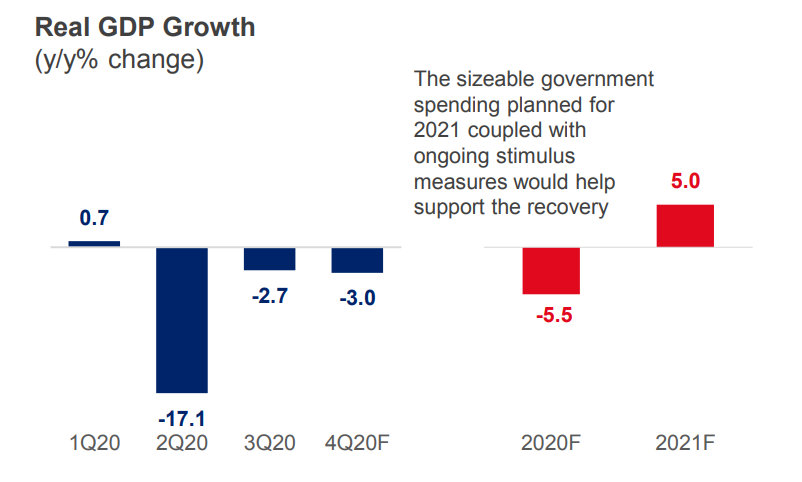 Going forward, the recovery path will much depend on the extent of control of the pandemic. The recent measures to tighten movement restrictions and Malaysia's national state of emergency come amid escalating COVID-19 infections that threaten the ability of health services. Efforts are underway to secure supplies of COVID-19 vaccines in 1H 2021. However, we remain cautious and have imputed modest upside from vaccine effects on domestic demand and consequently on gross domestic product (GDP) growth. The sizeable government spending plans of MYR322.5bn (or 20.6 per cent of GDP) planned for 2021, coupled with ongoing stimulus measures would help support the ongoing recovery.
Bank Negara Malaysia (BNM) cut its policy rate by a cumulative 125bps to 1.75 per cent in 2020 as the effects of the pandemic and movement restrictions continued to weigh on the economy. In view of the worsening pandemic, tighter containment measures, and slower growth outlook, we think the odds for interest rates tilt on the downside.
Going into 2021, the Malaysian ringgit (MYR) continues to draw strength from Asia's robust growth recovery particularly in China. Expectations of higher crude oil prices and robust current account surplus could support MYR. Domestic headwinds include tougher containment measures and politics.
Our 2021 forecast
| | | | | |
| --- | --- | --- | --- | --- |
| Indicator | 1Q | 2Q | 3Q | 4Q |
| USD/MYR | 4.03 | 4.00 | 3.95 | 3.95 |
| MYR Overnight Policy Rate | 1.50 | 1.50 | 1.50 | 1.50 |
Philippines
Recovery uncertain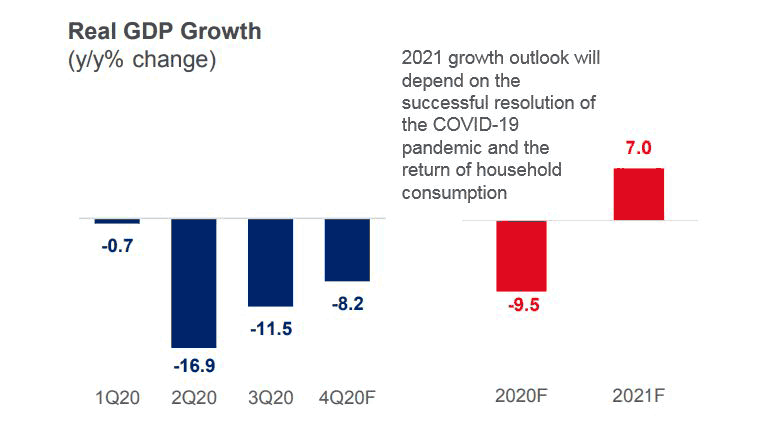 Going into 2021, growth prospects continue to hinge on when the pandemic can be resolved including the successful development and widespread distribution of COVID-19 vaccines and enhancement of public health system, as well as how households adjust in a post-pandemic environment.
The Bangko Sentral ng Pilipinas (BSP) will likely maintain status quo after considering vaccine supply by 1H 2021, the enactment of a larger 2021 budget, negative real interest rates, and narrowing interest rate differentials with other central banks.
Fiscal support is deemed more effective in revitalising growth from the health crisis as compared to monetary policy.
Looking at the year ahead, we think the Philippine peso (PHP) will maintain its short-term resiliency as broad dollar weakness is expected to continue into 2021.
The country's net external creditor position, low foreign holdings of local currency debt, ample foreign reserves, and solid fundamentals will also likely temper expectations for a reversal in the current account to deficit as consumer demand and import activities pick up with the further reopening of the economy.
Our 2021 forecast
| | | | | |
| --- | --- | --- | --- | --- |
| Indicator | 1Q | 2Q | 3Q | 4Q |
| USD/PHP | 48.00 | 47.50 | 47.00 | 47.00 |
| PHP Overnight Reverse Repo | 2.00 | 2.00 | 2.00 | 2.00 |
Singapore
Uneven recovery underway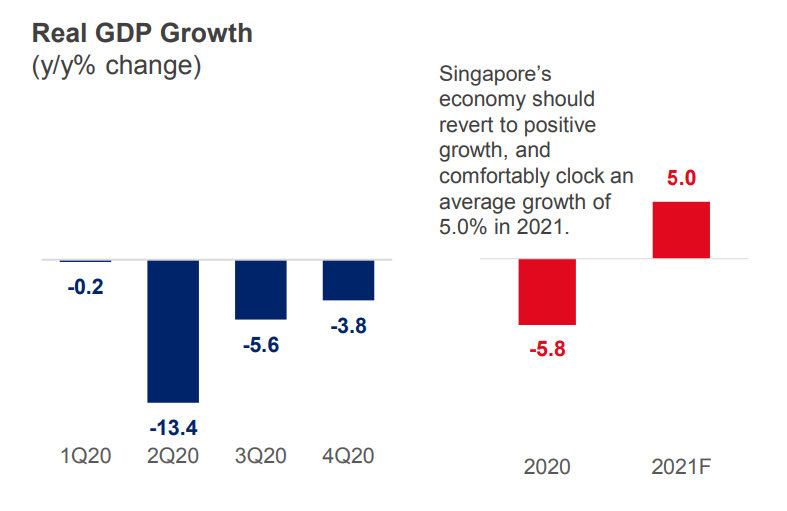 Singapore's GDP contracted 5.8 per cent in 2020, according to the advance estimates by the Ministry of Trade and Industry. The manufacturing sector remains to be the key performer at +9.5 per cent year-on-year in 4Q20, while other sectors such as construction (-28.5 per cent year-on-year) and services (-7.8 per cent year-on-year) stayed in the doldrums. Notwithstanding the near-term resurgence in COVID-19, the global backdrop in 2021 will likely be favourable for Singapore with the expectations of a vaccine-driven recovery in global demand. The signing of the Regional Comprehensive Economic Partnership (RCEP) will also likely benefit Singapore. As such, Singapore's economy should revert to positive growth, and comfortably clock an average growth of 5.0 per cent in 2021.
MAS' tone in its October MAS Monetary Policy Statement remains cautious and our base case is for the MAS to keep policy parameters unchanged in its upcoming April 2021 meeting.
In the coming year, the global reflation theme is likely to underpin risk appetite which in turn would weigh on the United States Dollar (USD). So, we reiterate our view of further modest Singapore Dollar (SGD) gains against the USD.
Our 2021 forecast
| | | | | |
| --- | --- | --- | --- | --- |
| Indicator | 1Q | 2Q | 3Q | 4Q |
| USD/SGD | 1.32 | 1.31 | 1.30 | 1.30 |
| SGD 3M SIBOR | 0.35 | 0.35 | 0.35 | 0.35 |
Thailand
Recovery is in sight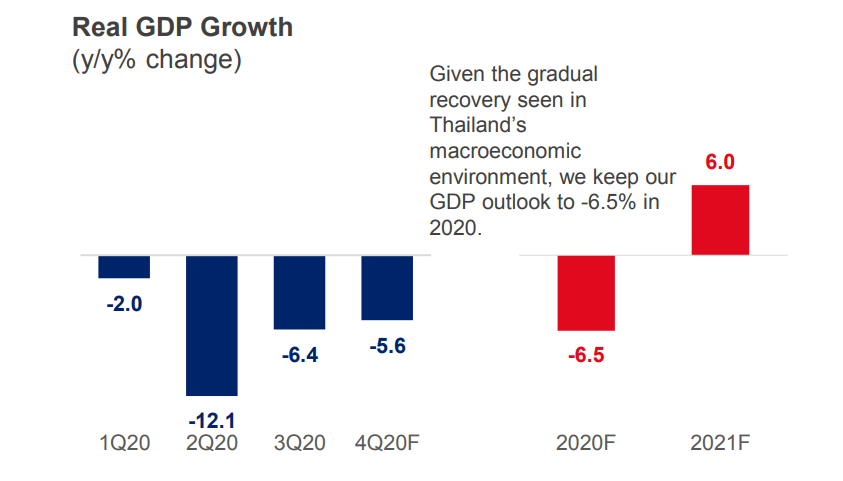 The Bank of Thailand (BOT) upgraded its Thai GDP trajectory for 2020, now expecting it to contract by -6.6 per cent (versus -7.2 per cent previously and in line with our forecast of -6.5 per cent) due to improvement in private consumption and merchandise exports. The BOT also projects the economy expanding at 3.2 per cent in 2021 (lower than previous forecast of 3.6 per cent). Notwithstanding the uptick, Thailand remains very dependent on trade and tourism, and we are cognisant about the near term risks related to the resurgence of COVID-19 infections, both domestically and globally, before the vaccines can be broadly and effectively rolled out.
The BOT kept its one-day repurchase rate unchanged at 0.50 per cent for the fifth consecutive meeting in December 2020 as viewed that keeping its benchmark rate unchanged will serve to "preserve the limited policy space". For now, we keep our call for BOT to leave its benchmark rate unchanged at 0.50 per cent for 2021.
With the authorities' clear emphasis to slow the Thai baht's (THB) gains in the near term, a sustained appreciation beyond its key psychological level at 30/USD appears unlikely. As such, we continue to be cautious on the THB, weighed by a fragile economic recovery.
Given the gradual recovery seen in Thailand's macroeconomic environment, we keep our GDP outlook to -6.5 per cent in 2020.
Our 2021 forecast
| | | | | |
| --- | --- | --- | --- | --- |
| Indicator | 1Q | 2Q | 3Q | 4Q |
| USD/THB | 30.00 | 30.30 | 30.50 | 30.50 |
| THB 1D Repo | 0.50 | 0.50 | 0.50 | 0.50 |
Vietnam
Regaining growth momentum in 2021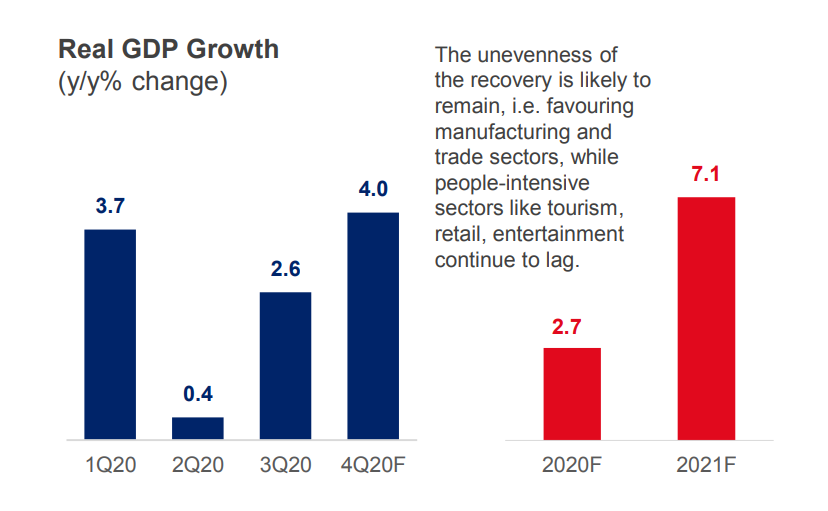 We expect the resumption of business activities to take hold in 4Q20 but the pace is likely to be restrained against a backdrop of the global COVID-19 pandemic. The unevenness of the recovery is likely to remain, i.e. favouring manufacturing and trade sectors, while people-intensive sectors like tourism, retail, entertainment continue to lag. While this uneven recovery is expected to improve, it depends heavily on the speed of deployment of COVID-19 vaccines globally.
The State Bank of Vietnam has slashed 200bps so far in 2020 in response to the global COVID-19 pandemic. With the appointment of the first female governor to the central bank, Nguyen Thi Hong, there is a high likelihood of a rate cut in the works to spur credit growth ahead.
Underpinned by its resilient economy, which is expected to register an almost pre-pandemic growth rate of 7.1 per cent in 2021, we see further scope for Vietnamese dong (VND) gains. Also, given increased scrutiny from the US Treasury, Hanoi is less likely to intervene directly in the markets to tamper with the VND's strength.
Our 2021 forecast
| | | | | |
| --- | --- | --- | --- | --- |
| Indicator | 1Q | 2Q | 3Q | 4Q |
| USD/VND | 23,000 | 22,800 | 22,600 | 22,600 |
| VND Refinancing Rate | 3.50 | 3.50 | 3.50 | 3.50 |
For more information, please download the 2021 Economy Playbook.
This article shall not be copied, or relied upon by any person for whatever purpose. This article is given on a general basis without obligation and is strictly for information only. The information contained in this article is based on certain assumptions, information and conditions available as at the date of the article and may be subject to change at any time without notice. You should consult your own professional advisers about the issues discussed in this article. Nothing in this article constitutes accounting, legal, regulatory, tax or other advice. This article is not intended as an offer, recommendation, solicitation, or advice to purchase or sell any investment product, securities or instruments. Although reasonable care has been taken to ensure the accuracy and objectivity of the information contained in this article, UOB and its employees make no representation or warranty, whether express or implied, as to its accuracy, completeness and objectivity and accept no responsibility or liability for any error, inaccuracy, omission or any consequence or any loss or damage howsoever suffered by any person arising from any reliance on the views expressed and the information in this article.