As one of the most competitive economies in the world, Singapore represents a valuable market for businesses that seek growth, reflected in the country's high gross domestic product (GDP) per capita based on purchasing power.
However, while consumers remain optimistic about the current and future prospects of Singapore's economic environment, the general outlook has become more pessimistic. According to the ASEAN Consumer Sentiment Study 2023 – Singapore report, nearly one in two consumers feel "uncertain" due to a likely economic recession looming in the near future.
This uncertainty has led many Singaporeans to become more prudent about their finances, with more people increasing their budget allocation for savings and investment while maintaining expenses.
Singaporeans are among the most worried in the region
Compared with last year and as highlighted above, the overall consumer sentiment regarding the country's economic situation is pessimistic.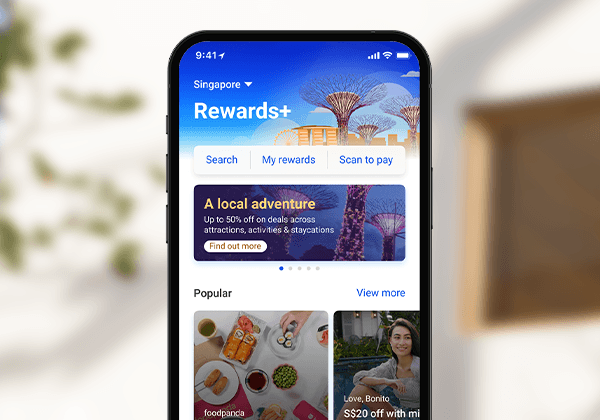 While 48 per cent of respondents in Singapore feel positive about the current economic environment in the country and 47 per cent feel positive about the country's future economic performance in the next six to 12 months, Singaporeans are among the most worried consumers in the region with regard to their finances.
Rising inflation rates and increasing household expenses have led to a decline in savings, putting a strain on Singaporean consumers' ability to save and maintain their lifestyle and making them more worried about financial (81 per cent) and work-related (70 per cent) concerns compared to last year. Only 37 per cent of Singaporeans expect their financial situation to improve in the next year, which is significantly lower compared to the general sentiment in the region.
Consumers are saving and investing more where it counts
The financial and economic uncertainty has prompted consumers to become more conservative with their finances and investments. Consumers in Singapore have increased their budget allocation for savings (36 per cent) and investment (41 per cent) while maintaining expenses (51 per cent) and insurance (73 per cent).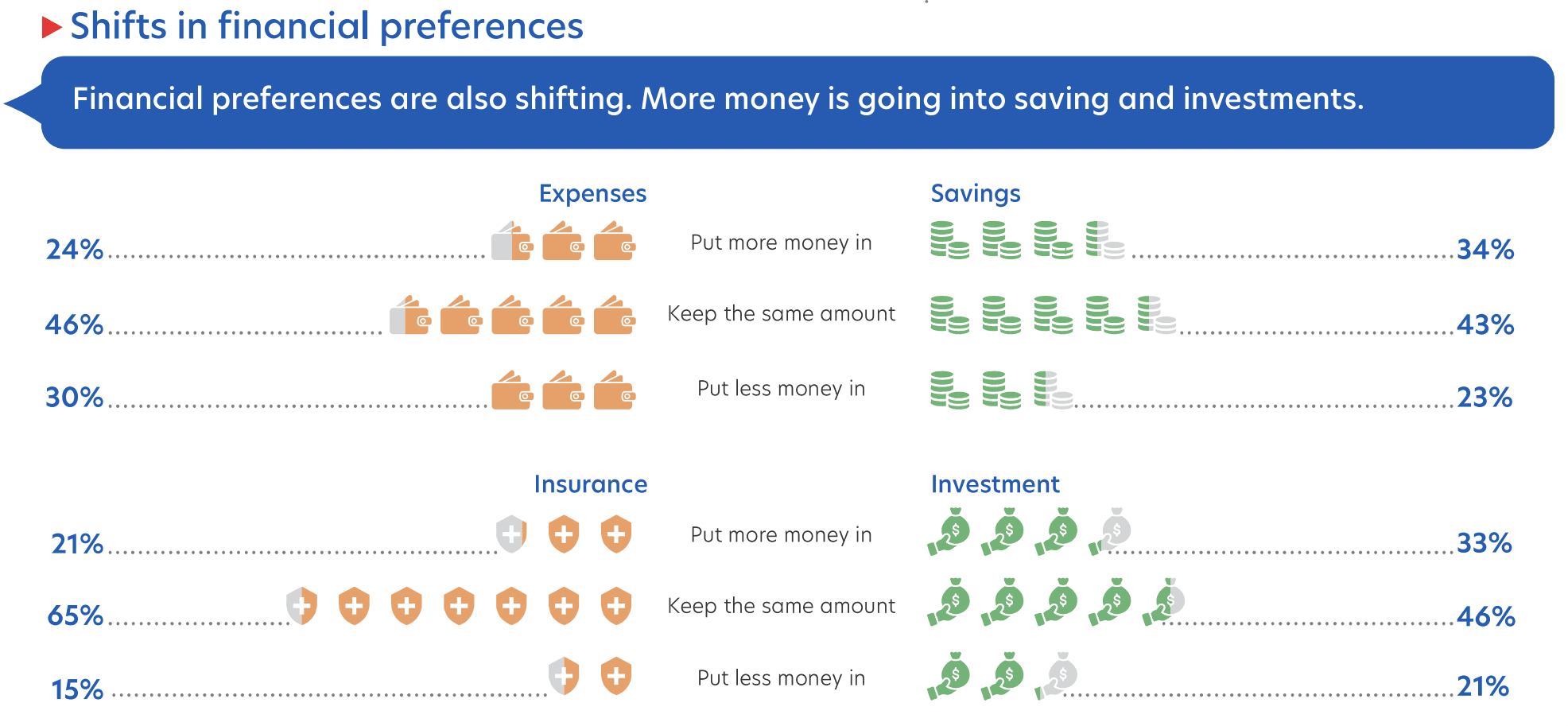 Consumer spending has increased for utilities (43 per cent), groceries (34 per cent), and daily commutes (32 per cent). Meanwhile, spending on jewellery (38 per cent), food delivery (36 per cent), and tech gadgets (34 per cent) has dropped from last year.
Singaporeans are also concerned about their health and environment, and believe that well-being, clean energy, and clean water and sanitation are the most important goals for sustainable development in the country. Many already have established sustainability behaviours in place, with reducing water use, switching to energy efficient lighting, and using reusable shopping bags being among the top practices. Larger government policies could have also influenced these behavioural changes, since supermarket operators with an annual turnover of more than S$100 million have been required to charge at least five cents for each disposable carrier bag provided since July 2023.
According to the Study, more than half of Singapore consumers are likely to spend more on sustainable products or services that are related to their daily needs. These include food, beverages, and groceries (75 per cent) as well as home and personal care (69 per cent). Some of the top motivators include having concern for the future generation and for the environment.
When it comes to sustainable finance products, about one in four invest in them, including in the likes of sustainable investment funds (26 per cent), sustainable insurance (28 per cent) and sustainability-linked bonds (23 per cent). Two in three respondents are aware of at least one sustainable finance product, with a higher skew across products among Gen Ys and Affluents (respondents earning at least S$10,000 and above).
A preference for mobile and internet banking is emerging
Singaporean consumers are no stranger to cashless payments and digital banking, but there is now a stronger preference emerging for where and how Singaporeans access and manage those financial products: mobile (54 per cent) and internet banking (35 per cent). These are the preferred methods over ATM machines, robo-advisories, and consolidated financial platforms, especially among the Affluent, Gen Z, and Gen Y segments, depending on the banking activity.

The stronger preference for mobile banking is driven by the higher trust in this channel, with seven in 10 consumers ranking it among their top trusted channels. Meanwhile, online channels serve as a portal to conduct a range of banking activities, such as checking the status of rewards (66 per cent), applying for simple products (54 per cent), and overseas money transfers (44 per cent).
Corporate benefits play a part in mitigating worries
Companies seem to be faring better in assuaging the worries of their employees. About two in five Singaporean respondents said that they feel calm at work – an 18 per cent uptrend from last year, perhaps reflecting a more normalised work environment in Singapore post-COVID-19. The majority of employees (70 per cent) also said they are satisfied with the mental health support from employers, stating that flexible working hours (59 per cent) is the top form of mental health support that most employees would like from their employers.
Still, challenges in the workplace remain, with nine in 10 employees saying that reskilling to stay relevant is the top challenge they face. Other key challenges are establishing trust between employee and employer (85 per cent) and increased workload for prolonged duration (83 per cent).
Partnering for growth
At UOB, we help businesses navigate the dynamic landscape of the ASEAN region to unlock its full potential. Contact us to find out more about our tailored solutions, industry knowledge and market expertise.
The ACSS 2023 reports and infographics are now available for download:
Consumer sentiments and financial habits
Sustainable behaviour and sustainable finance
Employee concerns and expectations
About this study
ASEAN Consumer Sentiment Study (ACSS) is UOB's regional flagship study analysing consumer trends and sentiments in five countries: Singapore, Malaysia, Thailand, Indonesia and Vietnam. Now in its fourth year, the 2023 survey captures the responses of 3,400 consumers across different demographic groups in this dynamic region. In Singapore, 1,000 consumers were surveyed.
Some of the areas covered include:
Everyday life outlook
Shifts in spending and financial habits
Digital payment habits and preferences
Sustainable behaviour and sustainable finance
Digital payment habits and preferences
Important notice and disclaimers
This article shall not be copied or relied upon by any person for whatever purpose. This article is given on a general basis without obligation and is strictly for information only. The information contained in this article is based on certain assumptions, information and conditions available as at the date of the article and may be subject to change at any time without notice. You should consult your own professional advisers about the issues discussed in this article. Nothing in this article constitutes accounting, legal, regulatory, tax or other advice. This article is not intended as an offer, recommendation, solicitation, or advice to purchase or sell any investment product, securities or instruments. Although reasonable care has been taken to ensure the accuracy and objectivity of the information contained in this article, UOB and its employees make no representation or warranty, whether express or implied, as to its accuracy, completeness and objectivity and accept no responsibility or liability for any error, inaccuracy, omission or any consequence or any loss or damage howsoever suffered by any person arising from any reliance on the views expressed and the information in this article.