Hear from our employees
At UOB our people have many opportunities to grow and to contribute, regardless of how long they have been part of the team. Here we have five stories featuring long-serving colleagues; colleagues who enjoy working at the bank so much that their children are inspired to join us; as well as new joiners, both fresh graduates who are already making their mark and mid-career professionals who add value with their fresh perspective.
Click on the links below to read about their jobs, what they like about working at UOB and what makes the bank special to them.
> Mr Amran bin Zaini, Class II Officer, UOB Cards and Payment Products and Ms Noor Aishah Hidayah, Senior Officer, Privilege Reserve Banking
> Mr Ken Chua, Client Advisor, Privilege Banking
> Ms Noelle Shung, Manager, Business Banking
> Ms Serene Neo, First Vice President, Group Brand
> Mr Yong Chai Yim, Senior Vice President and Head of Card Risk Management, UOB Cards and Payment Products
Mr Amran bin Zaini, Class II Officer, UOB Cards and Payment Products and Ms Noor Aishah Hidayah, Senior Officer, Privilege Reserve Banking
A family that works together, stays together
The pride of being UOB employees is evident when you speak to Mr Amran bin Zaini and Ms Noor Aishah Hidayah.
Mr Amran, 57, joined UOB in 1996 as a clerk with Group Retail. Formerly a café manager at a hotel, he wanted a change in environment and landed a job with UOB to help set up credit card terminals at retail merchants.
His happy tenure with the bank attracted his eldest daughter, Ms Aishah, to join UOB in 2006. Fresh out of Temasek Polytechnic with a Diploma in Business at the time, the 29-year-old started her banking career as a Class Two Officer with the UOB Mount Elizabeth branch, which has since converted into a Privilege Banking Centre.
Ms Aishah, a mother of three, is now a Senior Officer with the Privilege Reserve banking team and is based at the Orchard Faber House Privilege Banking Centre. Gifted with a knack for juggling work and family, Aishah has been winning Personal Financial Services' (PFS) Quarterly Service Championships for five consecutive quarters between 2014 and 2015.
She also won the Gold Excellent Service Award (EXSA) from the Association of Banks in Singapore in 2014, and topped this by winning the EXSA Star award this year.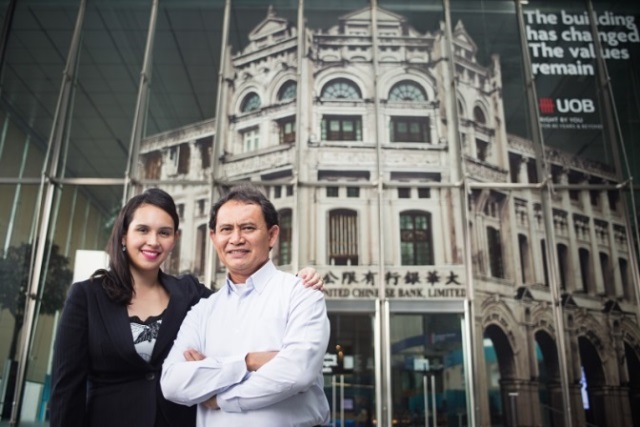 Mr Amran bin Zaini and Ms Noor Aishah Hidayah believe in living the UOB values at work and at home
Q: Why did you decide to join UOB?
Ms Aishah: I am very grateful to UOB for granting me a scholarship to complete my three-year business course at the polytechnic. I want to repay this kindness and support by working for the bank.
Mr Amran: I am very happy when I applied successfully for the scholarship through our Human Resources department. Aishah did well enough to continue her studies and go to university but our family expenses were high as her youngest sister is a child with special needs. As the eldest of three daughters, Aishah had to start working after graduating from polytechnic to help us cope.
I told Aishah that she must work at UOB. Don't go anywhere else. When people help you, you need to show your appreciation.
Q: What do you like about working at UOB?
Mr Amran: I think UOB is a great place to work. I enjoy working with my team, and my line managers trust me and appreciate my work.
Ms Aishah: I like how the bank is very family-oriented. I have three sons aged five, three and two, and my managers supported me to enroll on the flexi-work arrangement (FWA) scheme. Under the FWA, I go to work at 8am and leave by 6pm so I can fetch my children from childcare. Without the FWA, I will have to work from 9am to 6:30pm.
My family is supportive of my father and I working at UOB together. We exchange stories of how we solve challenges at work during our family gatherings and I can see from my mother's face that she is very proud of us.
Q: What is your fondest memory of working at UOB?
Mr Amran: In 1996, I won the Best Courtesy Online Award, thanks to positive feedback from my customers. I received a medal which I placed in front of my television at home, along with UOB soccer medals and other mementos.
My UOB memorabilia are still placed on top of my television now and I feel proud when I see them.
Ms Aishah: I was fortunate to win the PFS Quarterly Service Championships for five consecutive quarters between 2014 and 2015, and was selected to join the PFS Sales & Distribution Mid-Year Champions Incentive trip. It was a five-day sales retreat in Melbourne from 4 to 9 August 2015. We visited Yarra Valley, Victoria Market, Enchanted Adventure Garden, and went on a Great Ocean Road tour to view the 12 Apostles limestone formation along the Victoria coastline. I had a fabulous time.
Q: In your opinion, why do you think the bank has progressed over the past eight decades and what makes it special?
Ms Aishah: We have a very good management team who believes in investing in and caring for employees, from the Healthy Employees, Active Lifestyles (HEAL) framework, to activities by the UOB Recreation Club and bursaries for family members.
In 2015, UOB launched the Wage Credit Employee Development Initiative (WCEDI) which re-invests the Wage Credit Scheme grant from the government into a career development and wellness programme for employees. This encourages employees to upgrade their skills and make their mark with the bank.
Mr Amran: We have the technology, capabilities and experience to be among the best banks in the world. I felt so proud when Bloomberg Markets' ranked our bank among the top 10 World's Strongest Banks this year. I hope we can maintain this honour year after year.
Mr Ken Chua, Client Advisor, Privilege Banking
Unbeatable at managing the wealth of his customers
Mr Ken Chua's star is rising fast at UOB. He joined UOB in November 2011 as a Senior Officer at Personal Banking and after four years of consistent high performance he is now Vice President at Privilege Banking.
Mr Chua nearly gave the banking industry a miss. Upon his graduation from the Singapore Institute of Management with a degree in Mass Communications, he joined a media agency as a producer where he tried his hand at developing content for television commercials and documentaries. He only submitted his job application to UOB two years later, at the urging of a good friend who felt his skills were a good fit for the bank.
Fast forward to today, Mr Chua now focuses on onshore banking for clients mainly from Indonesia, Myanmar, Vietnam and the Philippines. He advises customers on quality financial products such as the UOB Income Builder that provide diversified investment portfolios to complement their savings.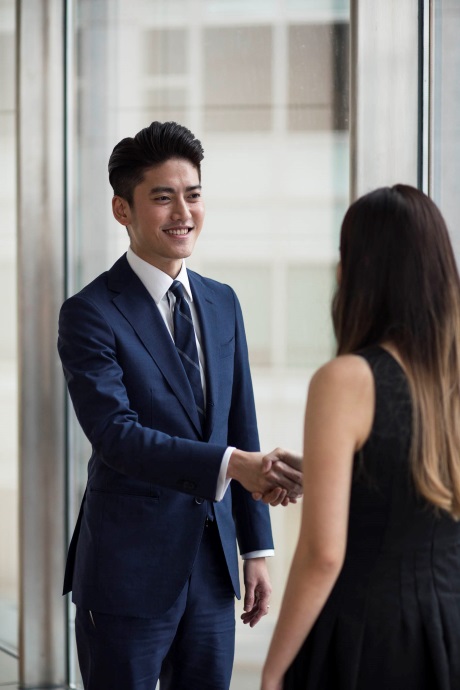 Relationship-building with customers is essential for Mr Ken Chua, Client Advisor, Privilege Banking
Q: What do you like about working at UOB?
Mr Chua: UOB has a friendly, Asian culture that I am comfortable working in. Asia is currently the growth engine for the global economy and most of the funds are flowing into this region. As an established bank in the region, it is exciting to be working for UOB and to know that I am helping clients to invest in the region's development.
Q: Tell us more about the Personal Banking Associate (PBA) programme that you underwent and how did that benefit you?
Mr Chua: The three-month PBA programme was useful in prepping me for my career with UOB. I learnt about the bank's culture, our financial products, how to engage clients in different scenarios, and how to handle rejection, among other practical information.
Having graduated with a communications degree, I had no financial background prior to joining the PBA and the learning curve was steep. After the PBA training , I would stay back with my batch mates to prepare for the Capital Markets and Financial Advisory Services (CMFAS) examinations. These were essential papers that we have to pass before we could be certified as bankers.
Most of my batch mates have some form of financial background and thankfully, they were very willing to share their knowledge with me. When I returned home, I would burn the midnight oil to continue studying on my own.
Q: We understand that you are promoted several times for excellent performance. What is the secret of your success?
Mr Chua: I have a clear goal when I started working at UOB, which is to work my way towards becoming a top private banker at UOB within 10 years.
My strategy is quality over quantity. My customers are mainly foreigners who rely on local bankers to give them the right financial solutions to suit their needs. So when they know that you are reliable and good at what you do, they will recommend their family members to you too.
You also have to do your account planning in advance. Do your research and understand the customers' needs before you engage them. That way, you can envision what will happen even before you enter the meeting room and know how to guide the session to a successful closure.
It is very important to do your homework before meeting clients. From my previous job as a producer with a media agency, I was taught that time is precious and we must not waste our time nor the customers'. This good working habit has stuck with me till today.
Q: What gives you job satisfaction?
Mr Chua: When my clients refer their family members or friends to me, and I know I am doing my job well. I also get to enjoy local delights from overseas that my customers bring in whenever they come to Singapore and I would share these treats with my colleagues.
Q: In your opinion, why do you think the bank has progressed over the past eight decades and what makes it special?
Mr Chua: The bank has cultivated trust with its customers from across the region. It is our emphasis on reliability that enables us to grow into one of the most trusted banks in the region.
Ms Noelle Shung, Manager, Business Banking
Doing what is right for the bank and our customers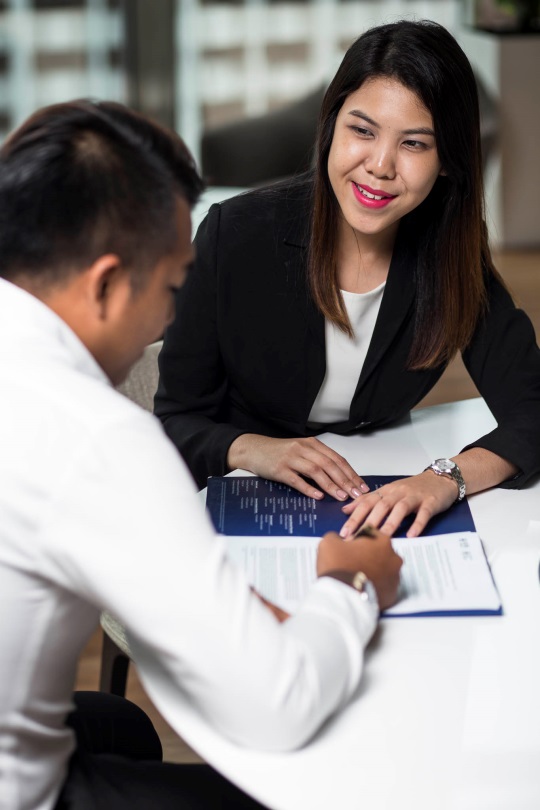 Ms Shung strives to know her customers well and to get the best loans for them based on their needs.
When Ms Noelle Shung graduated with a degree in accountancy from the Singapore Management University in 2013, her preference was for a job where she could interact with people from different walks of life. So instead of carving out a career in auditing, she chose to join UOB as a Senior Officer handling single loans products in Business Banking.
Within two years, Ms Shung has become one of the top single products loans specialists at Business Banking. She was promoted to Manager in March 2015 and in July, switched from selling single product loans to multi-products.
Ms Shung currently attends to small and medium-sized enterprises with a turnover of below S$20 million. Her goal is to move to a larger segment of Business Banking such as Commercial Credit, to provide niche products for companies with a higher revenue.
Q: You studied accountancy in school. Why did you choose to go into banking instead?
Ms Shung: I wanted something less deskbound and with more opportunities to interact with people. I believe it is only through speaking with others that we can learn more. By spending time with my customers, I can understand their businesses better.

Q: Why did you choose to work at UOB and what do you like about working here?

Ms Shung: Before I submitted my job application, I read up about the job and the bank. There were good reviews but to me, they were just 'words' and I still did not know what to expect from the job.
I felt more reassured during the job interview. I was interviewed by four people – an HR representative, the head of sales, as well as two team leaders. They were very warm-hearted and I could connect with them easily. The interview experience left a deep, positive impression on me and I decided to work for UOB when the letter of offer came in the mail.
The beauty of working in Business Banking is how close-knit we are as a team. There are about 200 people working in this function and I already know more than 70 per cent of them by name.
We may have our individual targets to achieve but everybody is willing to help one another and collaborate for the greater good. My team leader and colleagues gave me a lot of pointers when I first started at the job, and their actions showed me just what those 'words' really meant. I feel supported and am comfortable in this working environment.
Q: What gives you job satisfaction?
Ms Shung: Whenever I meet my key performance indicators and my loan offers are accepted by the customers. I put in a lot of effort to get the best loans for my customers based on their needs.
Q: How do you feel about your career progression at UOB?
Ms Shung: I feel proud of my accomplishments, being one of the few who were promoted after a year on the job. I am working hard towards the next level and hope to be an assistant vice-president.
The bank has been providing me with training opportunities as well. In 2015, I attended a trade financing course organised by our Talent and Organisation Development department at UOB Tampines Centre. I learnt how to extend trade facilities to our customers and this prepared me for the next stage of growth in my career.
Q: In your opinion, why do you think the bank has progressed over the past eight decades and what makes it special?
Ms Shung: UOB has a strong commitment towards its stakeholders, be it the employees, customers, community or investors. Our bank is grounded in its values and we are steadfast in delivering what we have promised. I have experienced the family culture here at the bank and everybody in my department is close. It also helps that we have Asian roots and we can channel the deep insights we have on doing business in Asia towards helping our customers invest and expand in the region.
Ms Serene Neo, First Vice President, Group Brand
Helping to bring the UOB Values to life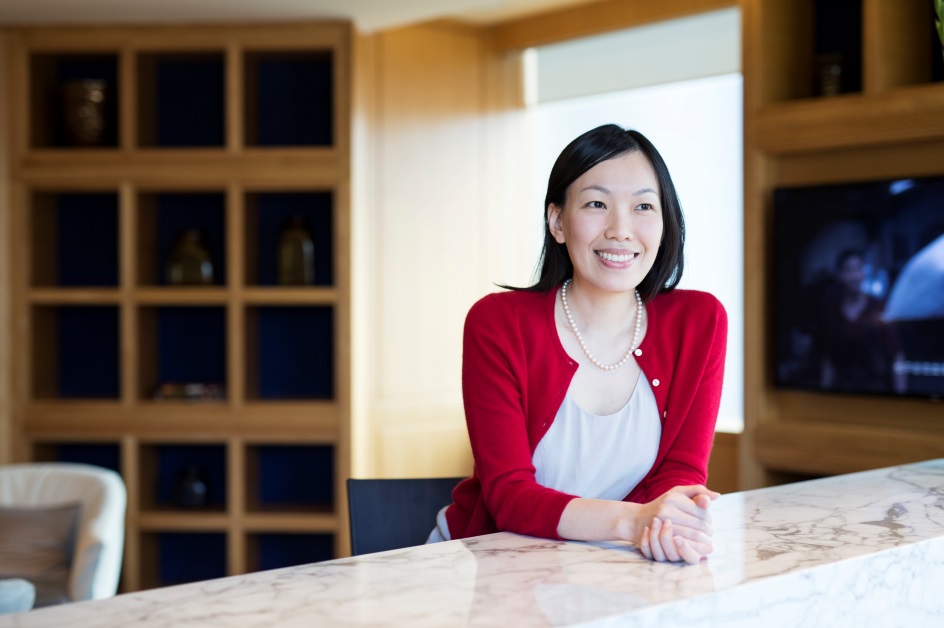 Ms Serene Neo, FVP, Group Brand, contemplating the potential of UOB's new brand values and campaign
Ms Serene Neo spent 15 years working in the areas of Branding, Marketing, Product Development and Product management at local and international companies before joining UOB in 2014.
Within a year of working at Group Brand, Ms Neo was involved in a number of strategic projects for the bank including launching our new corporate identity guidelines, our new Vision and Values roll-out and a group-wide UOB Values quiz.
Always up for a challenge, the opportunity to help evolve the UOB Brand appealed to Ms Neo when she first interviewed for the job.
"I like creating new things and making them work – be it new business, payment platforms, credit card products and now, a brand," said Ms Neo. "UOB is a very conducive environment to do so as we have the right ingredients including network, expertise, resources and most importantly, conviction, to bring our ideas to life."

Q: Why did you choose to join UOB and what do you like about the bank?
Ms Neo: UOB is a successful organisation with the potential to achieve so much more. The bank has an ambitious vision yet possesses the grounded steadfastness to bring it to fruition. This is a philosophy that I can relate and subscribe to.
At UOB, our senior management believes in the value of branding and is committed to strengthening and building our brand. I feel I can help make a meaningful contribution to the bank in this area of work.
Q: You worked at other banks prior to joining UOB. In your opinion, what makes us stand out from the competition?
Ms Neo: UOB places much emphasis on values and business ethics. The bank is not quoting values just because these are buzz words which customers want to hear. It makes business sense to live by our UOB values of being Honourable, Enterprising, United and Committed because these strengthen our customers' trust in us and is how a responsible business should conduct itself. I am pleased that I can make a contribution to help inculcate and strengthen our values across the organisation.
Q: What is your work/life philosophy?
Ms Neo: At work, objectivity and reason must prevail. Being clear on the outcome to achieve is also important, whether working on my own or as part of a larger team. On my life philosophy, it is important to just be yourself.
Q: In your opinion, why do you think the bank has progressed over the past eight decades and what makes it special?
Ms Neo: I believe UOB's progress and achievements can be largely attributed to three factors – the growth of this region, Singapore's stable economic environment and, most importantly, leadership. Crops will grow in the right seasons on fertile land, but without the farmers to plough, seed, water, tend, and harvest, the produce will just pass with the seasons.
After all, how many banks in the world have had the benefit of a leadership team with a consistent business philosophy for the past 80 years? I think this is a major advantage for UOB.
Mr Yong Chai Yim, Senior Vice President and Head of Card Risk Management, UOB Cards and Payment Products
Protecting UOB against crime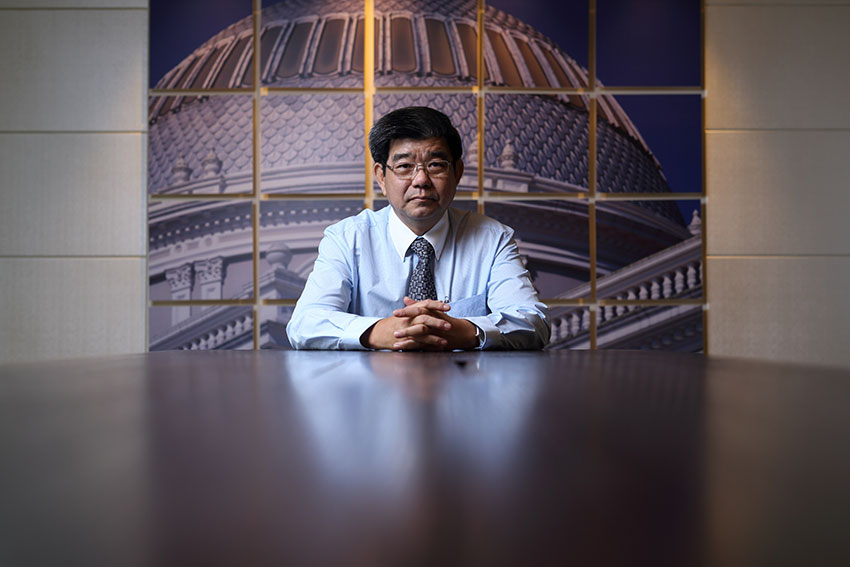 To protect and serve is what Mr Yong Chai Yim does best, back when he was a police officer and now at UOB as Head of Card Risk Management.
Having spent 18 years with the Singapore Police Force handling major crime investigations before joining UOB in 1989, Mr Yong Chai Yim has developed a solemn demeanor and a 'don't mess with me' presence.
That is, until he starts smiling and turns out to be much more affable than austere when the situation allows him to be.
Armed with a PowerPoint deck detailing his time with the police, our Head of Card Risk Management at Cards and Payments, Personal Financial Services, showed us newspaper clippings of the major cases which he worked on. These cases include the 1983 Sentosa cable car tragedy, the Hotel New World collapse in 1986 and the spate of goldsmith robberies the same year.
Since joining UOB, Mr Yong has been at the forefront of card security and fraud investigation. He also became one of the pioneer members of the Singapore Card Security Group – an industry body that promotes close cooperation in the credit card industry.
Mr Yong is 62 years old and on a re-employment contract with the bank. On his days off, he spends time bonding with his three grandchildren.
Q: Tell us more about your job at UOB.
Mr Yong: I joined UOB in February 1989 as a deputy manager when the bank had just started the UOB Card Centre. The unit had less than 50 staff and we were located at United Square. At that time, I only had one officer assisting me in managing card fraud.
In the 1990s our main challenge was in detecting counterfeit magnetic stripe fraud. When we first started, we had to rely on daily batch reports for transactional monitoring to detect possible fraud. The two of us had to manually eyeball these reports to identify suspicious transactions. Apart from handling fraud, we also doubled up as collectors and called delinquent cardholders to make their payments.
Today, my team has expanded to 30 employees and so has our job scope. I supervise my team in the areas of transaction monitoring, fraud investigations, anti-money laundering-related matters as well as internal control and compliance.
Q: What do you like about your job at UOB and what challenges did you face in your transition from a police officer to a banker?
Mr Yong: I had a culture shock when I first joined UOB. As a policeman, I was so used to handling hardened criminals. The private sector was a totally different world for me. I had to learn to keep my cool in every situation.
Police investigations also require a lot of leg work in the field and working with informants to gather intelligence. In the bank, it is more deskbound and you face the computer several hours a day. I took while to adjust but I like new challenges and am fortunate to have supervisors who were understanding and supportive.
Q: What is your advice to mid-career professionals from others industries / sectors who want to join the bank?
Mr Yong: Mid-career professionals from another industry bring with them a different perspective, work culture and experience. In making a career change, they would have carefully evaluated their options and set their targets and goals. Having the courage to leave their comfort zone for a brand new environment, they are more determined to succeed in their new career and new organisation. Hence, they are self-motivated and can make a great difference to an organisation.
The banking industry is no longer just about selling new banking products. There is greater diversification which requires experts from different fields, from the underwriting of securities to portfolio management and the insurance business. We also need employees experienced in compliance to help improve governance and technology folks to increase the efficiency of our work processes.
Q: What is your work/life philosophy?
Mr Yong: Work-life balance is a personal choice as there is a price to everything. To me, time is limited and it is important to use it wisely. Do not procrastinate in both your work as well as your personal endeavours.
Once you are able to use your time wisely and productively, you will likely succeed in life, both in your career as well as your personal pursuits. Naturally, you will also be able to spend quality time with your loved ones.
Q: In your opinion, why do you think the bank has progressed over the past eight decades and what makes it special?
Mr Yong: The bank has certainly grown from strength to strength and has increased its presence in this region rapidly. We have also weathered several financial crises in recent times, emerging stronger each time. Over the years, an area that UOB has been doing very well in is caring for its employees. I believe that this promotes loyalty and commitment among all of us.